Is short hair a problem or freedom? Many women think about cutting their hair short but are unsure of the outcome, afraid of looking ridiculous, or unsure about choosing the right and most flattering cut. When considering a short hairstyle, we are usually afraid that once we cut our hair short, we lose our femininity or found ourselves with something outdated. No worries, here are the latest trends in short choppy haircuts with the brightest examples in pictures. You will be amazed at how incredibly jazzy you can look with short hair. Add the feeling of ease, so desirable in warm seasons, and you will see that being short has multiple advantages and choices.
Short choppy haircuts
Jagged, jagged ends and a multi-layered dimension with a lively shattered effect are the top trends in short haircuts today. Modern cuts can boast a fun, disconnected layering with an unkempt touch and a fabulous movement feel.
All choppy haircuts for short hair are mostly done based on bob, pixie, or A-line cuts, however, they make a whole new fresh impression. Contrasting textures and lines along with color enhancers can take your usual style to new heights never before seen. You cannot miss these brilliant new ideas for your innovative looks for the current spring and long-awaited summer.
Going Gray
A choppy bob style is very popular right now, even this trendy hair color – many young women opt for gray and white hair hues. Blame it on Queen Elsa or maybe the incredible wisdom of someone's highly influential grandmother – but ultra-lightweight hair is all the rage in color trends – you expect?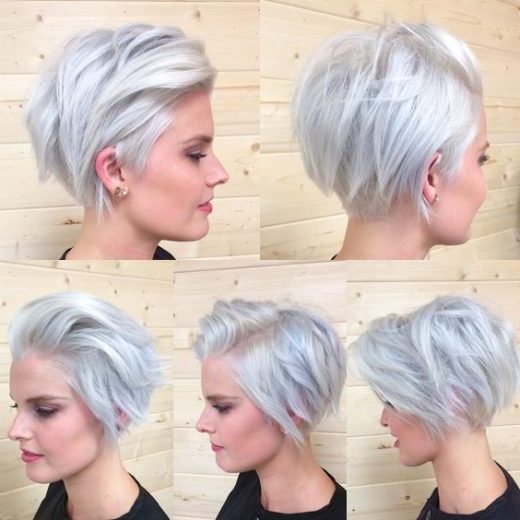 Short Undercut Pixie with Choppy Top
Short, cropped hair doesn't always have to look tomboy, but it can be if you want. If that's the vibe you're after, be sure to keep the bangs super short and the top extra choppy. Add V-shaped "sideburns" and an undercut.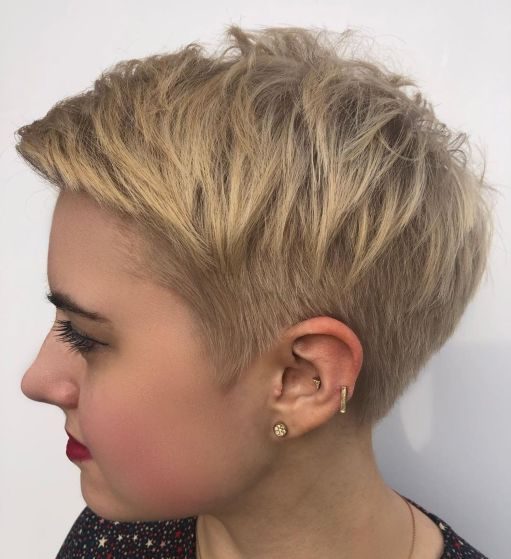 Layered and Sideswept
This side-swept layered style is a good choice for thick hair that needs a lighter look! From the blonde hue to the choppy sections that add the illusion of weightlessness, it's a good choice for girls who feel buried in their hair.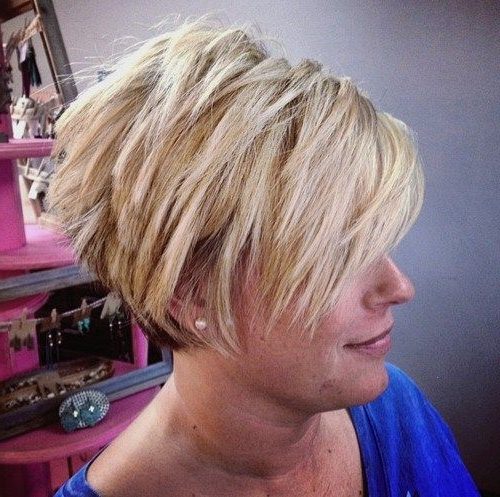 Choppy Pixie Cut
While long hair can rack up your hours in front of the mirror containing styling tools, short hair will increase your budget for new styling products. It's fair trade! Not quite wake-and-go, these tiny layers are as close as it gets. Work with your hair's natural texture to create a post-shower definition.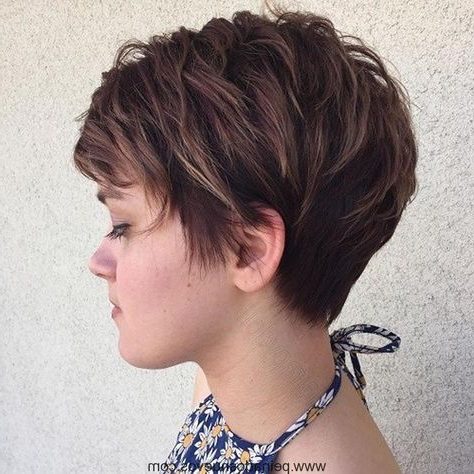 Choppy Style for Fine Hair
Choppy haircuts are suitable for all hair types, even fine hair. The extra layering adds the illusion of thickness. A professional stylist can shape fine hair into a punky style with tons of dimensions. Women with thinner hair are used to shampooing it often, and with a super short style, frequent washing and styling don't take too much time.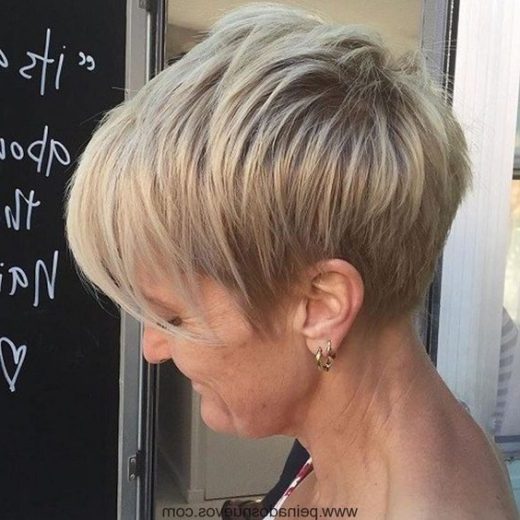 Straight Cut Bob with Finely Chopped Layers
One of the craziest and simplest hairstyles for women with short locks is the straight-cut bob. If you want a softer, more natural look, ask your stylist for finely chopped layers and balayage.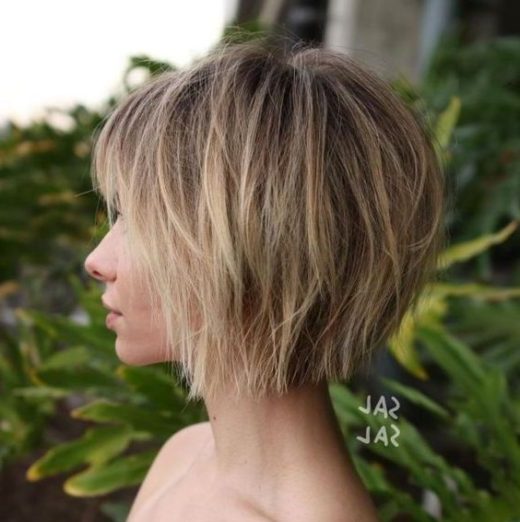 Two-Tone Choppy Cut
Go for a retro street style by pairing two seemingly different looks. The platinum layers fall on a natural brunette buzz cut. The difference in lengths, colors, and textures make this a trendy style for short hair.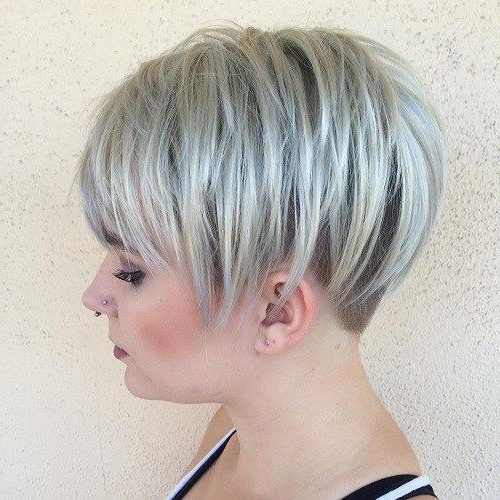 White Blonde Chunky-y Bob
Shiny blonde hair is a great way to rock a shaggy bob. Cut through the layers for a more voluminous look. Lots of choppy layers will also help plump up flatness and hide problem areas if you have super fine hair.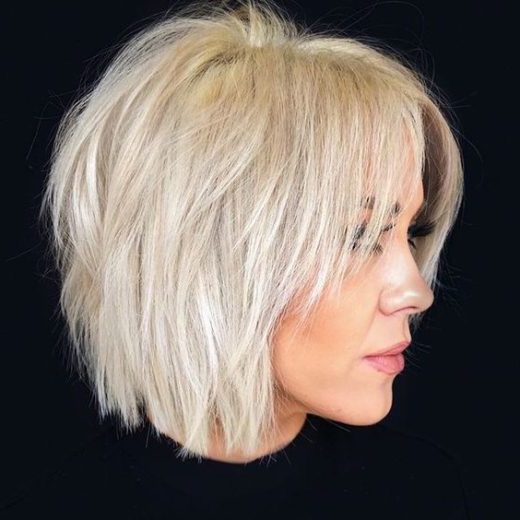 Messy and Gorgeous
The tousled look is sexy and relevant in today's beauty world, and so, now is the time for a short choppy haircut that doesn't require you to go too short. Instead, opt for an a-line cut with fun layers that will work for fine hair or chunky locks.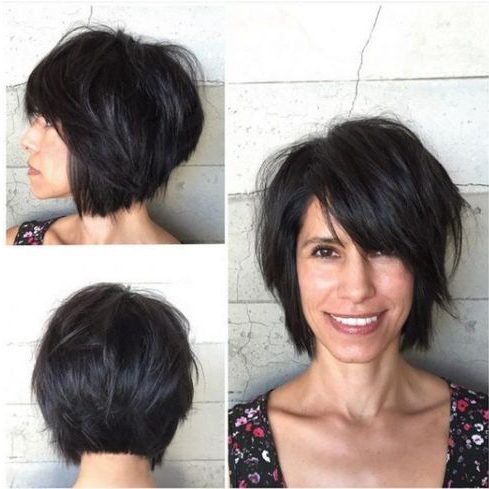 Soft Messy Tapered Pixie
Add some height to your choppy layered short hair by teasing the crown. The soft tones of blonde balayage work beautifully to create a sophisticated upscale look that can also be trendy and stylish on the weekends.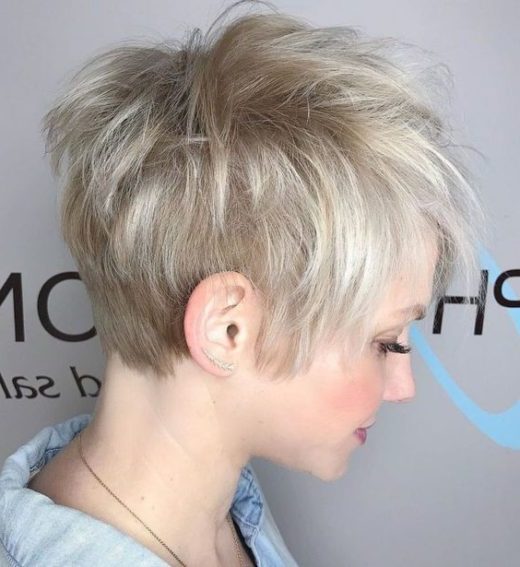 Angled Shaggy Bob
A medium-length bob is a timeless style that gives women with thin hair a boost of volume and confidence. Adding choppy layered sections more fully contributes to the overall style.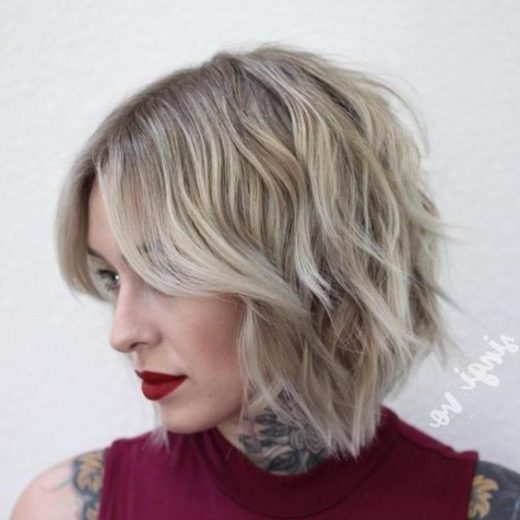 Edgy Choppy Pixie with Undercut
Being edgy and alternative, short choppy haircuts like the one pictured here are becoming increasingly popular. Its pieces nature creates a tousled look that's fun, trendy, and edgy. Particularly well suited for young audiences, all you need is the confidence to rock it.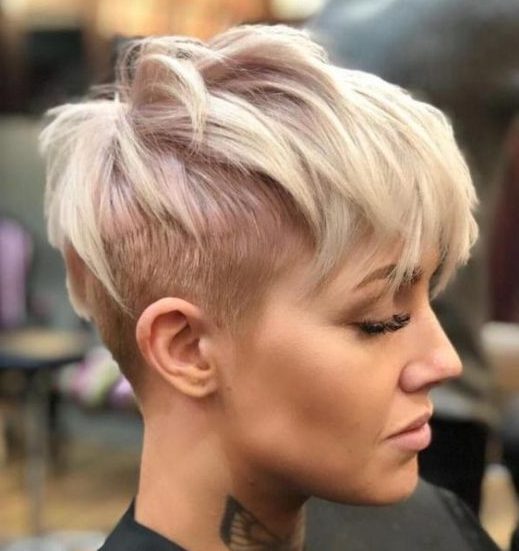 Cute Short Curly Shag
Cute and messy, this curly shag is perfect for you if you love sporting "I just got out of bed" hairstyles. Simplistic and easy to style, it suits hair of all thicknesses and flatters virtually any face shape.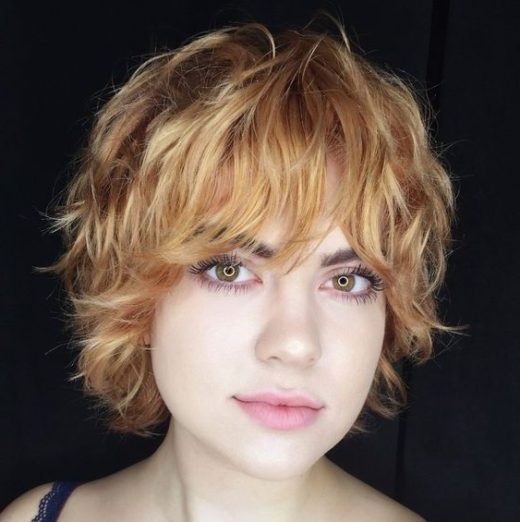 Feathered Pixie with V-Neck
Silver-blonde hair is sassy and fun when cut into a choppy little pixie with a long top and side-swept bangs. There's a bit of bounce and fullness that adds a feminine touch, and the tightly cut V-shaped nape keeps the haircut sporty and fun.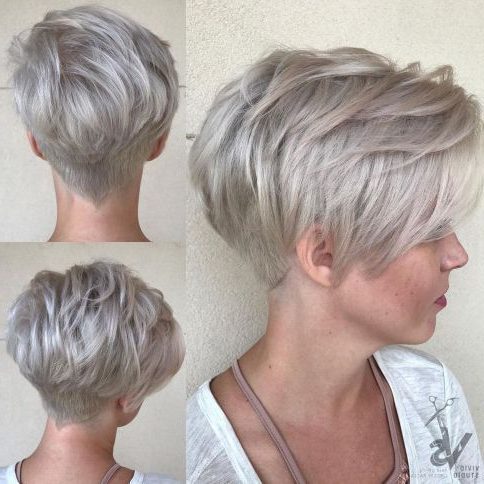 Punk with an Angle
Embrace that inner rock and roll with this white-blonde color combined with a cropped angled cut. This is a great look for fine hair as it will give lots of volume without looking fake or high maintenance.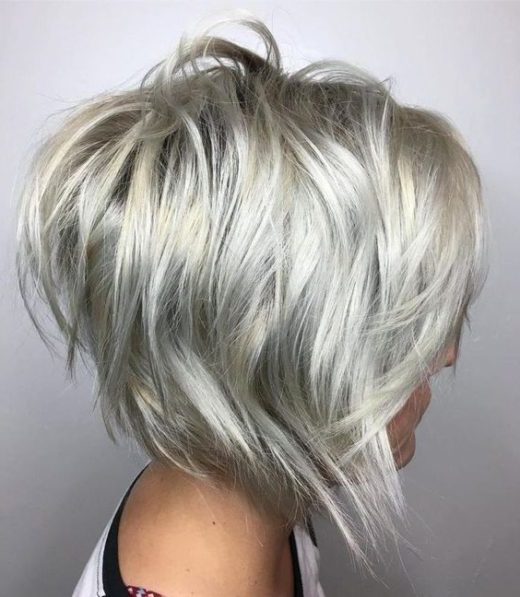 Delicate and Wispy Lavender Balayage Bob
The wispy balayage bob is intense and powerful when finished with an edgy color. Pastel shades, like lavender, are trendy and vibrant when combined with a bold lip.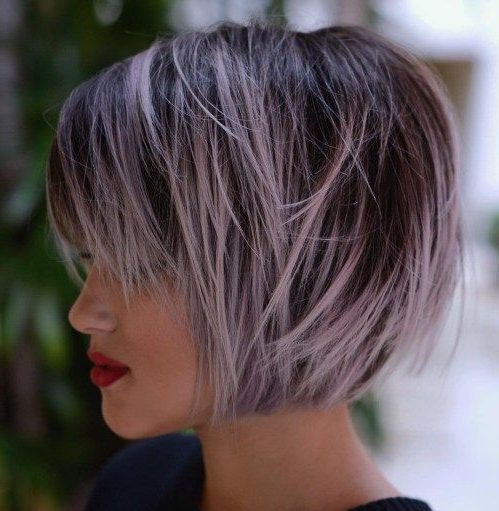 Jagged Bob with Full, Choppy Bangs
This charming, feathery bob with bangs features spiky, jagged edges and an overall shattered look, making it irresistible. It's a little style bang for miniature girls and women who feel tomboyish at heart.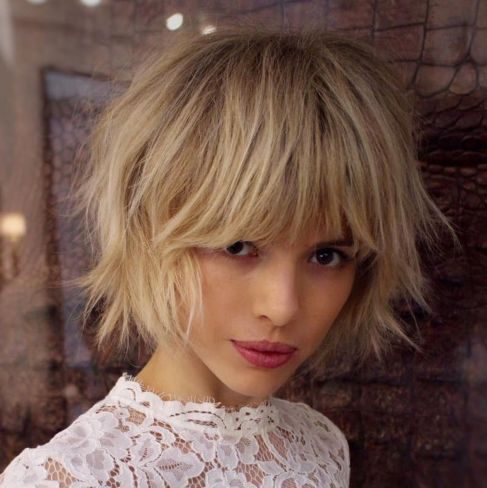 Long Messy Pixy with Nape Undercut
If you are looking for a modern and unique hairstyle with bangs, check out this overgrown pixie. The warm brown color brings richness and depth, and the extra-long side pieces are the perfect way to soften the angles of your face.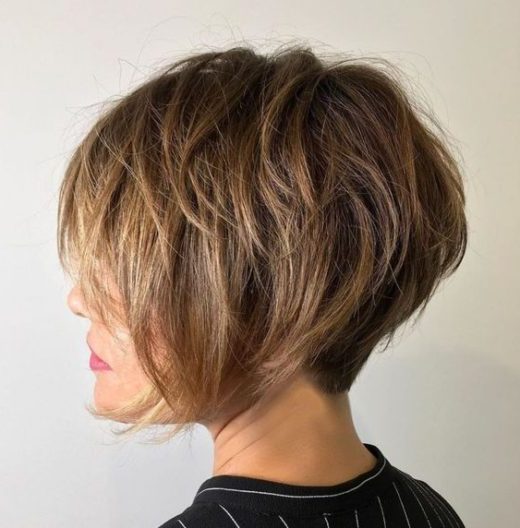 Choppy Messy Golden Bronde Bob
You can wear this short choppy hairstyle in two different ways, either blown straight out to show off all the sharp angles or tousled and slightly wavy, for a more relaxed feel.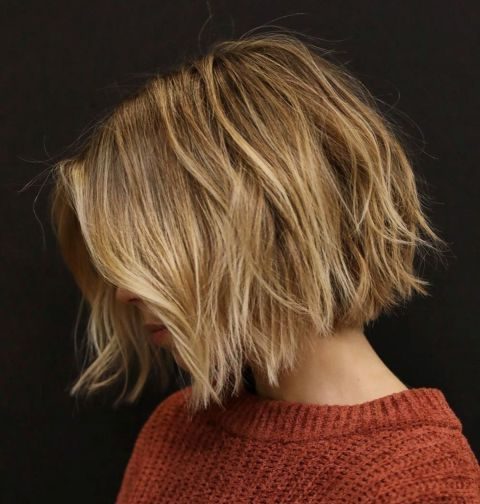 Deep Angled Shaved Lob
Part your hair to one side to show off the dark roots that stand out in stark contrast to the silvery-white lengths of this A-line lob. The steep angles of choppy haircuts have a distinct edgy flair that exudes an air of confidence and individuality.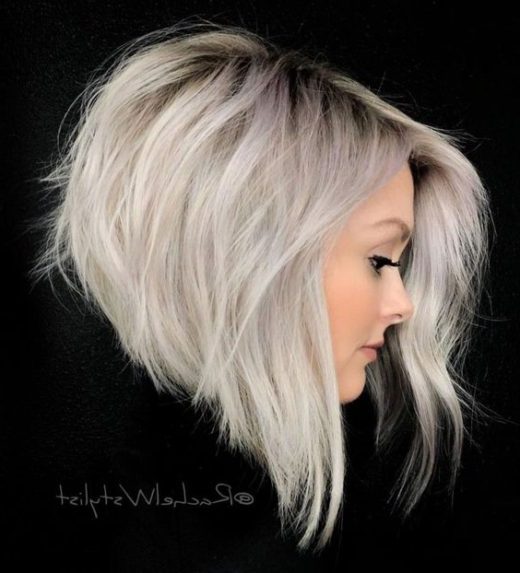 Inverted Bob with Shaggy Wavy Layers
The luminescent strawberry bronde balayage brings out the rich texture of naturally thick hair. Well-placed loose curls with bangs frame the eyes and cheekbones.
Super Short and Choppy
The choppy bangs get an extra wow factor with weaved-in blonde highlights. This spunky haircut isn't for the faint of heart – but having a buzz cut (even if it's just partial) is something every girl should try at least once. Trust us! This look gives an instant boost of confidence.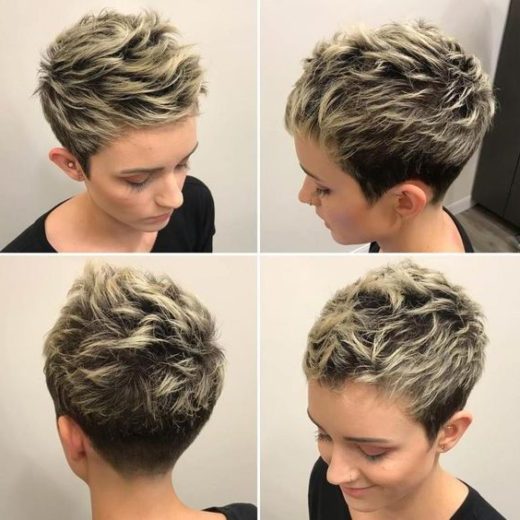 Glazed and Fluffy
Thanks to a very fine finish for the uneven ends and the blondish tint, this look looks so bushy and fluffy. At the same time, the crisp fringed edges and rough texture intensified with highlights, let us know this girl has character.