If you're in the 40+ age group, a short trendy haircut that suits your face shape can take years off your face. We may not be able to avoid getting a few wrinkles, but we can present ourselves as modern, fashion-forward women.
Hairstyles for 40 years
What does age 40 mean to you? Need a style upgrade as you start a new chapter in your life? Let's think about it together on a rational level. When you are younger, you are usually still looking for your style, this search often goes to extremes, or you remain a gray mouse for a long time because you do not want to attract attention. At the age of 40, you have found yourself and your hairstyle should reflect that. You no longer pay attention to whether you make a great impression, but you are you and you know what you are worth. This knowledge now reflects the hairstyle from 40 – classic, elegant, sometimes playful and cheeky, but always appropriate to the age and still attractive.
How should a hairstyle from the age of 40 be?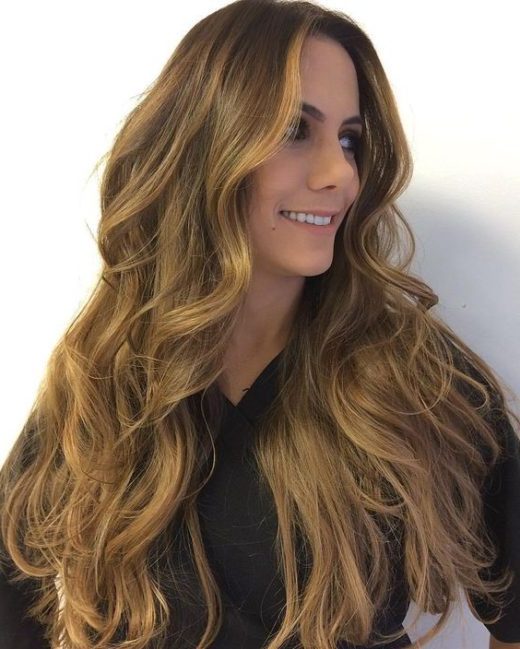 We have put together some key points of an ideal hairstyle for women over 40 years of age:
Schick,
naturally,
professional yet fashionable,
easy-care,
sporty, but with a little twist.
Well, the list could be endless, because, by the time you're 40, you can wear any hairstyle that flatters your face shape and highlights your strengths. A short haircut, for example, will accentuate your cheekbones. A good barber will give you a great layered cut that emphasizes your cheekbones as well as your jawbones.
Great hairstyles for women over 40
Is there a hairstyle you'd better avoid? Now that's a subject to argue about. Unusual hair colors should be a no-go from the age of 40. It is also said that long hair unnecessarily lengthens a face and therefore tends to look unflattering after the age of 40. Otherwise, there are no limits…
For cool women: Trendy, two-tone cut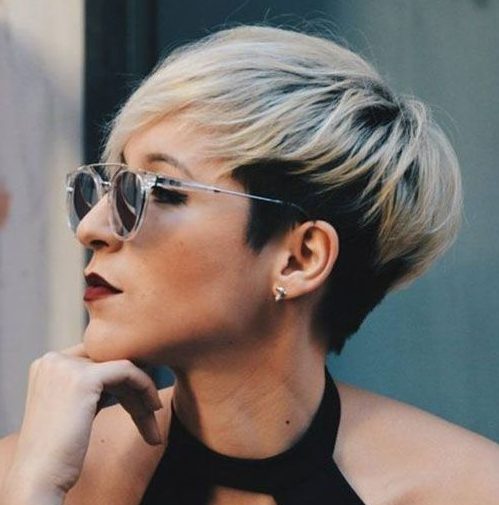 In the current hair trends, a two-tone color design with dark and light colors is typical for short hairstyles. This black and white cut shows the shape of the skull with short layers at the head.
This hip, urban hairstyle creates a great contrast between the strong lines in the dark area and the feather-light, light layers at the top. The styling brings in movement and creates a loose, side pony. The effect achieved here is that of a stylish woman with a large portion of boho elegance without being forced.
Cool black tips on brunettes – the best hairstyle for women with thick hair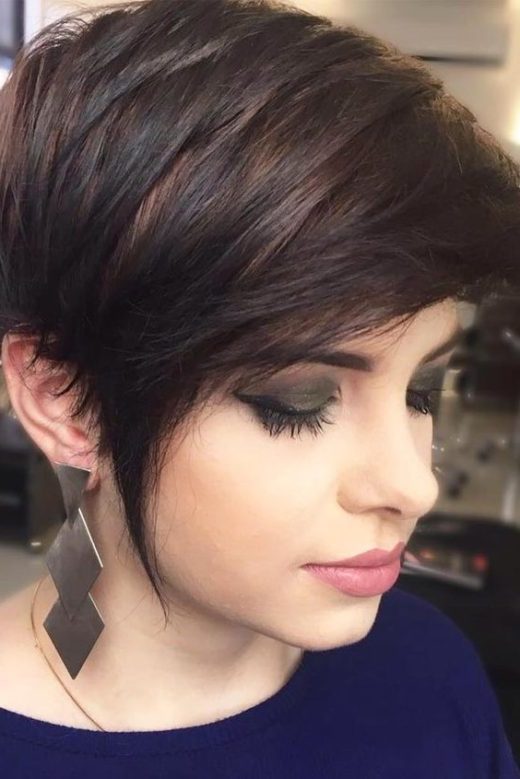 This neat cut shows so many trendy features that it stands out from the other hairstyles! In addition to the trend "Black ombré look for brunette hair," we have another new color idea that hasn't become a mainstream trend yet.
But we love how he makes this side-styled short haircut look fresh and different. In the upper area, we have a nice structure with the black ombré accents. And another cool detail is the extra-long, sideways, soft fringe with the pointed ends of the hair, which form a great contrast.
White-blonde pot cut with shaved details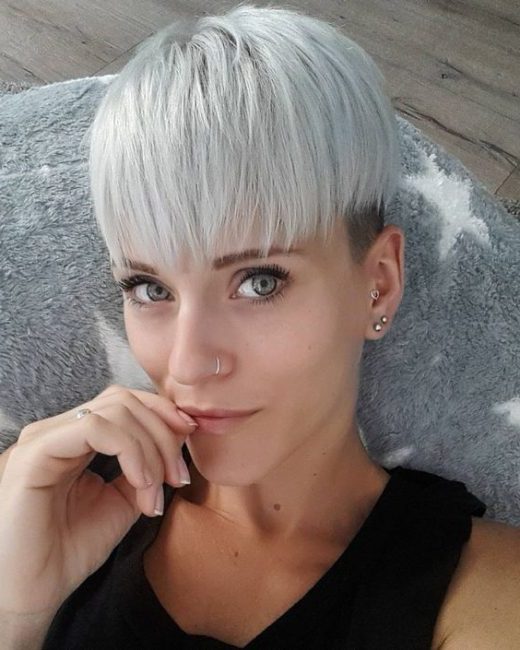 You may not be as young as the model in this picture, sporting this easy-to-maintain short haircut. But a certain age doesn't stop you from trying the latest short hairstyles!
This cut, with hair, cropped close at the back and sides and an undercut, made the jump from punk to mainstream a while ago. And white hair with dark roots is a trendy new color idea for all women, whether over 40, under 30 or in a completely different age group. There are no more borders, we no longer have to choose a style that society thinks fits a certain age. So this pot cut with textured tips that soften the line of long straight bangs could be your new flattering look!
Fiery Red – Perfect for women who go for glamour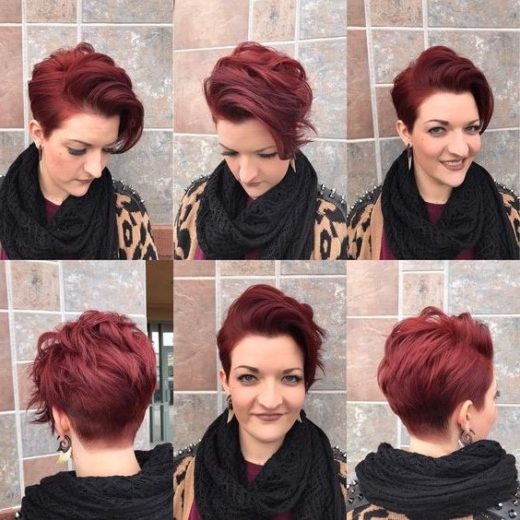 If you've always been vivacious and had a style that catches the eye, then you don't need to follow the grey, white, and ash-blonde short hairstyle trend!
Medium skin tones with a warm undertone need warmer colors to look good anyway. Intense reds are this season's trend and it's perfect for adding an instant glamor to short haircuts, whether you're in your 40s, 60s, or 80s! This great cut is easy to maintain and the short sides and back are shown off to perfection. In addition, it can be styled in different ways. You can let the bangs frame your face or comb them over one eye to be bold and seductive.
Ultra-modern: Cool shave and short, asymmetrical hair styling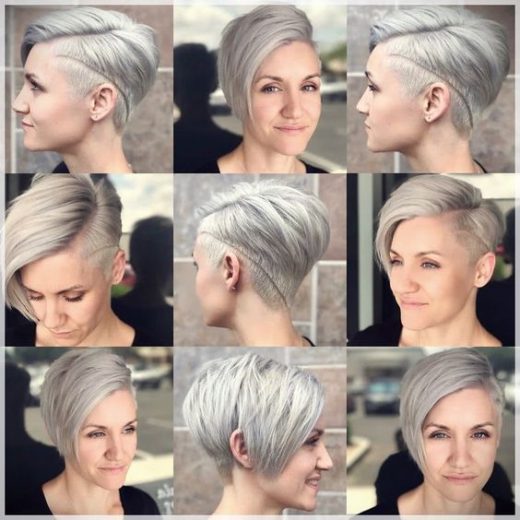 A shaved line in the closely shaved part as an interesting detail is THE latest trend in modern haircuts for women over 40! And this style for medium to thick hair is a high fashion statement just waiting for you.
It's a very asymmetrical styling with long side sections in silver and beige blonde, with a touch of lavender toner. The long sides have the profile of a short bob, with a straight, tousled texture. And in absolute contrast, there is this gorgeous shaved back of the head with a gently shaved curved line bringing movement from the temple down to the nape of the neck!
Chic boy cut with a quiff for gray and white hair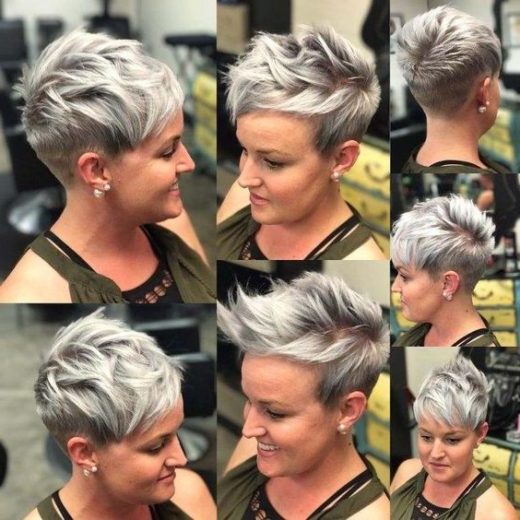 This stylish short haircut gives you an excellent opportunity to skip the hair coloring and instead show off your naturally gray hair in a chic, nine look!
The shaved back of the head creates a great boy cut detail while we have a pretty 'chrysanthemum' shape on top. The hair is cut into layers that appear sliced, creating thick, defined areas with a pointed finish. Gray hair roots with white balayage coloring provide a 3D density that makes the hair look fuller. You can quickly style your hair in a quiff or thick, defined bangs. It's a great relaxed-looking cut with strong lines, so if you like it, head to the hairdresser!
The soft structure and silver-grey elegance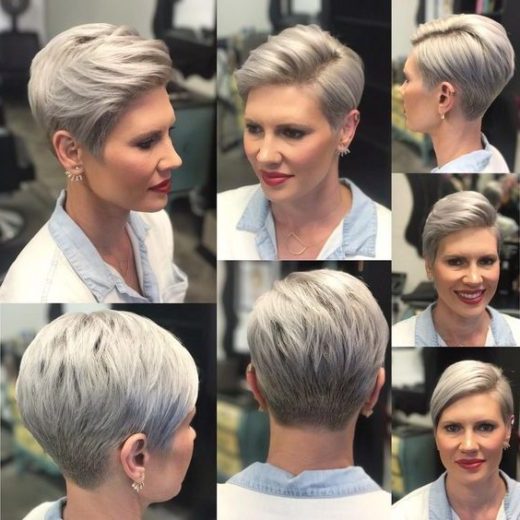 Thick or medium hair with natural volume looks fantastic in this versatile short haircut in a fashionable silver gray! The hair is short at the back and straight at the nape to match the clean lines on the sides, and you can wear it with statement earrings.
With longer tiers around the top of the head, it's easy to create shapely volume and a modern profile with neat side partings. This elegant short hairstyle could be just the thing if you want to show off your naturally gray or silver-white hair in a modern look. The cut can be varied to suit any face shape by trimming it to either lengthen or shorten the face.
Medium blonde with cheeky spiky hair ends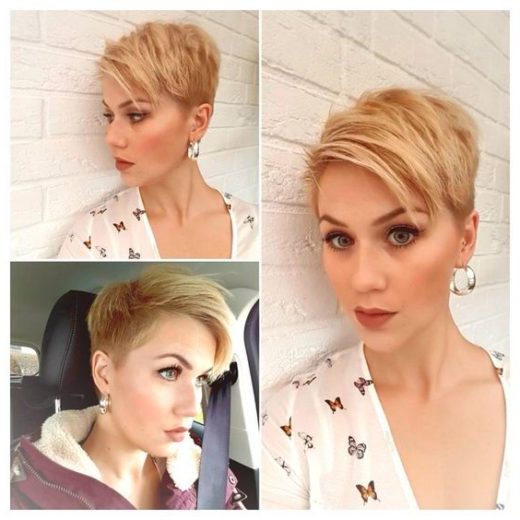 The fact that short hairstyles for women over 40, 50, 60, and so on are mostly photographed on pretty young women often discourages more mature women from trying these cuts. And that's just wrong! Don't think for a second that just because this hairstyle is shown on a young model, it doesn't suit your age.
This soft, medium blonde shade is flattering and mature women look great in this cool look with spiked hair ends and shaved sides. The problem is that we don't see enough older women with trendy short haircuts in the media! So remember: you can look fashionable and beautiful with a short haircut in gray or white or whatever color you prefer!
Soft and feathery bangs in a short haircut for fine hair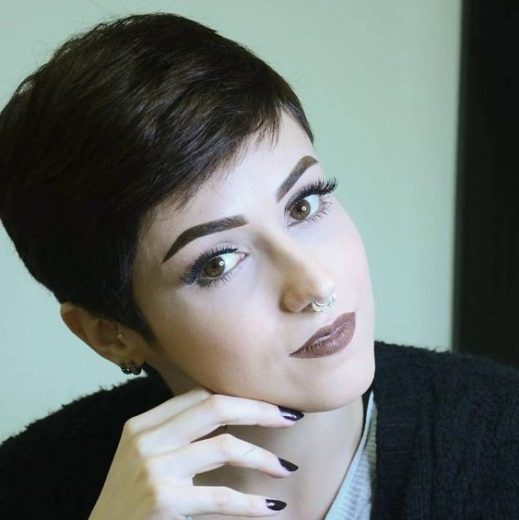 This classic pixie cut maintains the simple lines of the original pixie that made the cut famous in the 1960s. It is easy to style and maintains. A lively shade or a trendy balayage coloring provides more 3D depth for fine or medium-thick hair.
And show off your style with trendy earrings at the level of cute short side tips. The side parting breaks the course of the straight bangs and adds a touch of asymmetry to the cut. But the pretty, feathery texture of the bangs makes the face look soft beneath the stylish side-slicked hair!
Bangs that make you peek out from under and messy curls on top of your head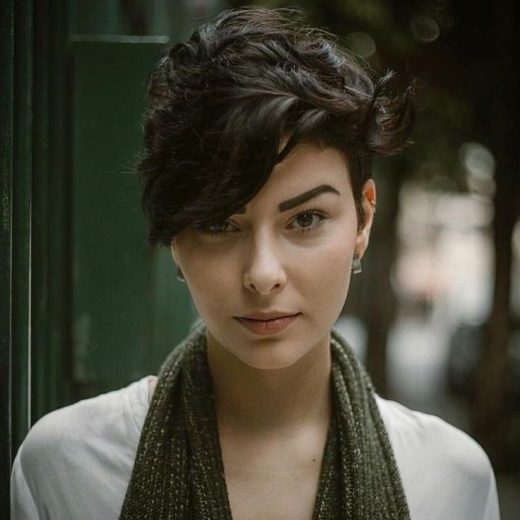 Here's a super modern look that looks great on dark, curly hair. Although the model has an oval face, this asymmetric cut suits other face shapes as well. The tousled curls at the top make you look taller, which is always good for a round face, and the more flat sides make the face look longer and narrower. The pretty wavy bangs flow down one eye in a feminine way, accentuating both your eyes and your youthful spirit!
Aschblonder Long bob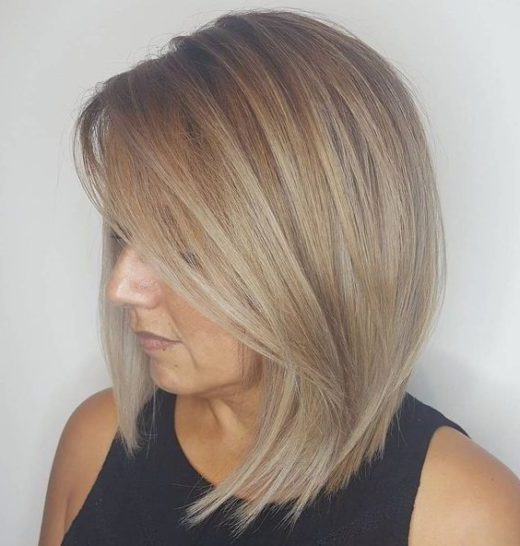 A medium-length bob gives women over 40 a great area to experiment with new hair colors. In this case, a mix of warm and cool undertones was used. Together with your hairdresser, choose a shade of brown that you like and have the transition dyed a cool ash blonde.
Curly long bob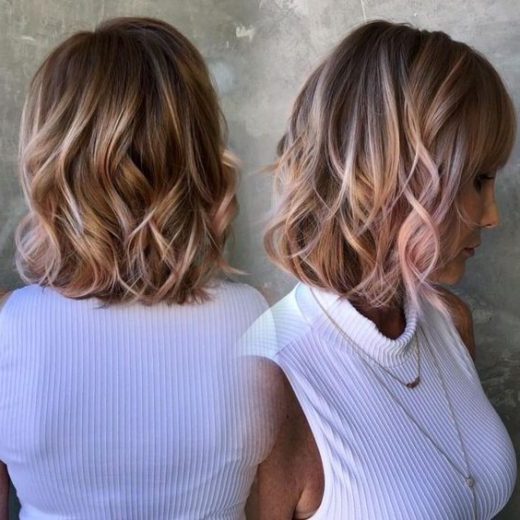 We said at the beginning that fancy hair colors are taboo for women over 40. But that doesn't mean that you can't add small color accents. This long bob with super cute curls and a great balayage technique is colored in soft pastel. Why not?
Voluminous long bob with bangs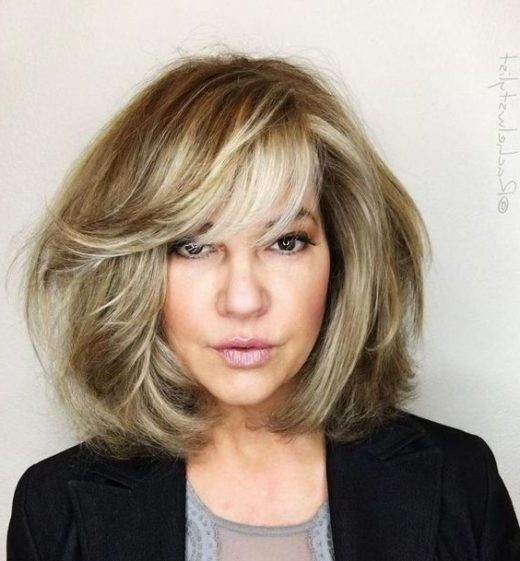 Admittedly, this hairstyle could almost be considered a medium-length hairstyle, but we found it so suitable for women over 40 that we included it. The mixture of dark and light blonde strands sets great color accents and the side bangs create incredible volume on the top of the head!
Choppy Pixie Bob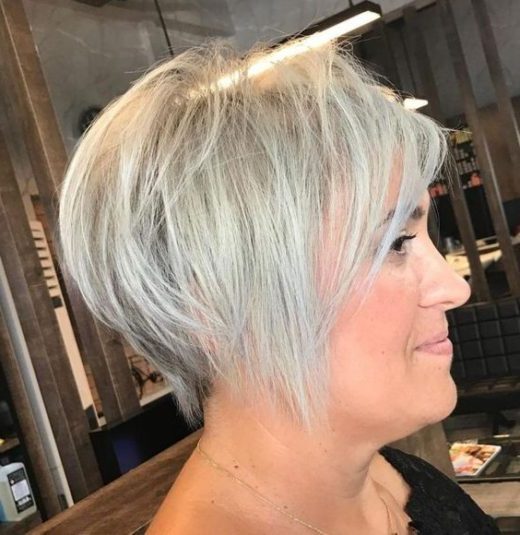 A pixie bob is an ideal hairstyle for women over 40. Bring some life into your hairstyle with this choppy cut created with a knife. Leave the sides a bit longer, the side bangs create a perfect transition here.
Layered bob in honey blonde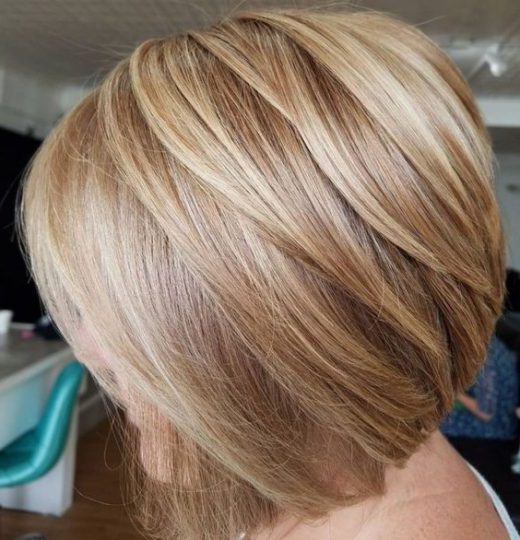 A step cut in several layers in the shape of a "V" brings out highlights like in this example. But first, you should choose the right colors for your type. A mix of honey and light blonde was used here.
Sleek bob with bangs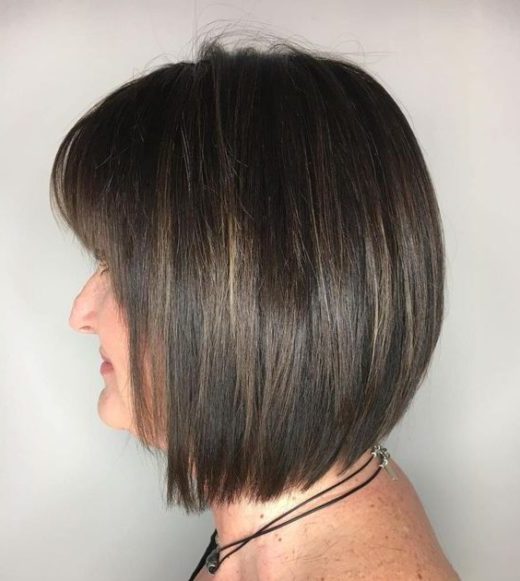 This haircut is extremely simple yet so incredibly elegant. The slight layers at the back of the head give the hair optical fullness, while the subtle highlights set interesting accents. The Boring was yesterday!
Silberblonder Pixie Bob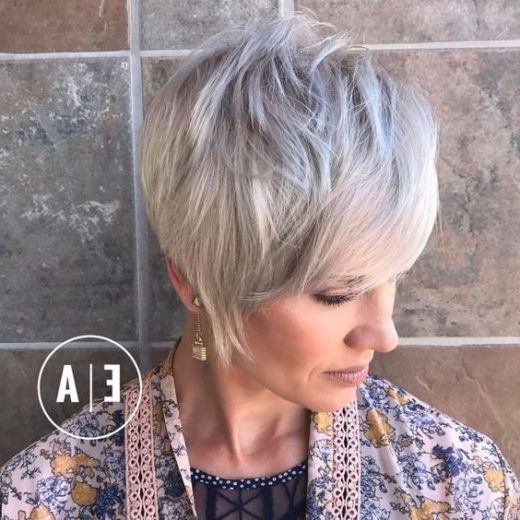 Hair that's already gray doesn't have to look boring! With a pixie bob in silver-blonde, you skilfully avoid the dreaded gray, as they are not so noticeable. The haircut, longer in the front and sides, charmingly frames the face.
Layered pixie with side bangs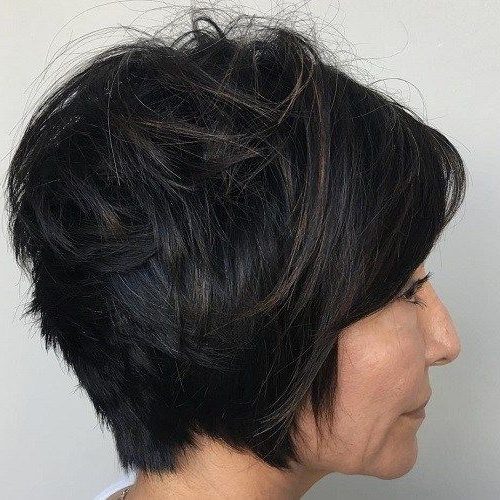 Stress, such as with family or work, can cause thinning and thinning hair over the years. A pixie bob layered at the back of the head can counteract this with optically created volume. The long-side pony completes the hairstyle.
Pony with Shadow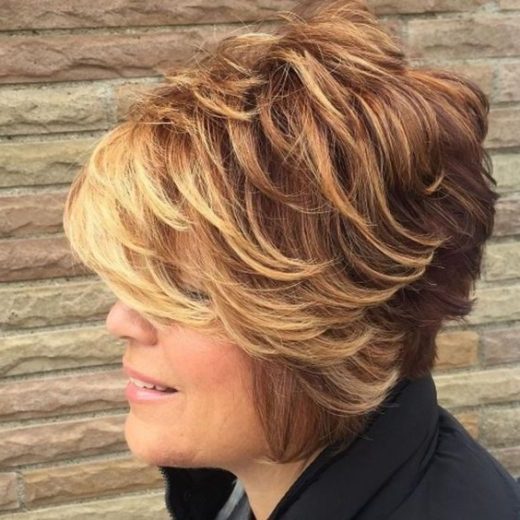 A hairstyle for women over 40 should flatter both the face shape and complexion. A well-trained barber will recognize what haircut you need based on your age. The color transition in summery tones beautifully emphasizes tanned skin.