When it comes to hairstyle, Asian women have the advantage of being born with gorgeous silky black strands. But that doesn't make her shy away from scissors or hair dye. In fact, many of the freshest and boldest styles are from Asian beauties, so scroll down for the top hottest Asian hairstyles that everyone can — and should — try for their next salon appointment.
Cute and easy Asian hairstyles for any length
Forget regular ponytail hairstyles and old-fashioned updos. Try something simple, yet trendy. Long and short, wavy and poker straight, layered and blunt, the following hairstyles for Asian girls captivate with their diversity and creativity.
Gorgeous Smoky Purple Ombre
If you're going for a bold color, we strongly encourage you to consider this dreamy hood. From black to dark purple to icy blonde and lavender pink melts only an artist likes to create this magic. For maximum impact, pair with luscious long tresses in huge, bouncy curls.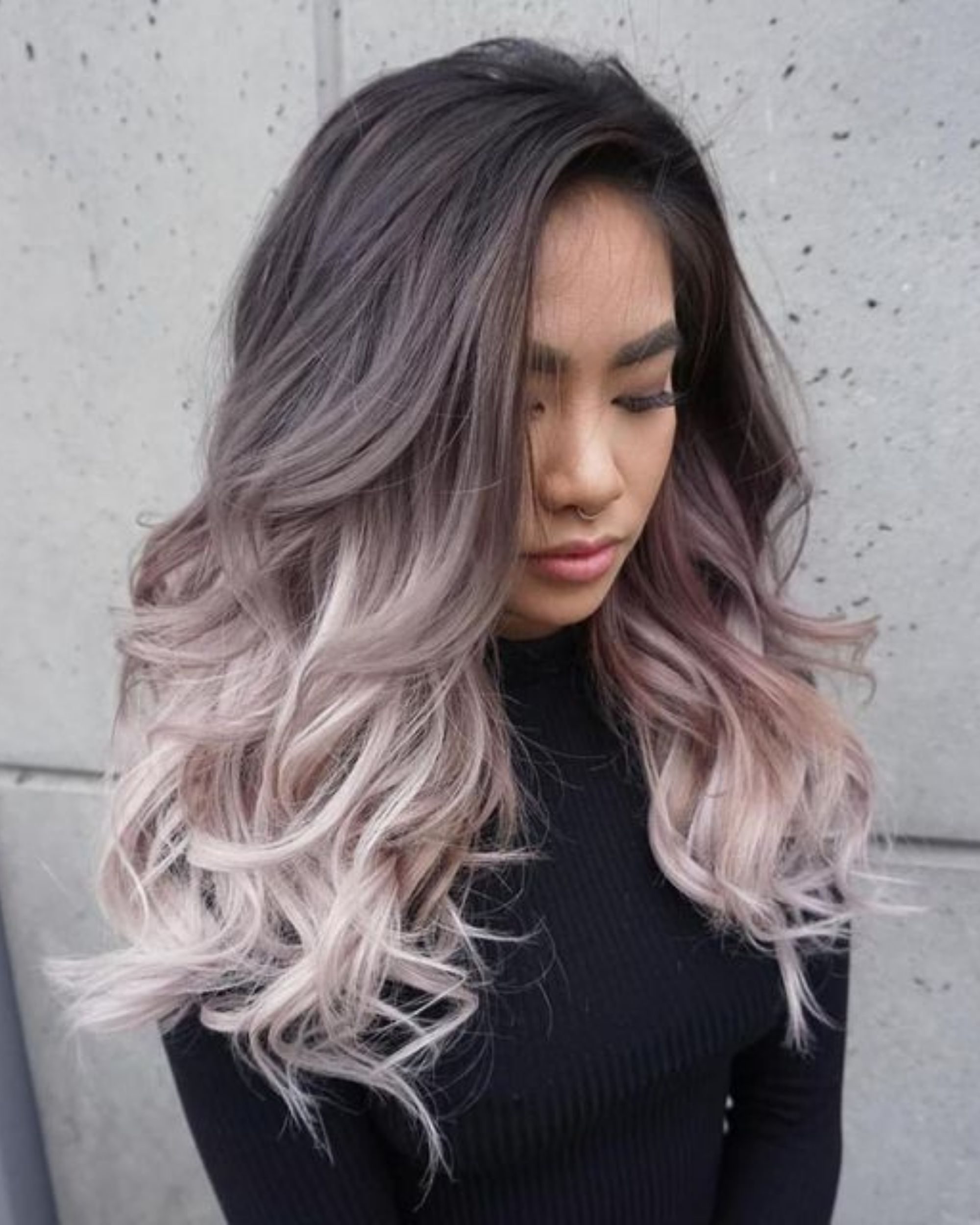 Ash Bronde Ombre Hair
No, that's not a typo. "Bronde" is the result of combining shades of brown and blonde, resulting in a cool, ashy tone. It's a popular choice for Asian hair highlights as it blends well with naturally dark tresses.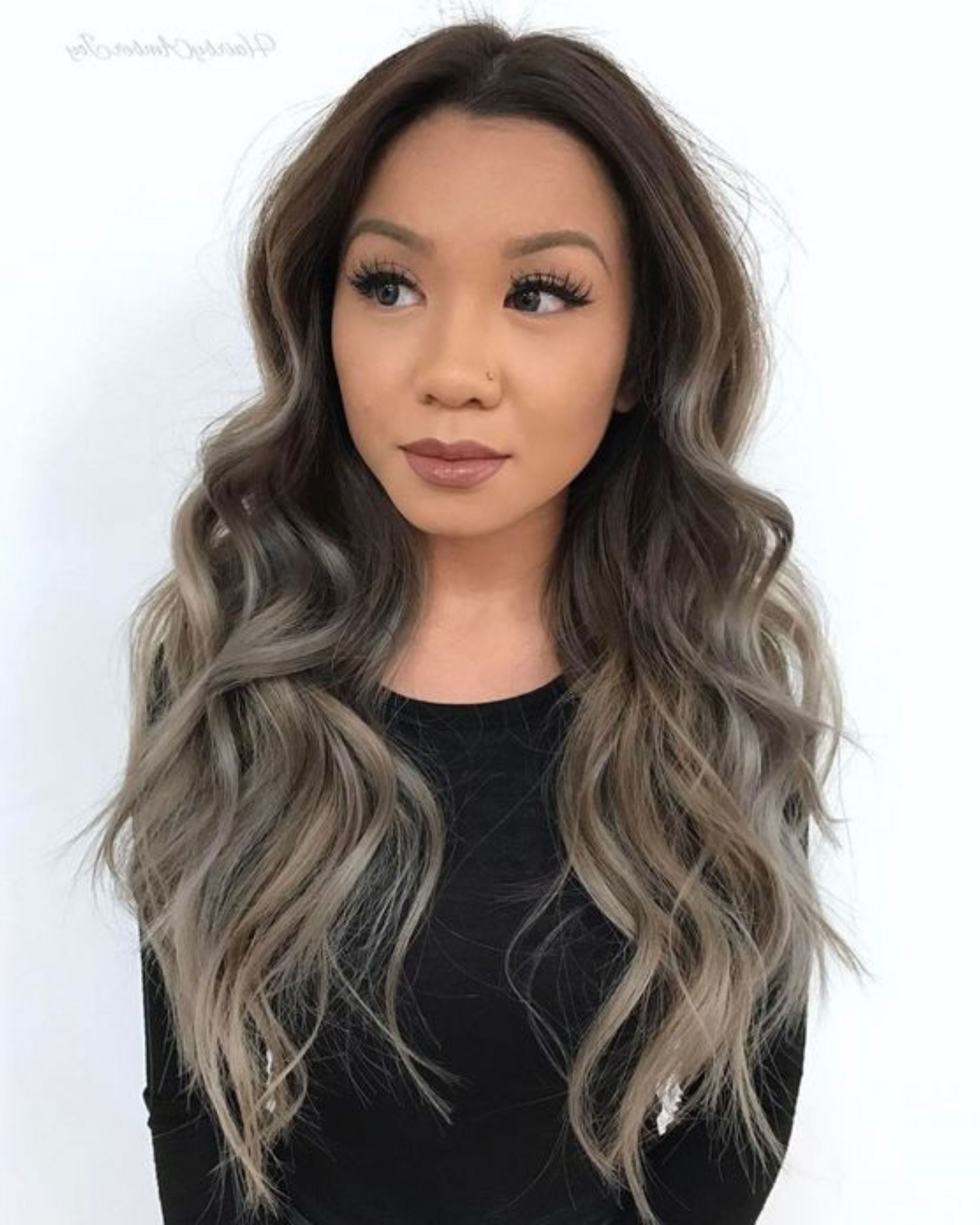 Modern Shaggy Asian Style
Popular in the 1970s, shag hairstyles are not only still around, but they're cool-girl-approved and a great find for Asian hairstyles. Mid-layered strands — as opposed to short, wispy layers in the original '70s cut — keep it current, as do cute bangs and fresh highlights.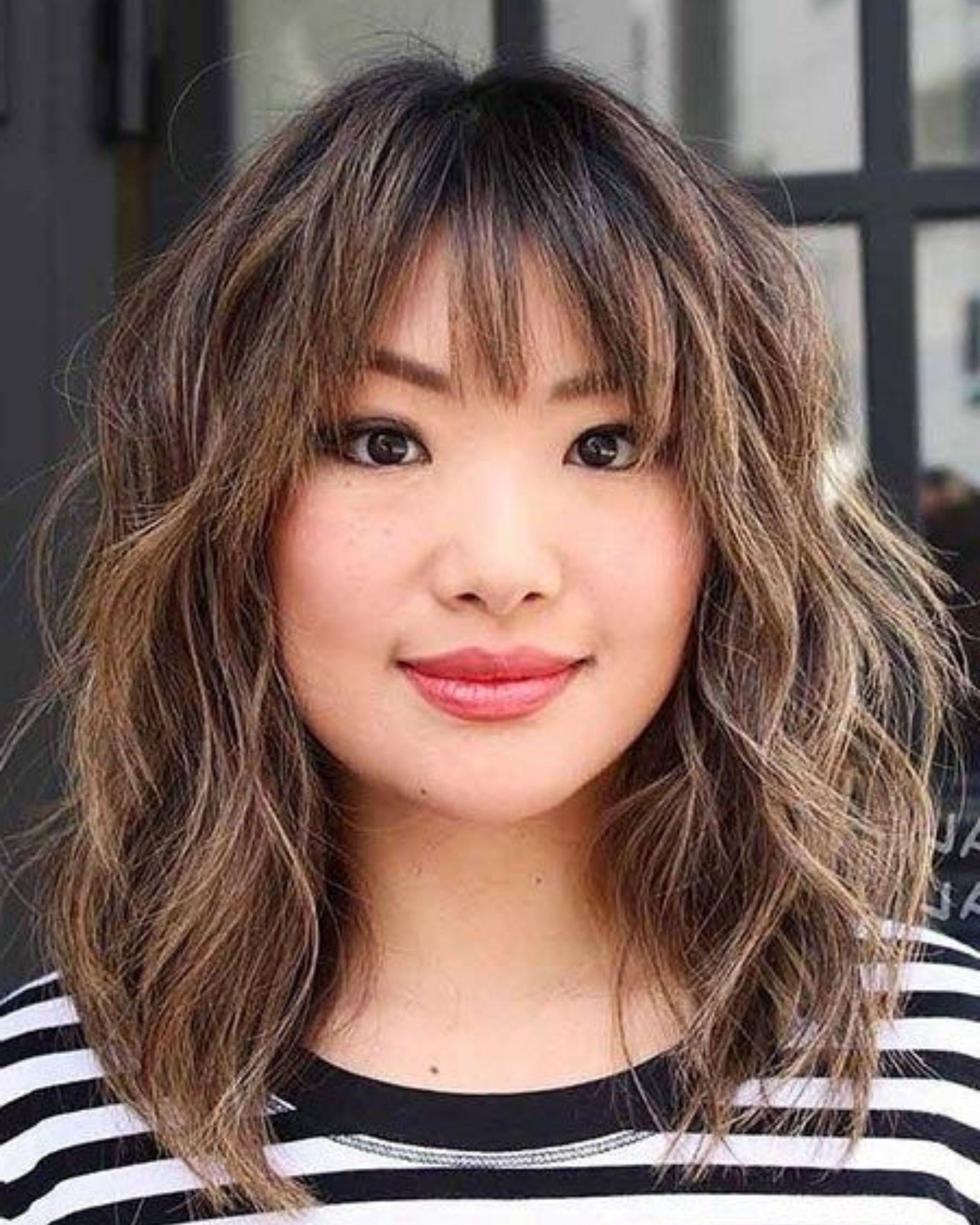 Black to Light Brown Ombre Waves
Long-layered hair curled into waves is always a delicious and popular choice, especially when colored with caramel ombre against dark roots. The chocolate swirl effect is both intoxicating and universally flattering.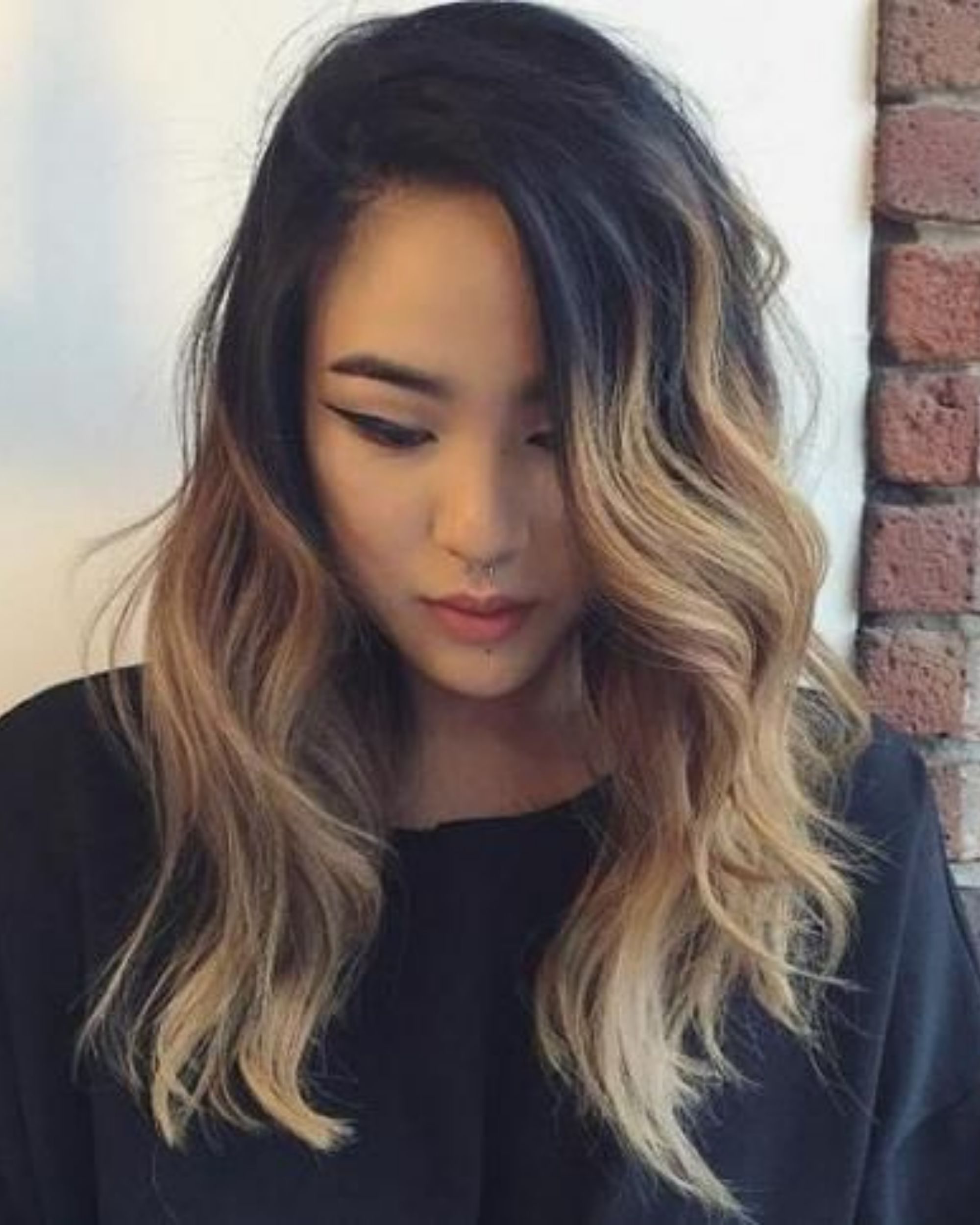 Asian Medium Hairstyle with Textured Waves
This universally flattering cut is one of the most popular among trending oriental hairstyles and with good reason. Layers through the bottom three-quarters of the hair create a soft texture that looks completely natural and effortless when curled into loose waves and highlighted with a touch of baby lights.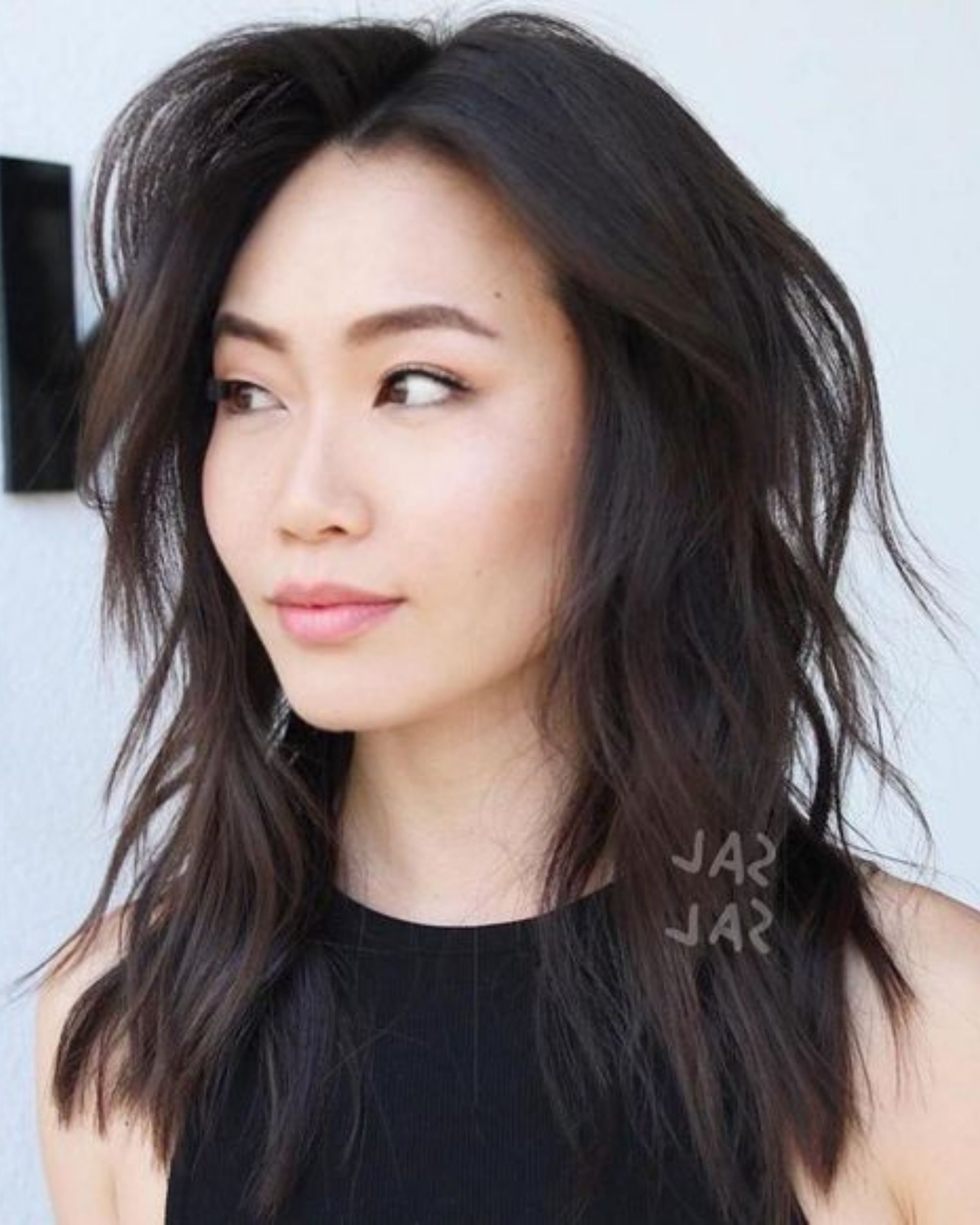 Pink Asymmetrical A-Line Bob
If you haven't noticed, muted colors are trending. A dusty rose dark stone looks stunning against dark roots, adding beautiful depth. And as always, medium-length angled bobs flatter any face shape with a slimming effect, thanks to their eye-pulling long front layers. A great option for women with round faces.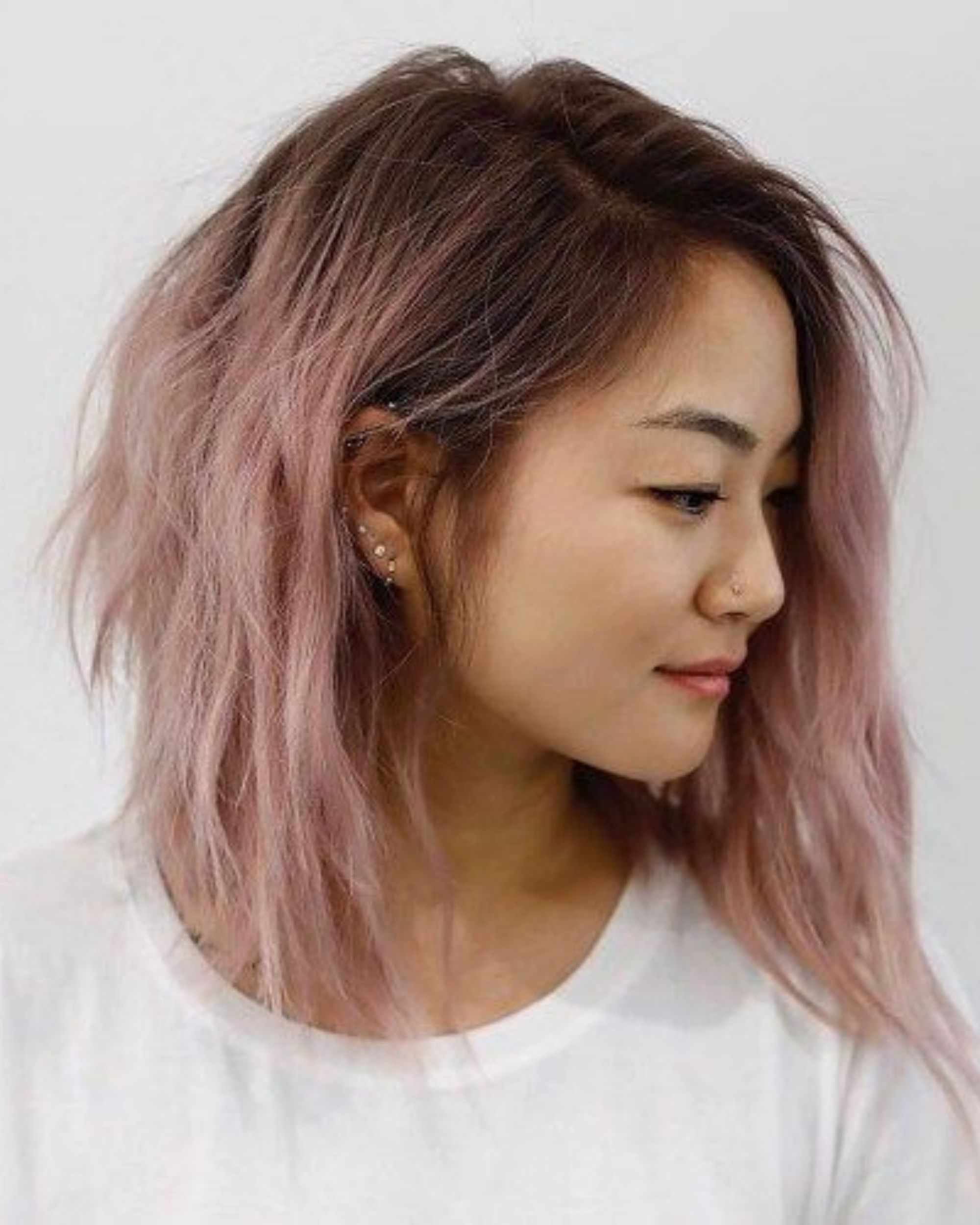 Choppy Cut with Wispy Bangs
The best way to fake thicker locks is with a choppy cut. But since this style can sometimes be boring on its own, thin, tapered bangs will add visual interest, and caramel balayage will fake even the appearance of shorter layers.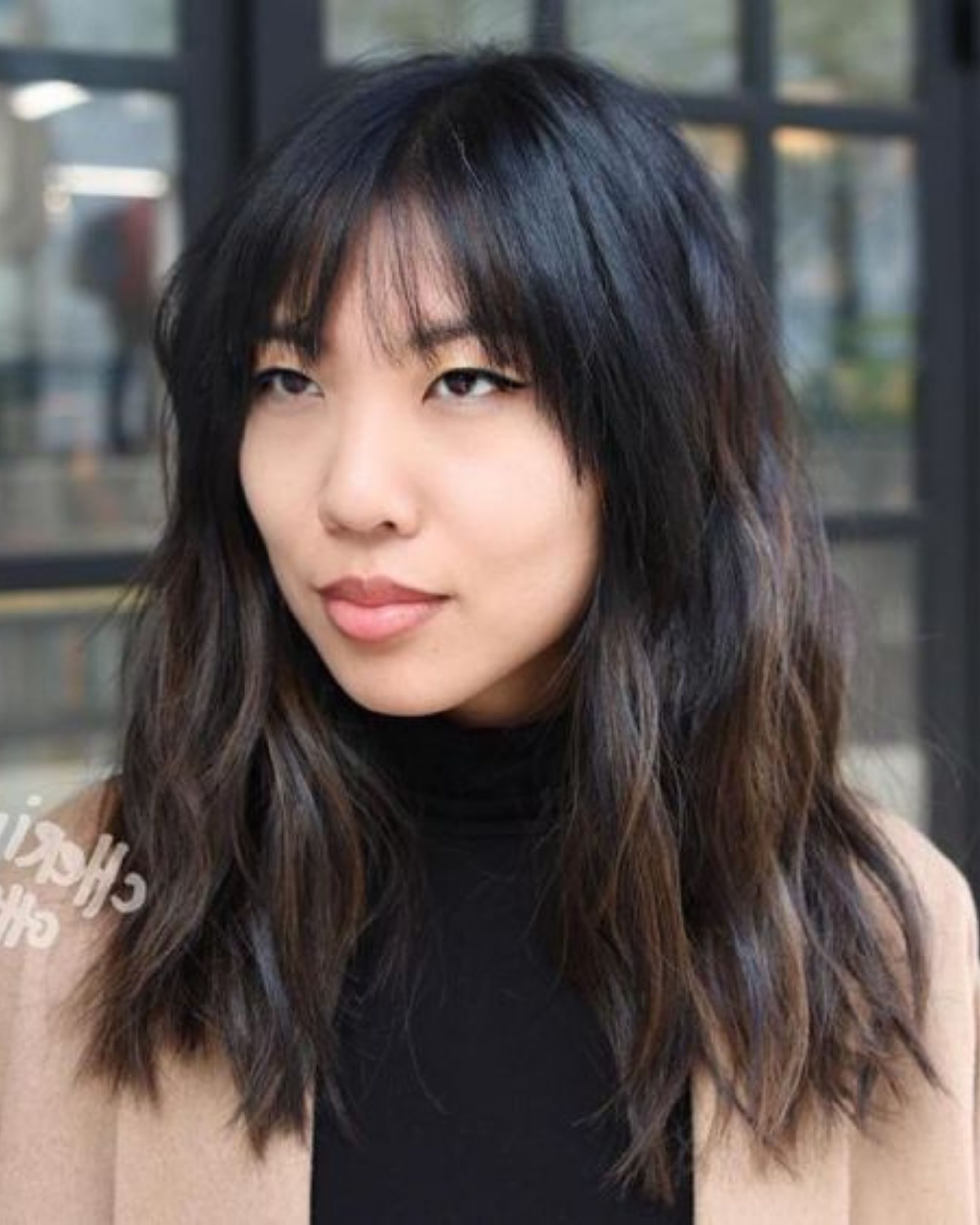 Black and Denim Blue Waves
Wearing denim is forever in fashion, and now its popularity has extended to hair color. This moonlight gray shade is perfect for those who want to exude a whimsy and mysterious vibe. It is also a great choice for a hairstyle for an Asian girl as it perfectly melts into black strands.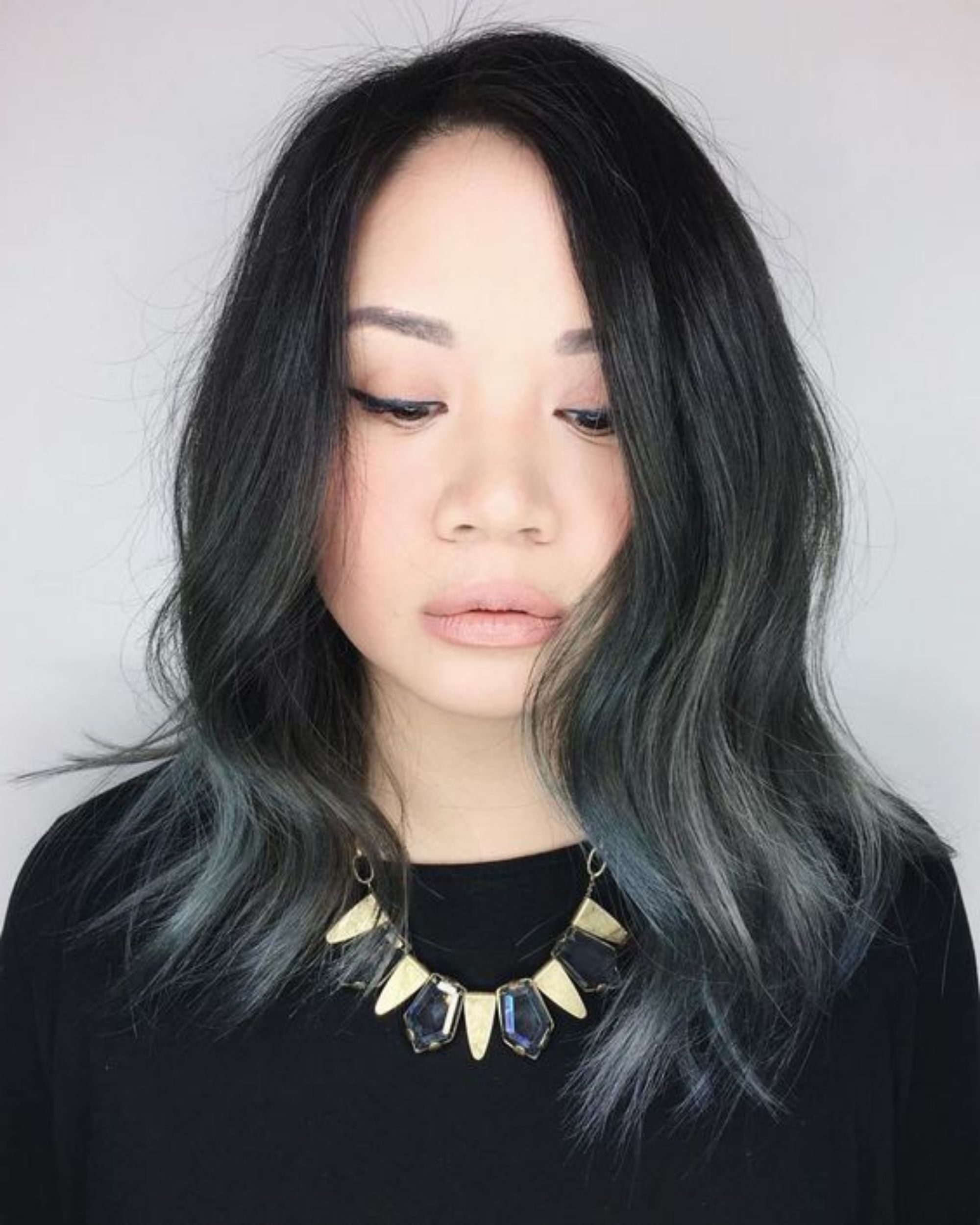 Wavy long bob with bangs
One of our favorite Asian hairstyle choices is to finish each cut with bangs. Not only do straight bangs look edgy, but their biggest advantage is that they frame your eyes and make them pop. This long bob is also a great example of how warming up your natural dark and cold color can warm up your complexion as well.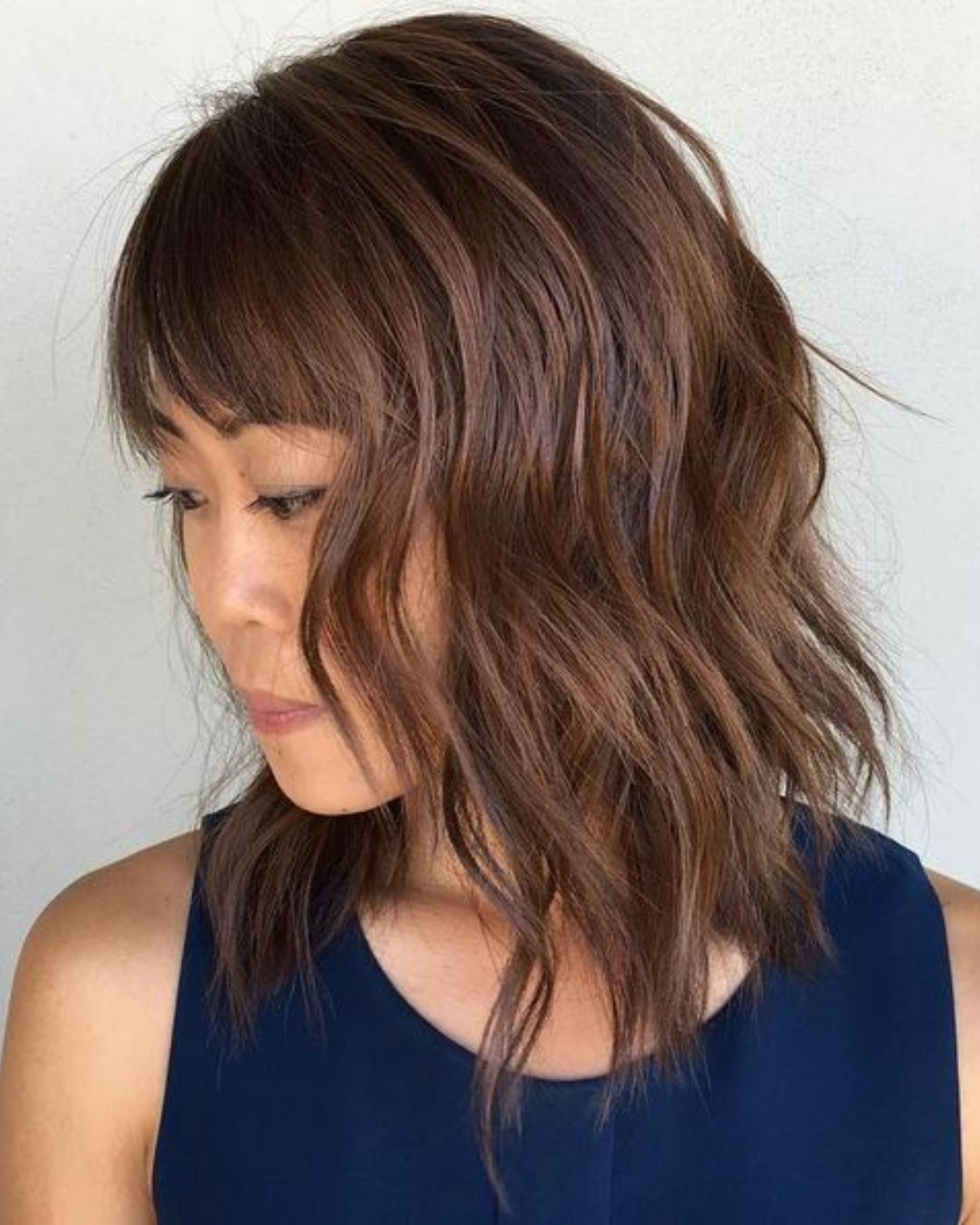 Mermaid Waves with Side Cornrows
For girls who want to stand out from the crowd, try rocking several bold hairstyles at once: overlong curls, a bright bold color, and cornrows. While it would take a lot of maintenance to keep the color and manage so much hair, this cool unicorn-like coif is well worth the effort.
Edgy Textured Bob Hair
Bobs never go out of style: they're chic, sassy, ​​and low-maintenance. To keep it modern add layers for texture and combine them with balayage highlights. When your hair is naturally wavy, it's even easier to style: finger through a product and go.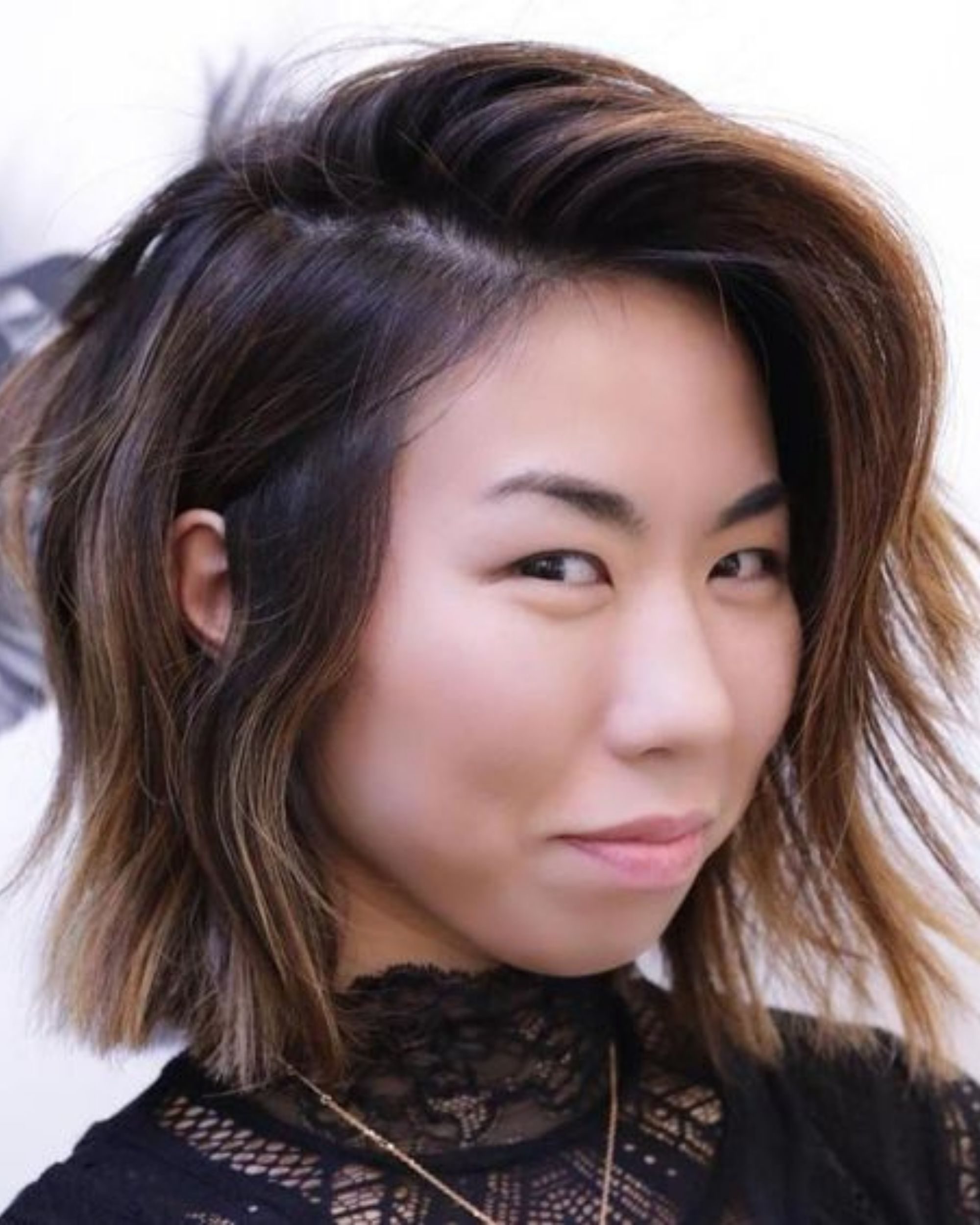 Cool Silver Asian Hairstyle
Looking for unique Chinese hairstyles? Dodge the black locks and consider going gray long before you naturally would. As long as the rest of your look is fresh and trendy, silver hair will appear young and trendy.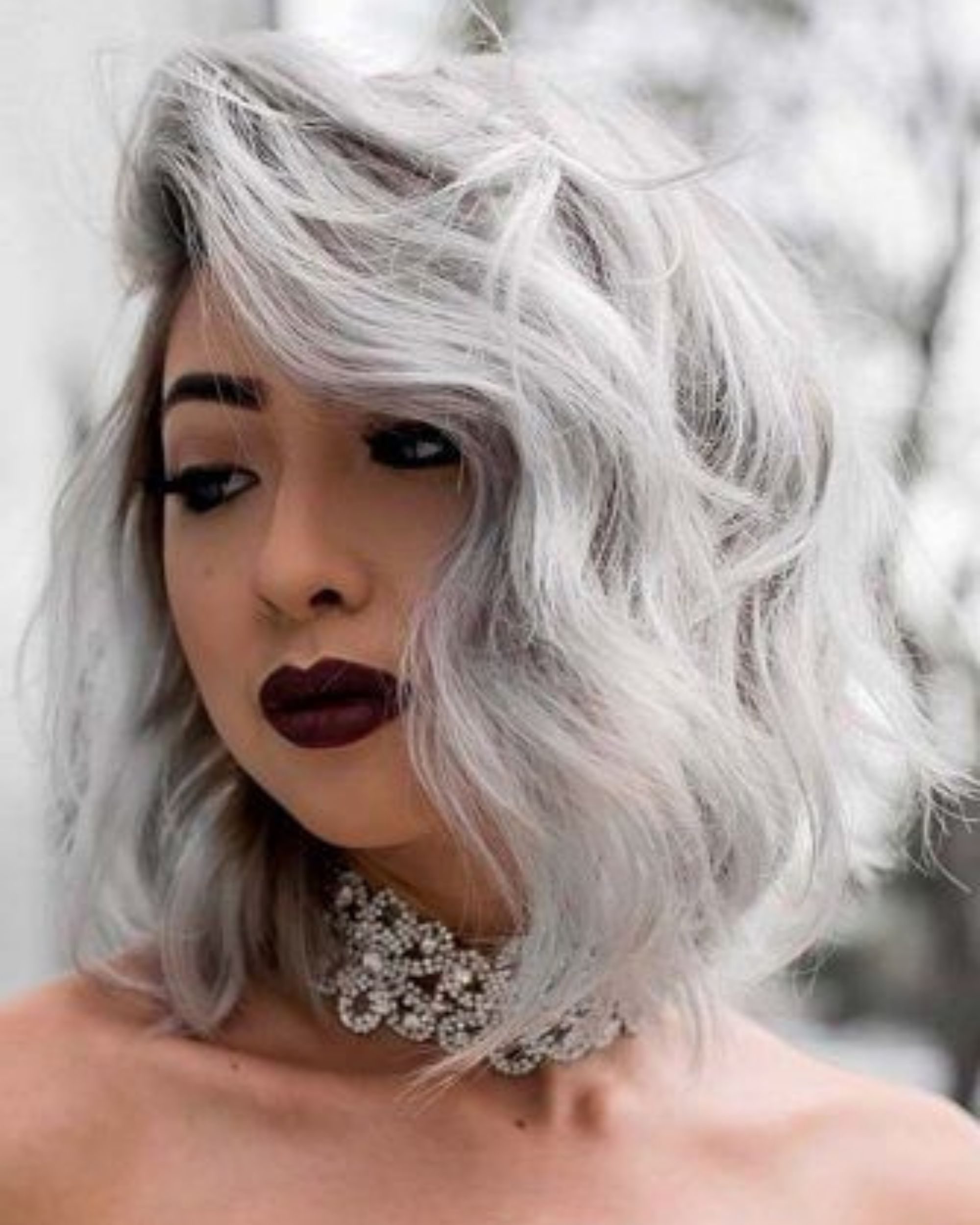 Braided shoulder-length hair
We can thank all the Free People for bringing us the effortlessly cool top knot, but if it's starting to feel stale then take it to the next level by adding a braid. Bonus points for bold hair color and pairing it with a shoulder-length bob.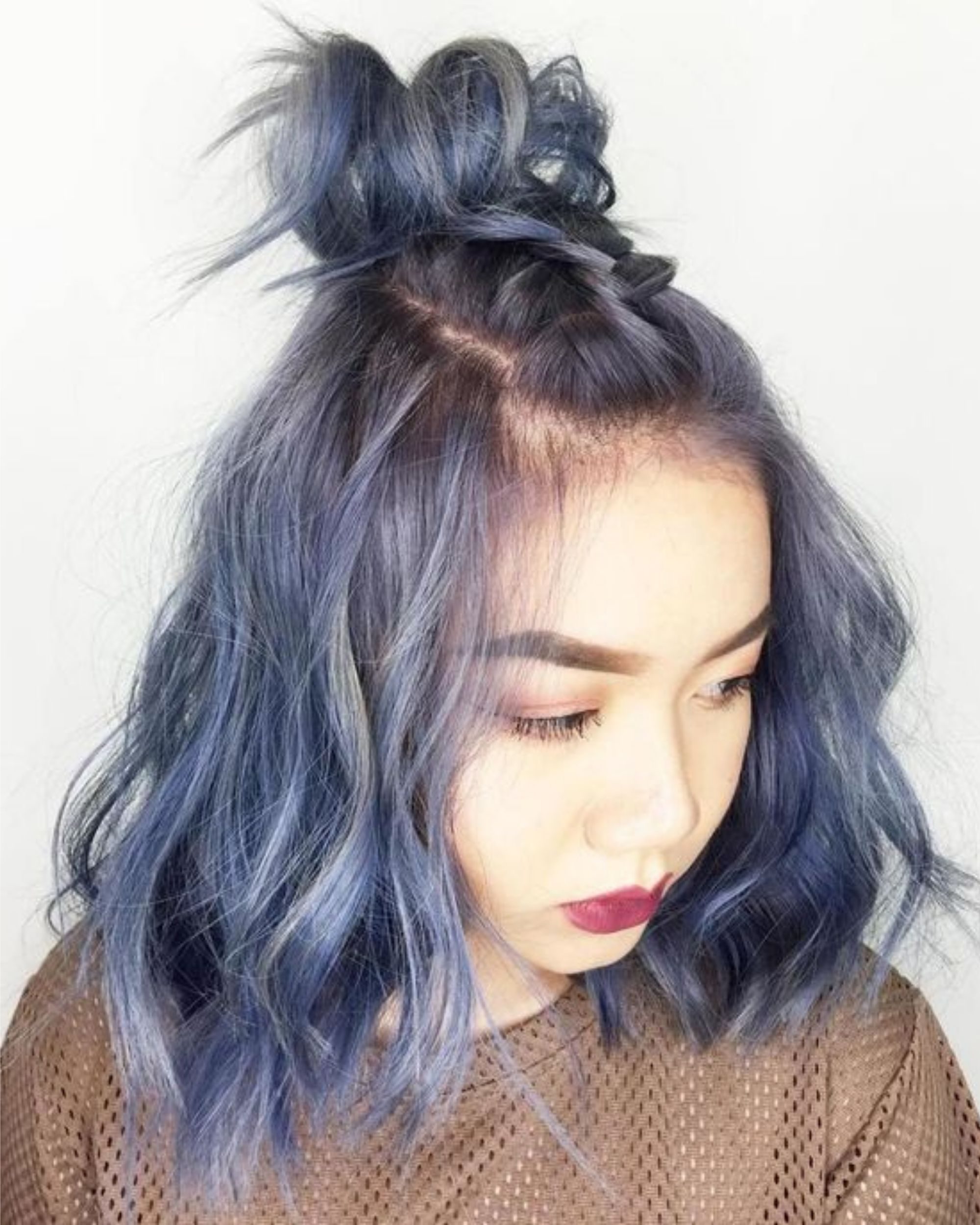 Shaggy lob with bangs
A funky fresh option for Asian short hairstyles. This pretty choppy lob features layers that are chopped and fanned out to create a futuristic texture. The straight-across bangs balance the look with structure.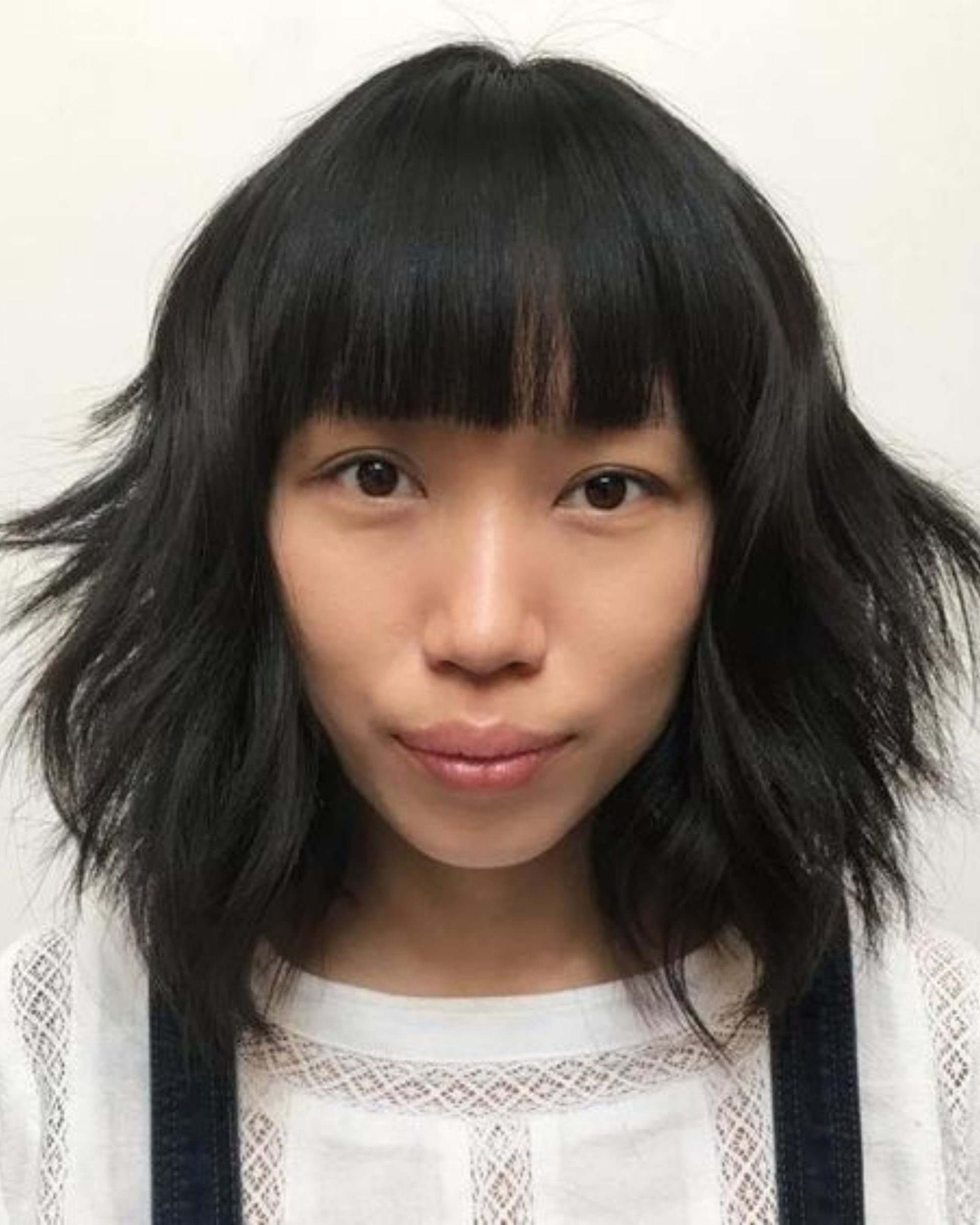 Long waves with subtle highlights
There are tons of cute Asian hairstyles that you can do with really long hair to bring out its natural beauty. Elaine Tan graced her petite long locks with soft beachy waves and added a lovely side fringe. The subtle golden brown accents add another dose of sophistication and style to Elaine's look.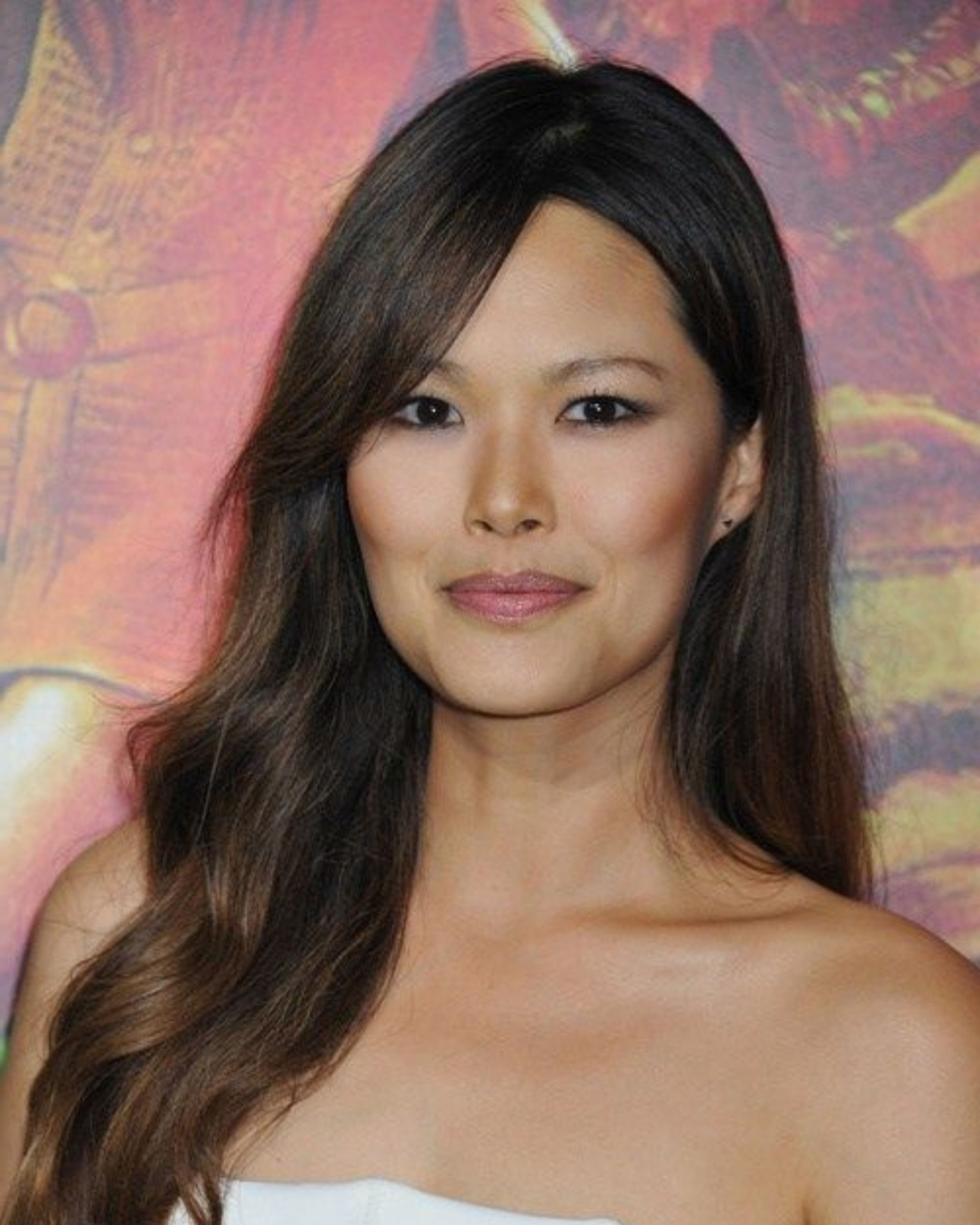 Classic bob with side part
Short Asian hairstyles, including bob cuts, have always been very popular. No wonder this particular style keeps hitting the runways and red carpet. Tian Yuan chooses this simple but timeless hairstyle because it looks youthful, casual, and elegant at the same time. It lasts all day with a little mist, so it's a perfect choice for an all-day event.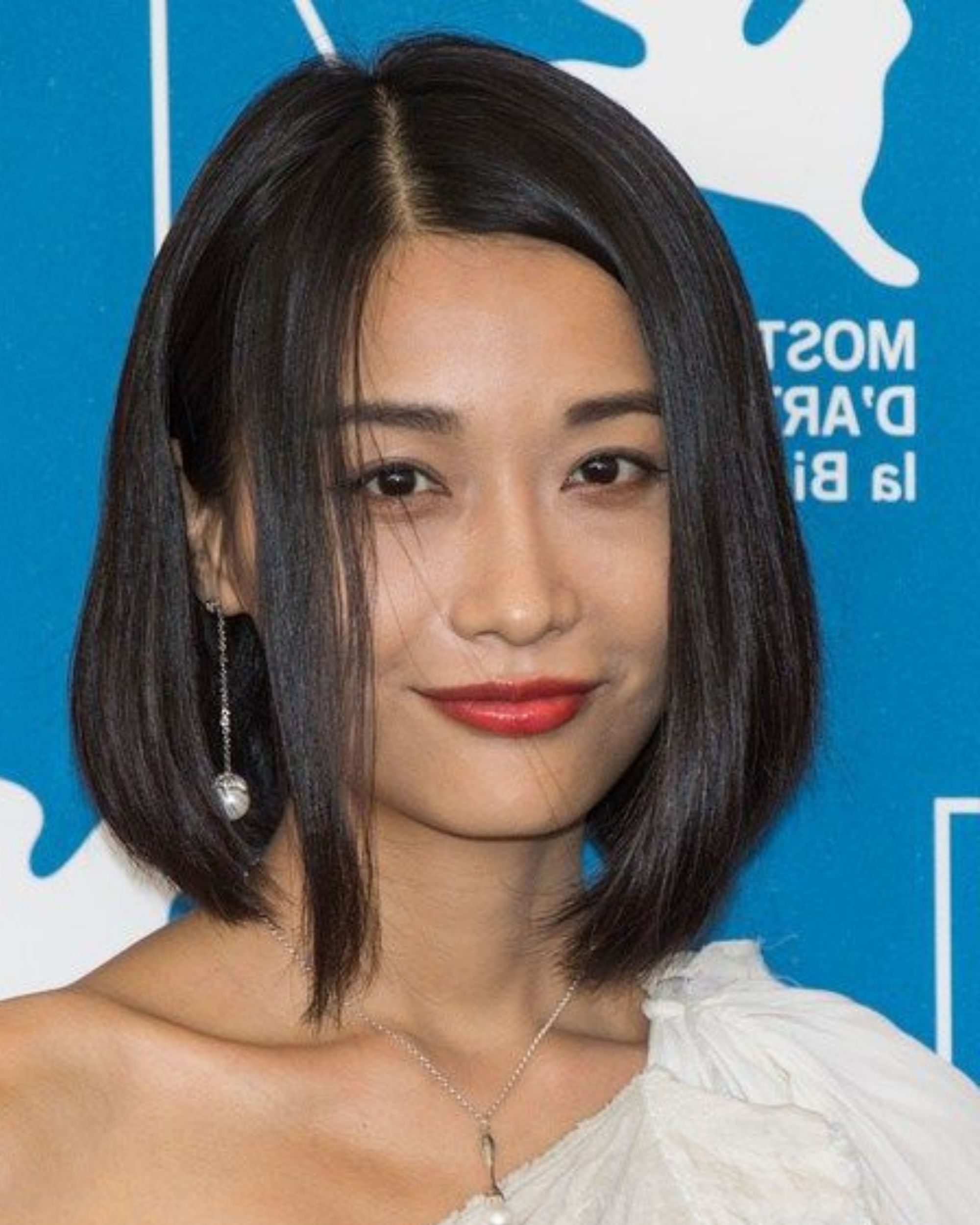 Wavy lob with face-framing highlights
Jamie Chung had very delicate "barely there" waves at the Critics Choice Awards. And they looked flawlessly natural! The subtle face-framing highlights in this exquisite wavy Asian hairstyle are something we absolutely love!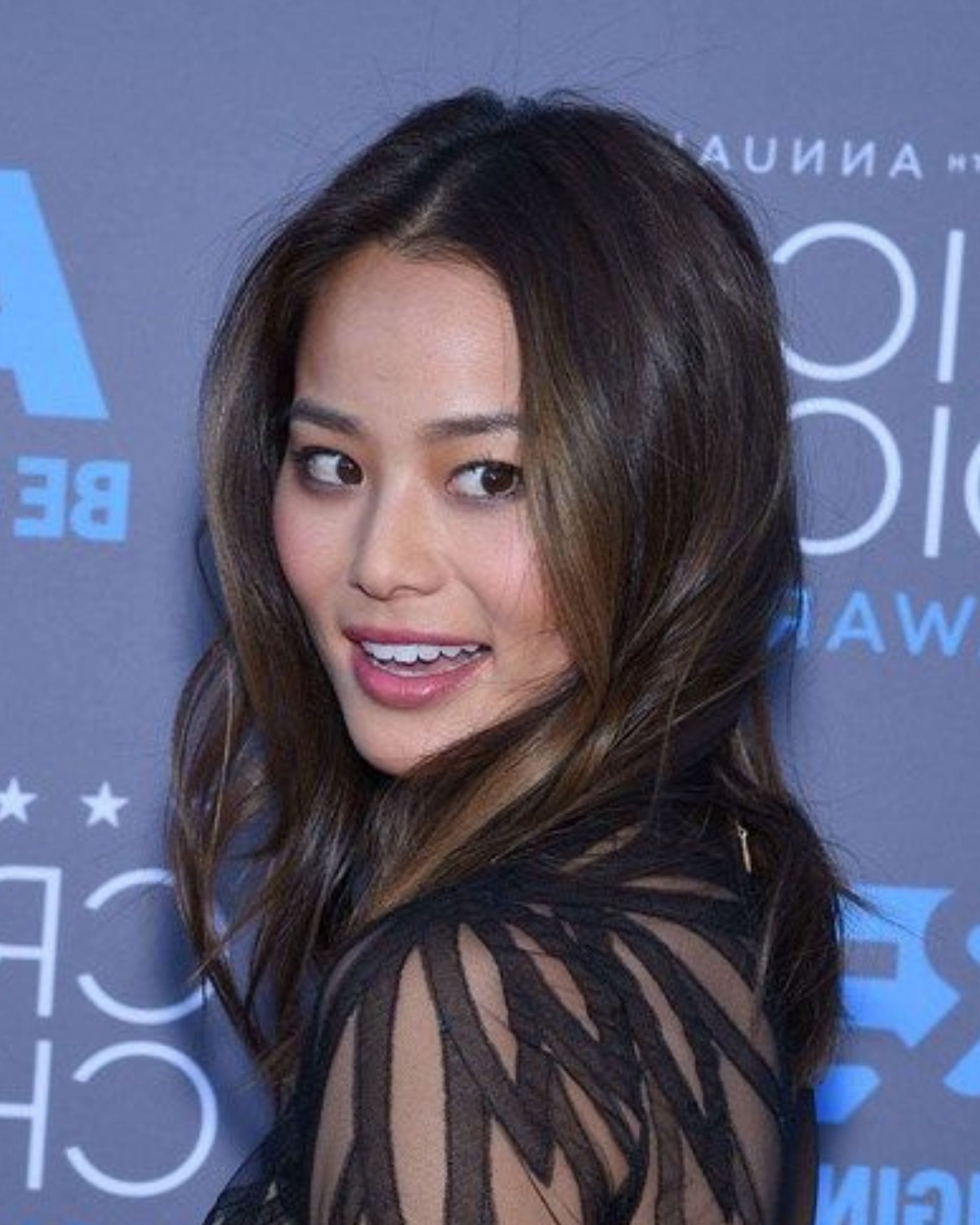 Short Platinum Blonde Bob
Bob for medium hair is undeniably a very common hairstyle, but Pom Klementieff shows how to dispel this common misconception. At the Weinstein Company and Netflix Golden Globes after party, all eyes were on her funky light platinum blonde hair. To add dimension to her hairstyle, she got subtle messy waves and soft, wavy bangs.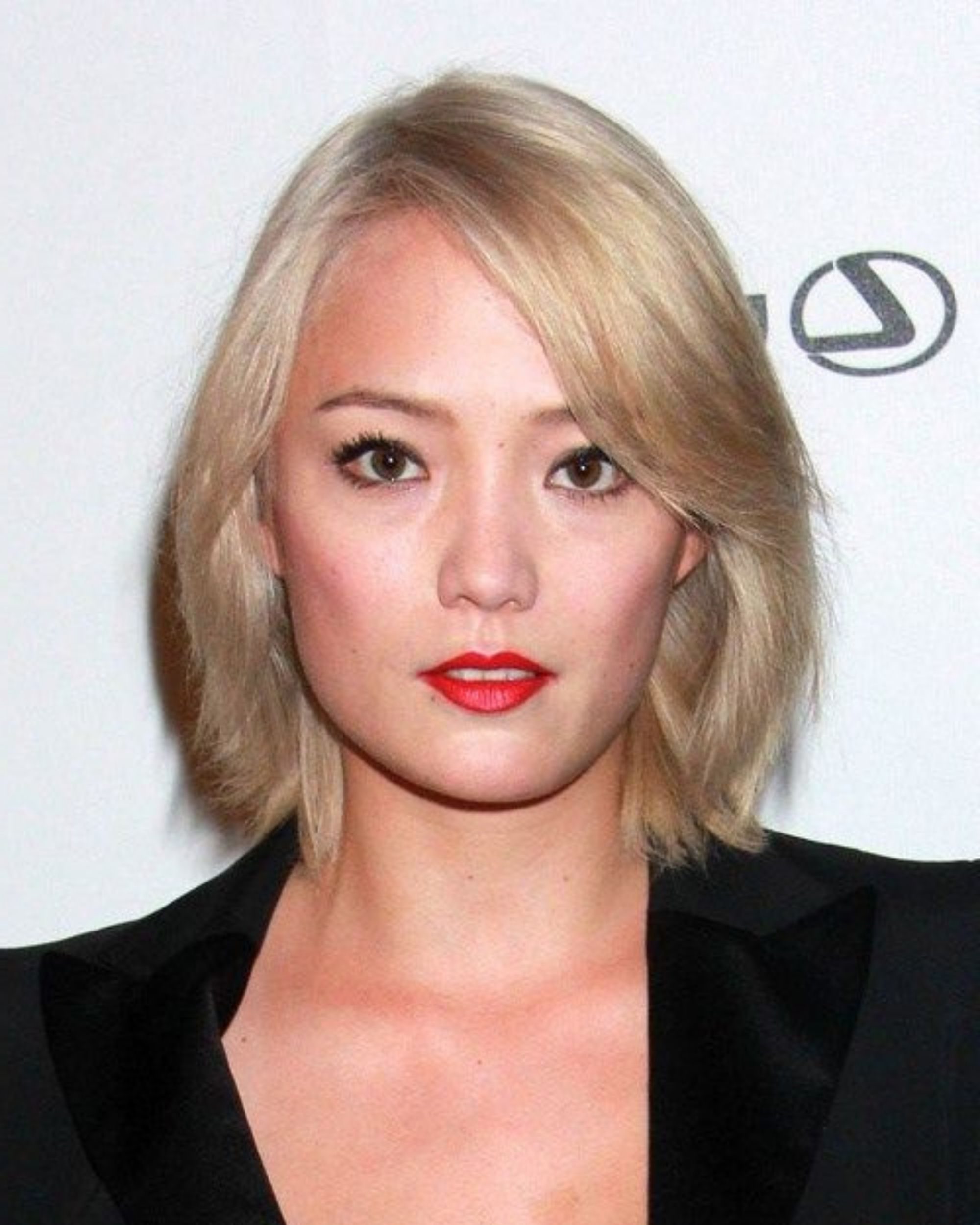 Bold Asian pixie haircut
This fashion lover caught our attention not only because of her pretty face or chic Gucci items but also because of her Asian short hairstyle based on a cute pixie cut styled in beautiful waves. Adding volume with a volumizing mousse on top and brushing the hair backward is one way to flaunt it!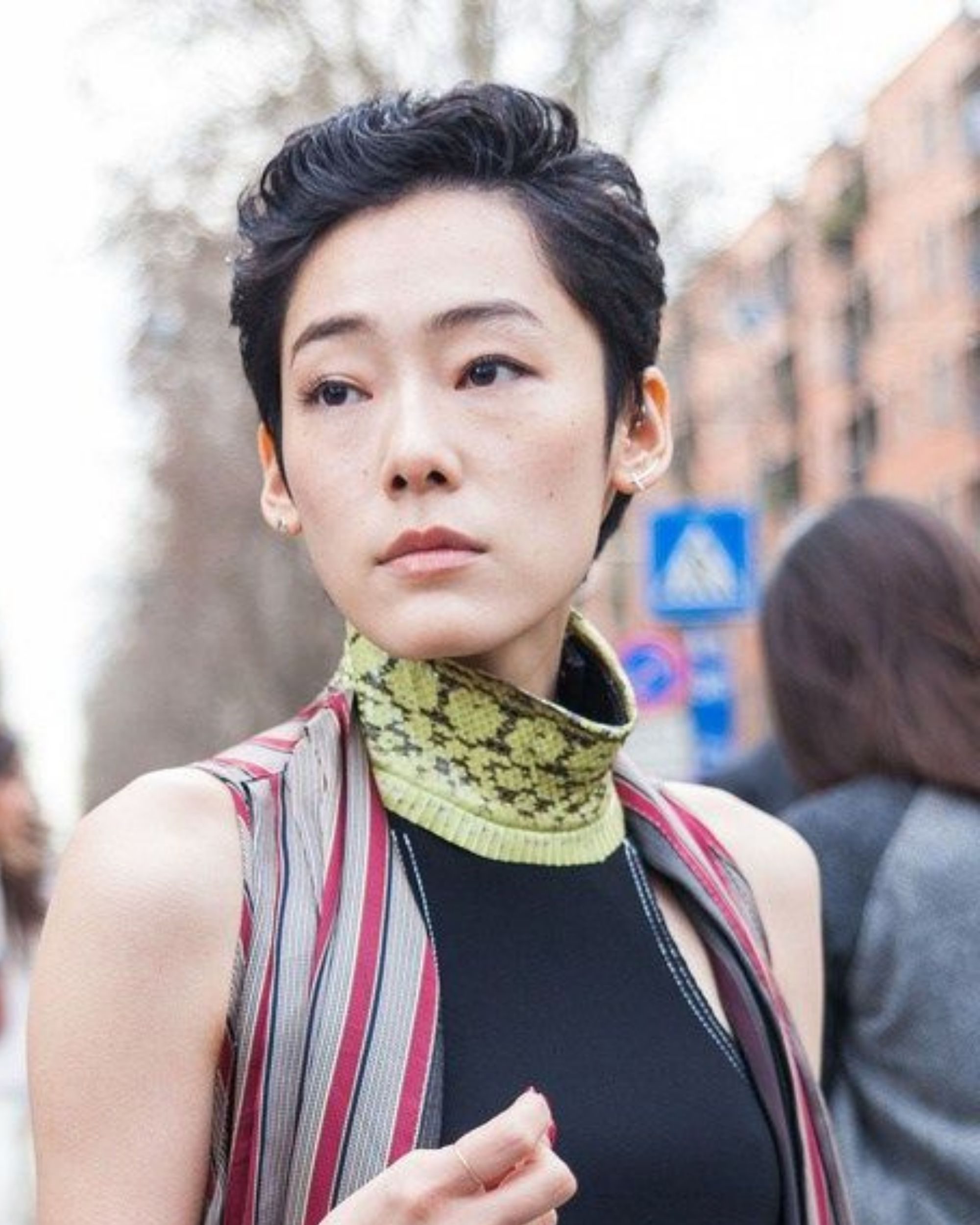 Cascading Silky Waves
These subtle classic waves exude timeless class and taste. One of our top picks is Ming Na Wen's cascading wavy hairstyle for thick brown locks. The waves are neatly curled outwards and divided into large sections. It's hard to imagine a more graceful and feminine frame for a lady's face than this gorgeous downdo. This style has no age limit: it is suitable for both young girls and women over 50, 60, and even 70 years old.