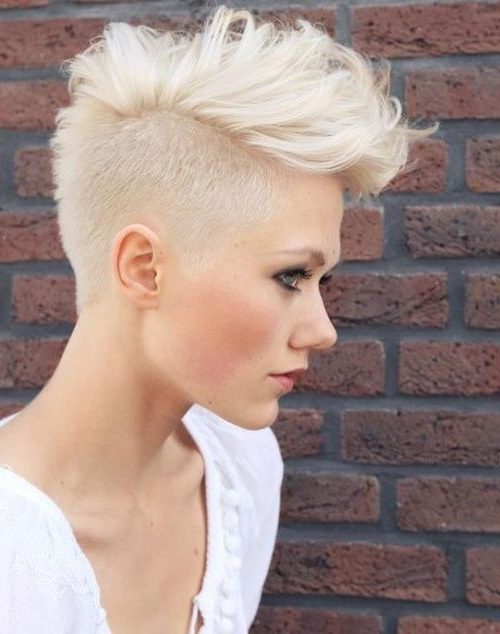 Many stylists rightfully consider the hairstyle with shaved temples to be the most daring and stylish haircut. It is not for nothing that many Hollywood actresses quite often do this styling and always look luxurious. We decided to figure out which haircuts with shaved temples are the most fashionable and for whom they are perfect.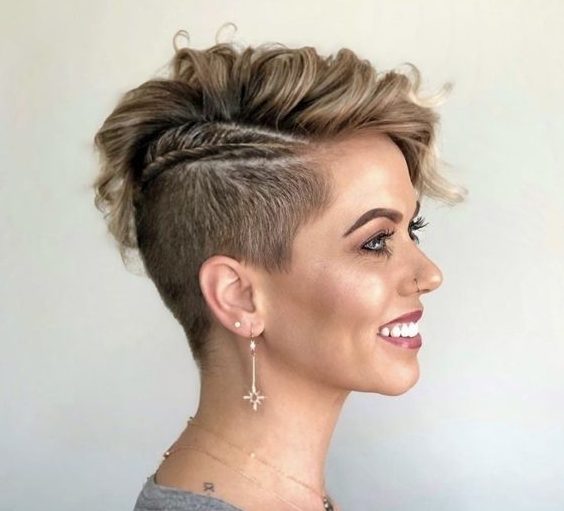 As you already understood, a haircut is the presence of one or two shaved temples.
They often choose the option with one shaved temple; then, there are many more styling options. Moreover, it is absolutely unimportant how wide they should be; the main thing is to remember that the longer the main part of the hair, the longer the hair on the temple should be.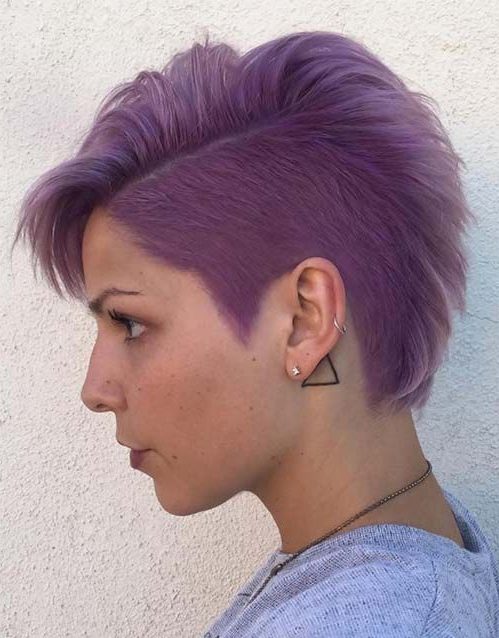 The haircut looks most successful on girls with thick hair since the meaning of the hairstyle is for the curls to be voluminous. Therefore, it is better not to do such a hairstyle; otherwise, it will seem that you have half the hair.
The face shape of a girl who wants such a haircut should be oval, round, or triangular with soft features and a beautiful head shape. A haircut with shaved temples goes well with dark shades of curls, but it is unlikely to suit blondes.
There are a huge number of options for haircuts with shaved temples. Let's get to know them better?
Asymmetrical: with one shaved temple
The most popular option is with one shaved temple. The point is that it can be of any width and length, and it can also slightly extend to the back of the head.
This haircut goes well with both a bob and long curls. Asymmetry suits girls with a round face, bringing it as close as possible to the oval.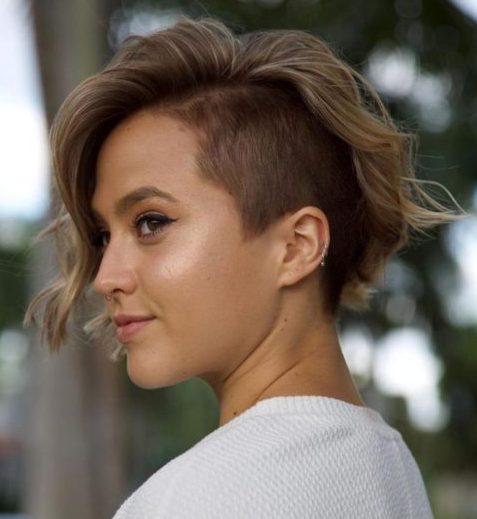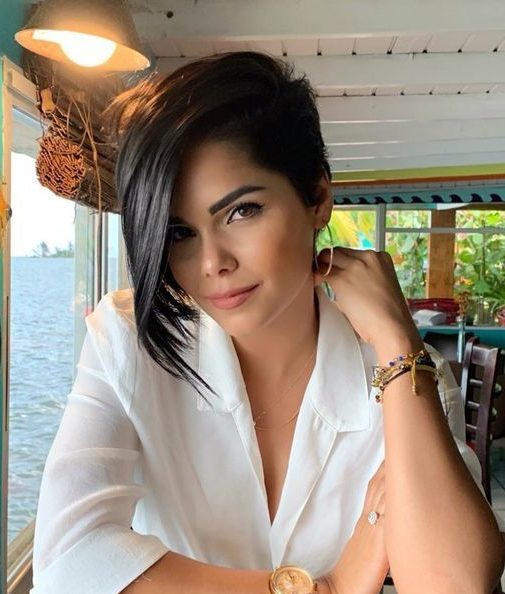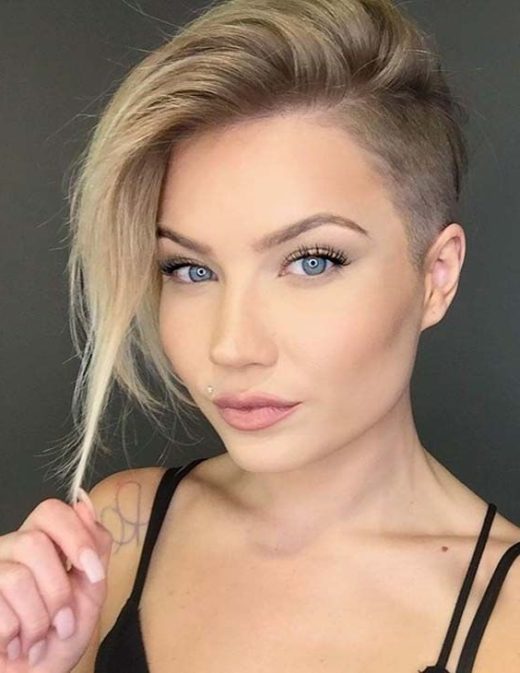 Symmetrical: with two shaved temples
When choosing this hairstyle, the length of the bulk of the hair is absolutely not important. The main thing is to remember that the longer the curls, the longer they should be at the temples.
This haircut option goes well with a bob-bob and looks no less stylish on very long strands.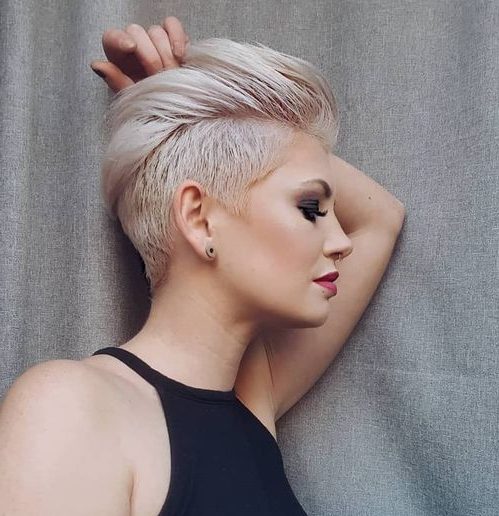 With the decoration of the shaved area (patterns, rhinestones, tattoos)
If a simple shaved temple seems rather boring to you, experts advise you to design on it: for example, shave patterns. These can be waves or zigzags, as well as complex pictures.
Another option is to dye the hair at the temple in a bright or, on the contrary, a dark shade of paint.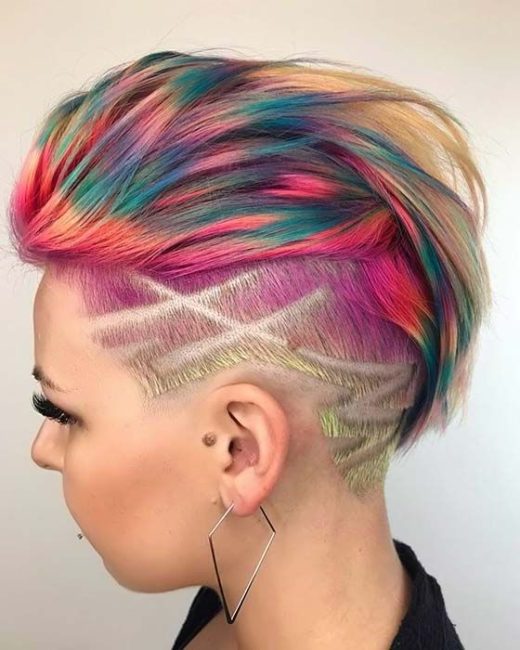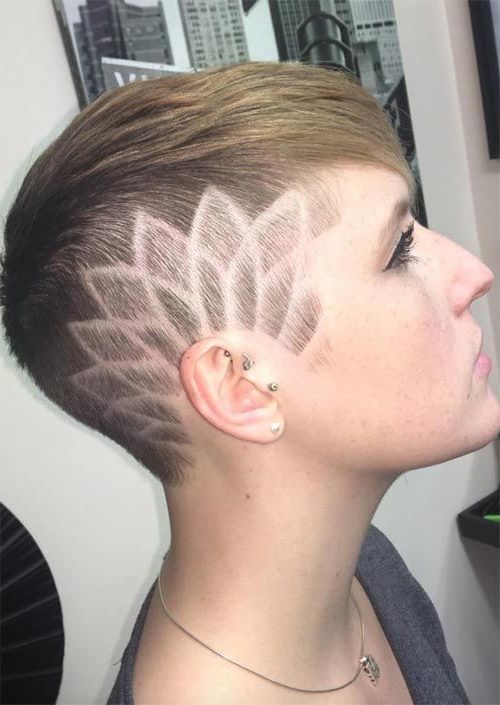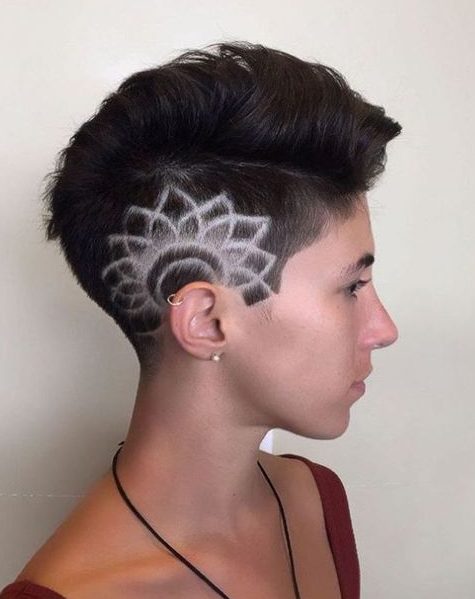 With shaved temples and nape
Two shaved temples look very stylish, especially if you also expose the bottom of the back of the head. It turns out that long hair will be only on the top of the head.
This hairstyle will suit girls with both short curls and long ones.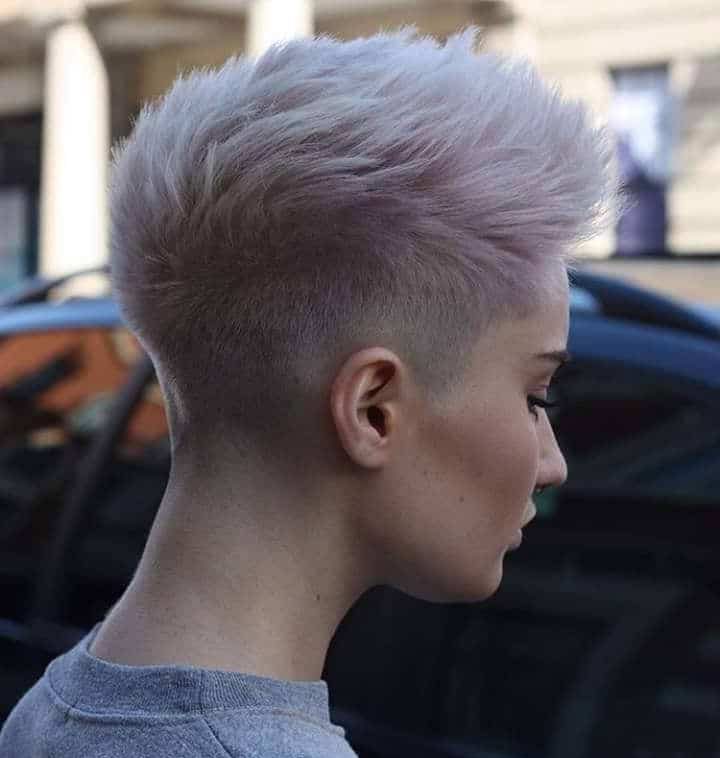 On curly hair
Many experts believe that this hairstyle is absolutely not suitable for girls with curly hair. However, if your curls are large and your hair is short, then you can shave two temples at once, as well as the back of the head, then the curls will always lie perfectly.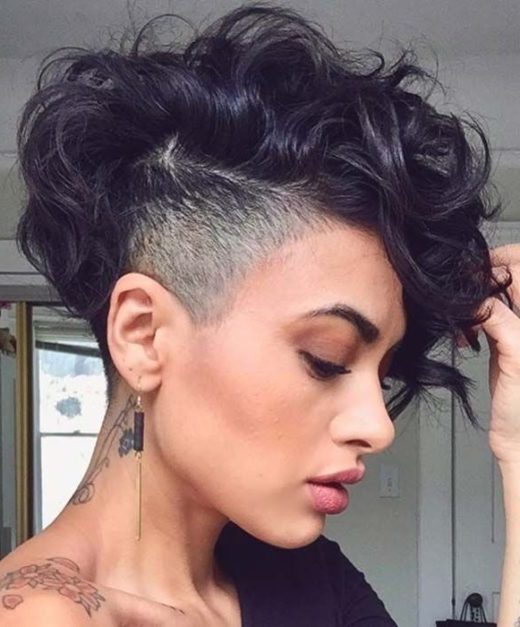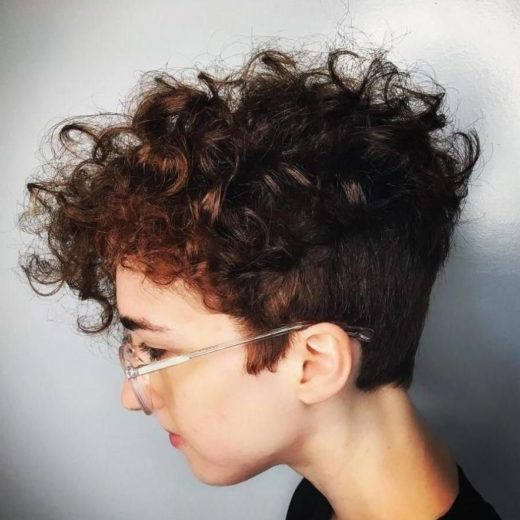 Iroquois
One of the most daring decisions is to make a mohawk with shaved temples.
This haircut looks most impressive on short hair, with slightly elongated bangs. But for girls with medium-length and long hair, this hairstyle is definitely not suitable.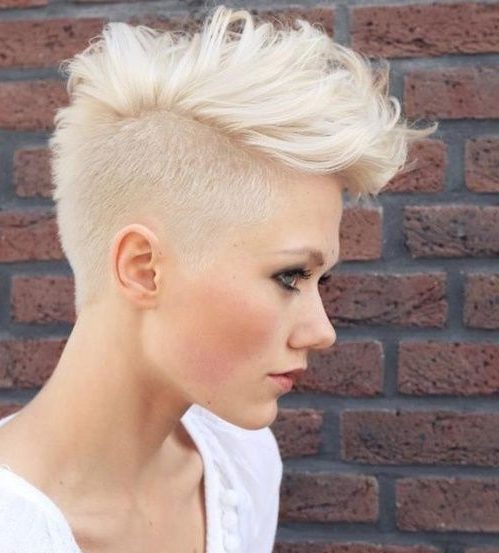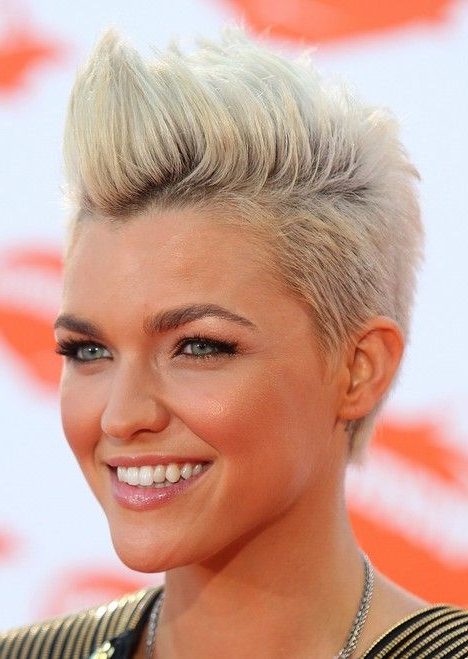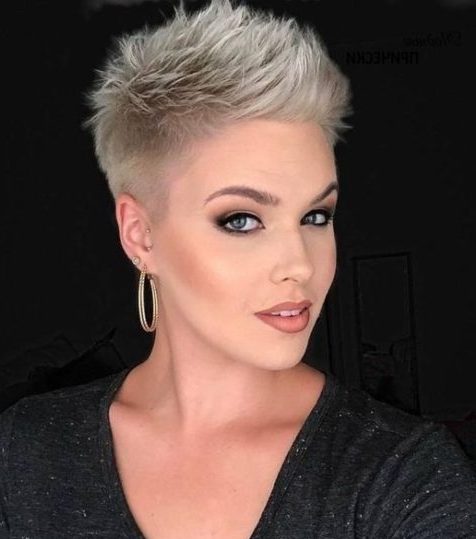 What to do with the bangs?
The presence of shaved temples does not negate the existence of bangs. On the contrary, this haircut option looks very stylish.
It is best to make bangs with symmetrically shaved temples, but their length and shape are absolutely unimportant.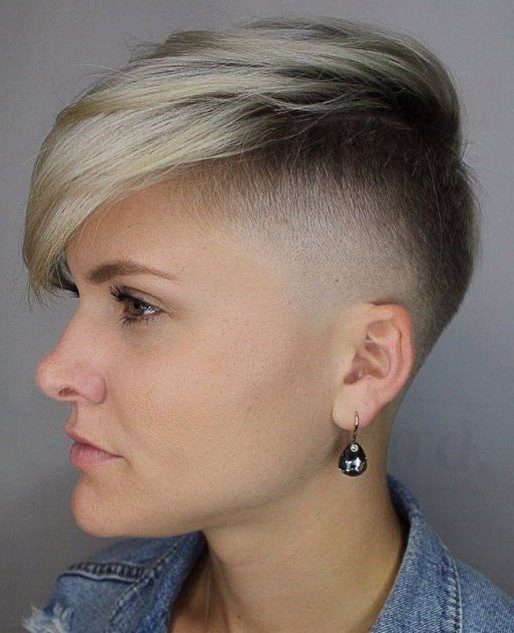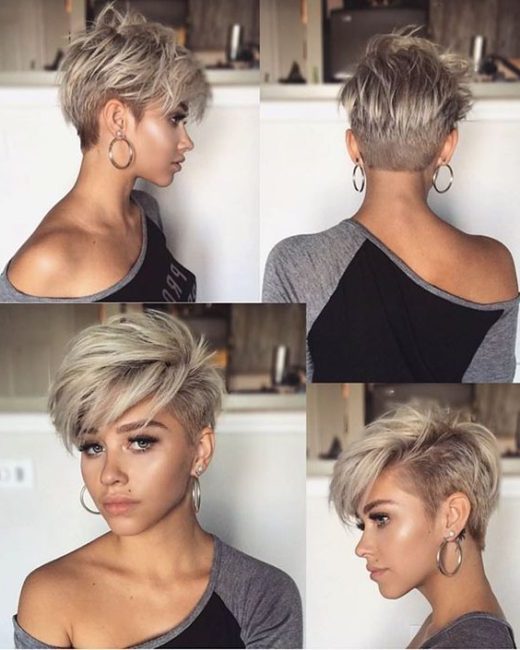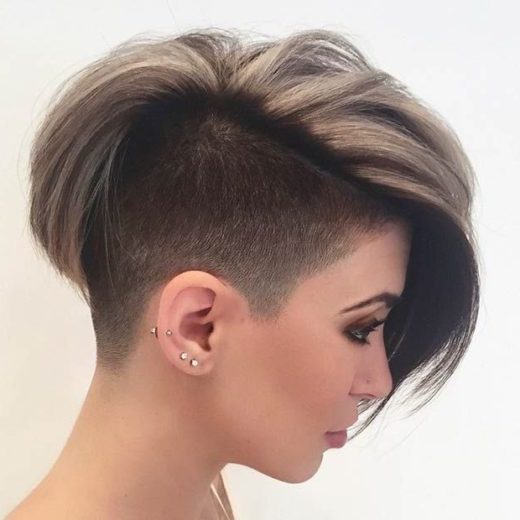 Advantages and disadvantages of haircuts with shaved temples
The main advantages of this haircut:
versatility – it is ideal for women of different ages and also suits any image;
looks bold and always attracts attention;
visually makes its owner a little higher;
visually makes hair more voluminous (a head of hair is obtained from a shaved temple);
it is easy to maintain the appearance of the haircut – you can correct it yourself with the help of a trimmer.
However, there are also several disadvantages:
if you want a more classic haircut, you will have to wait a long time for the curls to grow back;
unusual hairstyles are often criticized; if you are a very vulnerable person, then it is better to refuse this hairstyle.