Caramel is a juicy shade somewhere between gold and brown. He is not defiant, but at the same time sexy and attractive. You will definitely look brilliant and sophisticated, highlighting your image with such a gorgeous shade (even if inside your style is grunge or you are a representative of bohemia). Caramel is one of the shades that will flatter any natural hair color: black, brown, red, or blond. This means there is no downside as the primary way to color your hair with this beautiful shade. So, of course, we had to put together the best ways to create your caramel shades.
Wait! Before we get to our list, let's look at how you can apply the highlights of home coloring. After all, not everyone has a penny to dash into a salon every time inspiration strikes.
How to dye your hair caramel
Mix and prepare a caramel color to match your hair in a bowl according to the instructions on the package.
Comb your hair to remove any knots and tangles.
Wrap an old towel around your shoulders to avoid staining your clothes.
Part your hair in the middle.
Starting from the face, pick up the 1cm thin sections of hair you want to highlight and apply the caramel color from root to tip with a fine hairbrush. When choosing which sections to separate, consider where the light will naturally fall on your hair.
When parting hair at the sides and back of the head, apply the dye only to the middle of the hair and pull it all the way to the ends with a fine-toothed comb.
Leave the paint for the time indicated on the package. This is approximately 25-30 minutes.
Check your dyed hair every 15 minutes to see what shade your hair has reached.
Rinse off the caramel color until the water is clear.
Rinse your hair with shampoo and conditioner.
So, now that you've successfully gotten yourself into caramel hair let's look at the many great ways you can create a caramel shade.
1.Caramel shade on jet black hair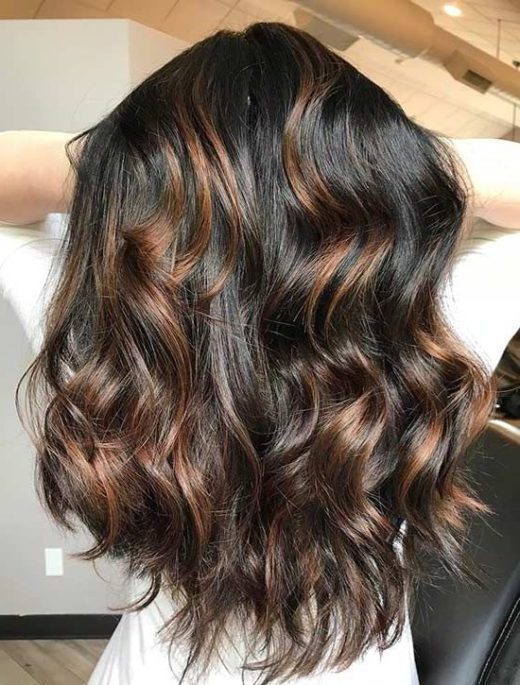 If you have naturally black hair, let me start by saying that I envy you because the beauty of jet black hair is exalted with its vibrant hues, no matter what shade they are. The caramel highlights in this look like they're just melting through your jet-black hair.
2.Caramel sunset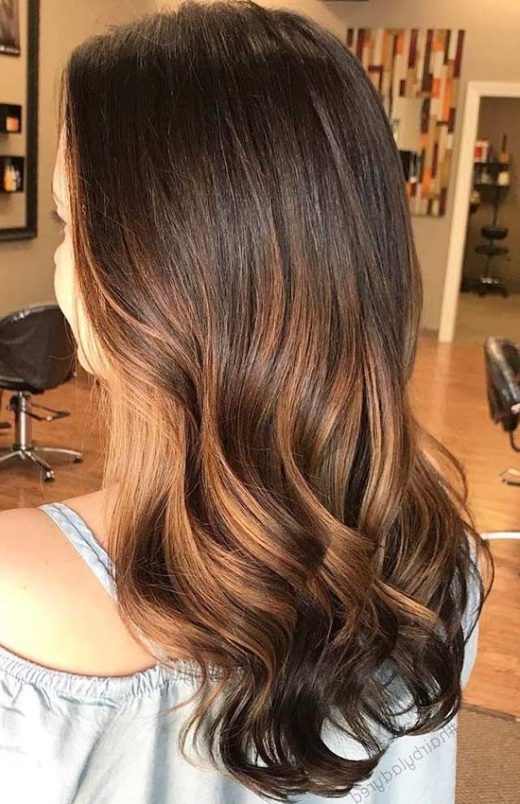 Imagine your hair in the colors of the sky at dusk by following this gorgeous image. The caramel highlights are hand-painted from the middle of the chocolate brown hair for depth and volume. Make light curls to create the illusion of movement in your hair.
3.Golden caramel balayage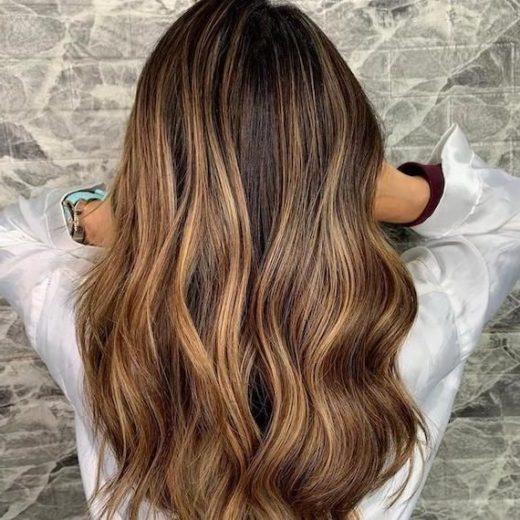 Try this awesome balayage technique made with stripes of golden blonde and caramel. This look is perfect for royalty, with luxurious hues of gold and caramel flowing through the dark base.
4.Soft caramel "kiss of the sun."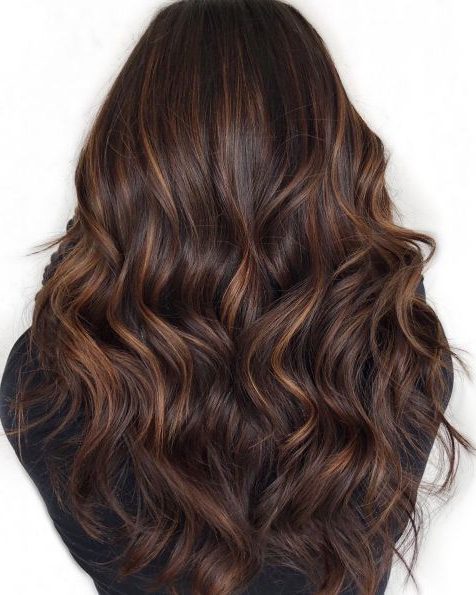 Don't you envy babies for the natural look of their hair, which glows in some places and darkens in others? Great, you can recreate the same effect by applying babylights to your hair. Soft caramel babylights can give your hair that lovely sunny look you're looking for.
5.Sandy caramel balayazh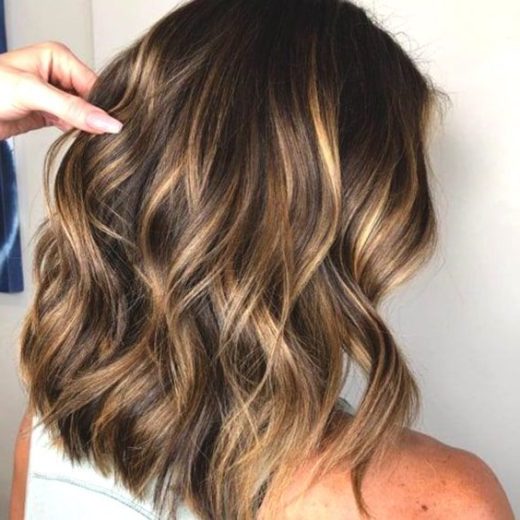 When shades of brown, gold, and blonde come together, the look they create is forever. This gorgeous sandy brown and caramel balayage is proof of that. The shades blend to create a truly multi-dimensional hair look.
6.Dark caramel balayage ombre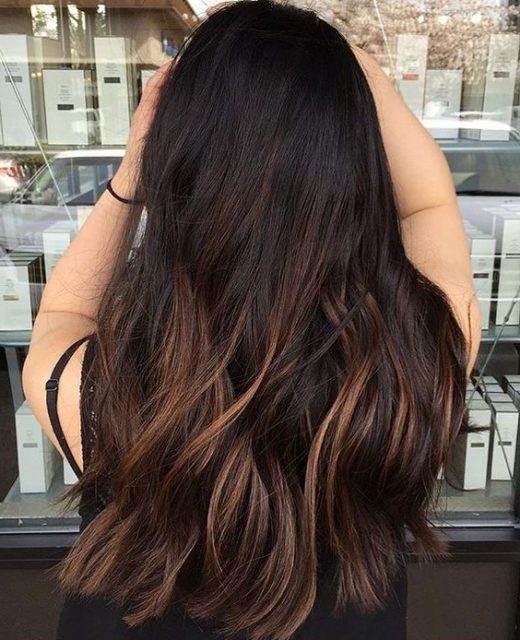 Why choose between balayage and ombre when you can do both? Balayage ombre is exactly what you need to get the best from both techniques. Cold toning the caramel shade, start halfway down the dark brown hair, creating great hair color.
7.Melting caramel color
Imagine melting caramel dripping from a bar of chocolate. Doesn't that look amazing? You can create this effect by hand dyeing a rich shade of golden caramel on your medium brown hair. This staining technique is quite simple but chic.
8.Chocolate caramel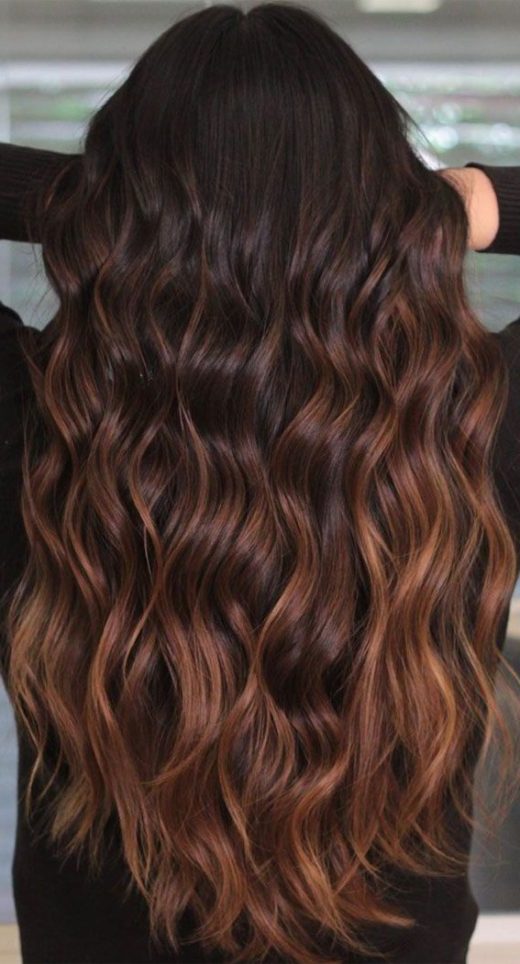 Everyone knows that caramel and chocolate are a couple created in heaven. So how about experiencing this heavenly combination on your hair? Accentuate your luxurious chocolate brown hair by complementing it with some hard caramel highlights.
9.Rose gold and caramel shades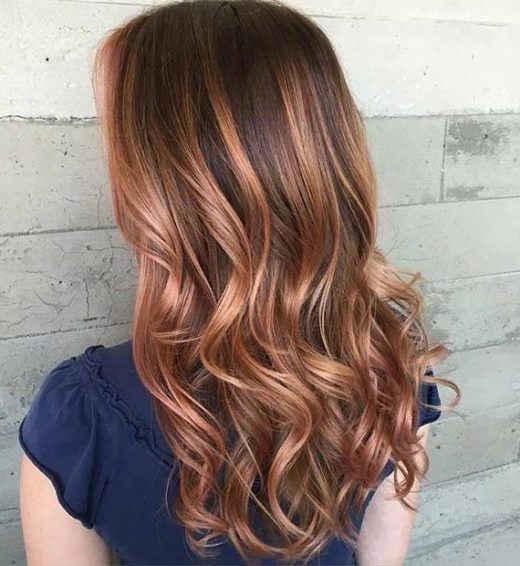 Whether it's bags, shoes, jewelry, or clothing, rose gold seems to reign supreme in the fashion industry. So, of course, the hair industry must join the popular trend and achieve a rose gold hair color. Rose gold and caramel highlights on dark brown hair look like dreams are being created from them.
10.Sunny caramel kiss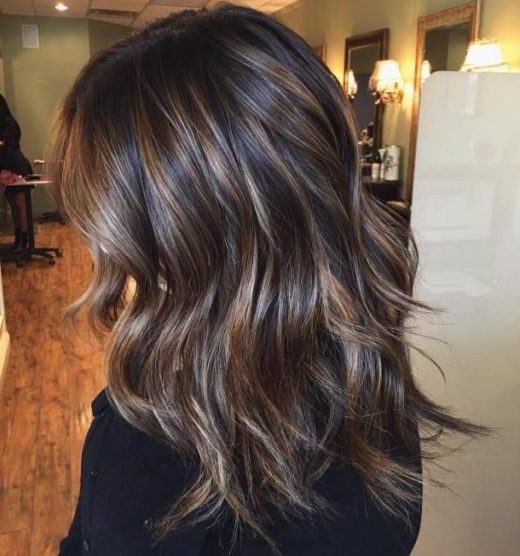 Transform into the bohemian beach bum you have always dreamed of with this chic hair color. These super fine caramel highlights on dark hair play great in sunlight, giving your hair a beautiful natural look.
11.Metallic caramel shades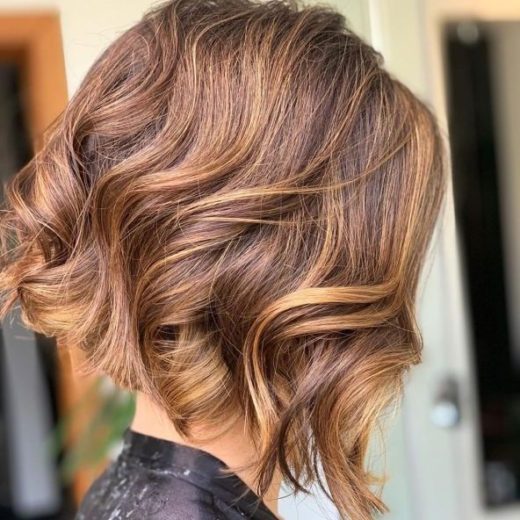 With a sudden onslaught of gold, copper, and silver liquid lipsticks and eyeshadows in stores and all over Instagram, metallic are at the forefront of fashion trends. So it comes as no surprise that he managed to sneak into the hair dye industry. These caramel highlights have a metallic sheen that makes them look reflective and mesmerizing.
12.Caramel abundance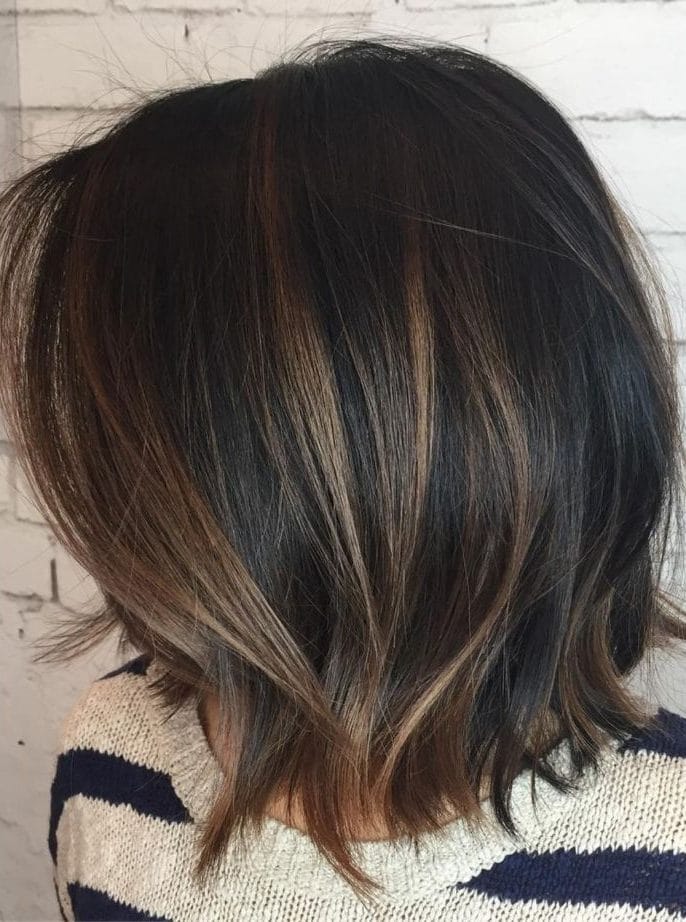 Add a touch of color to your dull brown hair with some vibrant caramel shades. In this case, you do not need to do a complete balayage. Just scatter a few caramel highlights where the light naturally hits and reflects the hair color for a truly luxurious look.
13.Deep caramel balayage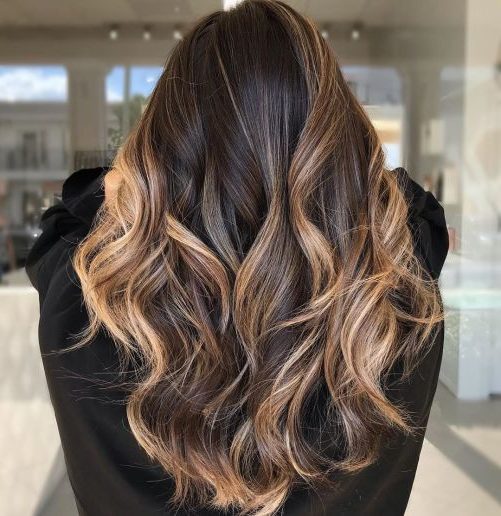 Give yourself credit that you look like an East Coast princess with such a playful and chic hair color. Dye your hair a rich mahogany shade, and then highlight it with hard caramel stripes for a sophisticated look. Straighten your hair and throw it behind your back to be the most stylish.
14.Dusty pink caramel shades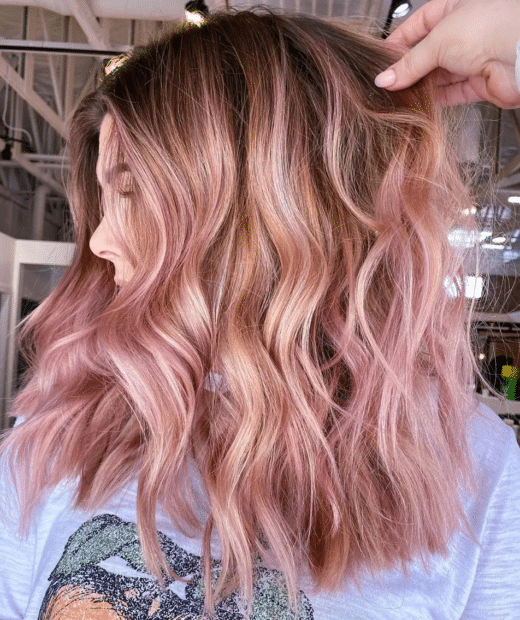 Go to any store or open any website, and you will see that they are all filled with dusty pink. The best part is that this gorgeous shade looks great as a hair color. Dusty pink and caramel highlights on blonde hair blend beautifully to give you a lovely feminine and flirty look.
15.Thick caramel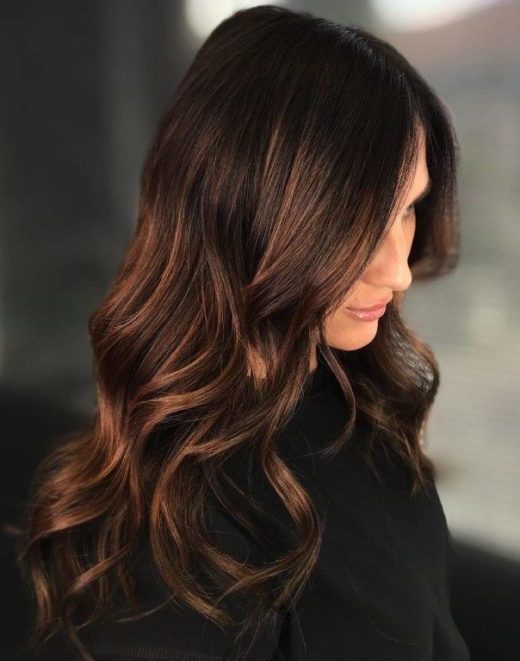 You don't always have to look for a naturally sunny look with subtle highlights. Thick, eye-catching strands really play out with their beauty. Copper-caramel-toned highlights are applied in thick streaks along the entire length of the brown hair for a bold and bold look.
16.Luxurious caramel shades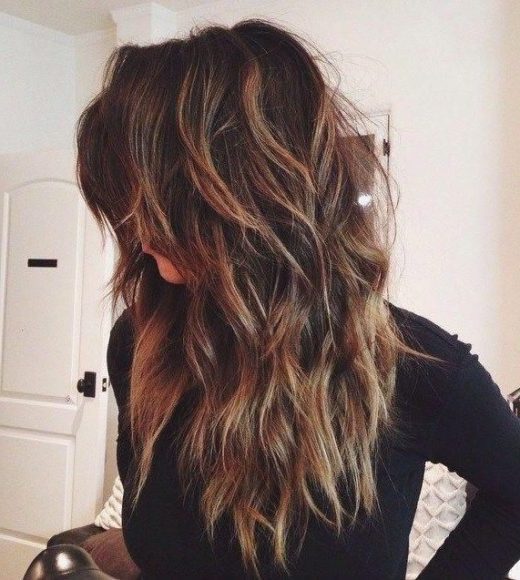 Not all of us can be part of the top 1% and exist in high society circles. But that doesn't mean you can't be in this role! Luscious caramel highlights on deep brown hair are the epitome of luxury and style. All you need are diamond earrings and a costly ball gown to complete the look.
17.Brown-caramel shades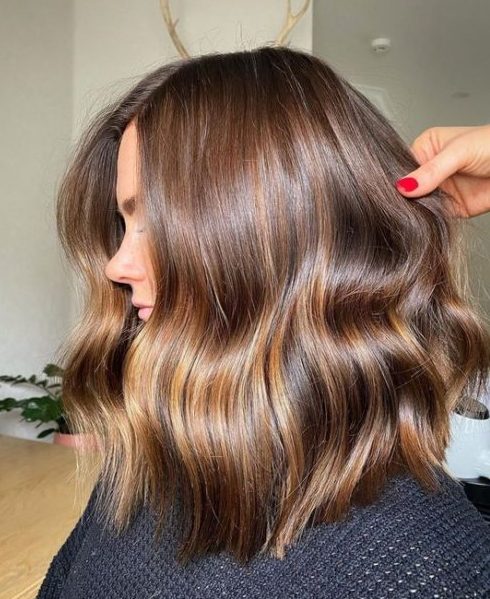 Show your love for this sinful sweet craze, play with this stunning hair color. Subtle caramel highlights running through the rich chocolate brown base provide a luxurious and delicious colorwork.
18.Ultra-glossy caramel shades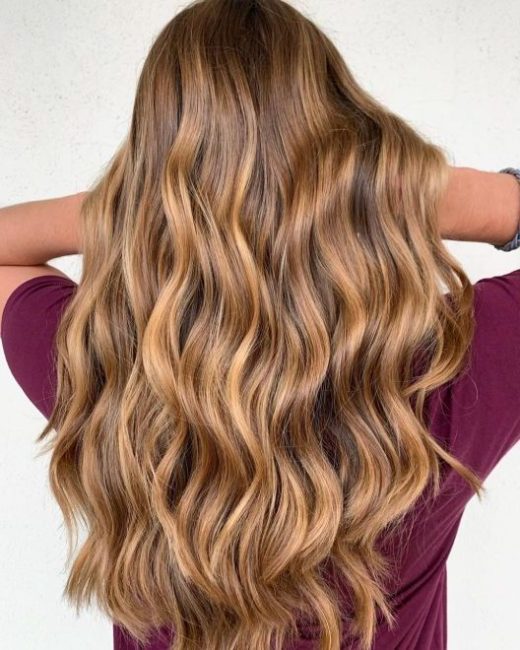 Ever jealous of celebrities with their ultra-glossy hair that you see in shampoo ads? You can get the same look by trying this particular hair color! Done on beautiful dusty brown hair, these super glossy caramel shades will make you look like the heroine of a movie.
19.Shades of fire caramel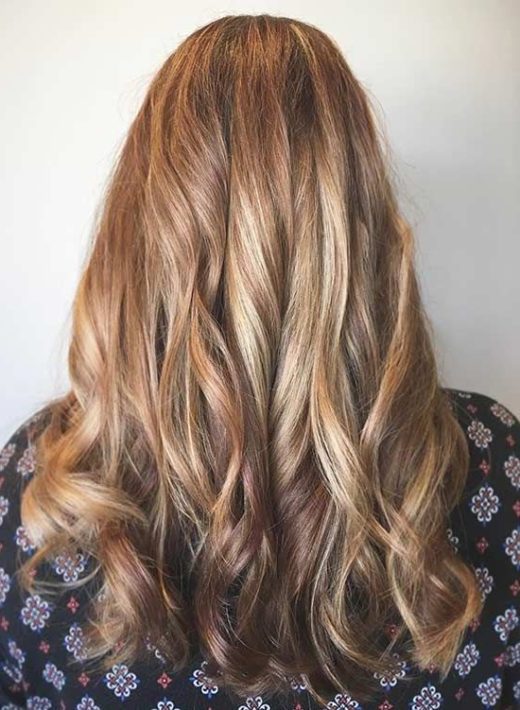 Play with your hair with countless shades of gorgeous caramel highlights. The milky chocolate brown base really plays with the gold, caramel, and light brown highlights that blend into it. Create curls for this look for the full effect of such gorgeous colors.
20.Shades of caramel zebra
Yes, I know that even the thought of getting zebra glare can make you run in the opposite direction. But I'm not talking about the horrible technique used for the zebra in the early 2000s. A version of this technology of modern hair dyeing is much more subtle and elegant. Create luxurious caramel shades on your natural brown hair for a sophisticated look.