So what options do you have? You can go for a whole new look or introduce a modern twist to your regular cut that you've been wearing for years—considering which way to go will not be superfluous to be aware of current hair trends. Among others, the catwalks of the biggest fashion shows featured many messy "header" styles made based on rough-edged haircuts. We've collected some of the best ideas here, so we invite you to take a look.
They reflect a strong personality and oppose romantic, feminine styles with soft lines and elegant textures. Rough haircuts show the other side of femininity, and it's great that a woman can be so different just by changing a haircut. Funky haircuts are harmoniously combined with modern casual style. And they also look hot for special occasions. The cropped edges of your favorite short pixie cut are a great way to look fresh, young, and on-trend. The sharp, crisp layers and play with textures add a particular ultra-modern style that fits your look with what is currently at the peak of fashion.
Edgy Platinum Spikes
Blonde can be a soft, natural look, but platinum blonde always has a rock star vibe when exposed roots of super short hair well. This style also provides an ideal base for bright or pastel tints experiments.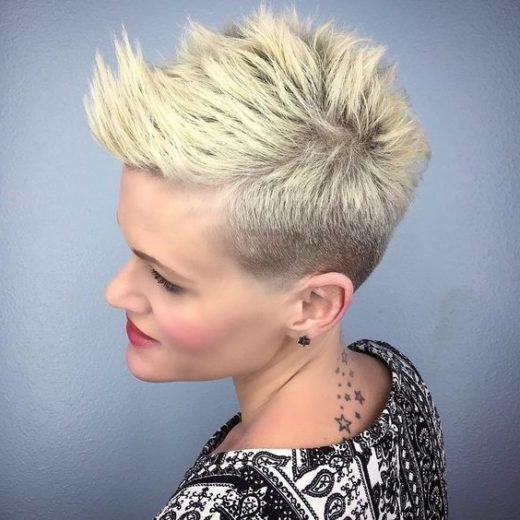 Short Edgy Burgundy Pixie
Shades of red, burgundy, or maroon are favorites for edgy haircuts. These versatile shades look great against a variety of skin tones. A necessary element for bold hair is bold makeup. Short hair makes facial features stand out, so funky makeup helps complete the edgy look.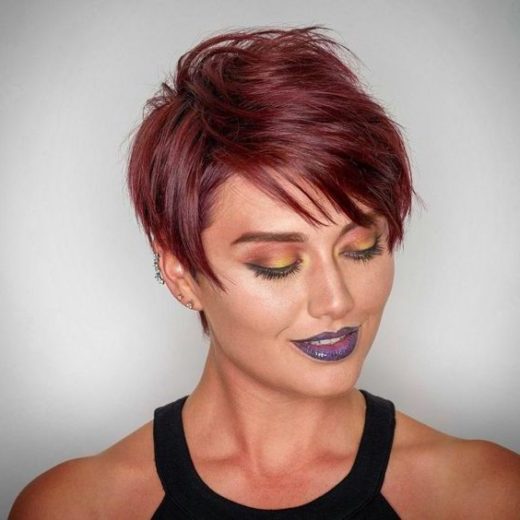 Asymmetrical Tapered Cut
This cute pixie cut gets a jolt of sassiness from long, sweeping side bangs. Asymmetry is a crucial element with short choppy cuts, and it works on just about anyone. Women of any age can take advantage of side bangs, so if you're looking for something new that's not too high maintenance, this could be it.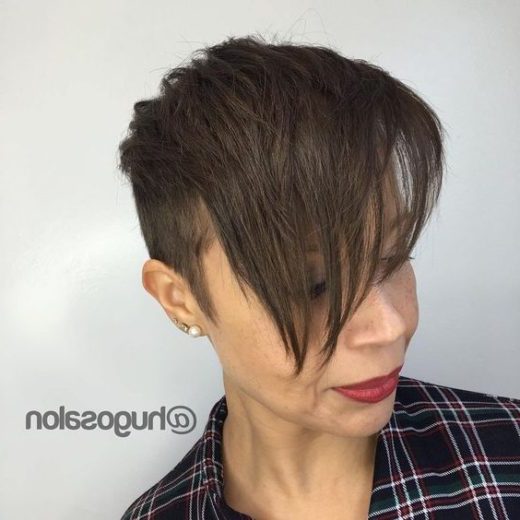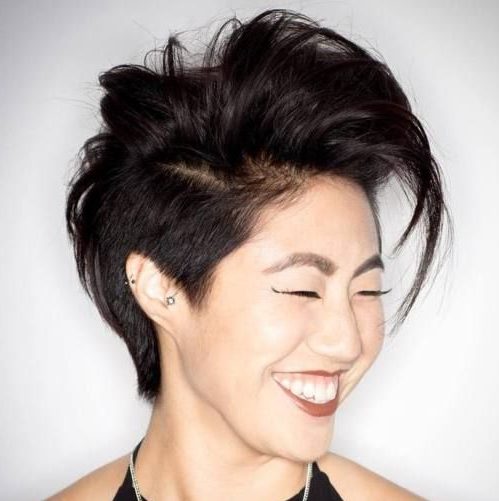 Short Sharp Cut
Take bold hair to the edge by channeling a classic men's cut. Gender fluidity is modern, stylish, and elegant. This undercut has some girly elements due to the length of the front pieces, allowing for many attractive styling options. Love it.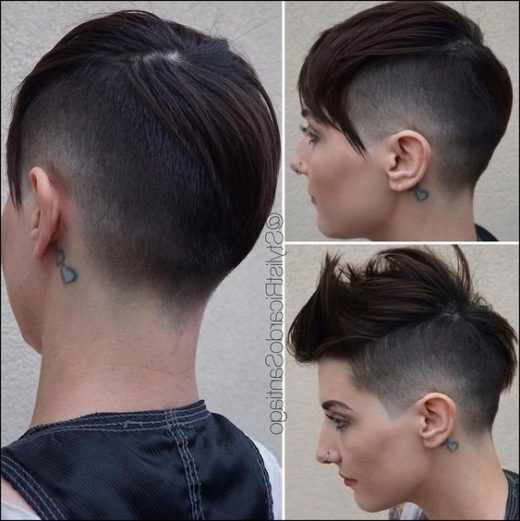 Asymmetrical Edgy Cut
Wow, those colors look stunning in the sunlight! Apply thin platinum blonde highlights throughout your hair to get the look, then add all of your favorite shades. Feature warm tones more prominently and add greens and purples for a surprise.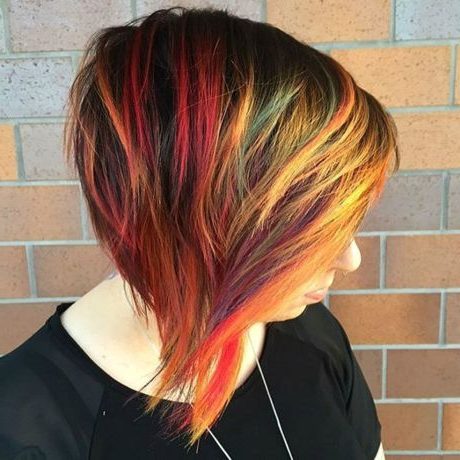 Short and Edgy Fireball
As long as we live, we will all be obsessed with Rihanna circa 2010. Get that gorgeous color for yourself if you dare. Short choppy hair provides an excellent base for paint, especially when mixed with black. We're dubbing this "edgy glam" style.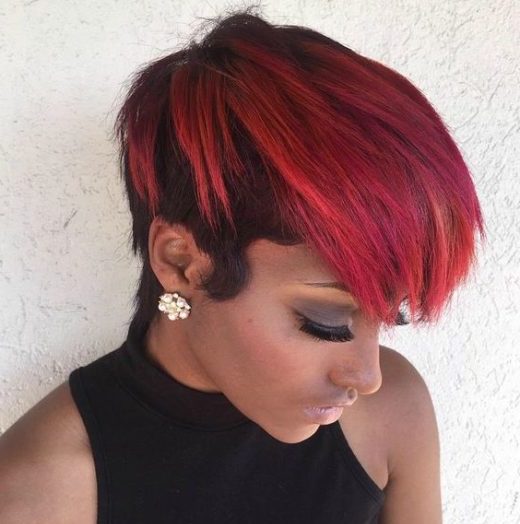 Cutting Edge Goth Girl Cut
Some of the best razor-sharp haircuts are sloppy. If you love to flip your hair from side to side and are not very picky, you should choose a haircut with a lot of movement. This cut looks great with a '90s goth-inspired style for the total I-don't-care effect.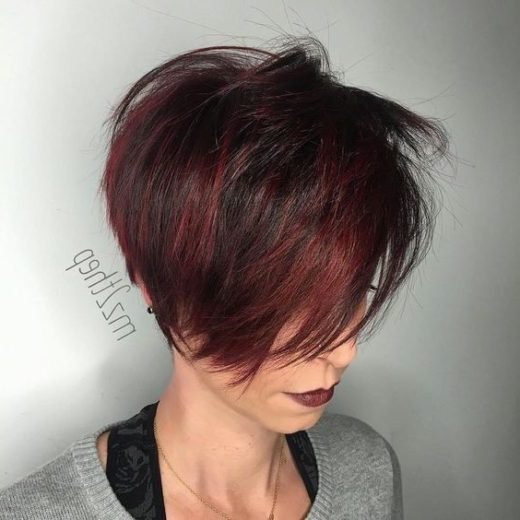 Short Edgy Haircut with Side Bangs
Being a trendsetter in the fashion environment, Victoria Beckham always remains at the center of our attention. Her most amazing haircuts are the short edgy bob with elegant asymmetry and elongated side bangs. The new and avant-garde effect of the cut is achieved thanks to the freehand haircutting technique performed by straight blade scissors. The cut does not suggest complicated styling routines. It is enough to dry your braids in different directions. Soft gel-like wax with a gloss finish helps achieve a light needle-like texture.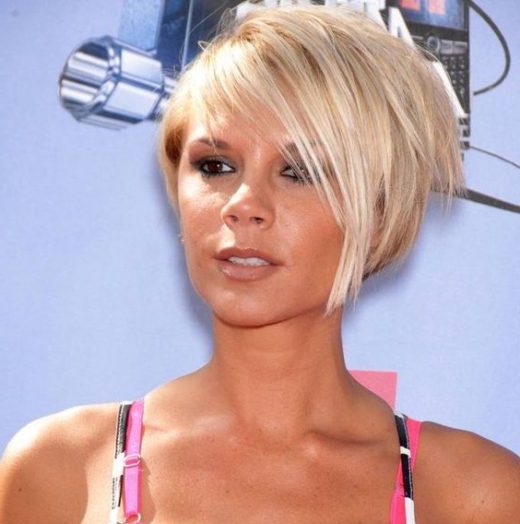 Pixie with Popping Feathers
Fancy trying Ginnifer Goodwin's bold yet childishly innocent look? The beauty of cropped locks can be accentuated with subtle details, like the photo. Ginnifer's pixie is very easy to style. Dry your braids up. Then apply your hairspray or matte gel.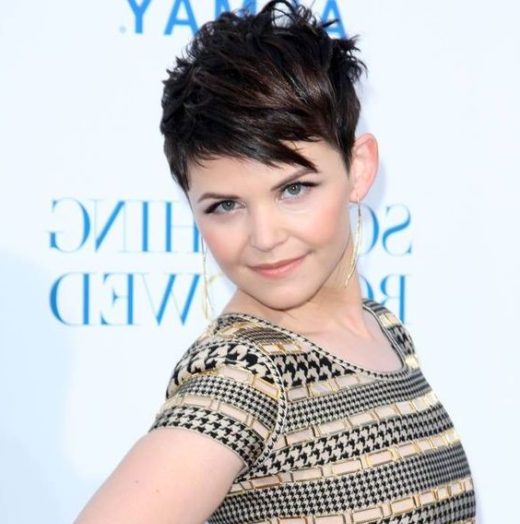 Edgy Haircut with Dense Bangs
Keira Knightley's haircut shows us that not all edgy cuts have fine ends. Keira's hairstyle has a shattered texture, but her bangs are thinned out just a bit, remaining reasonably dense. Girls with long face shapes, feel free to embrace the idea. Use a light hold spray for the final repository.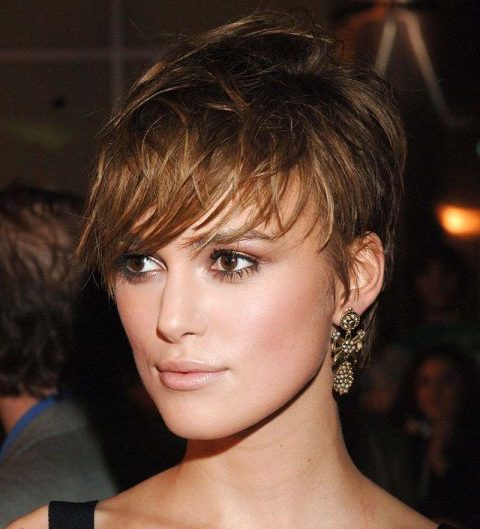 Edgy Short Haircut with Highlights
Jennifer Lawrence's haircut also has her funky zest. Textured side-swept bangs are stunning, but there's also a vast buzz cut effect, achieved at the expense of slightly longer braids above the ears. The highlights add movement and volume to Jennifer's locks. When she does the styling, she places the strands with her hands and fixes the result with a hairspray containing a light.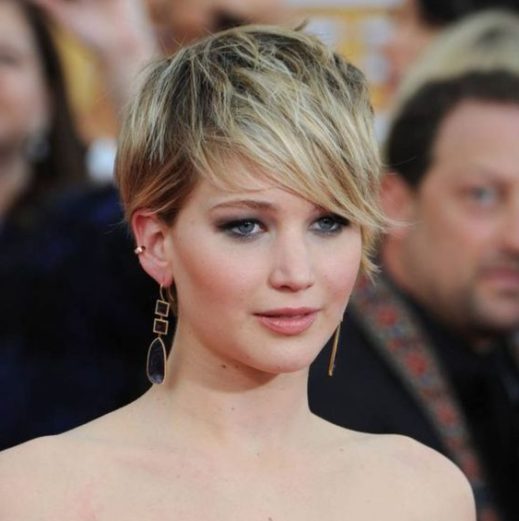 Edgy Pixie with a Side Part
Ashlee Simpson can't boast of having thick hair, but she looks very showy, playing with different stylish hairstyles. One of the exciting looks of Ashlee with short hair is the edgy haircut, styled elegantly. Ashley's layered tresses take on a shattered texture despite lacking volume. Her haircut is easy to style. It would help if you dried your locks, then go through them with a wide-tooth comb and fix your hairstyle with a light hair spray. Don't obsess over every little wave that's in place. A fine mess is welcome.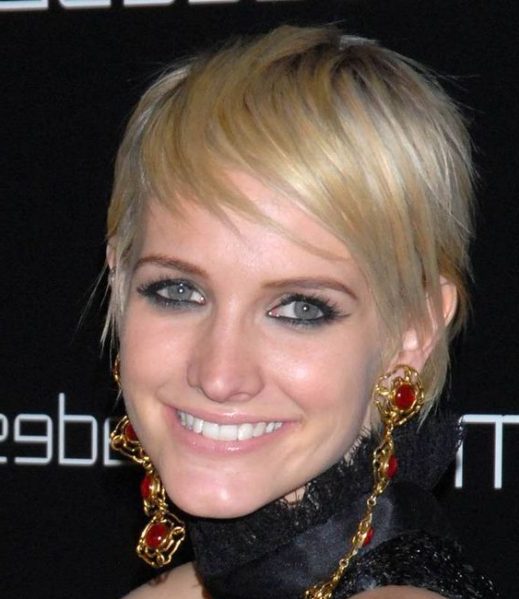 Short Edgy Haircut
Agyness Deyn likes to impress us with her quirky short hairstyles. Her edgy hairstyle with raised braids is an excellent example of a stunning funky for short blonde hair. This haircut is for determined women who want to look good without spending too much time on styling. She dries the locks up. Use wax or gel on dry hair to define the texture with your fingers.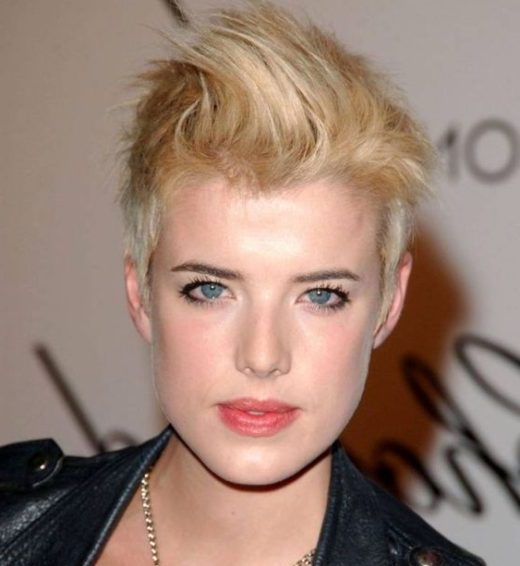 Cute Curls for an Edgy Haircut
Sharon Stone's classic beauty allows the actress to experiment with various hairstyles based on her short haircut. Sharon's innocent curly pixie hairstyle is an unexpectedly stylish solution. Use a medium barrel curling iron to shape the light curls. Rub matte-looking wax into your hair to give it texture. Try to achieve the look of a natural mess. Use a soft hold of hairspray if needed.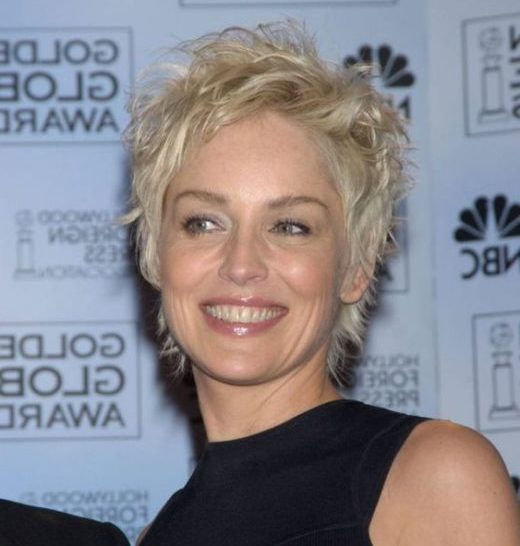 Edgy Feathered Pixie
This fantastic pixie haircut with elongated side bangs looks fun and trendy. Just a little bit of your favorite styling product will help texture those edgy feathers, which are the funniest part of this great look for long faces.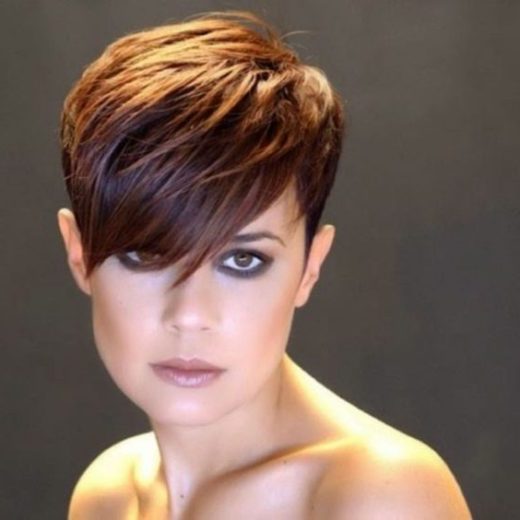 Edgy Asymmetrical Pixie
Our faces are not symmetrical. Modern beauty standards have changed lately: we are now more attracted to faces that cannot be referred to as classically beautiful. They can be nicely accentuated with asymmetrical haircuts, like this cute pixie with edgy and sleek contours.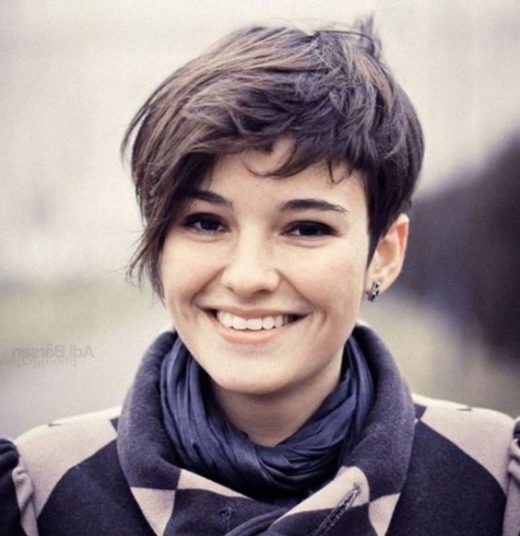 Edgy in Orchid Pink
For a pixie cut that will have people wondering if you're into cosplay, pick one color for inspiration, then amp it up with a variety of shades. Here, bubblegum pink, fuchsia, and cotton candy pink are mixed in a voluminous, chunky style.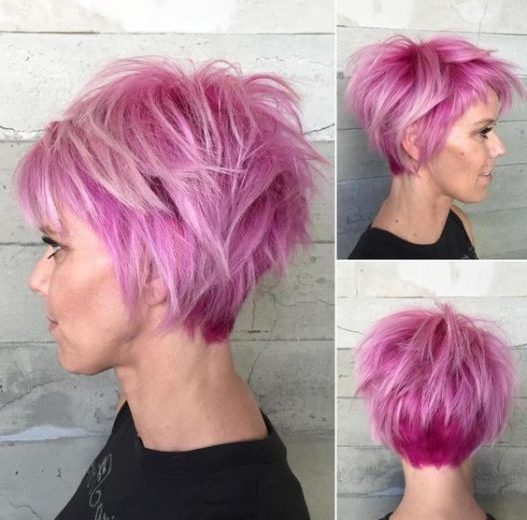 Edgy Burgundy Pixie Cut
For a funky shortcut that will make you happy every morning (thus inspiring you to make sure your bangs are looking good), choose a vibrant and flattering color. Burgundy with blue highlights on the bangs would be a complete solution.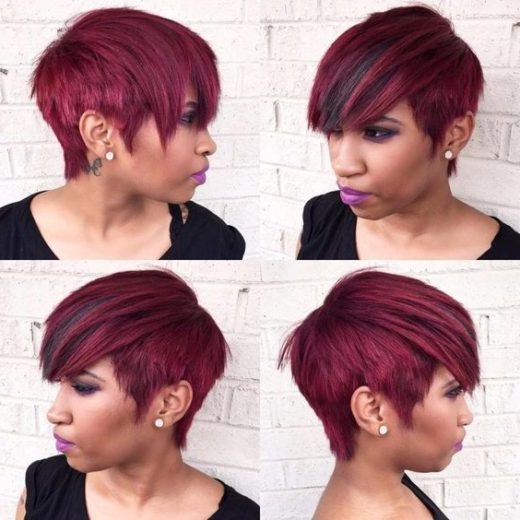 Extra Short Sassy Pixie
Halle Berry looks extravagant and highly feminine with edgy extra short haircuts. Halle's pixie cut can be done not only with scissors but also with a razor. A short pixie with a smooth texture is a very low-maintenance haircut. It will look irresistible anytime, anywhere, with a bit of wax or gel!