Lately, bleached blonde looks and bright highlights seem to be taking a backseat to a more natural, dirty blonde hair color. A color that many women have spent their entire lives trying to hide in the salon is now making a serious comeback. Do you want this look too? This article is full of ideas and inspiration!
Benefits of Dirty Blonde Hair Trend
According to hair colorists, dishwasher blonde hair color will be unique, making it a flattering color that looks good on anyone. Dirty blonde color traditionally weaves various dark and light shades of blonde. The color is carefully chosen to suit each person's unique natural undertone. Whether you have a light, medium, dark blonde, or even brunette base, you can get a pretty dirty blonde color.
Another benefit of styling is that you can give your hair a break from the damage that comes with bleaching and color in general while also getting a face glow effect from the golden highlights.
This once unattractive mousey-beige has been transformed into a unique statement. Our hair color trends evolve with our age, and women everywhere of a certain age embrace their natural hue, wash water and all. It's no wonder this low-maintenance "no hair color" natural look overlaps with "no makeup." With the whirlwind of colors we've seen lately, there seems to be a desire to get back to basics.
20 dirty blonde hair ideas
So, where do you start for inspiration? This color is everywhere. Here are twenty blonde hair color ideas to inspire you for your next visit to the salon:
#1: Cool Blonde All Over
If you want to go on the cooler side, try an incredible, light silver blonde that is a refreshing take on the classic honey blonde. This neutral, pearlescent shade complements cooler skin tones.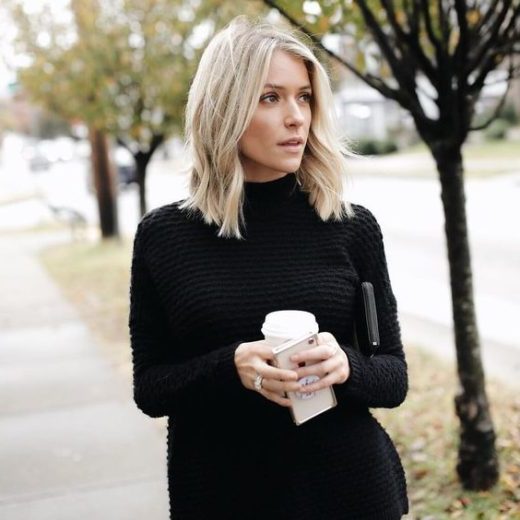 # 2: Dark Dishwater Blonde
This dark blonde hair is more brunette than blonde. This can be a perfect hair color for those in the process of growing out their natural hair to blend existing and developed highlights.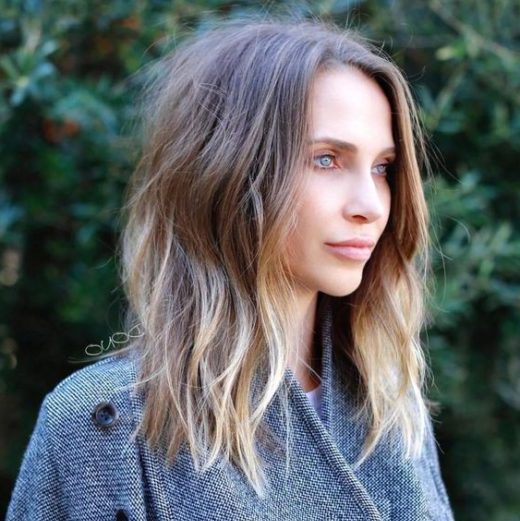 #3: Golden Bronze Blonde
This has an ombre effect with dark bronze roots blended in the middle that blend seamlessly into a lighter golden blonde.
# 4: Blonde Color Melt
The contrast of cool, warm, and dark blonde highlights creates a dramatic and natural effect. This color cast of shadows and highlights gives hair dimension and generally appears lighter or darker in different settings and light.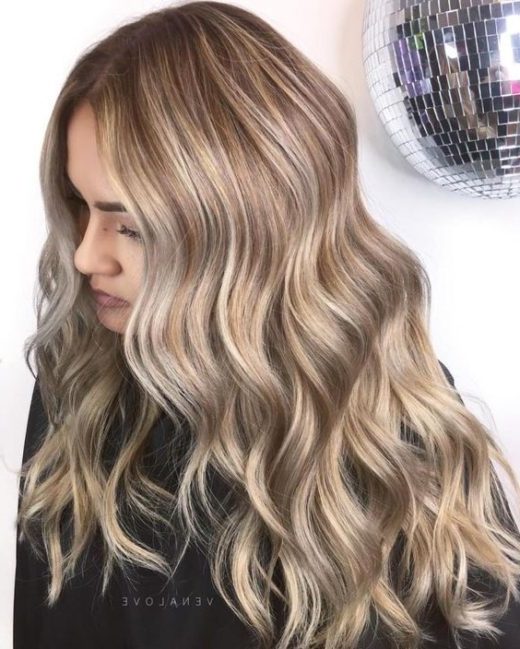 #5: Dark Roots with Honey Highlights
Get a natural glowing effect by adding strategically placed highlights in a honey blonde shade. Add a thin layer of honey highlights to the surface of your hair to blend naturally with your dark brown or blonde hair for a sun-flattering, loose look.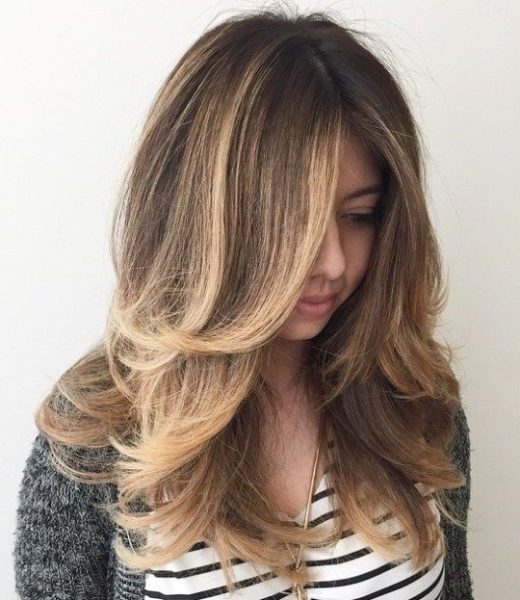 #6: Beachy Waves with Blonde Highlights
Get a fresh bohemian look with a few lighter pieces throughout while keeping low-maintenance color and style. Many Victoria's Secret Angels like Gigi Hadid and Rosie Huntington-Whiteley and actresses like Cara Delevingne have perfected the dirty light blonde color.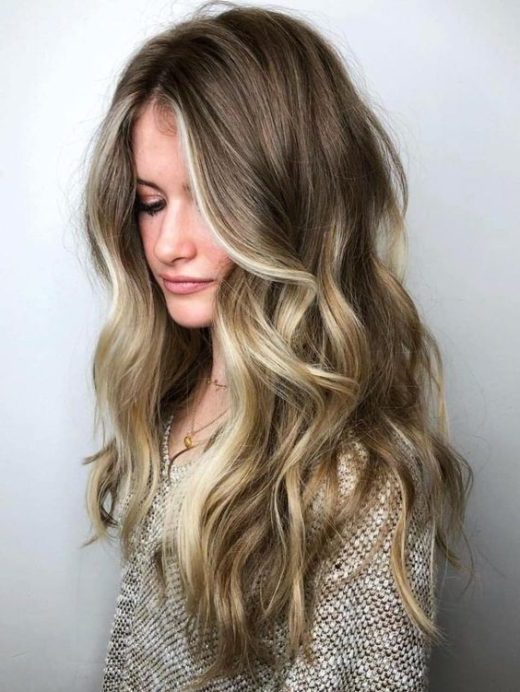 #7: Dirty Blonde Balayage Babylights
This color blends perfectly from medium blonde roots to light blonde ends. Color so natural, you'd swear she was born with it! She looks fantastic with wavy and straight hair.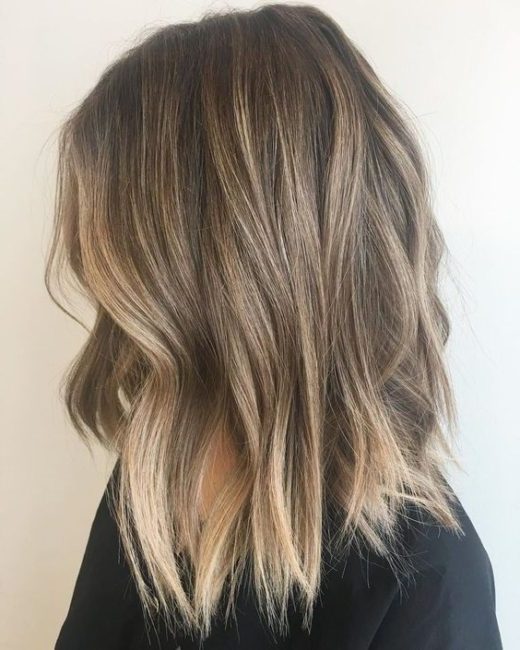 #8: Dirty Blonde with Subtle Highlights
Give your long hair a touch of softness with just a hint of blonde, a couple of shades lighter than your natural color. These oh-so-subtle, sunkissed highlights add summer vibes to any cut and style!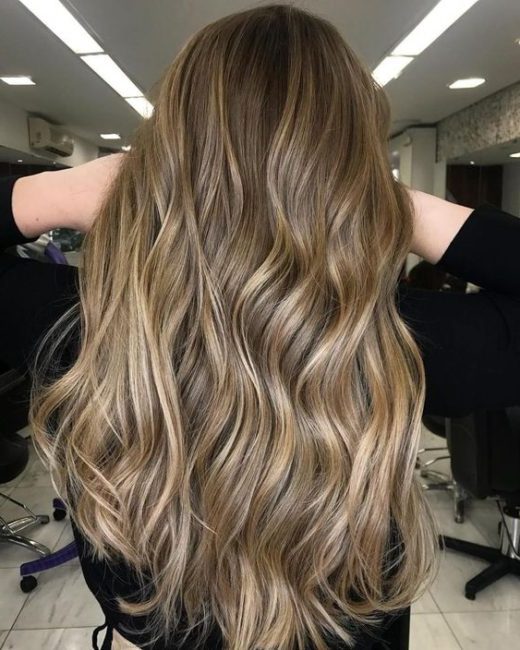 #9: Natural Color Waves
Complement your natural color with relaxed waves and a hint of blonde at the ends. Jennifer Aniston, who somehow always manages to top the celebrity goals list, has the same shade of dirty, golden blonde hair.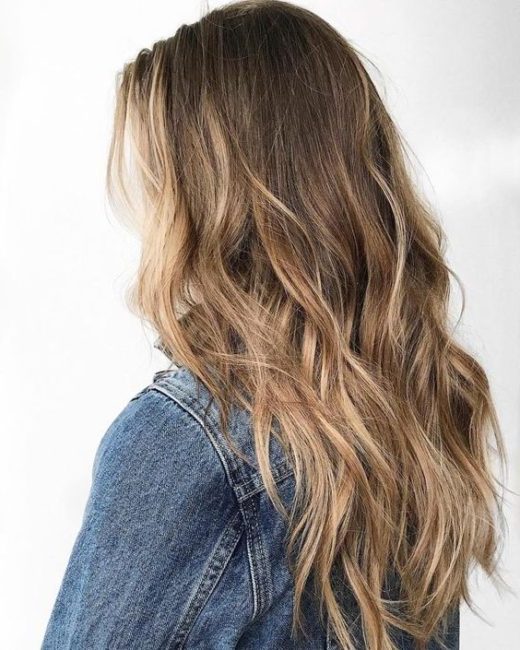 #10: Brunette With Dirty Blonde Ends
Brunettes can also take advantage of this dirty blonde trend. The gradual transition from dark to light adds dimension and visual interest.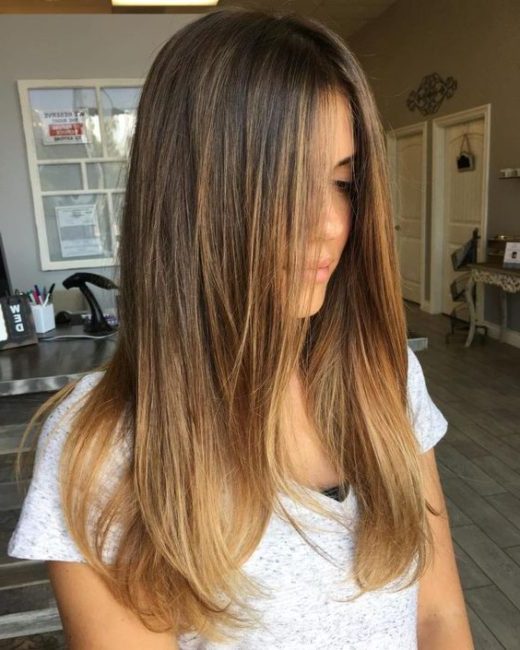 # 11: Cool Dirty Blonde Balayage
This ashy color gives your natural hue a fantastic, modern boost. Ash shades always look stylish and pretty, so if you need some inspiration, you can always scroll through this article.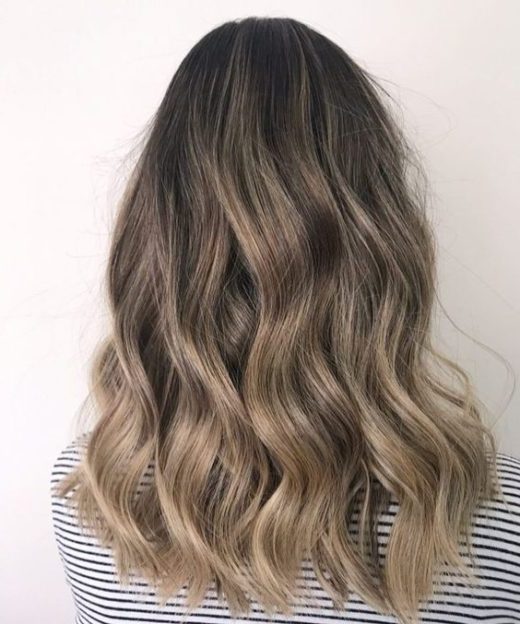 # 12: Dark Roots with Icy Cool Ends
This icy color fusion starts with dark roots and a long, choppy bob for maximum dimension and movement. Beach wave hairstyles look gorgeous with such attractive shades of blonde.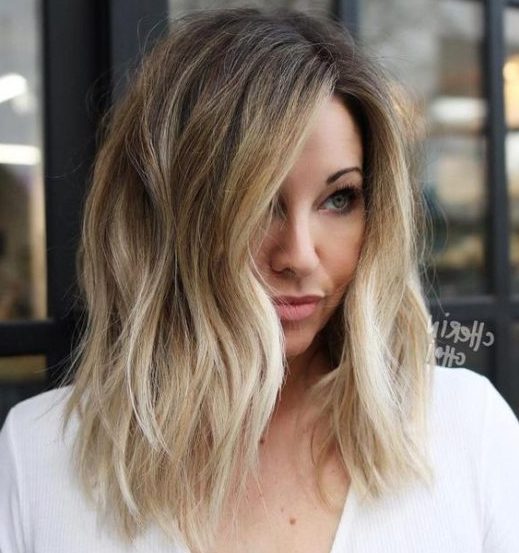 #13: The Perfect Balance of Blonde and Brunette
If you're having trouble deciding whether you want to be blonde or brunette, now you can have the best of both worlds. Let's call it "Blondette," girls!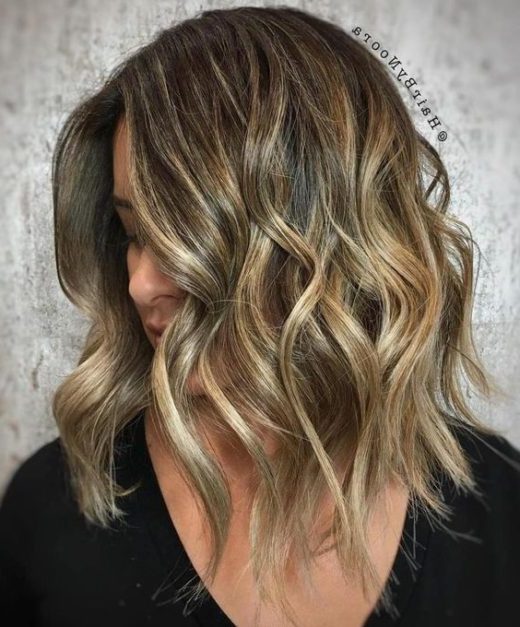 # 14: Perfect Dirty Blonde Bob
Spice up your bob with a medium blonde base color and paint the ends a little lighter blonde. Flip your ends over for some dimension and movement.
#15: Subtle Messy Blonde Angled Bob
Give your bob subtle dimension with very natural color shifts of just a shade or two. Some sharp tips and a slight curl give it movement.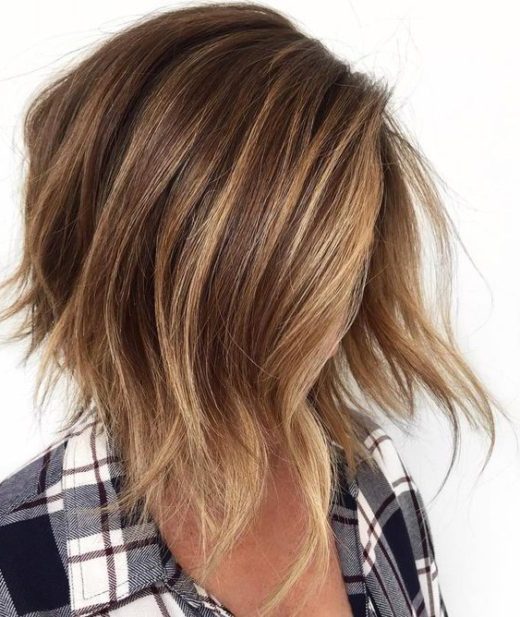 #16: Sunkissed Long Locks
Get a summer look all year round with such a sandy shade of dirty blonde! Just a touch of color where the sun naturally hits your locks is all you need for a beach-combing look.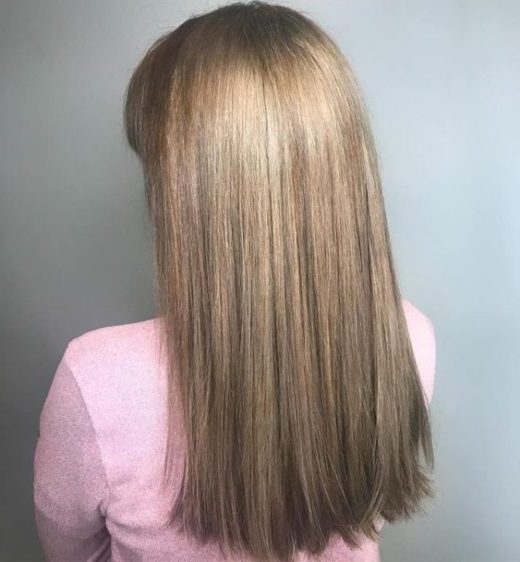 #17: Seamless Dirty Blonde Style
A mix of painted highlights and balayage gives hair a lived-in look for an effortless, no-fuss, low-maintenance style.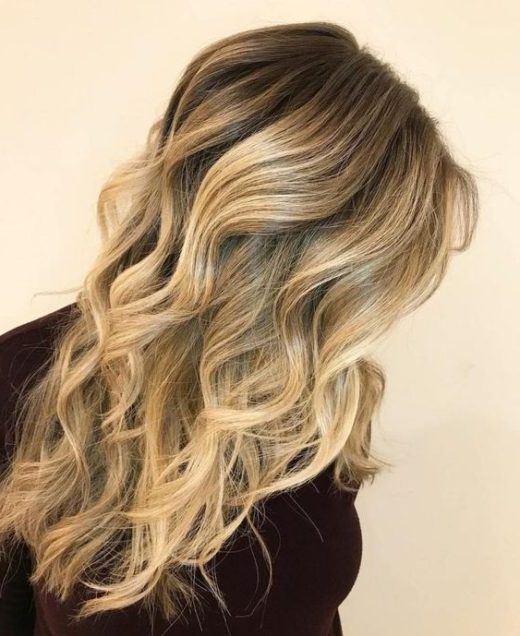 # 18: Bob Shaggy Icy Blonde
Icy blonde pieces and shaggy curls give your dirty blonde hair dimension and movement. We love short and long blonde bobs because they always look classy!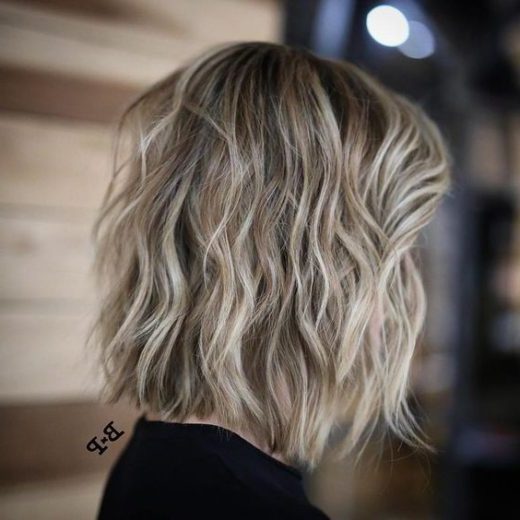 #19: Dark Locks with Caramel Highlights
Lighten up your long hair with warm caramel highlights and some loose waves. By the way, caramel highlights suit almost all hair colors. Keep that in mind as you search for new hair ideas to try!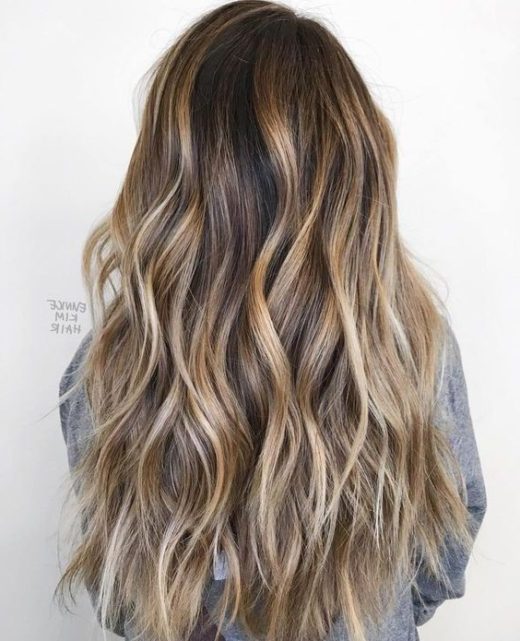 #20: Icy Waves and Angled Style
Keep your look fresh with some ash blonde and a sleek angled bob. Add some flat iron waves for movement and dimension.