When you look at black women's hairstyles, you can see how extremely fashionable they are. And this is mainly because they prefer stylish short hairstyles.
They say that short hairstyles for black women are up to date as they not only go with fashion but with the whole character of these ladies who look grand and elegant in brown and black hair that is cut to the best size.
What is Trendy?
Typically, short hairstyles look best when left natural. However, when it comes to really shortcuts, you can't vary your styles often and professional styling is needed. FYI, the latest styles and trends make it possible for black women with really short hair to have unlimited styling options.
What to choose? You can go for the versatile bob with different angles, straightened style, and the typical African hairstyle.
Benefits of Natural Thick Curls
Black women's hair is of a special texture, so many lengths and styles do not correspond to it. Short hair can perfectly complete the look, no matter if you decide to go straight or keep your hair's natural texture.
They can run from the bob style to the extra-mini buzz, looking for the hairstyle that best suits their personality. Most celebrities offer wonderful examples of how short hair can be worn with confidence and great style.
Let's check what is appropriate for you and your hair.
Gloria Descolorida Haircut
Nothing is more elegant than short hairstyles and arched eyebrows. Animate this cute faux hawk by making it your own! Undercuts flatter black ladies immensely. Adding color will not only complement your black hair but also your skin tone. On your way home from the salon, treat yourself to a new ear piercing.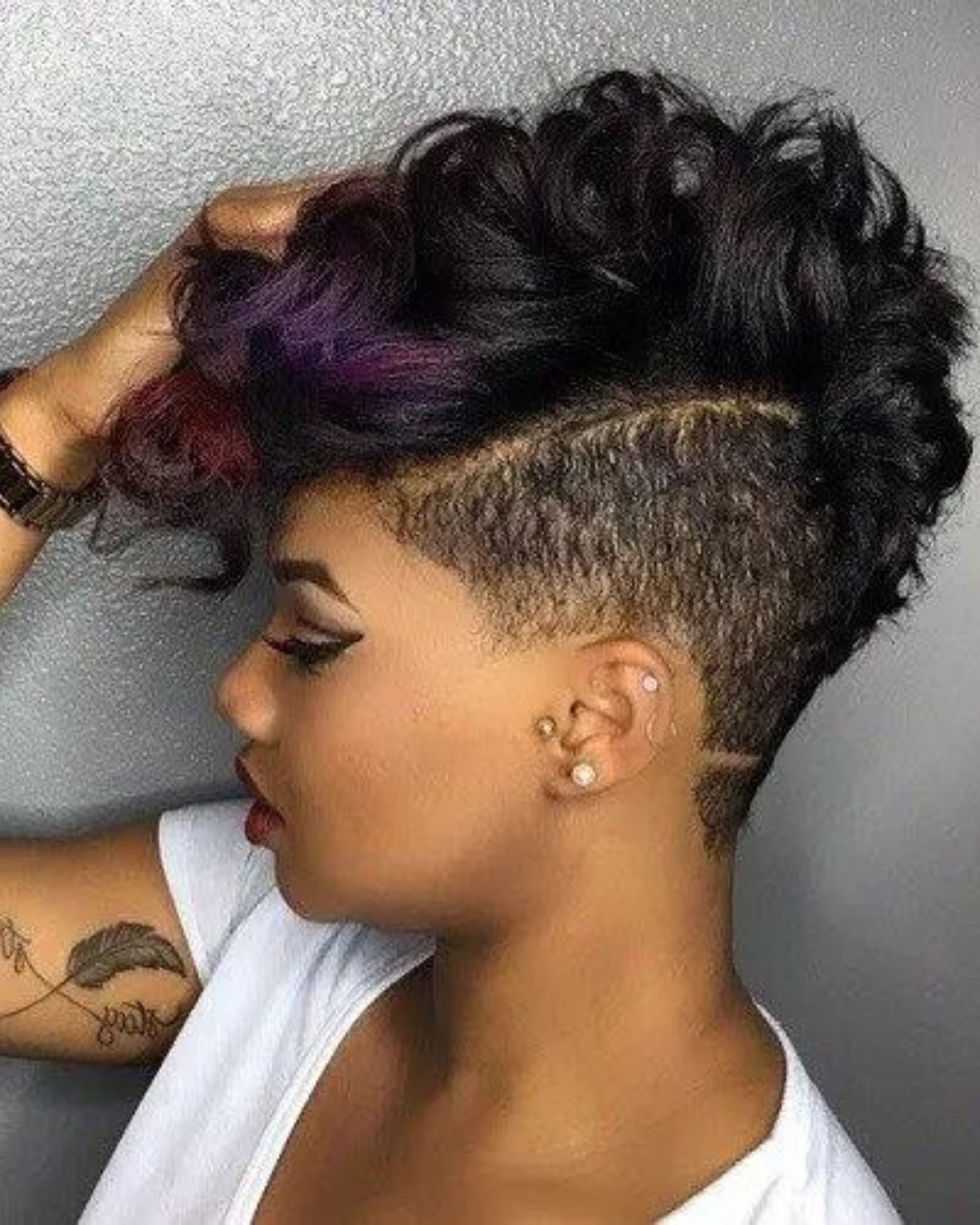 Curly Pixie Mohawk
For black girls, a shortcut is a stylish way to show a personal style. Want something a little edgy, but still feminine? A mohawk with luscious curls is the style for you. Instead of shaving the sides, put your hair in finger waves for a retro touch.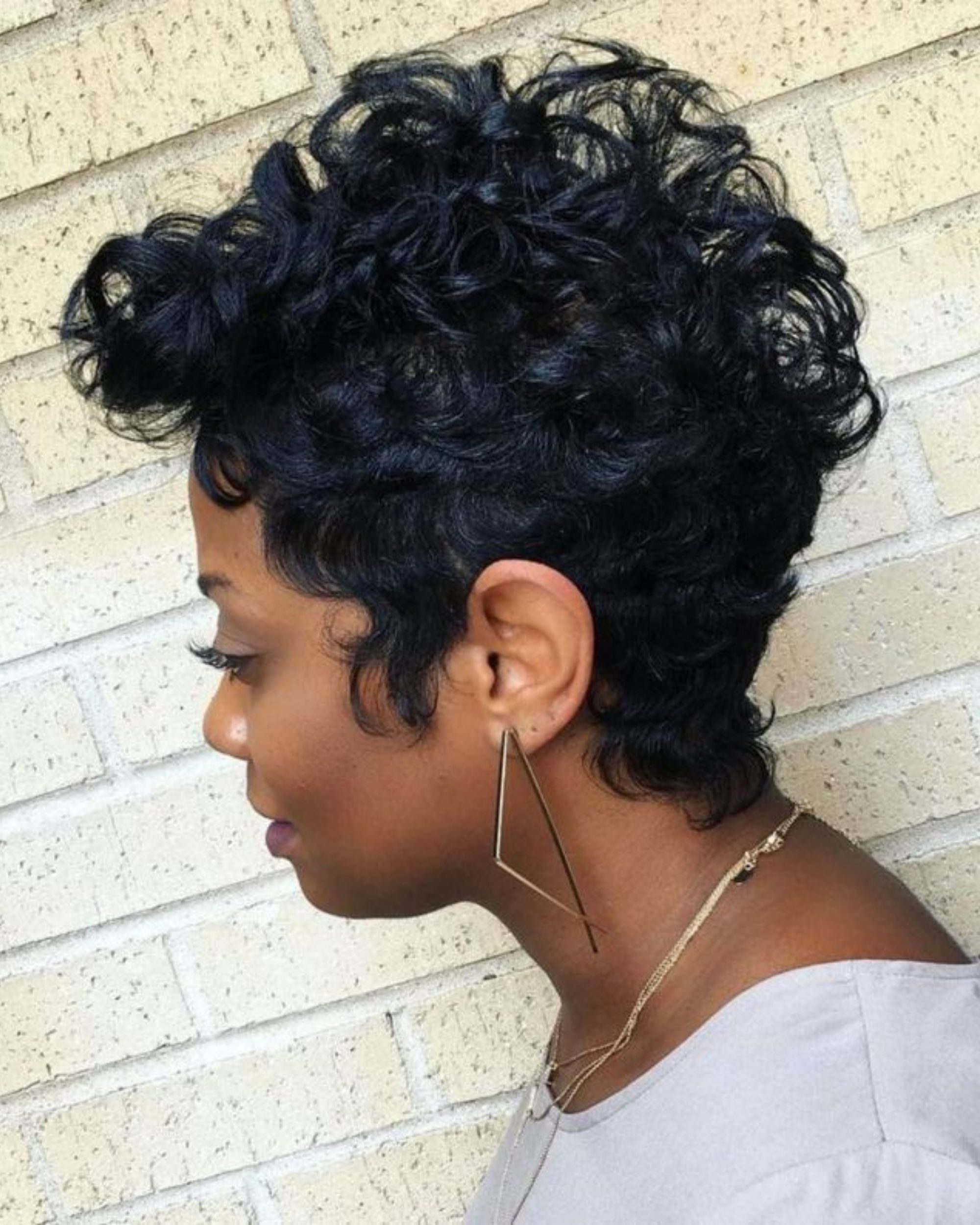 Curly Pixie Haircut
Here is another cute variety of pixie to add to the stockpile of stylish hairstyles for black women. This curly style is clean and understated, yet exudes good taste and sophistication.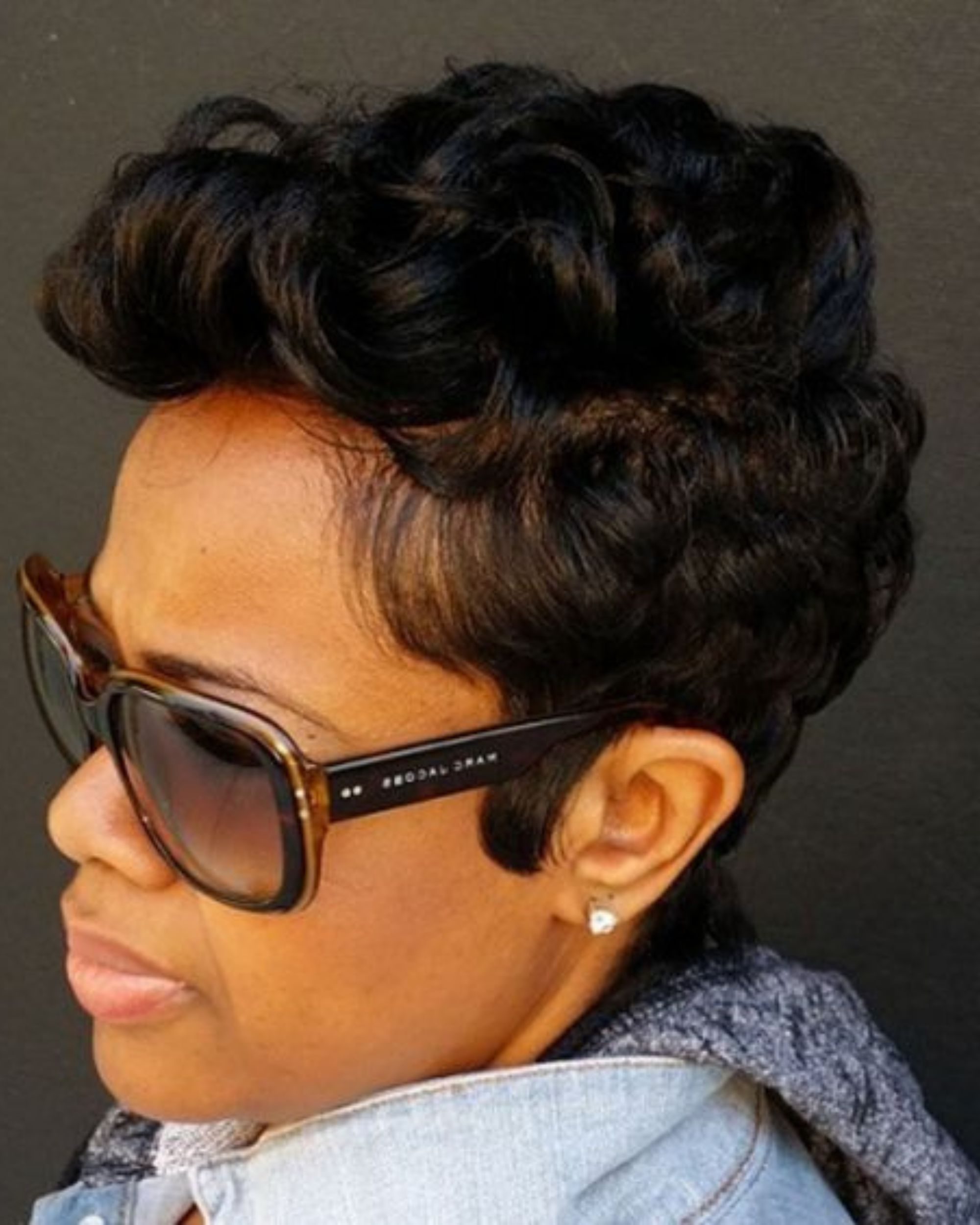 Tapered Platinum Cut with Feather Crown
Always wanted to try platinum locks? With blonde hair, you can transform your look and create instant appeal. Feather your cut for a modern finish and a little more volume. Be careful, because such a drastic change in African American hair can cause damage. Luckily, short styles like this one are easy to maintain and stay hydrated.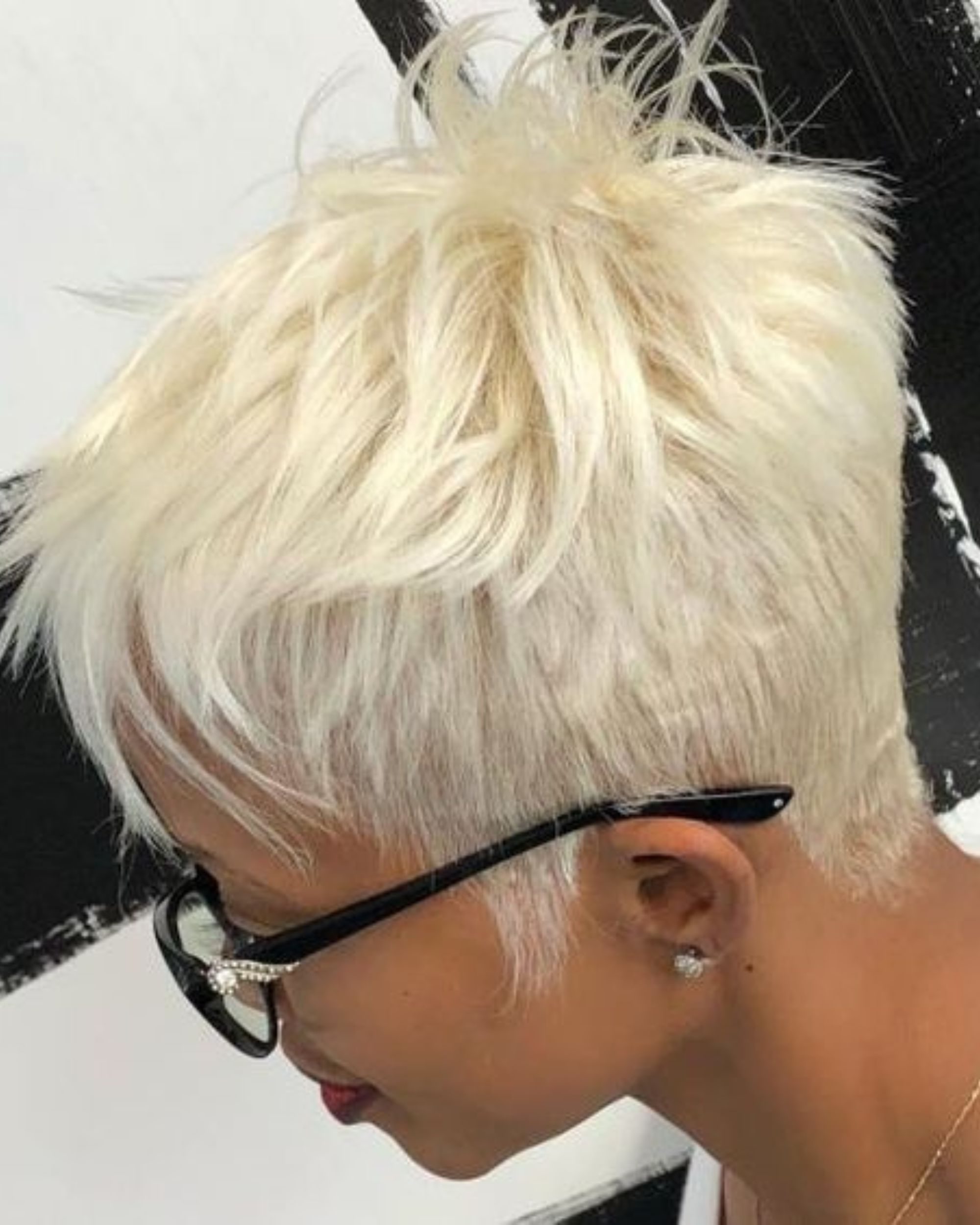 Rosewood Ombre Hairstyle
The days of subtle highlights are gone with the wind. Bring out the color of your skin tone with a luscious rosewood tint. Also, keep them guessing with a side swipe – they don't need to know what's behind that veil. Not yet.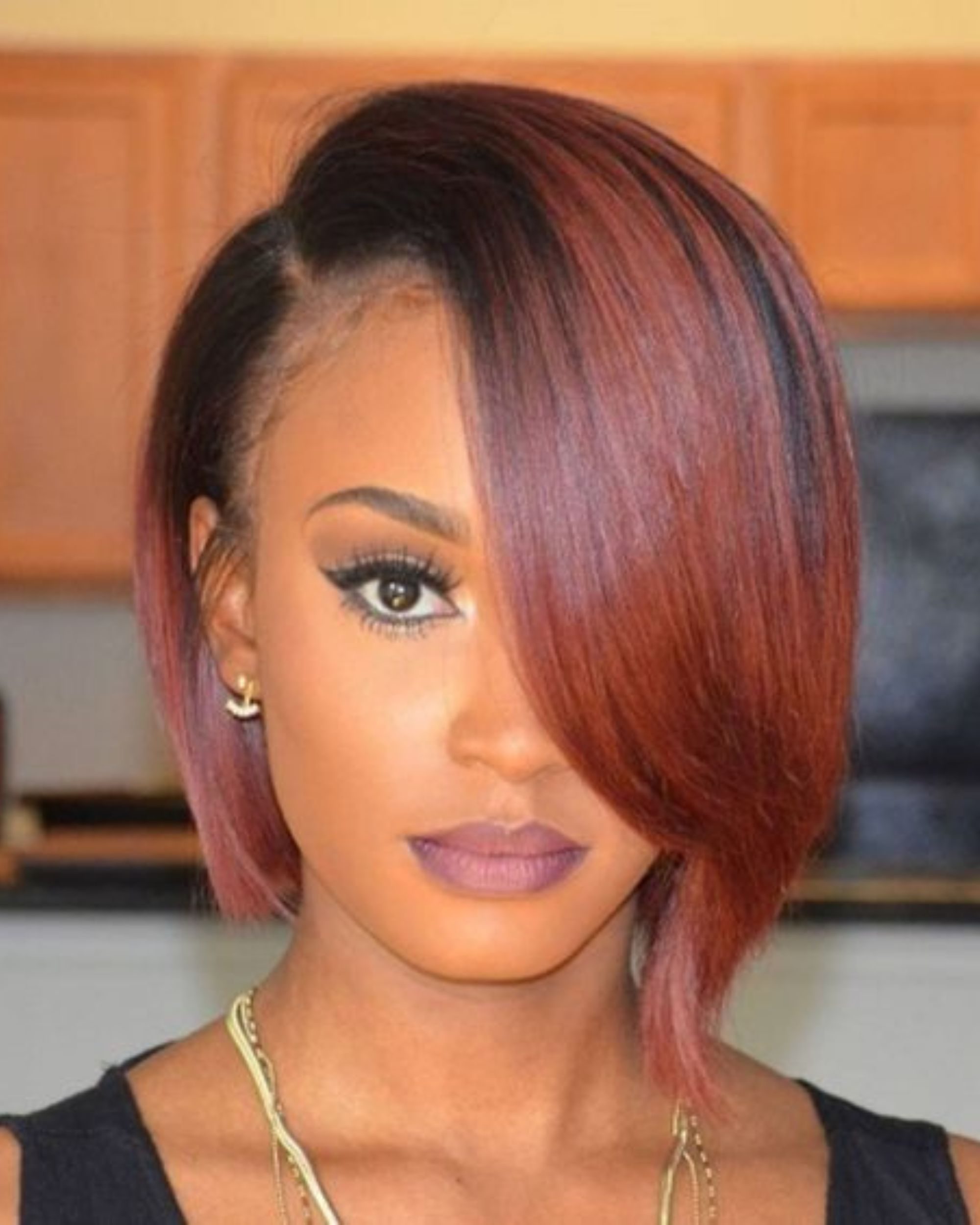 Varied Lengths for Short Hair
Black hairstyles are too cliché sometimes, so the next time you visit your salon, go for something more sophisticated and modern. This curly adds some overall softness without the hassle of long or high-maintenance hair.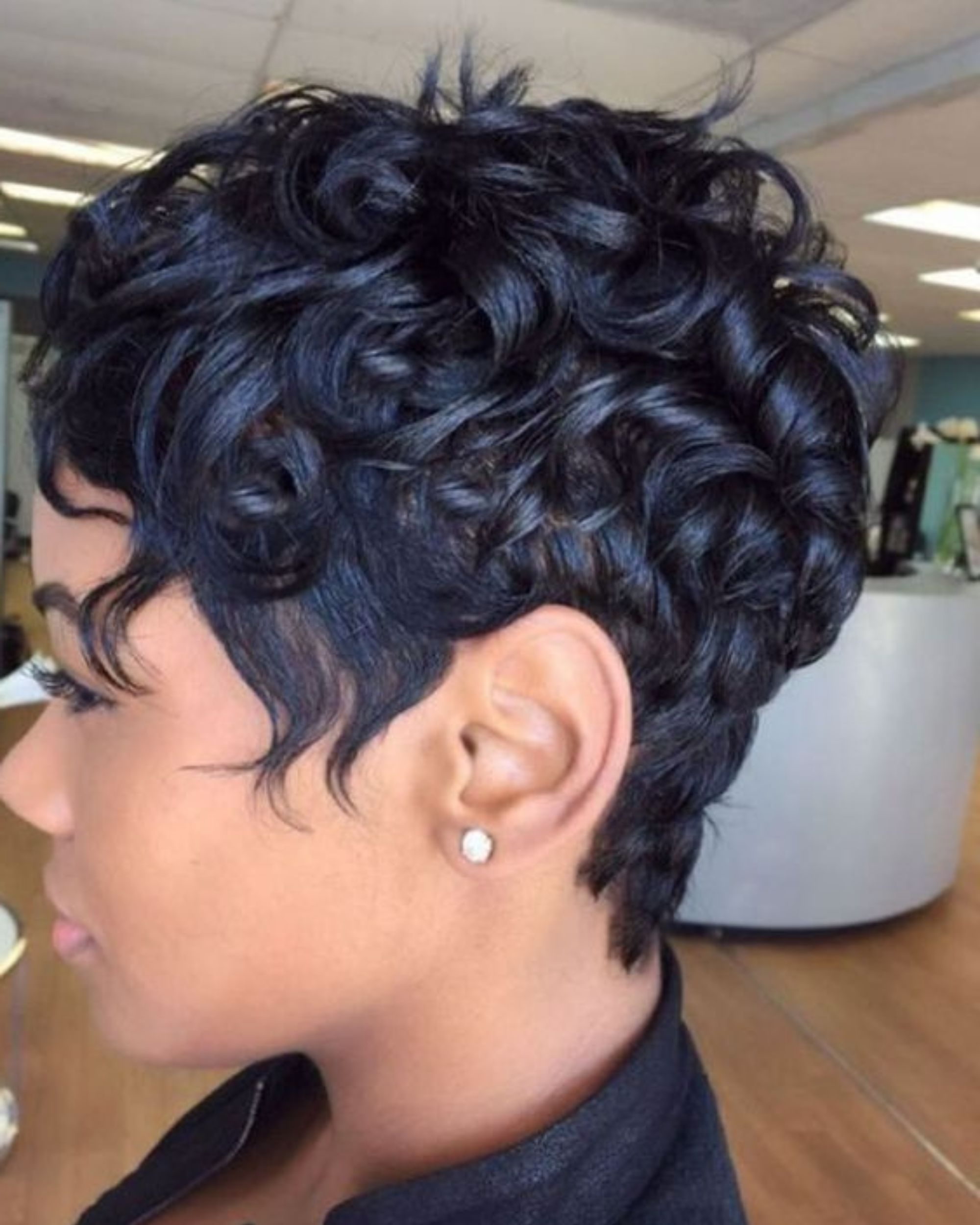 Short Hairstyle for Thin Hair
For every thick-haired black girl, there are several with thin, weak highlights. Short styles can give finer locks a boost and look just as good as long hair.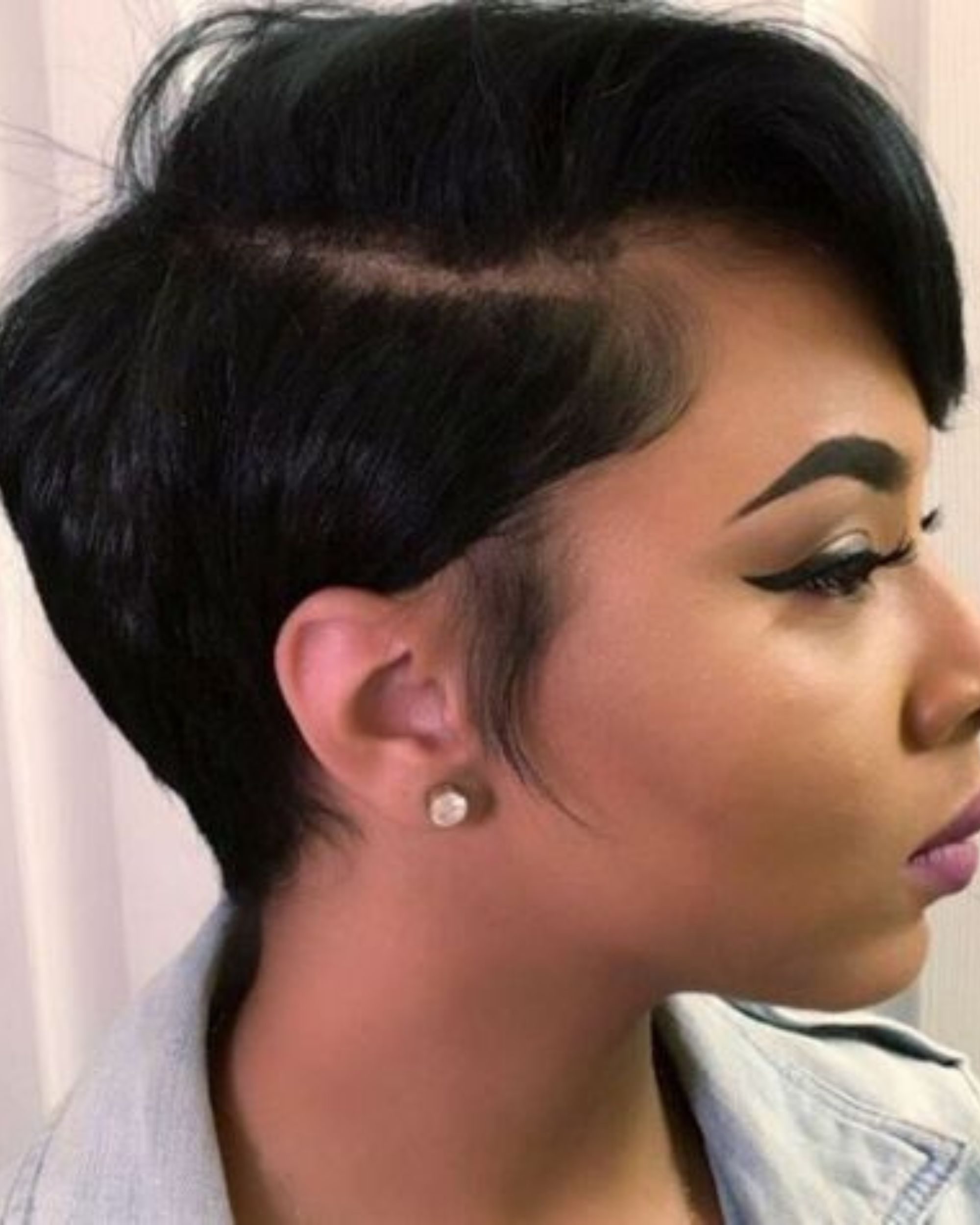 Embracing the Short Natural Curl
Going au naturel is very popular right now with black women, but sometimes it's not realistic for everyone. It requires a lot of maintenance and is not always very functional for certain vocations. If you love the idea of ​​natural hair but have a hard time pulling it off yourself, go for a short, cropped version like this cute style.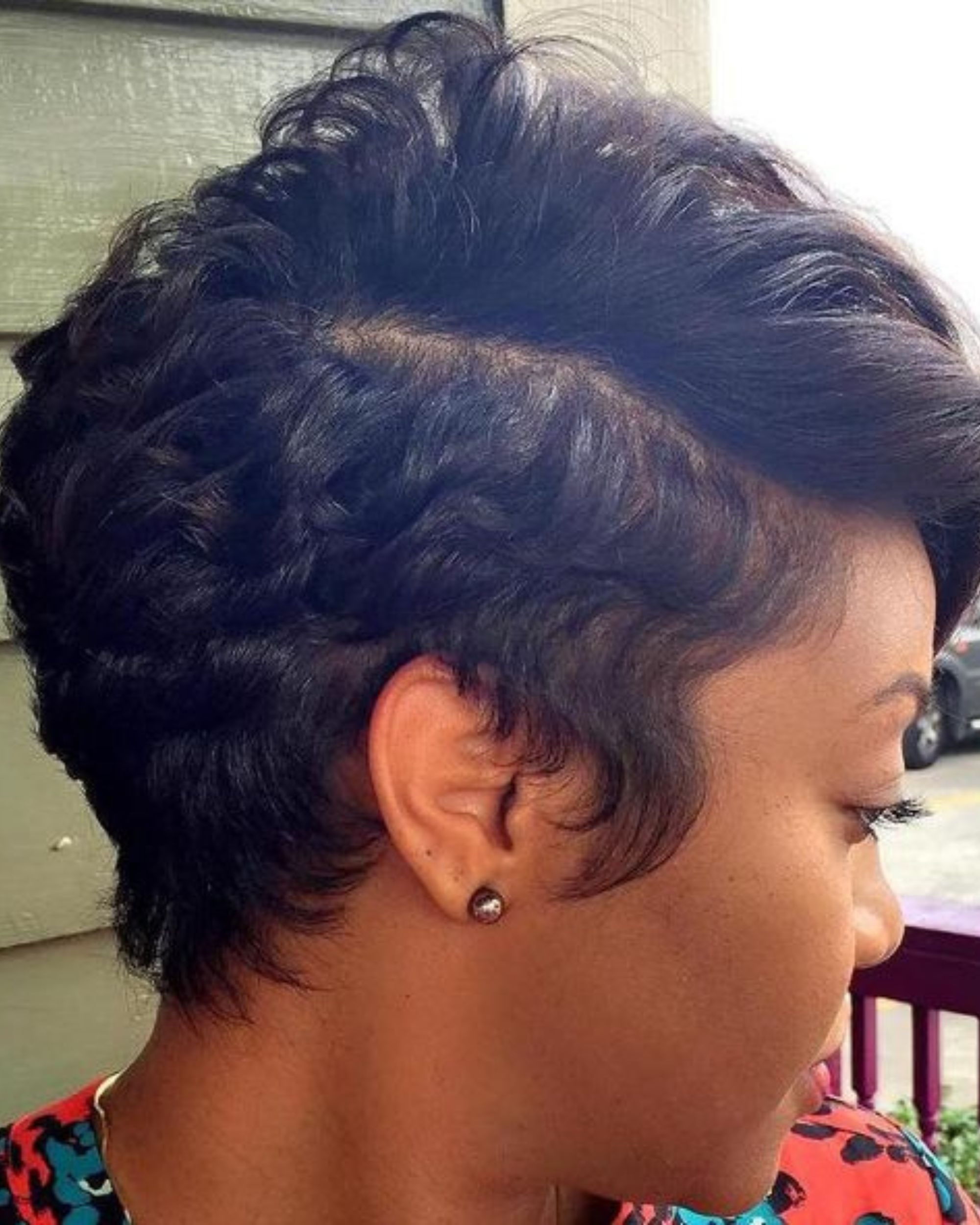 Tapered Pixie with Defined Curly Top
Bring the texture with curls on top of the curls! Beautiful spirals give short black hairstyles so much body and volume. But despite the fullness of the hairstyle, it still maintains brightness and elegance, as seen in the photo. No frizz here!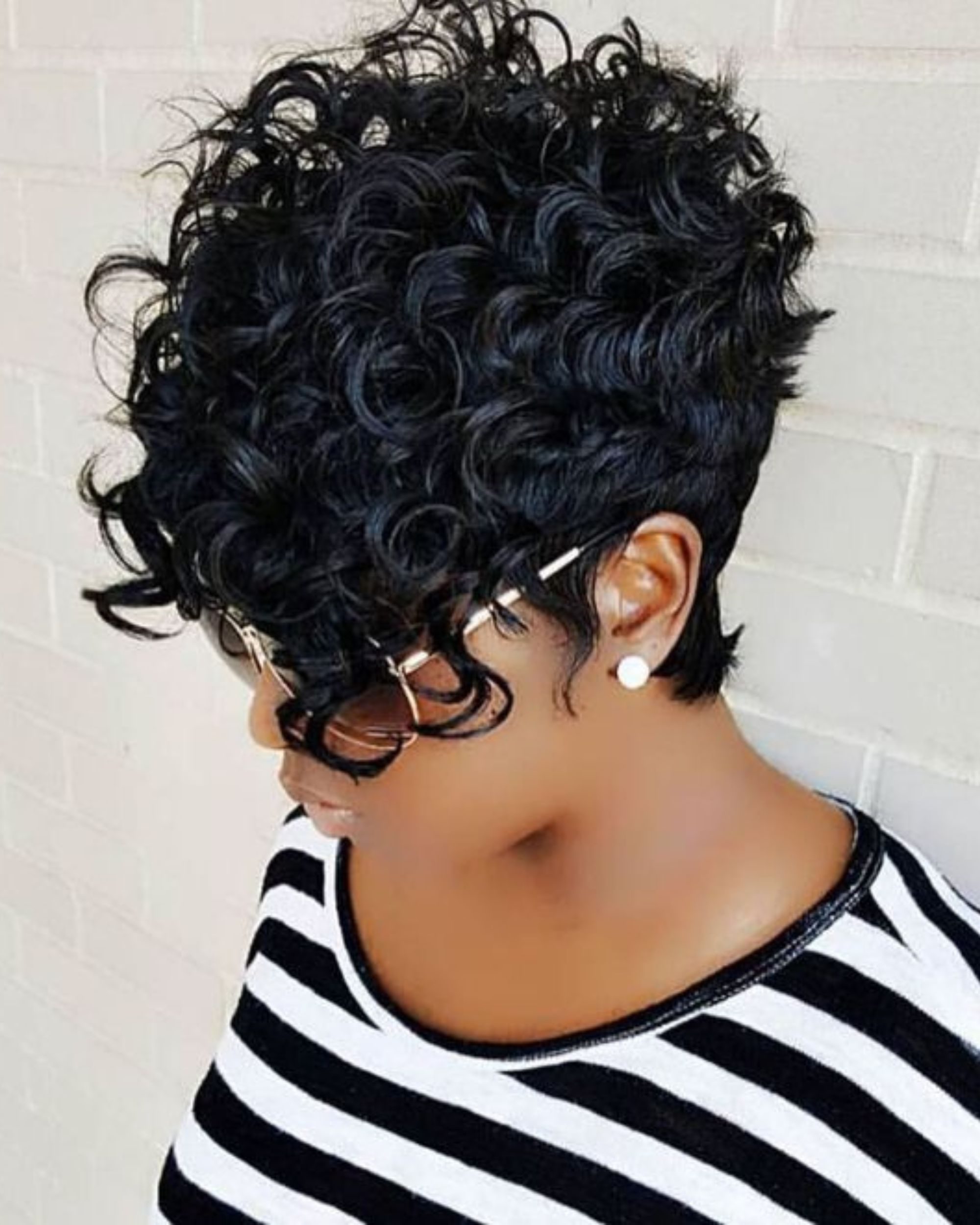 Side Parted Pixie Bob
For short hair, keeping it simple can be just as nice as something with more texture or color. With layers at the back and super subtle highlights, you can achieve a look that's elegant and sophisticated in equal measure.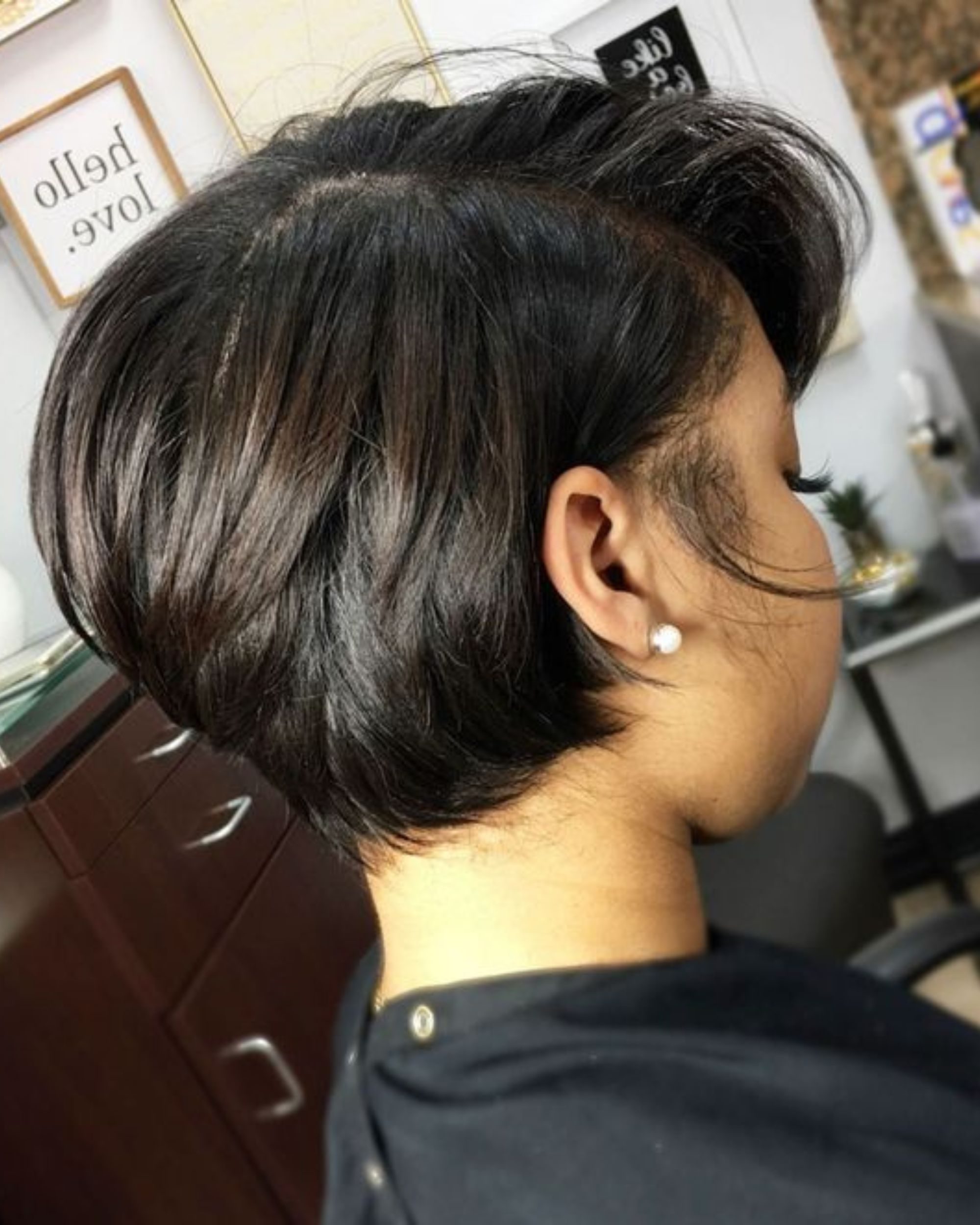 Choppy Layered Short Haircut
Simply brushed and closely cut, this is an African American haircut that is not only charming but also convenient. You'll love how easy it is to get ready in the morning, not to mention the money you'll save with a quick trim at regular salon appointments instead of paying for a fancy weave.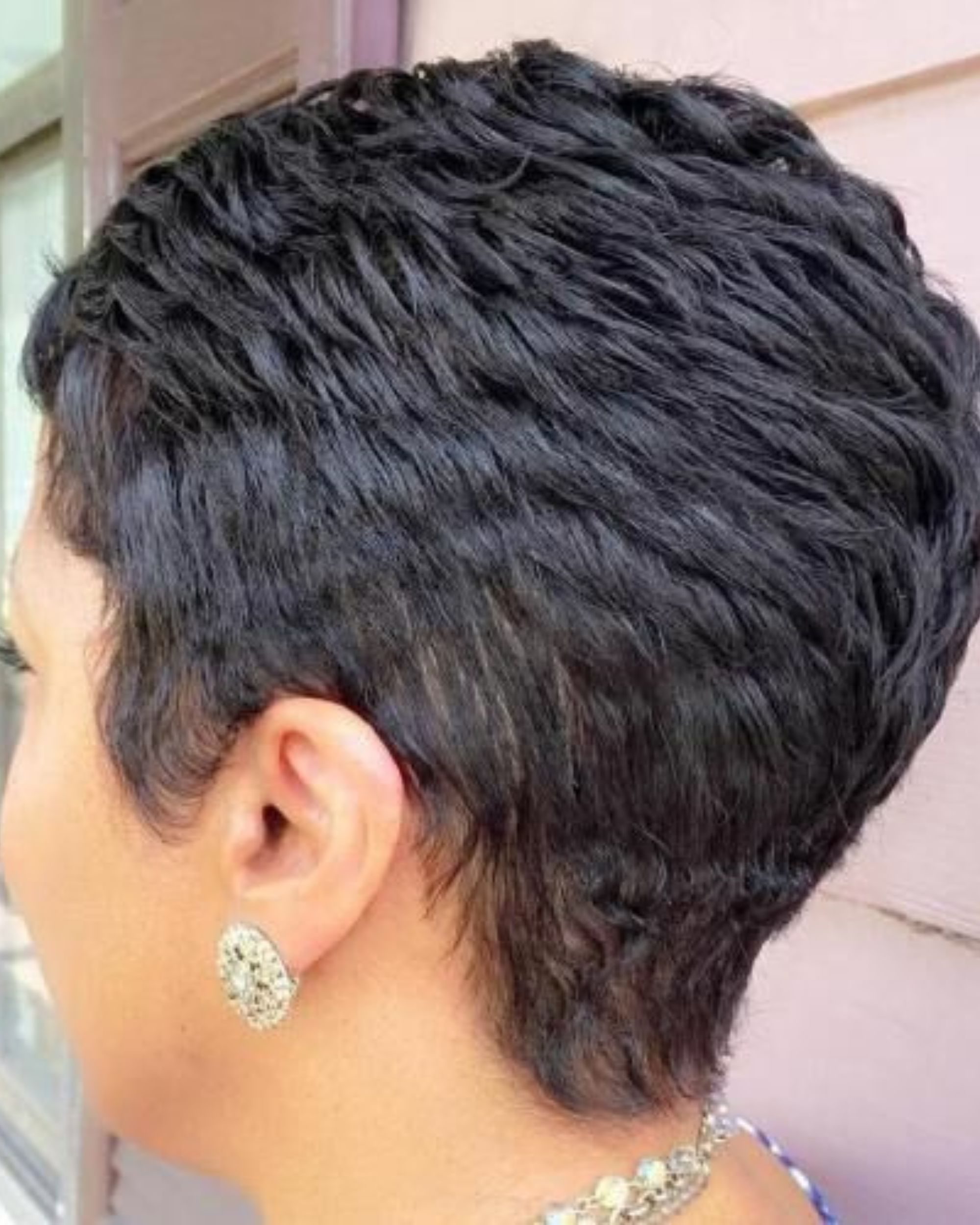 Sleek Ash Blonde Pixie Bob
Hairstyles for black women know no limits. Anyone can be blonde, but it's all about finding the perfect shade that complements you. Try an ash blonde to make a statement. This luscious monochrome palette plays up the wow factor of your entire look.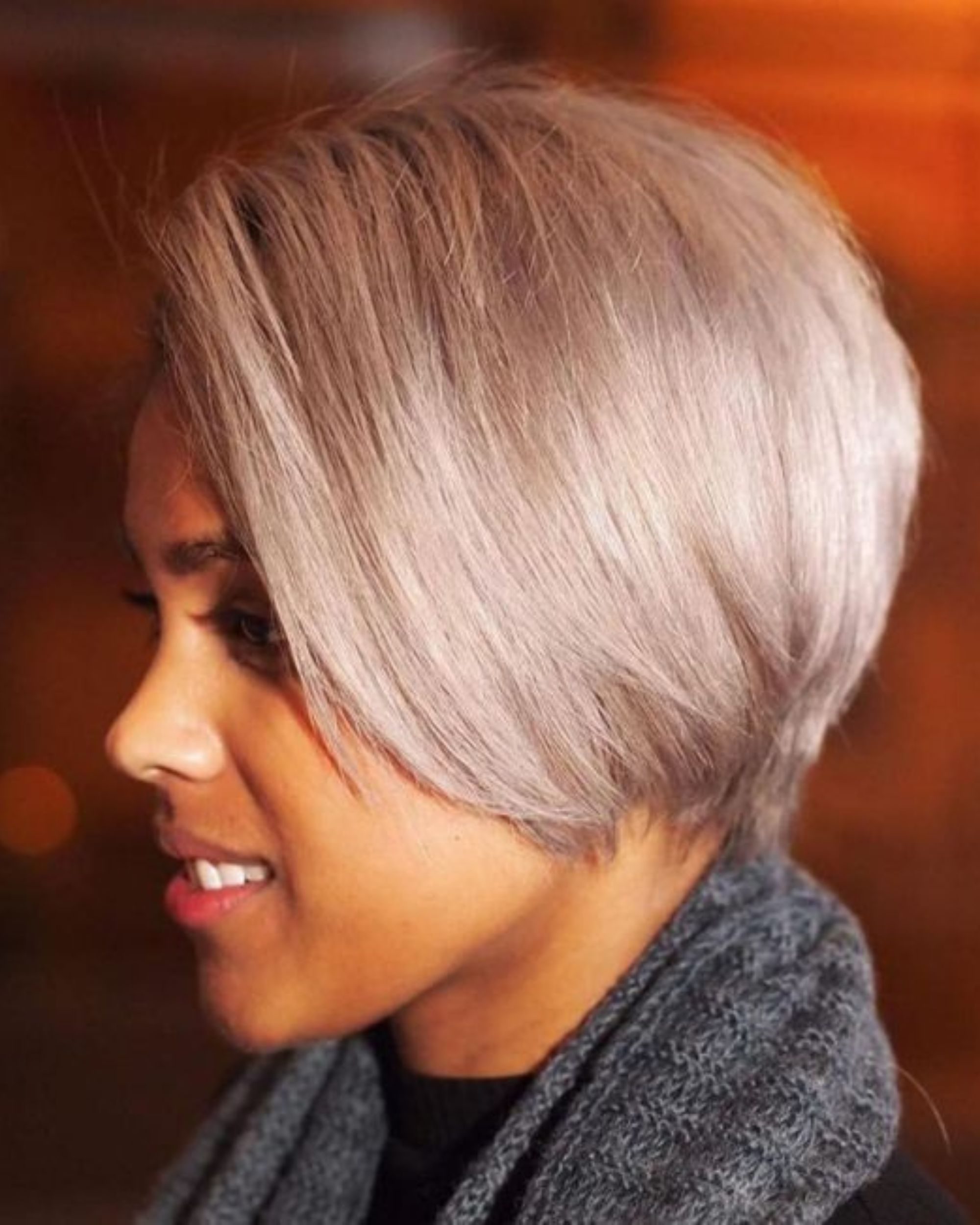 Sidewall Candy and Burgundy Pixie
Changing your hair color is always fun. Use your short hair to show off a variety of shades, creating a unique take on the ombre. Mixing burgundy and caramel, this pixie style is unique and refreshing. It is also discreet because the short locks are not too strong.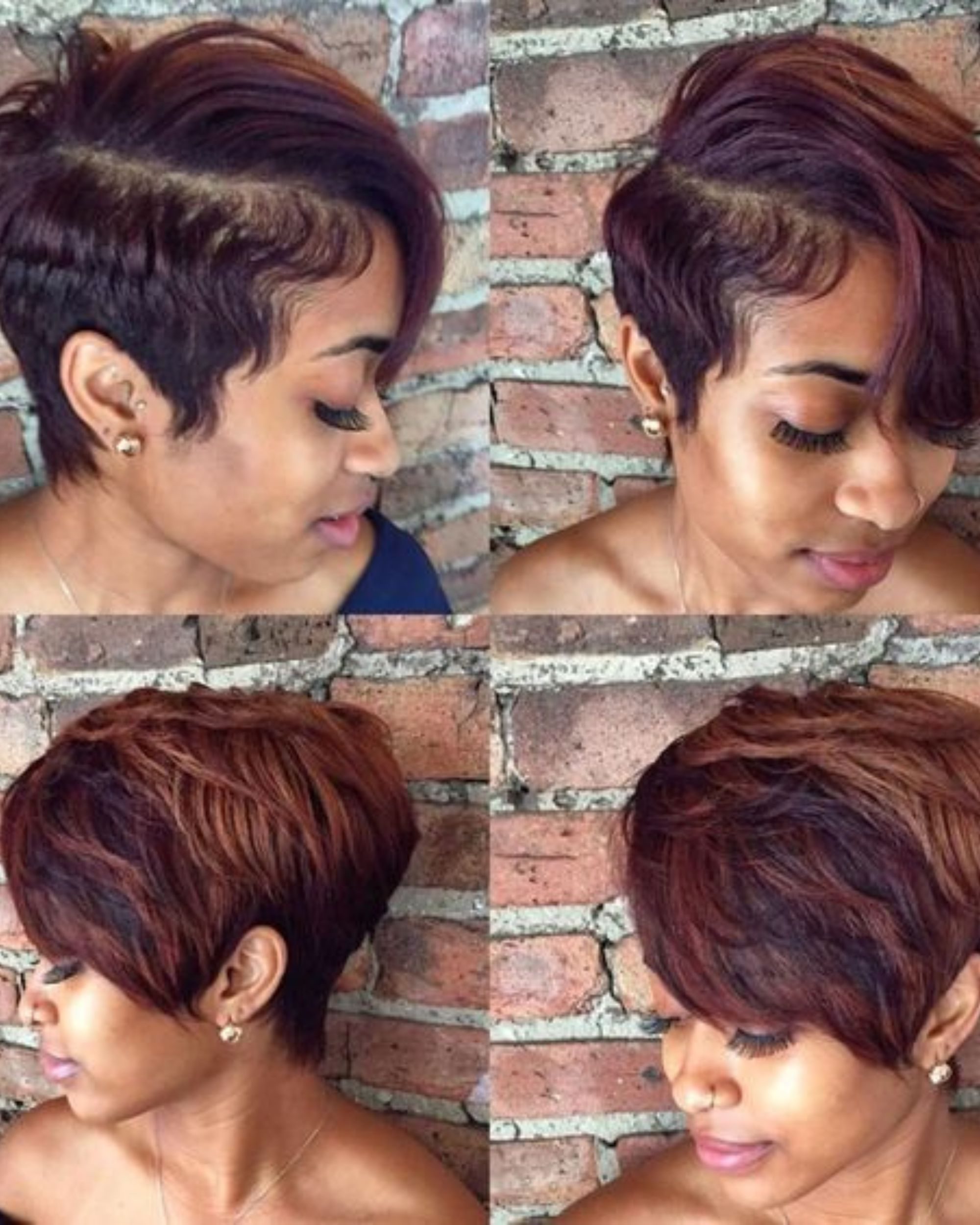 Long Black Pixie with Swept Back Layers
Layers can make or break short black hair. Variation in lengths is what gives depth, volume, and style to an otherwise drab cut. Layers take center stage on shorter cuts like bobs and pixies; in the style shown below, they offer the impressive effect of hair being swept back.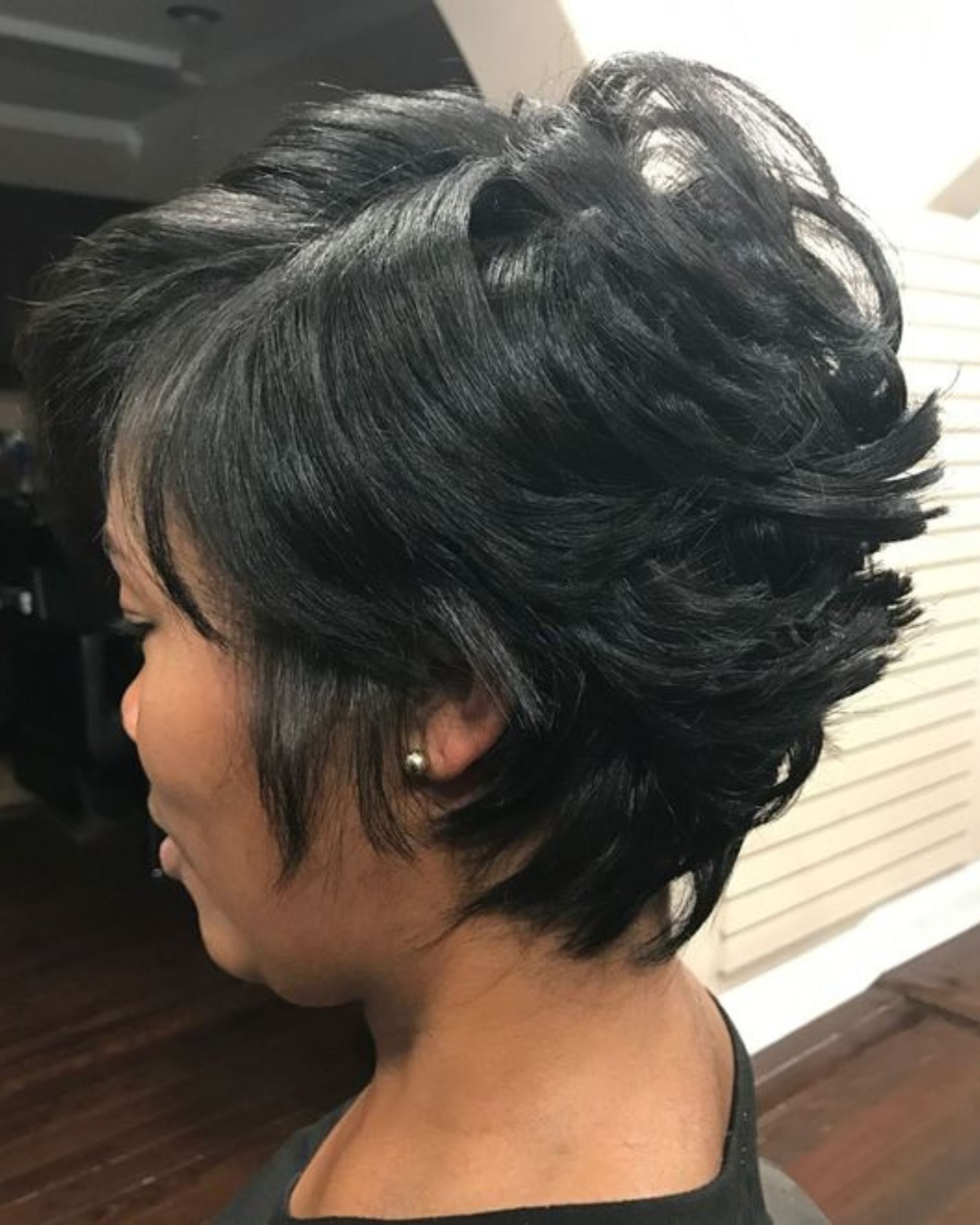 Black Stacked Bob with Flicked Layers
Bobs are a universal favorite and a classic style if you are someone who prefers short locks. Wispy's layers moving backward build a beautiful movement. A stacked back will accentuate the body of the cut and also give it a chic tapered effect when you opt for natural hair.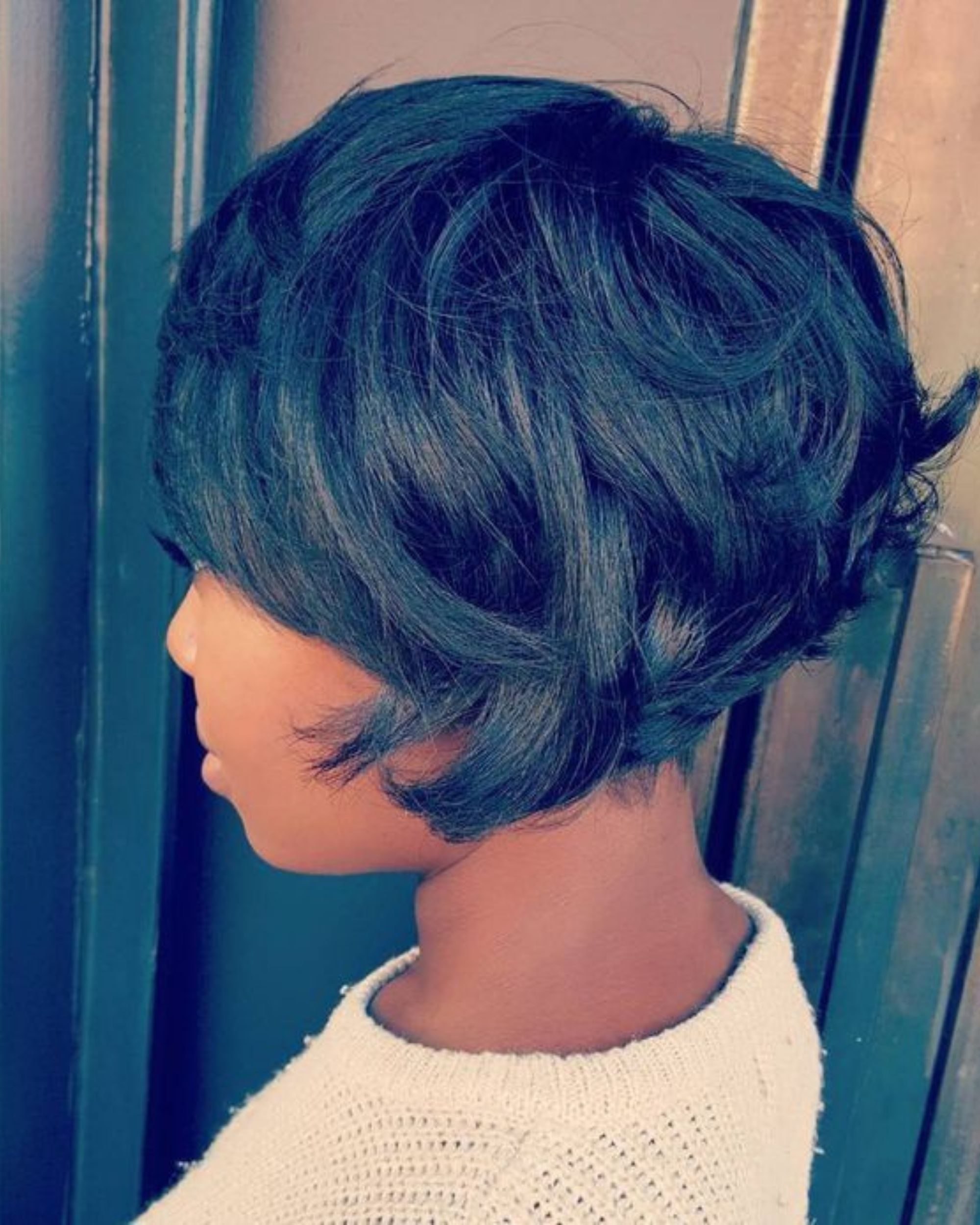 Sleek Clean Cut with Highlighted Top
For short hair, sometimes less is more. If you go for a bright color, like blonde and caramel highlights on the black base, keep the cut itself understated. Something sleek and polished won't detract from the fun hues mixed throughout the cut.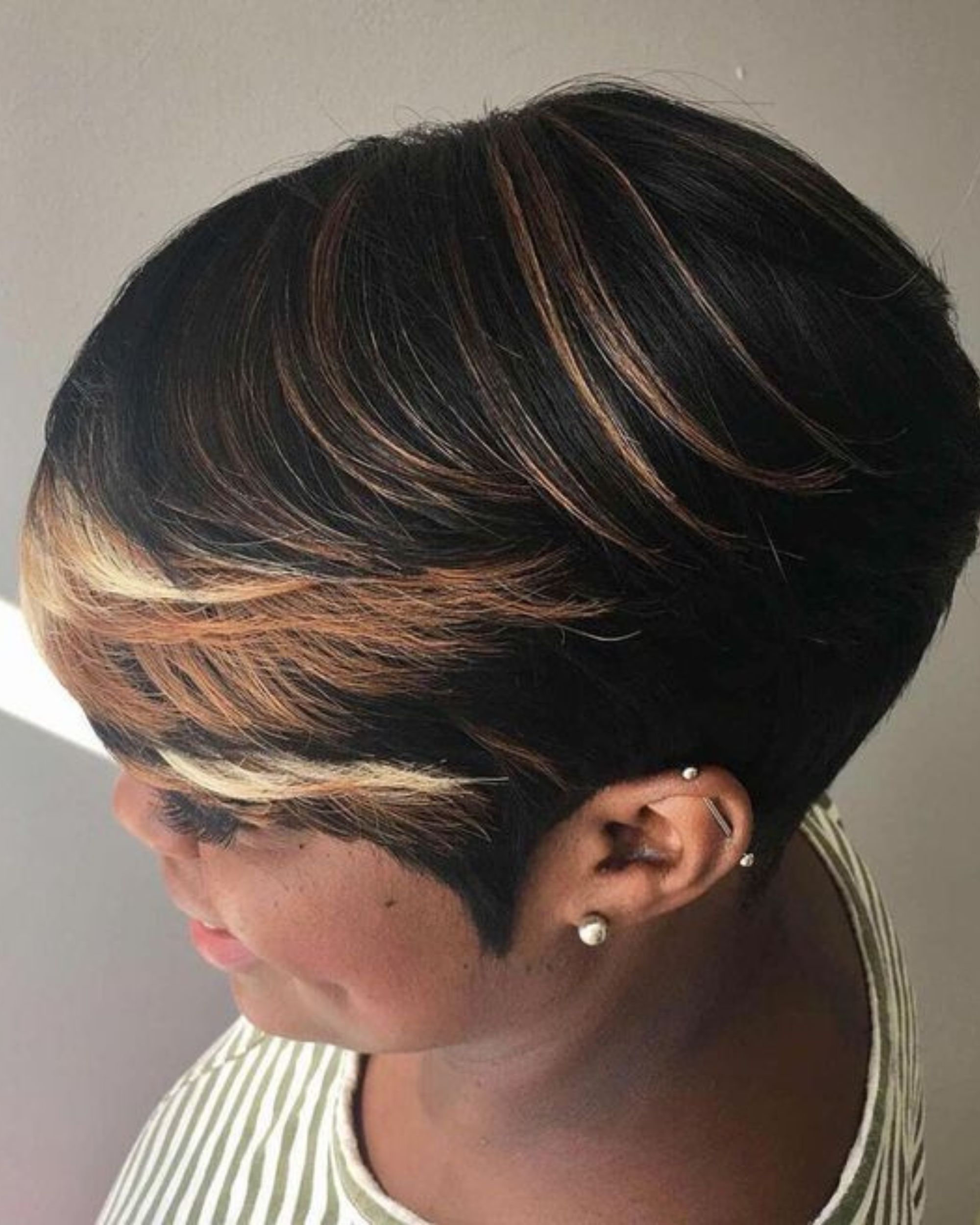 Raven Haircut
Short black hairstyles are probably no less versatile than long ones. Not much of a braid can be completed with this length, but when it comes to texture, you can try spikes, curls, waves, feathers, and look different every time!
Waves of Amber
One of the queens to "slay" a short haircut is none other than Rihanna. For this reason, she constantly serves as an inspiration for women who come to a stylist's chair. This swirled style in a vibrant reddish-brown hue is one of the singer's best and most popular looks.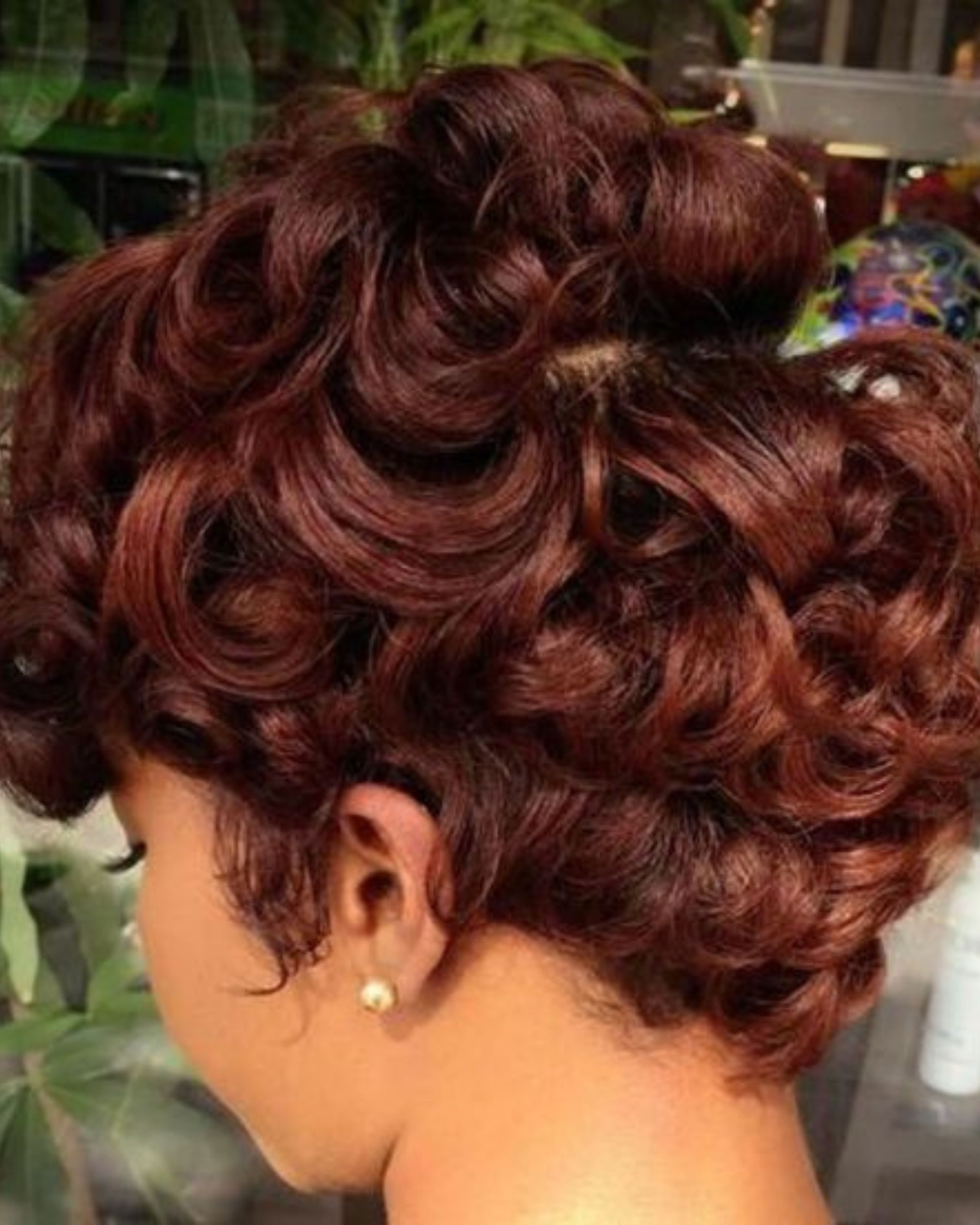 Vintage Vision
Pixie cuts are great because they can look chic or edgy depending on how you style them. This look leans more towards polished due to its vintage-inspired texture; ideal for a woman who enjoys being inspired by the last decades.
Tousled Pixie with Layered Bangs
Short hairstyles for black women can be neat or messy, depending on the occasion and clothing planning. Curly, straight, or slightly wavy and tousled, the choice is yours. This sleek pixie has a tapered silhouette and voluminous messy bangs that are brushed forward sharply as if tousled by the wind. It is a beautiful hairstyle, full of life and movement for a girl on the go.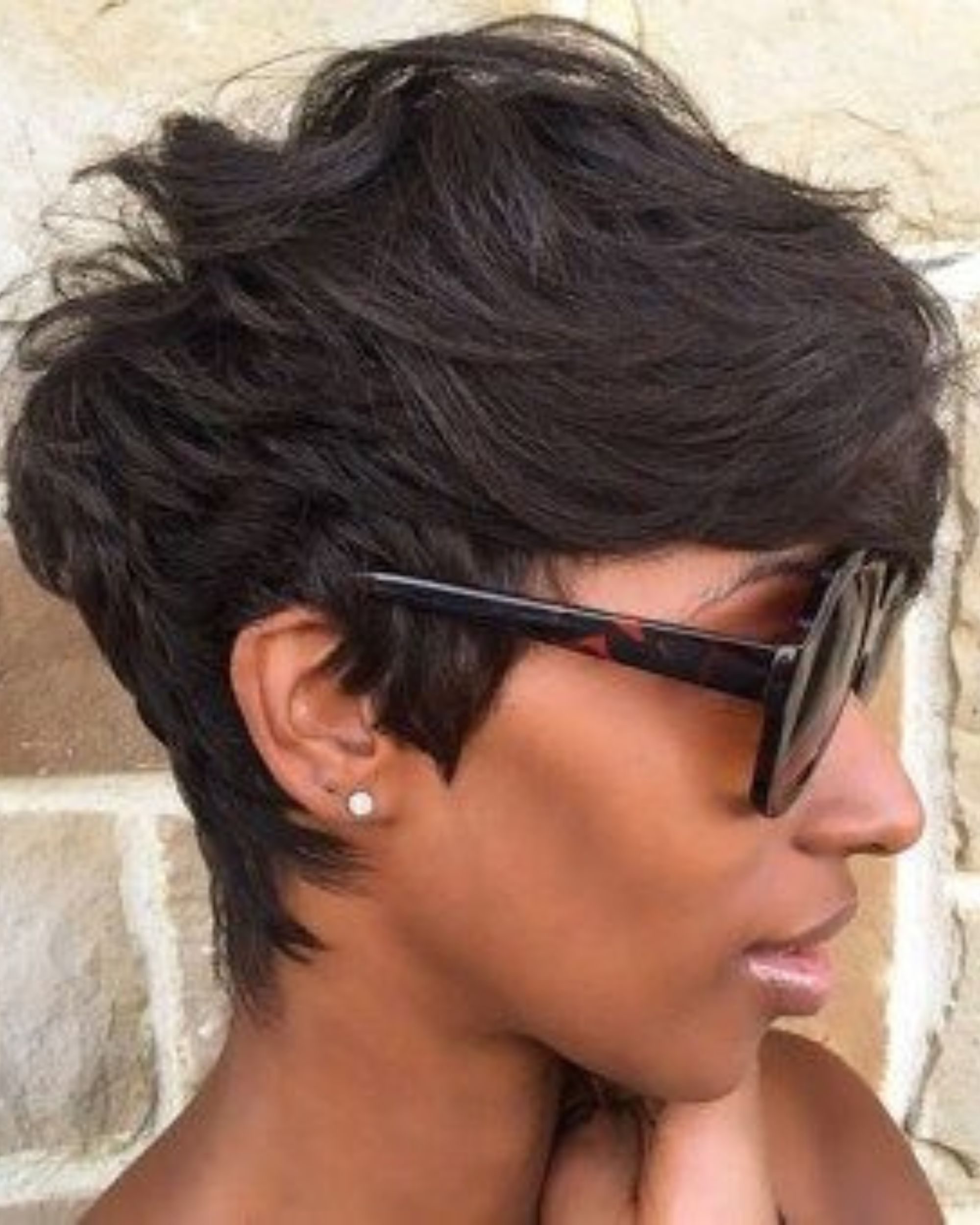 When choosing a hairstyle that is right for you, keep in mind the fact that it is a difficult and time-consuming process. If you are not absolutely sure what to choose, it is better to consult your stylist, ask your family and friends, look in different magazines, etc. Then your choice will be perfect. Stay beautiful and elegant!