When choosing something as bold as magenta hair color, it is important to understand the level of commitment required to stick with it. Women with low-key or hectic lifestyles should probably look for a more natural option. There are several shades within the magenta family, so be sure to choose one that suits your complexion and eye color.
Magenta hair color
Magenta is a mix of blue or purple, and red. The magenta tones are quite bright and eye-catching, but you can vary the degree of shine in your hair color by using the ombre technique and opting for blends where purple (or red) prevails. Check out the photos below:
# 1: Elegant formal updo
You can rock pink hair in a formal setting. The key is to allow the color to make a statement by opting for a classic updo. An elegant bow with delicate details is the perfect shape for a bright color.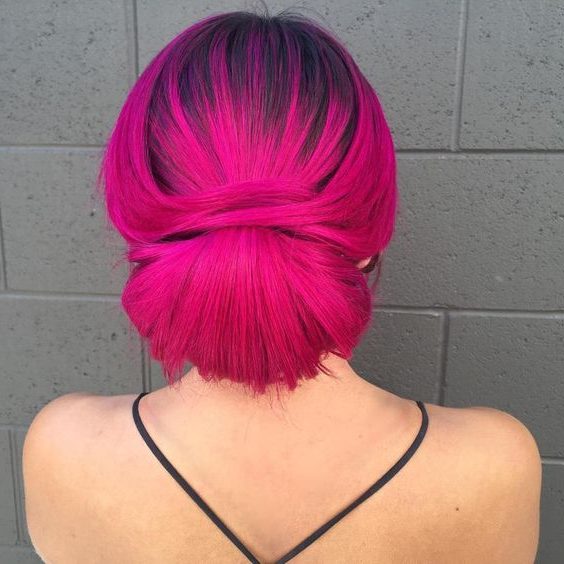 # 2: Bold Messy Bun
Magenta hair works for dark and blonde hair, as well as dark and light skin tones. A high bun is the best casual style to take from weekend errands to date night.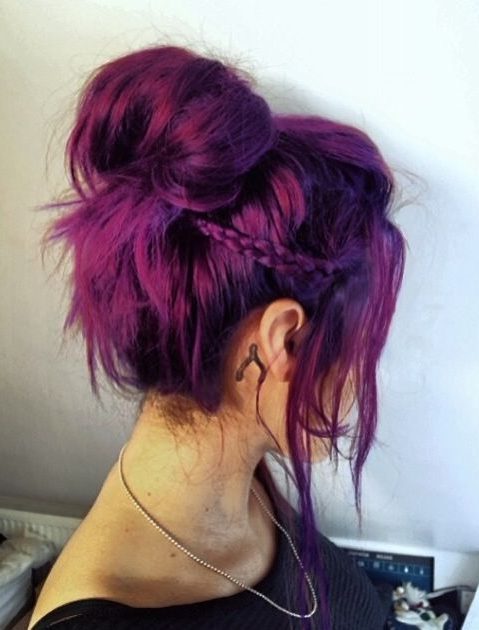 # 3: Ombre braided wig
Committing to color is difficult – not only do you have to process your hair multiple times, but you also have to maintain it, which is especially important for dark hair. There is an easier way: wigs! One would never know that the style shown here is a lace front wig, which is exactly how it should be. This gives you the versatility to experiment with fun looks without too much work.
# 4: Colorful braids
Edgy and pretty mix for the ultimate cool-girl style. Soft pastel lilac with vibrant violet roots and sturdy straight-back braids are the perfect modern hairstyle for your next 'girls only' outing.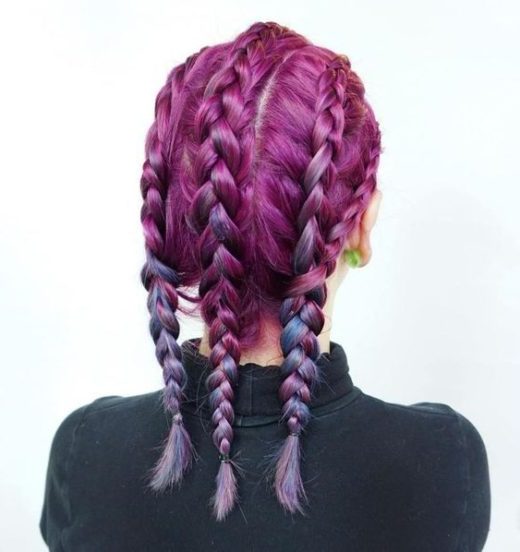 # 5: Unicorn Down
Women are in love with fantasy-based hair colors right now – mermaids, unicorns, and more. Even if you like to embrace the magical side of life, your hair should follow the basic rules of coloring, creating depth and dimension. This can still be achieved with teal, purple, and magenta hair dyes.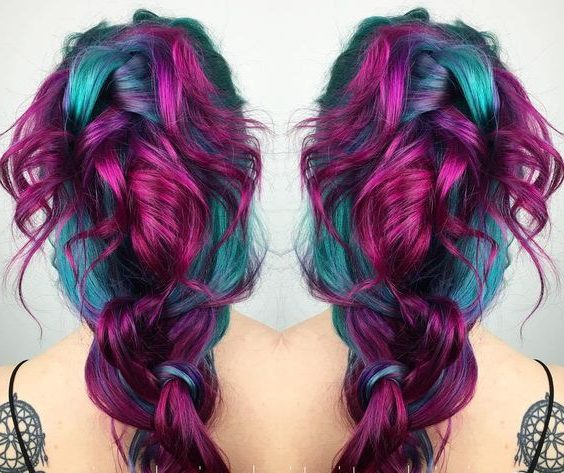 # 6: Braided Half-Updo
The only problem with dyeing your hair a solid color is that it can emphasize long, thin strands. To divert attention from this, try adding some texture. A fishtail braid will create visual interest, plus it's a great alternative to a basic ponytail.
# 7: Multi-colored bob
Magenta red hair is a unique blend of purple and red hues that creates a multi-colored highlighting effect. Using so much dye can be potentially harmful to your locks, so first, ask your stylist about all the risks. If the result is worth it (like the bob in this picture), don't forget about proper hair treatment procedures after your transformation.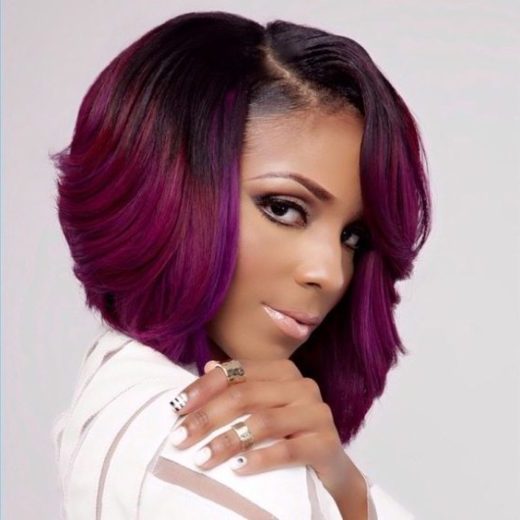 # 8: Spicy long spirals
A magenta-red color will instantly transform even the simplest hairstyle. On its own, this curly look may seem a bit boyish or too over the top, but a bright shade gives it the extra dose of freshness needed to make it youthful and on-trend.
# 9: Mystic Helmet
Violet and fuchsia… What else can make your hairstyle even brighter? The unique and ethnic accessory! Experiment with hair clips, chains, flowers, or, in this case, a mysterious dreamcatcher decorated with feathers and beads. Perfect festival hair idea for girls!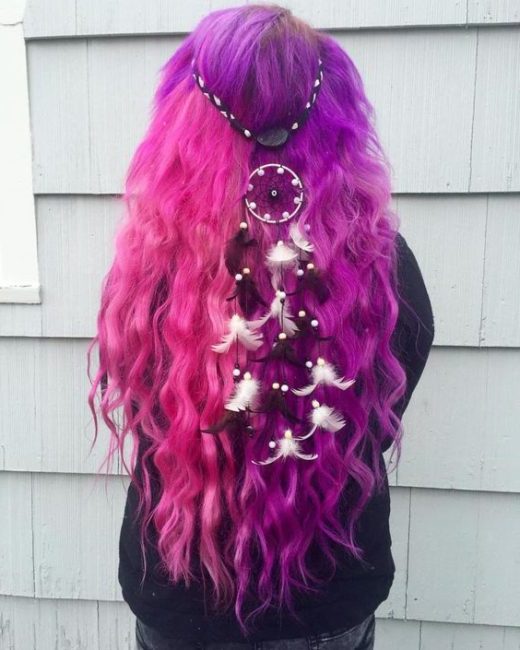 # 10: Fade from violet to magenta
This violet and magenta hair color not only looks fun but is also perfect for women with fine, straight hair. The dark roots give fullness, and the 'blend' tint technique helps blend the two colors perfectly.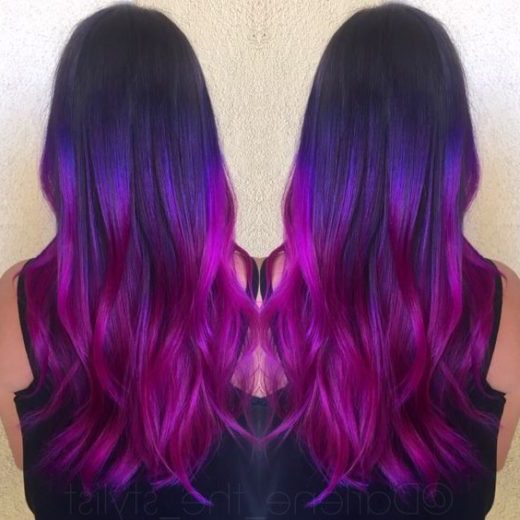 # 11: Caramel-coated curls
Magenta highlights are a great way to add depth to a pastel hairstyle. They are not as harsh as dark roots and still blend well into a colorful look. The curls ensure that you can see the different shades from all angles.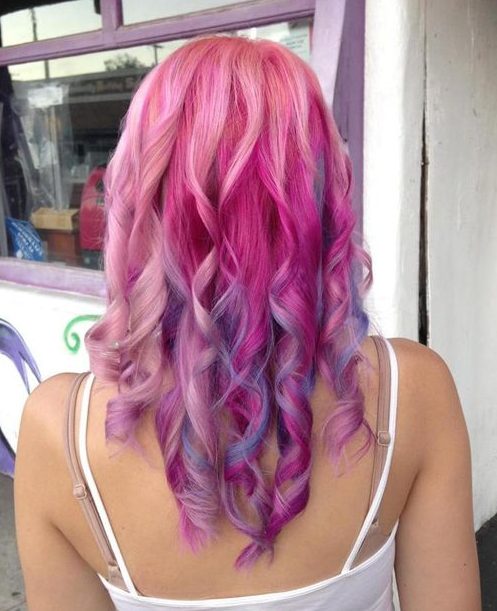 # 12: Braided loose curls
Magenta purple can be achieved in many ways, from ombre to two-tone, and as shown here, it stands out. By mixing the purple with the pink-red color, you can darken the overall look and make it more toned. This allows the color to be more wearable for a variety of different shades and hues.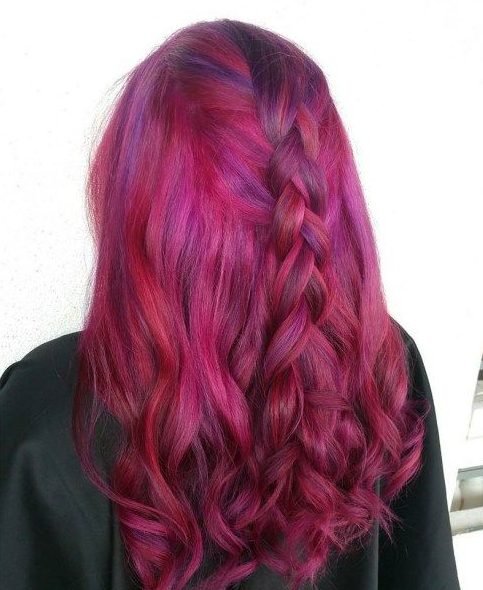 # 13: Bob with bright yellow
Take your balloon to the next level with a fun splash of magenta. While many people would mix magenta with red, purple, or blue, yellow offers a really unexpected contrast. It is perfect for a woman who loves to stand out.
# 14: Rosy Half-Updo
If you have shades of pink, why not embrace a style that mimics the real flower? A loose and messy bun resembles the petals of a blooming bud; It's a fast but artistic style that works in various settings.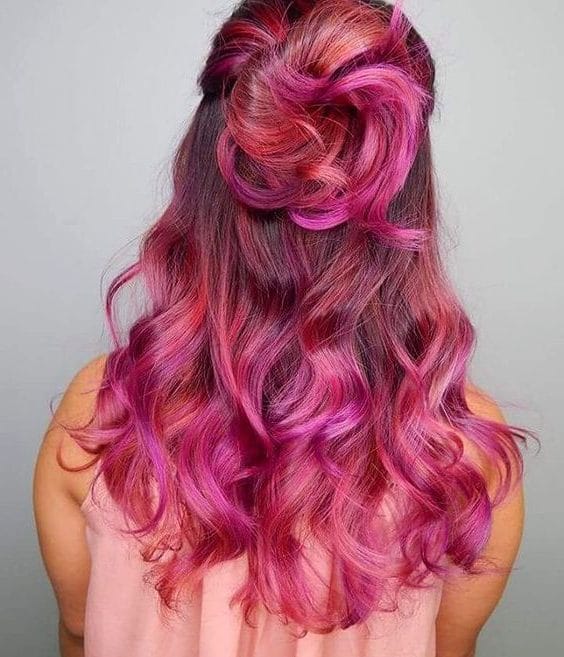 # 15: Bold Rose Bob
Although bobs are classic styles, they can get boring if you've been wearing them for a while or are used to changing your hair a lot. Color is an immediate way to update your look because it will take a bit to grow in length for a new look.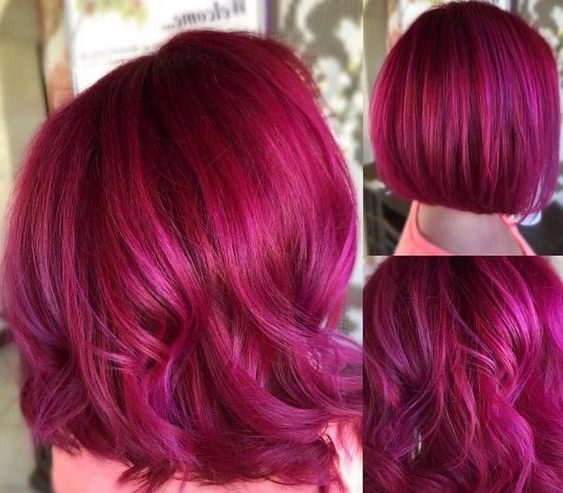 # 16: Long and charming
Dark magenta hair is a good shade for women who are experimenting with deep color for the first time. It's vibrant and fun while still looking restrained and natural. Plus, it flatters many different skin tones.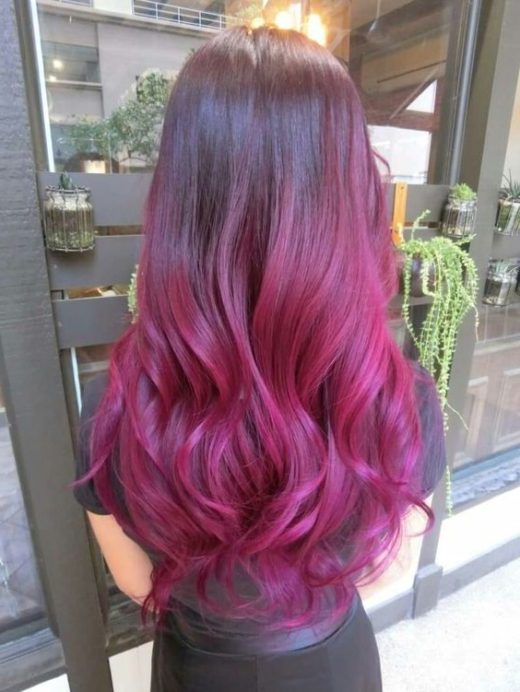 Magenta hair color is not as difficult to achieve as it sounds. With shades ranging from hot pink to soft pink to deep wine red, there is an option for any personal style preference. The shades blend easily with other colors like blue and purple for a standout multi-dimensional hairstyle.