A pixie haircut with shaved sides is a great way to get an instantly on-trend look, without having to invest in a lot of new clothes. These cool pixie haircuts will give you a super fresh look and an easy-care haircut that is on-trend when it comes to cut, color, texture, and finish, so come on in.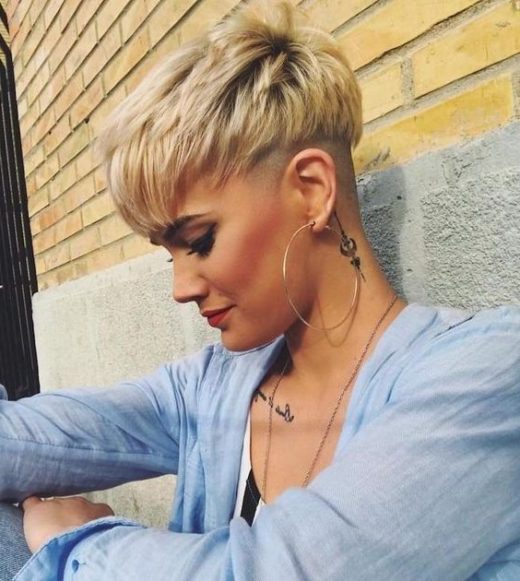 Triple Balayage on Dark Blonde Asymmetrical Pixie
If you like a natural beauty look but you have messy hair, why not try this pretty balayage to add a bit of on-trend color? The cut is a clean and neat look with well-defined side tips that reach halfway down the ear. And there's a V-shaped fashion line at the nape, under longer layers styled to produce an attractive curve at the crown. The hair is combed forward and swept to the side into softly draped long bangs. But it's not complete without gorgeous triple blonde balayage in neutrals, coppers, and pinks that add a chic finish!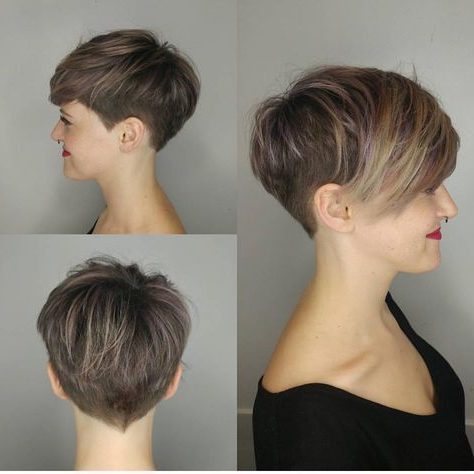 Beautiful Pixie Haircut with Flywheels for Fine Hair
Here's a fabulously modern take on the original short pixie cut. The roots are soft, medium gray, and the ends are highlighted in a trendy ash blonde. This is a good short haircut to choose from if you have fine hair, as many layers create an attractive, shaggy texture that you can style in any direction. There is something cute and kitty about this hairstyle and it suits oval, round, and other shaped faces. Extra short bangs and height on top make round faces appear longer. It is not suitable for a long, narrow, or heart-shaped face.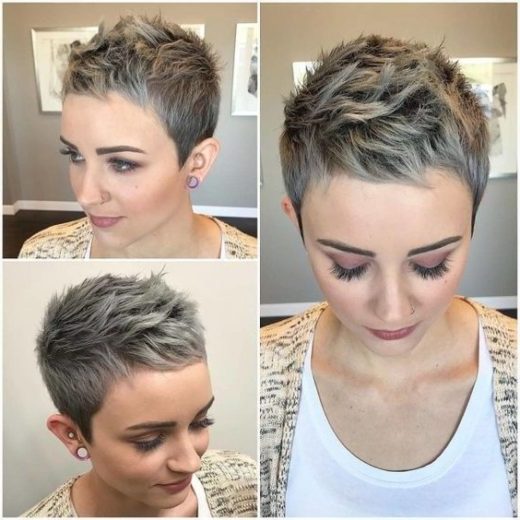 Cutting Edge Pink Pixie Haircuts
This is an interesting take on the pretty pink short haircut because it breaks all the common fashion and hairstyle rules. The layered haircut has a shaggy finish, with sharp ends contrasting with the wavy texture above. And the expert colorist used 3 or 4 different shades of pink to create an extra depth of color, through varying highlights and shadows. The ends are highlighted in a pale tortoiseshell blonde and the hair is styled in a trendy vertical parting that shows off the ear and earrings. Worn with a red checkered blouse, this cut and color is a true trendsetter.
Blonde Pixie Haircuts – Undercut With Blunt Ends
Now that '60s-style dark-rimmed glasses are all the rage, they've become a popular alternative to contact lenses for some trendy girls. And you have to keep in mind your glasses when you cut your hair. This pixie haircut, with a ruffle, balances out dark frames perfectly to avoid a harsh look. In a natural light golden blonde shade, this model's skin tone is completed. And her glasses and her haircut with the blunt ends to give it more density, help to give a more oval appearance to the elongated face shape.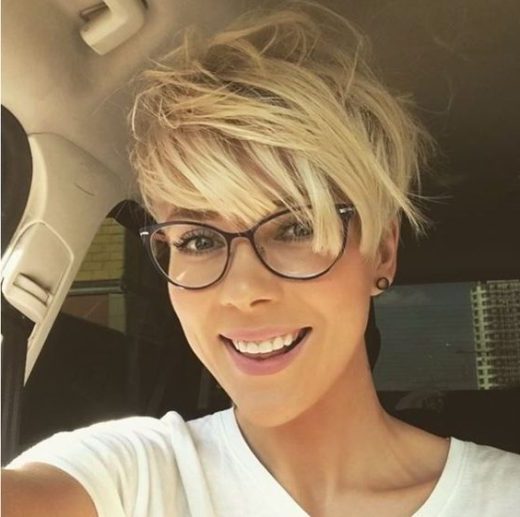 Intense Blonde Short Haircut
This beautiful whitish blonde short haircut draws attention with its color, but it is kept quite simple when it comes to styling. And this is important when you have extensive tattoos of vibrant colors. It is critical to ensure that these two foci of attention are not fighting each other for attention. The red tattoo is well balanced by ash blonde hair with soft, taupe roots. The shorter side of this asymmetrical pixie haircut is an undercut showing pale roots, not dark ones. So the look is bold, but it's not harsh in any way.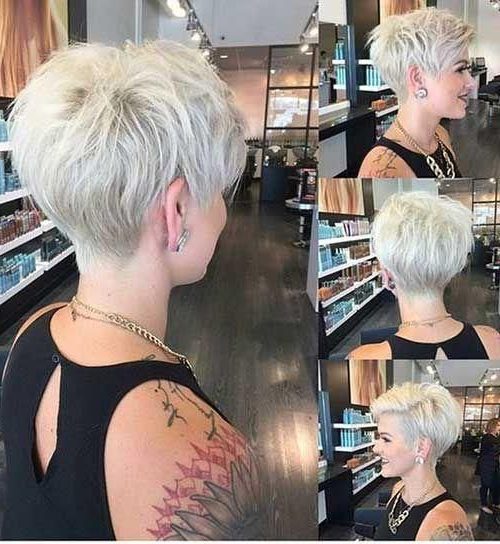 Ultra-Modern Cut Steel Gray and Silver-White Back and Sides
These cool colors and an ultra-trendy boy-cut hairstyle could be the face of a new superhero TV series called Silver & Steel! This boyish cut will accentuate your femininity with style. Her hair is cut in the back and sides with curved, shaved lines that converge just above the nape for a whole new look. The back has a V-section and the sides have different textures arranged in a fade that ends in shaved side tips. Hair is slicked forward with face-framing bangs and highlighted with icy blonde on steel gray roots.
Medium Blonde Basin Short Hairstyle Profile View
This beautiful shade of hazel blonde is a flattering color that bridges the gap between blonde and brunette. It's a trendy option for anyone with dark blonde/dark brown hair who wants a little more color. The concave cut style has strong lines from the layers that follow the shape of the head to the nape of the neck. However, the texture of the ruffles on top creates a nice casual vibe before the short bangs and extra short side tips. This color lightens the model's gaze and balances well with the dark frames of the glasses.
Blonde Haircut Haircut with Undercut
If you want to completely transform your hair, this short haircut might be for you. Here, a blonde is released. An undercut is where the hair is long on top and shaved on the sides. This is a very trendy idea for the hair, especially since the hair also has an icy tint. Recreate this hair idea or try a similar cut in a different color.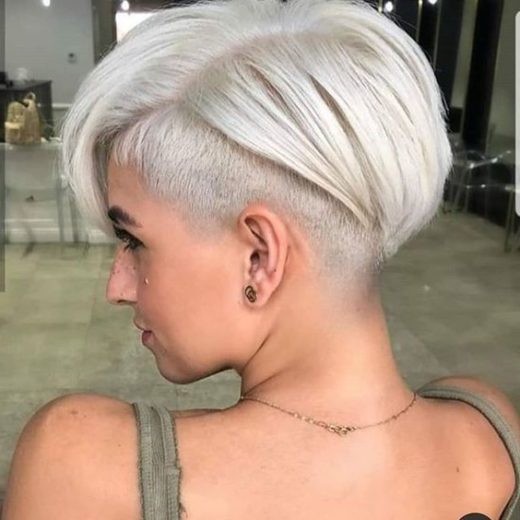 Simple and Stylish Short Hair Idea
Looking for a simpler hairstyle? So look at this idea! Here we have a stylish short layered haircut. This is a chic hairstyle that is both modern and classic. It's perfect for women who want short hair that's easy to style and wear.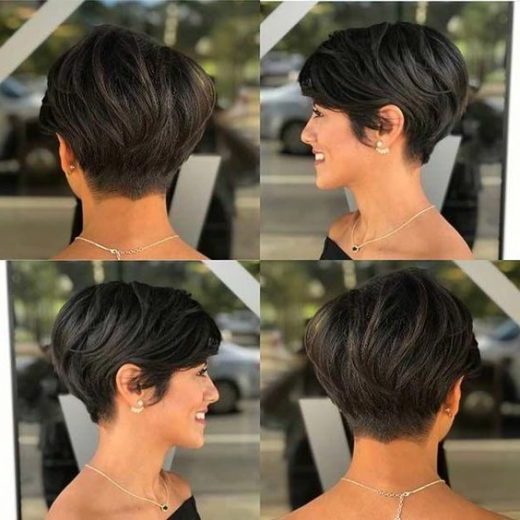 Short Classy Blonde Haircut
Next, we have a super chic hairstyle. For this idea, the hair is longer on top and shorter around the back and sides. What we love about this look are the bobbed hair and the wavy style. This is such a trendy and pretty idea! Short haircuts like this will be perfect for the summer.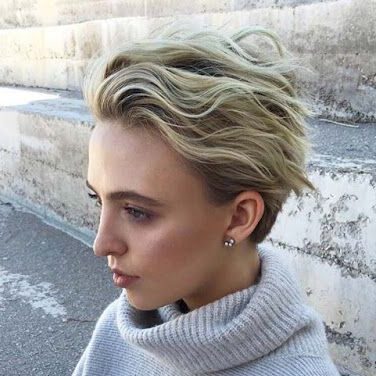 Light Pink Haircut + Side Bangs
Our next idea is another shortcut in a funky color. Here we have a cute light pink hairstyle. This is another undercut, but with side-swept bangs. The bangs look so pretty and stylish, the color is amazing too. A lovely pink shade like this will suit any haircut and look stunning for spring and summer.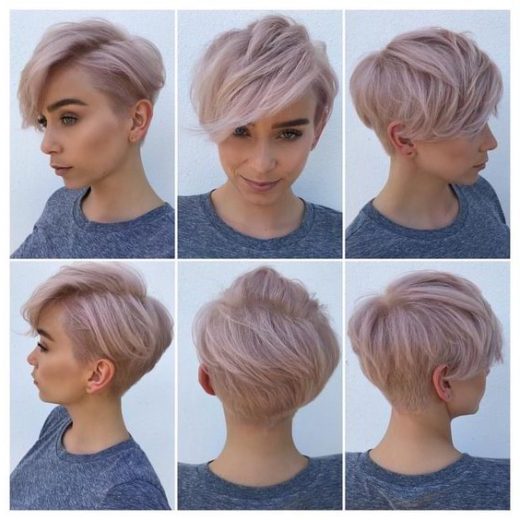 Long pixie cut
Many women worry about the style of their new short hair. However, you shouldn't be. There are so many great looks you can create and this is one of them. The hair is shaved to the side with a side part and the rest of the hair is long. There is also a nice braid too. The braid looks trendy and you can add a braid to any shortcut around this length.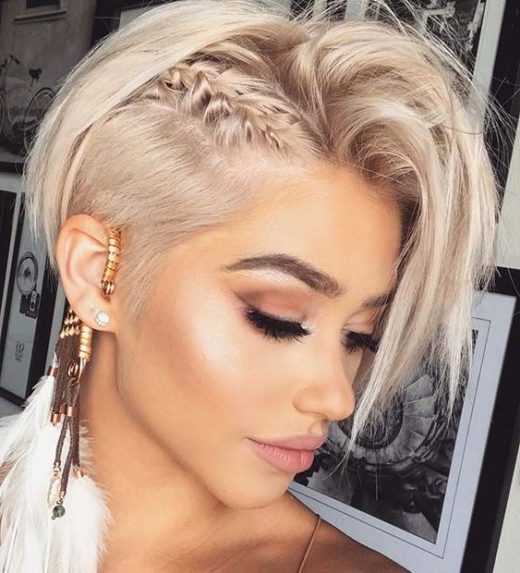 Super Short Haircut + Side Swept Bangs
Bangs look amazing with short hair. Don't take our word for it, check out this next look. Here we have very short, shaved hair in the back, while the top is longer. The longer hair on top has been styled to create standout side bangs. Since a lot of the hair has been swept aside, the bangs stand out. It is a trendy look that will suit everyone. Recreate this look or opt for a thinner and finer side-swept bang.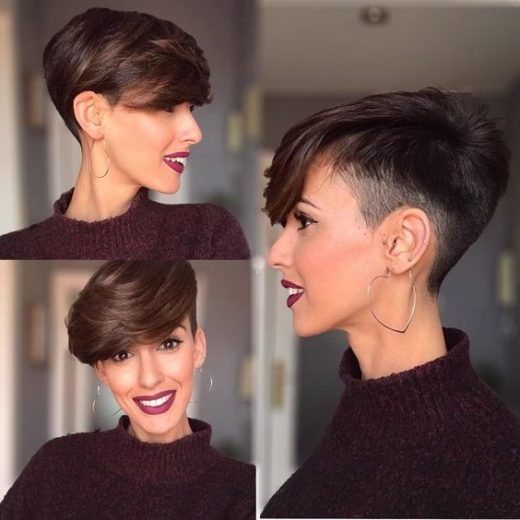 Modern Short Haircut
Next, we have a modern and trendy hair idea. For this look, the hair is very short and shaved on the back and sides. Then the hair is a bit longer on top. It is more choppy and textured than some of the similar styles which sets it apart from the rest. Short haircuts like this would look amazing in a bright color like pale pink or blonde.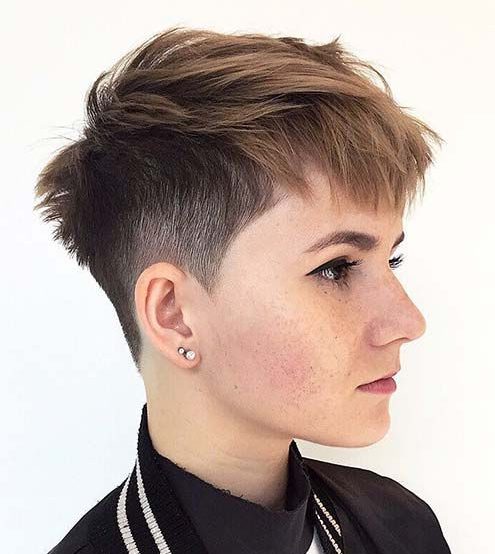 Short Sides, Long Haircut
Next, we have another glam hairstyle to show you. It is a light blonde pixie cut with a side part and volume. It's a stunning idea that has an old Hollywood glam vibe but with a modern twist. This hairstyle is one of our favorites and it would look amazing on anyone. You will look like a fashionable Marilyn Monroe.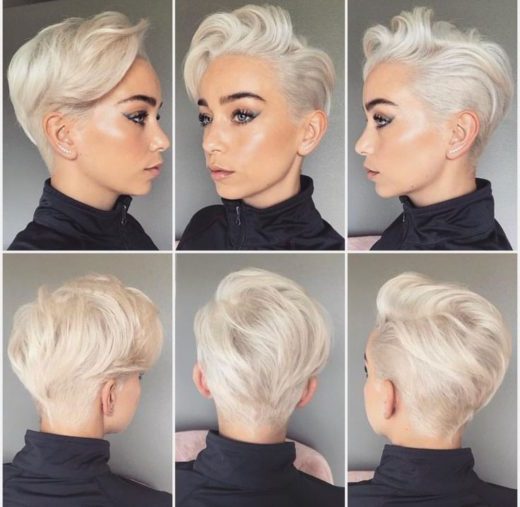 Cut short in the back, long in the front
Our next idea is another notch. The hair is kept short on the sides and back, with longer hair at the top. We love this version of the short haircut because it's been styled with a texture that makes the hair look edgy. Hair like this is perfect for women who like to look trendy.
Edgy Short Haircut
Looking for an edgy short haircut? Then this is for you! The hair has been shaved on the back and sides, but one side has been left longer. This creates a side shave style. As you can see, the longer curls are stunning and you get the best of both worlds: a gorgeous short cut and longer hair that can also be styled.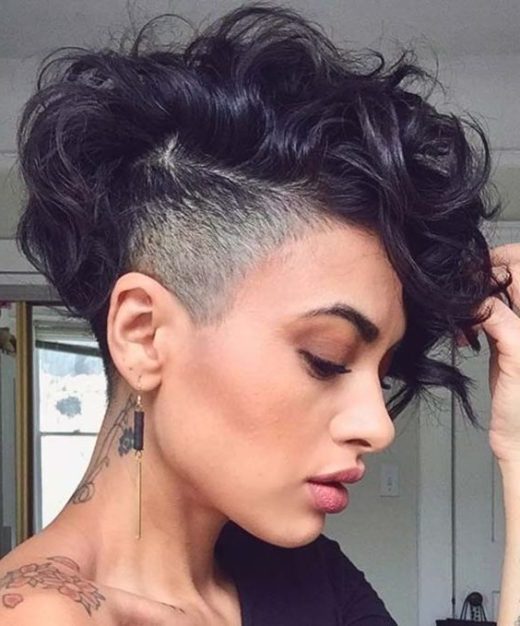 Cute Short Pixie Haircut
Next, we have a cute hair idea. The hair is shaved a little on the back and sides, but the hair becomes longer towards the top. There are also straight sleepers too. It's a simple yet super stylish look. It is perfect for women who like very short hair.
Mohawk with Shaved Sides
Got a special occasion coming up? Then you must see this next idea. Here we have a cool shortcut that's been accessorized! The hair has been styled with gorgeous sparkly sequins. The hair sequins are stunning and will look great for parties, evenings, and more. You can use glitter on any hairstyle and you can buy it online.