An undercut hairstyle that women currently consider to be one of the trendiest is an extreme type of haircut with one or both temple areas cut very short or even shaved. Although it's a very popular style for men, women are also keeping up with the trend. Consider the idea and check out our top undercut hairstyles.
The most stylish undercuts for women
Undercuts can be used on short, medium, and even long hair. Well, not every lady would dare to get a shaved temple. Anyway, if you're ready to add an extra edge to your look, why not give it a try at least once? The hair will eventually grow … And if your barber sees that there is no way an undercut would flatter you, he or she would tell you and help you choose the right compromise style. So, let's see the pictures with the best variations!
Smoky lavender undercut
An undercut doesn't just have to be at the back, it can also be used as a fun detail to accentuate your face on the side. You can swipe over it when you're tired of it or want to let it grow out. This short section works well on chin-length to long hair – just make sure you have enough length to cover it up.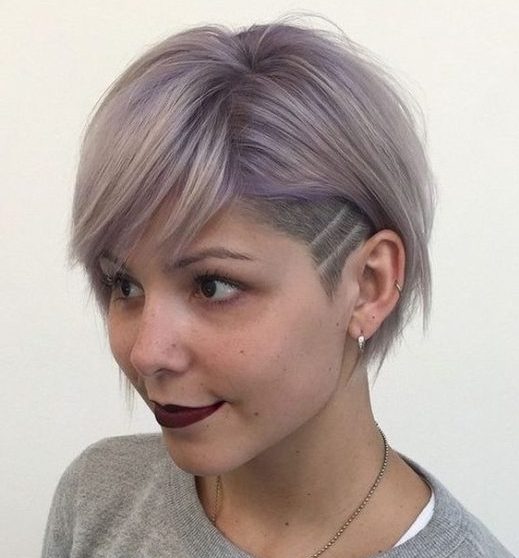 Platinum Under Shaved Pixie
There are many different ways to rock undercut hair around the back or side outside of the typical isolated shaved sections. Those who want to go a step further should go for a Mohawk style. If the hair is cut very deep, create a striped pattern with a darker color.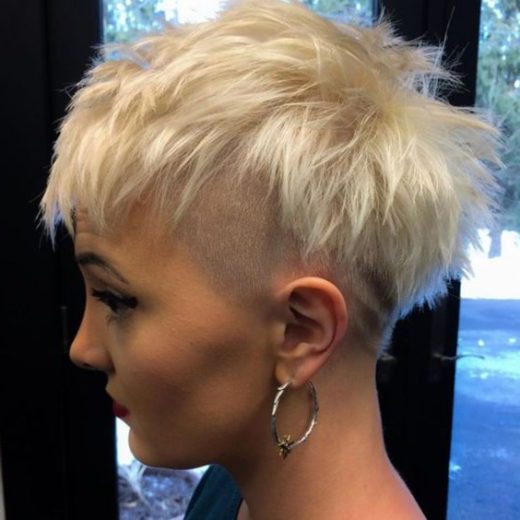 Two-way hairstyle
Choosing a path in life can be difficult, so why go one way with the hairstyle? You can include two different personalities who, just like this style, keep the hair longer and more even on one side.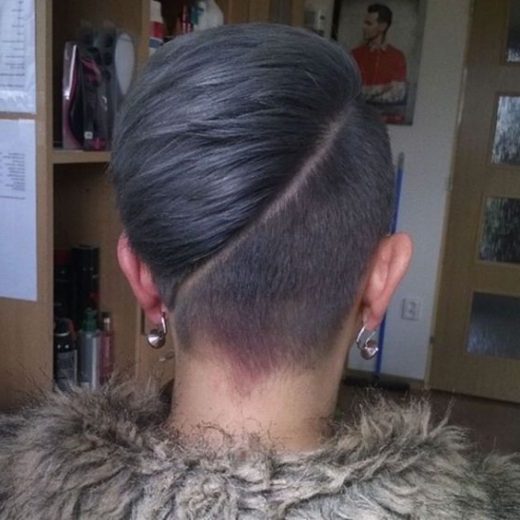 Shaved temple and side part
This hairstyle is perfect for a girl in high school or college who wants to experiment a little without overhauling her entire look. Using a smaller, shaved cut on one side makes it easier to cover up the hair by simply cutting it away. A look like this would be best for those with thick hair.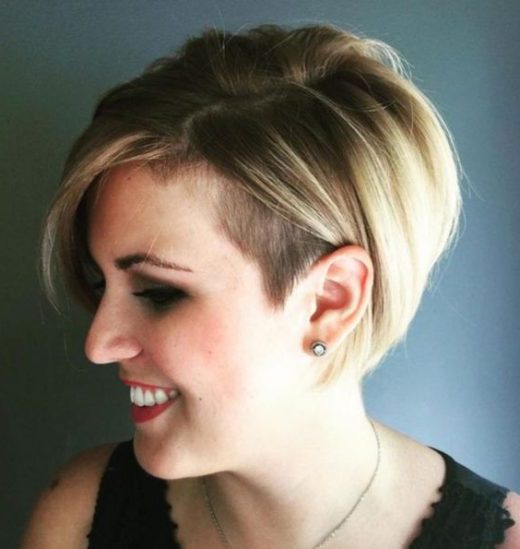 Modernized bowl cut
Undercut designs like this one provide contemporary updates to the classic shape of the bowl cut. The tilted lengths under the surface shape create a slim silhouette that swings and swings across the separation. The vibrant green hue and jagged edges accentuate the organic outline of the overhang.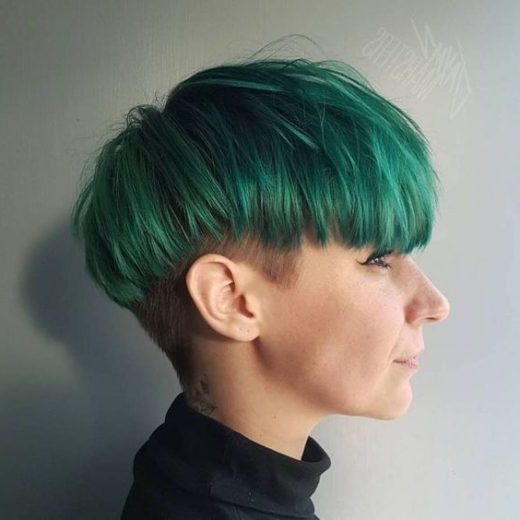 Undercut pixie
The lovely spritely cut is all about chunky ends and pretty dots. Shaved sides and necklet the elegant platinum curtain fall in elegant strands and tips at the top. Layers are usually used to form strands; the cut at the bottom leaves the surface glassy and smooth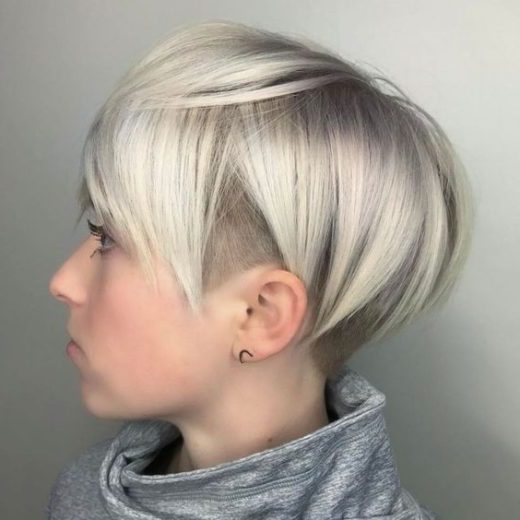 Purple grunge lob
This undercut bob has its aperture cut off through the front hairline, creating an asymmetrical design to be seen. The dirty purple hue and wrinkled texture give this 90s style too cool a vibe. It modernizes shoulder-grazing.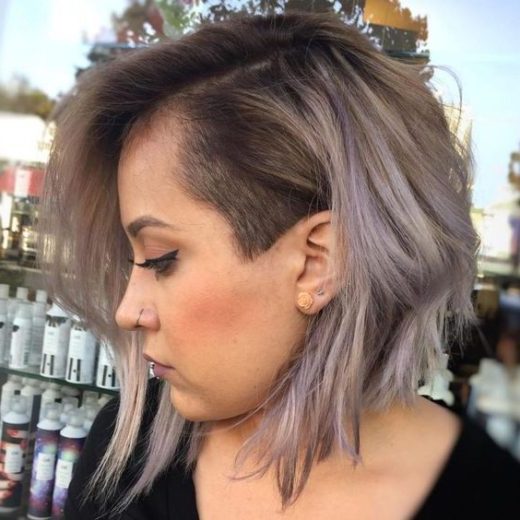 Boyish undercut hairstyle
While undercuts don't have to be androgynous, they can be safe. For those who prefer gamine beauty, a classic pixie bob shape is perfect. The cool blonde shock is cut shorter in the back so that it falls temptingly forward onto the face.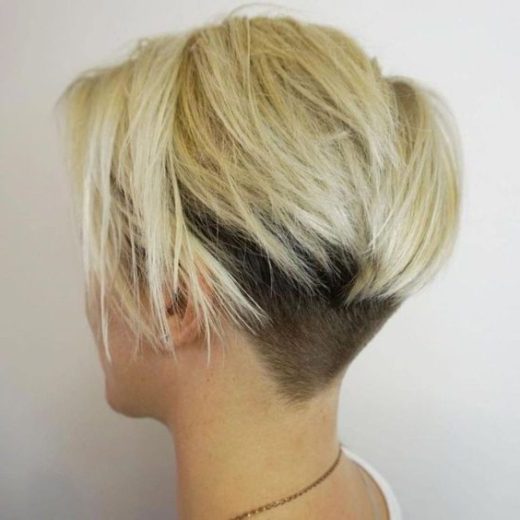 Elongated bowl cut
Short round shapes for women are making a comeback, but modern versions have little in common with their retro counterparts. Dramatically diffused edges create sharp points above the boundary. The hairline is cut away and creates an unusual outline.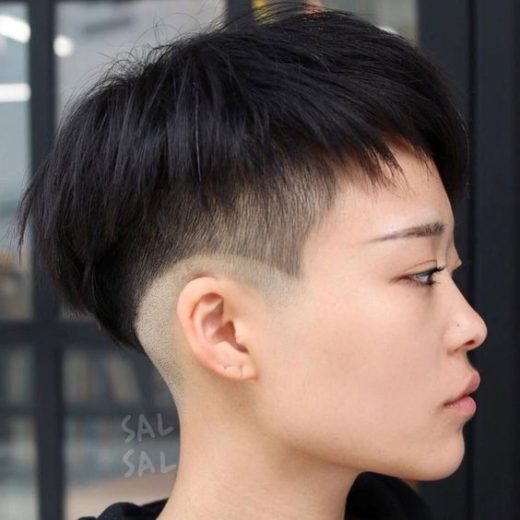 Pink and blue undercut
In this picture pink and blue are arranged side by side and intertwined; These colors typically represent everything masculine and feminine. Undercut lengths meet curls, which also suggests a combination of gender-specific fashions. The corn row-shaped braids complete the gender-neutral effect.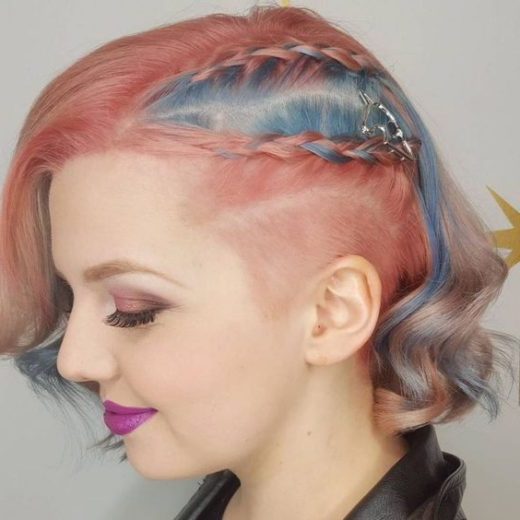 Asymmetrical undercut hairstyle
To maximize the opportunities for a short undercut, keep the shave to one side. Brushback the longer strands smoothly to accentuate different textures and directions of the hair. Use braiding to match and divide the two contrasting areas.
Shaved side with diagonal braid
Can't choose between long and short? With this style, you don't have to. This daring half-and-half style combines shoulder-length hair and a cropped side, as well as a French braid to tie them together. Soft curls balance out the edgy hairstyle for women.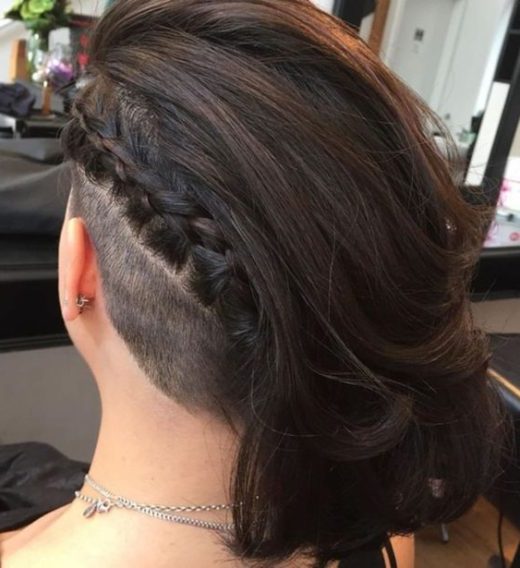 Cool copper undercut style
Copper is a tough color for women, and choosing the right color will depend on the undertones in your complexion. Make short shaved hair crisp by wearing a lighter color on the top and a darker color on the bottom. Stripes on the side add visual interest.
Undercut with primary colors
One of the most popular female hairstyles is the messy and spiky pixie cut. It's sophisticated, yet casual and carefree at the same time. With a haircut like this, the undercut looks more muted as it blends in with the shorter layers and makes the green and purple colors the star of the show.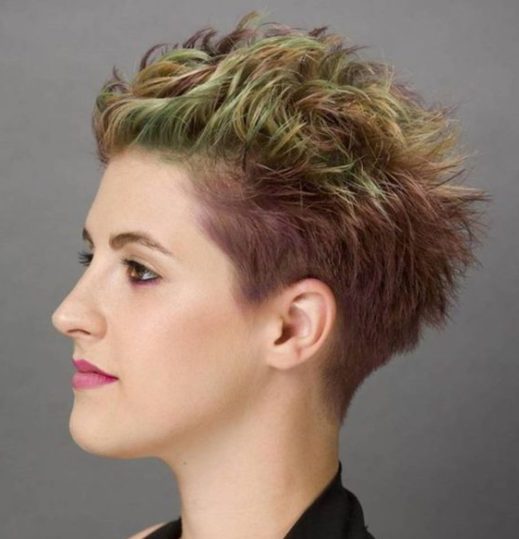 Platinum Curly Undercut
Bob haircuts can be stylish and cute, but this look avoids that notion for a really bad girl vibe. If you are going extremely light, it helps to keep your roots dark to avoid a harsh line of paint and to aid the growing process. The side detail shows that you can play with different layers to add depth within a shaved section.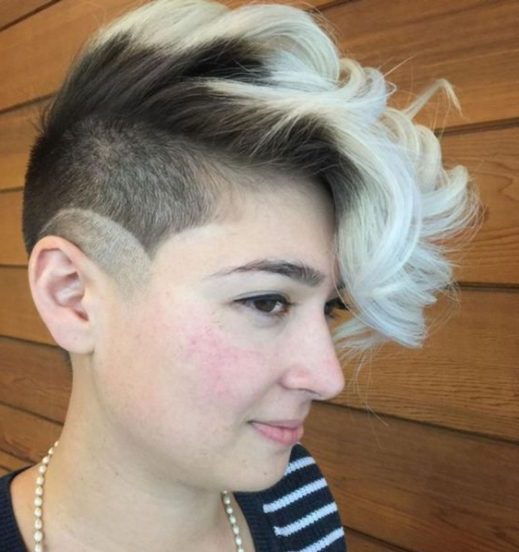 Shaved mermaid bob
Mermaid's hair is all the rage when schoolgirls and established women in the creative field try to get in touch with their inner fairy tale characters. But instead of the typical bohemian long, wavy variations of the look, shaved side hairstyles make the color combination modern and tough.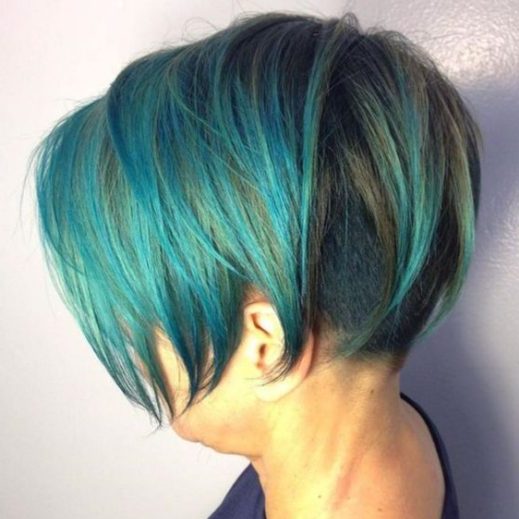 Short bob with shapes
Reminiscent of Molly Ringwald's' 80s style, this new and updated short bob shows off sleek, straight strands with ease. Adding an angled and shaped base layer makes it easy to snap the remaining hair into place.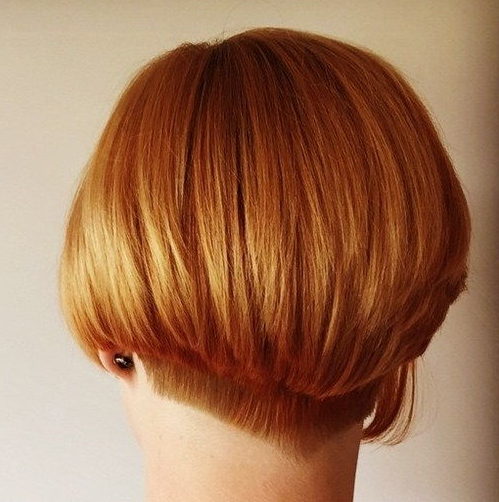 Short, curly hair
Represent your curly locks with a short cropped style that is all sorts of beautiful. Pair it with a dark, dark accent, like magenta or burgundy, and don't hold back on bold accessories or makeup. If your hair isn't naturally curly, leave it in small rolls overnight and experience a whole new look in the morning.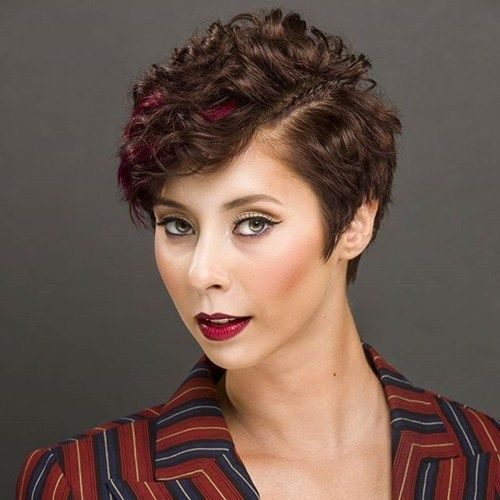 Long and curly pixie cut
An undercut hairstyle for women with curly hair can keep unruly curls under control. Start with an undercut pixie that's on the longer side, then let your natural locks fall from above. Cute, curly, and unique – you can hug your girly side without messing with an intricate style.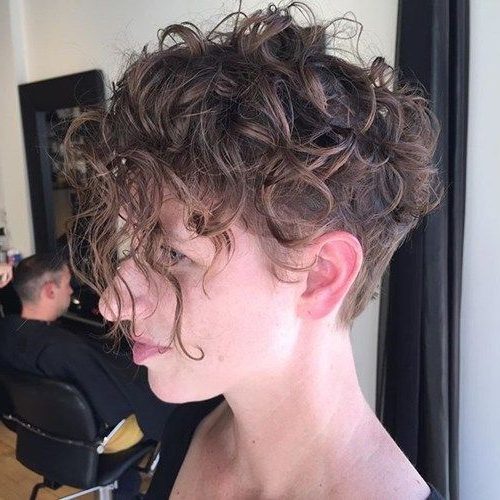 Business casual style
If you have a day job that requires a bit of lacing, an undercut is still possible. An undercut hairstyle that women can acceptably wear in an office setting usually involves short bottoms that are left a little longer, paired with long hair on top to hide the look if necessary.