Bob variations
A classic bob suggests a single-length cut. Such a method adds "weight" and volume to the hair, revealing its natural beauty and giving it full radiance. Make sure that bob haircuts make very noticeable any imperfections and defects in the hair structure, especially split ends of the hair.
Today there are many techniques and different types of bob haircuts for women. Short and medium-length bobs with bangs look luxurious on perfectly straight and shiny hair. Depending on your style and face type, the contours of a bob haircut can either be made graphically accurate or soft with light trims at the ends. The most popular variants include elongated asymmetrical front curls, angular bottom contours, and a feathered surface.
Styling
Sure, sleek straight bobs are pretty impressive, but messy waves and curls are another styling story that will make you look different and never get bored with your bob. We want to draw your attention to an interesting twist on bob styling when you sand your hair by the roots and weave it into eye-catching curls at the ends.
Check out the ideas in the pictures below for inspiration before your next visit to the salon.
# 1: Curly Bob
Cascading curls are a fantastic texture for a medium-length haircut. Not only do they add a touch of femininity to a shorter dance, but they are also eye-catching. Don't be afraid to vamp your usual style with curls.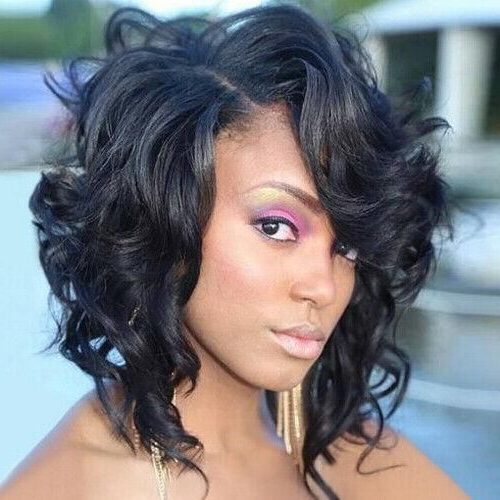 # 2: Black Bob with Caramel Highlights
Caramel is one of the most beautiful colors against dark hair, and when done well, it is a wonderful sight. On this black bob, the highlighted stripes tell the story of the asymmetrical cut. It's a story you can't get enough of, and you keep coming back.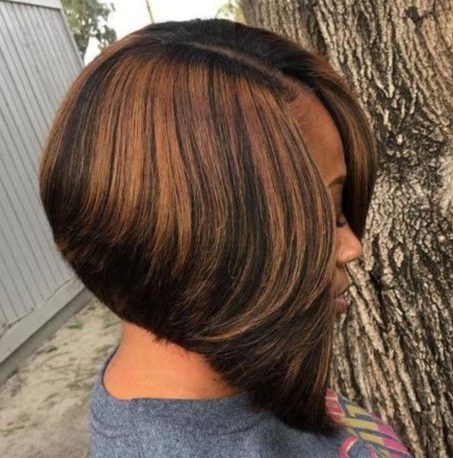 # 3: Short Layered Black Bob with Thick Bangs
Give your bob some much-needed sass with bangs and layers. These additions will add not only personality but also body and movement to the cut. Throw in some subtle highlights into the mix for even more dimension and style.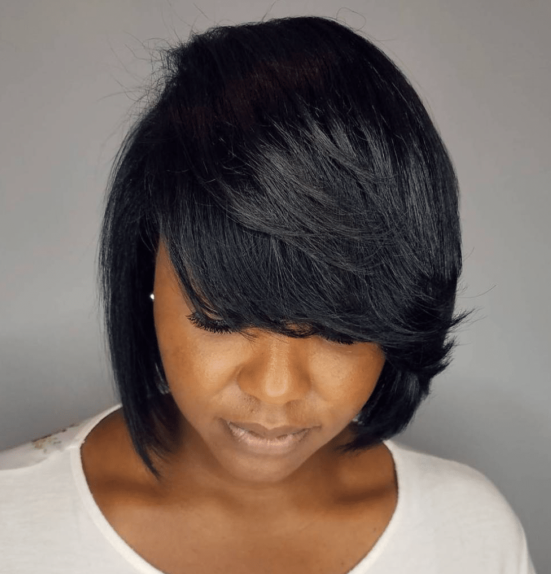 # 4: A
symmetrical Style
Bobs don't have to go the traditional route – there are tons of rebellious versions to try out if you're looking for an edgy look. This style features longer hair cut diagonally on one side, with the hair underneath cut short. One of the best parts of this cut? It doesn't always seem that dramatic – the long hair can easily be combed over the shorter section if you need a straight-cut look.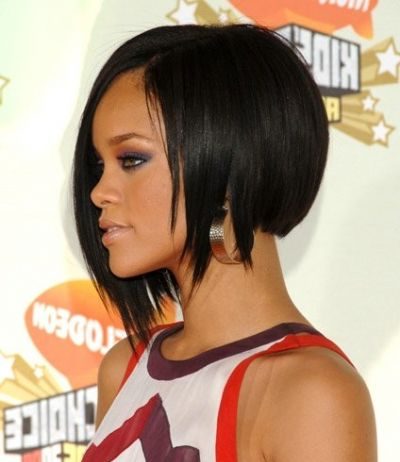 # 5: Mahogany Bob with Highlights
Burgundy and mahogany highlights are exceptional in black women's hairstyles. The warmth of the hair color and the darker skin complement each other perfectly. Keep this in mind when considering new colors for your new hairstyle. Complete your look with smokey eye makeup, and you're good to go.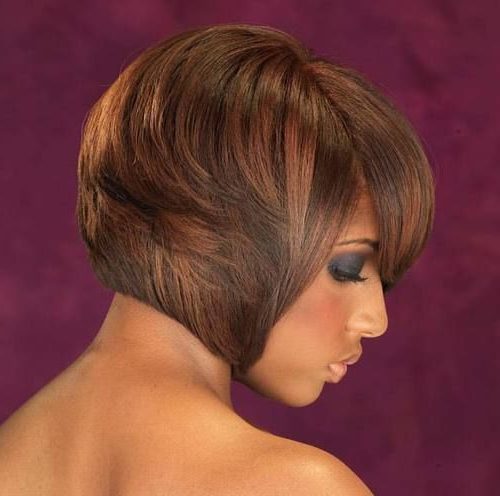 # 6: Straight and Natural-looking Bob
Bob haircuts can be absolutely no drama as shown without perfection with this style, which is short for easy maintenance and straightened. Disheveled, wavy hair is splendid if you don't have the time or motivation. Short styles like this make everything flattering and low-stress.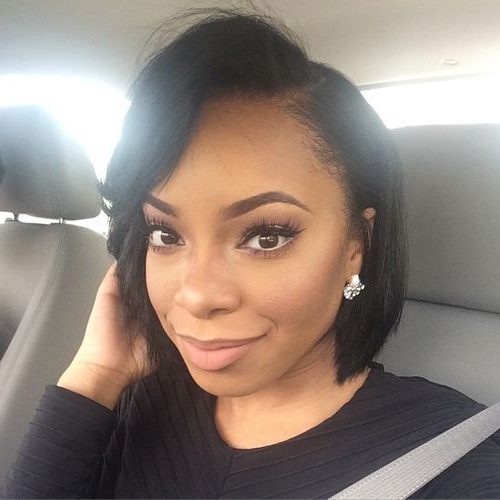 # 7: Blonde Bob for Black Women
Almost any color on women in color is a welcome and acclaimed upgrade. It is better to choose a warm palette with shades ranging from golden blonde to a strawberry blonde and light caramel when it comes to the blonde. The look is divine, but keep in mind that it suggests deep bleaching and maybe indicates the health of your hair. Consider a sew if you want to rock it for a while without risk.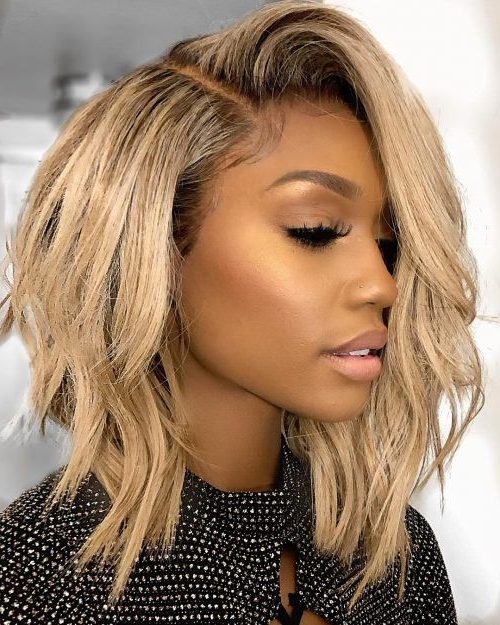 # 8: Layered Bob with Red Balayage
Bob haircuts for black women with two-tone balayage colors add another dimension that stops the traffic – especially when the wind blows through your silky locks. Make sure your pigment selection is free.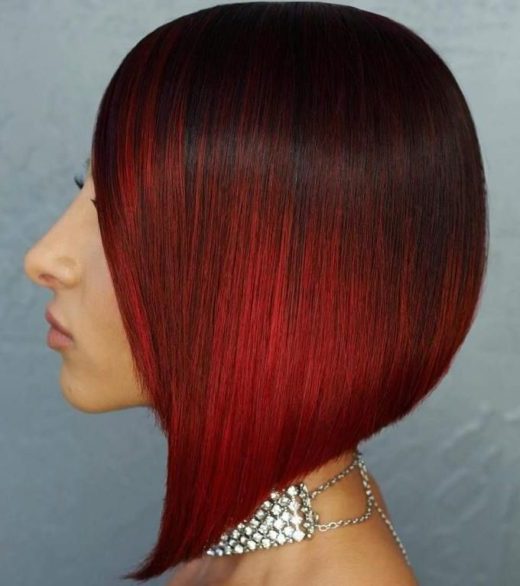 # 9: Sleek Vintage Bob
A chin-length bob, one of the classic short bob hairstyles for black women, is really timeless. This is an excellent hairstyle for shorter hair, especially during this endless time when it is growing. A few waves and curls give it that special 1920s elegance.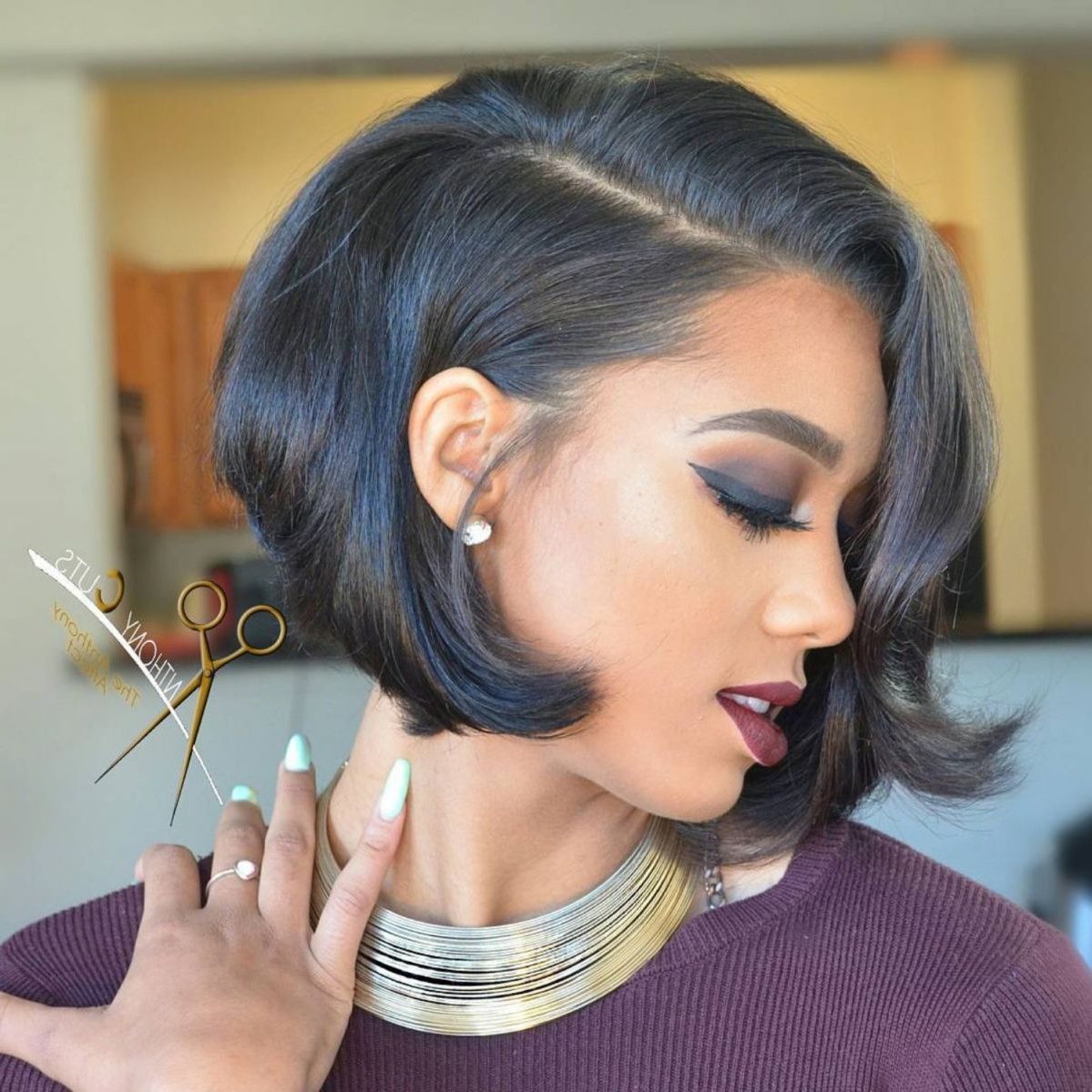 # 10: Bob at an angle
An angled, asymmetrical bob looks stunning with both straight hair and curls. Choose a medium-length cut like this one to make the angle sharper and more dramatic. Wavy texture adds shape and body to the style.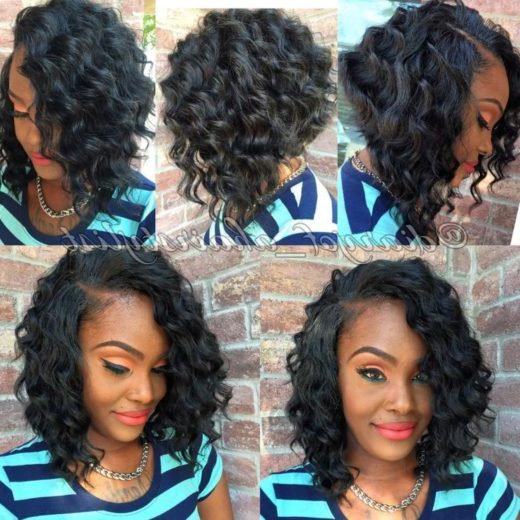 # 11: Cute Layered Pixie Bob
The big chop can be intimidating, but it becomes necessary to trim the unhealthy ends once you've suffered heat damage. You don't have to go very short, however. Choose a neck-length style that still offers some playtime.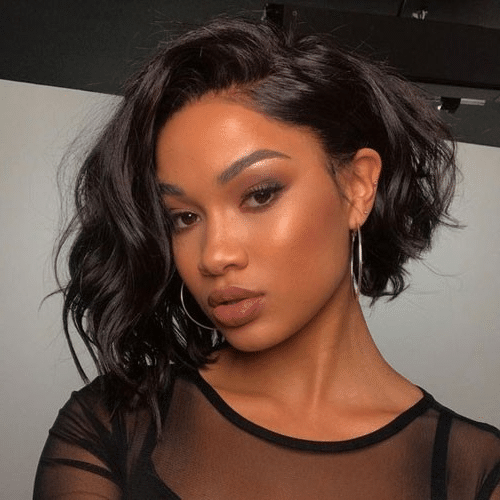 # 12: Short Thick Stacked Bob
Thick curls are something to be proud of because thick hair is healthy hair. A stacked bob reinforces the cut body even more. The swooping layers are nifty enough for the work week but also chic for a night out. Your split ends must be trimmed so that your hair can grow long and full.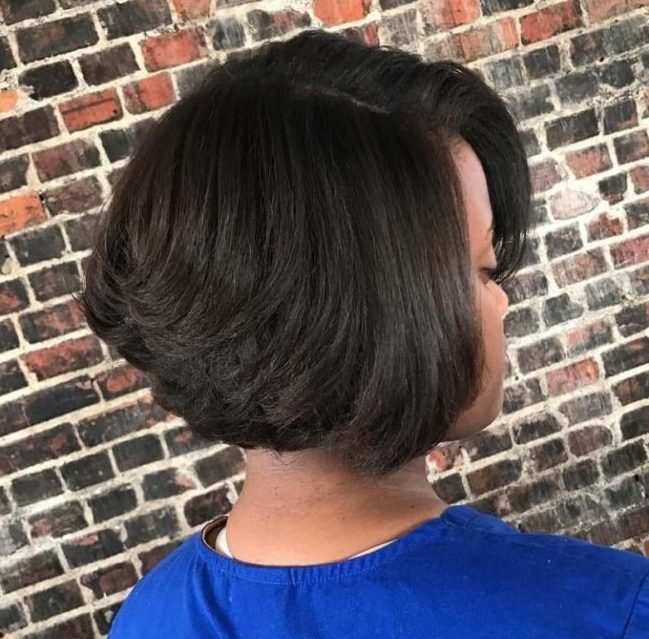 # 13: Short Pine Bob with Swoopy Layers
Simple can still be chic. A few layers show the dimension of the deep black color. If you want to increase the thickness, add some extensions. They're not just reserved for those looking to fling locks back.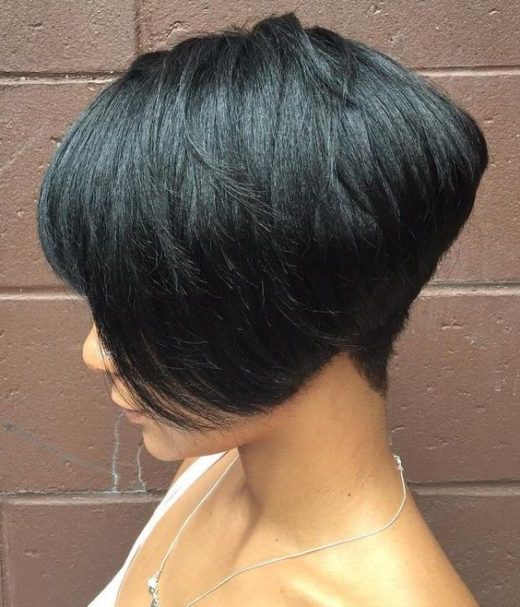 # 14: Curly Pinup Bob
These curls are everything! This type of bob is reminiscent of pin-up styles popular in the 1940s. Even the color is on point for the pin-up trend. Get the look natural with coloring and smoothing, or go for safe sewing.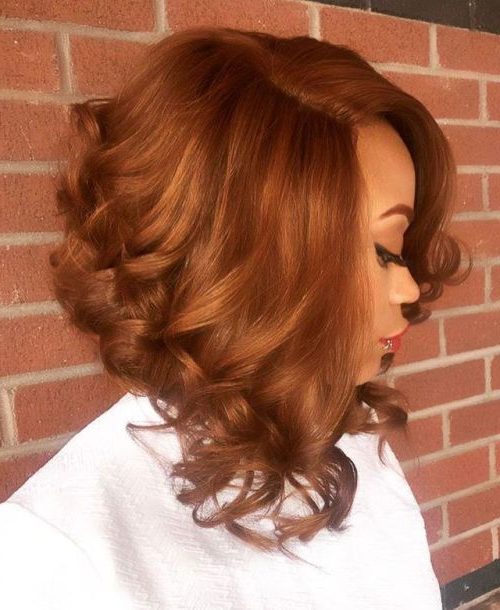 # 15: Asymmetrical Black Bob for Thick Hair
Black women's short bob hairstyles are a go-to because of their ease, convenience, and undeniable style. An asymmetrical cut further enhances the cool factor. Use a strong hold hair gel to line out your edges and baby hair to even out the A-line cut.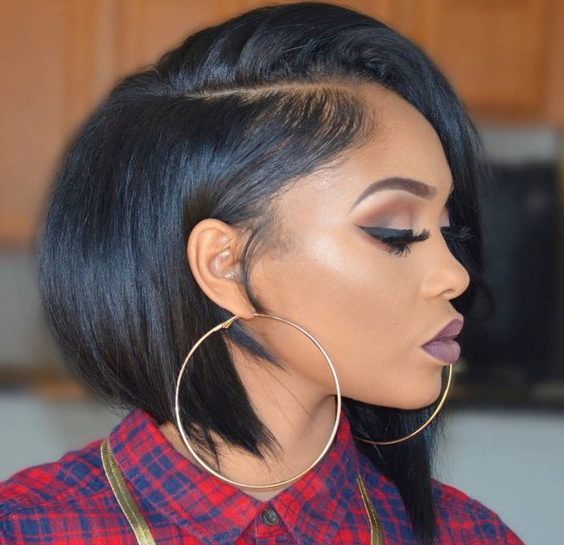 # 16: Cobalt Blue Bob
Industrial piercings and blue ombre – oh my! Blue is not for everyone. However, the trend towards unusual hair colors with natural roots is alive, so fear not and experiment with your favorite colors. Fashion currently supports color lovers.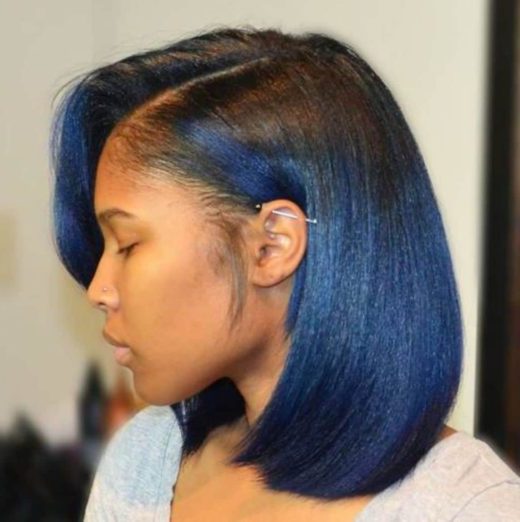 # 17: Cropped Bob
Try a cropped bob if you want a short, hassle-free style that will still look great no matter the circumstances. Add some streaks of color to brighten up the attitude this style so easily brings.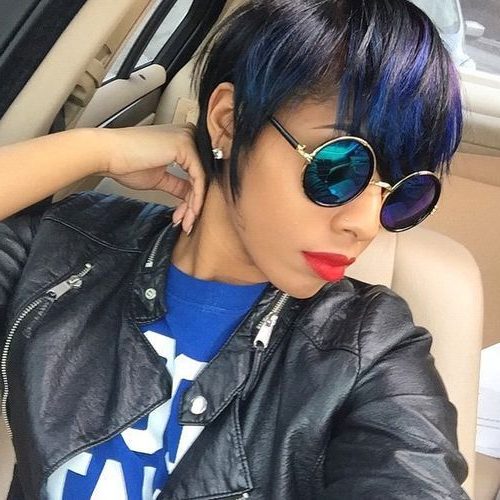 # 18: Vintage Bob
This black bob hairstyle is reminiscent of the 1940s with pin curl bangs and is an inspired throwback that works well for a special occasion or even everyday wear. Match the decade by pairing your bob hairstyle with bright lipstick.
# 19: Angled Layered Cut
The fullness of this African American bob was achieved with stacked layers. The two-tone hair color solution adds to the dimension of the gorgeous style.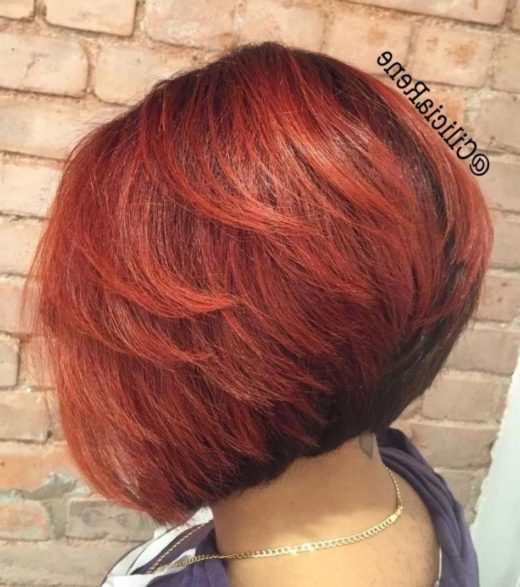 # 20: Black Angled Bob with Feathered Front Pieces
Bob haircuts for black women prove that there is no single right way to rock the iconic cut. Layers are always a fun addition to the hairstyle. You have the power to turn up the volume or make a style look a little less crowded. This version of the bob uses both approaches, incorporating thin, feathered pieces in the front and leaving most of the body in the back.