Experimenting with color doesn't mean you have to go for a full-fledged rainbow look. You don't have to be brilliant at all. You can channel your darker side with dark blue hair. This rich hue will take your hairstyle to chic new levels. Experience the cool factor for yourself by trying out any of these hair ideas.
The shiny dark blue waves look glamorous, the straight poker blue ombre streaks remind us of melancholic rain streams on the window, and the rough blue waves remind us of the stormy sea… What kind of mood are you in? ? Dark blue hairstyles can be so different…
Deep Blue Bob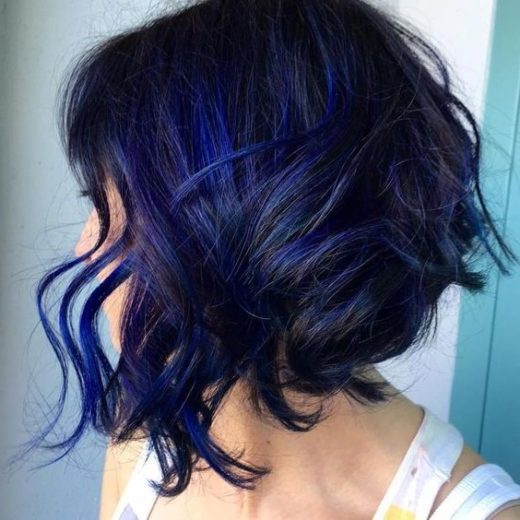 If a bold blue bob is not yet on your hair list, add it immediately. A blue-tinted chin-length angled cut is a perfect look for a trendy fashionista. Styling tip: Curl the strands of your mid-shaft bob to the ends with a curling iron and loosen the curls with your fingers for a messy yet fabulous style.
Teal braids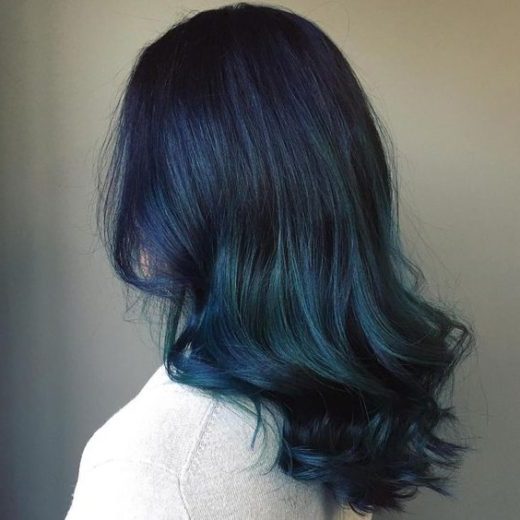 Dark blue ombre hair doesn't have to be so dark. Try a deep teal balayage and channel your inner siren. Oh, the best part of this look? It is low maintenance and requires little to no touch-up.
Ocean Color Ombre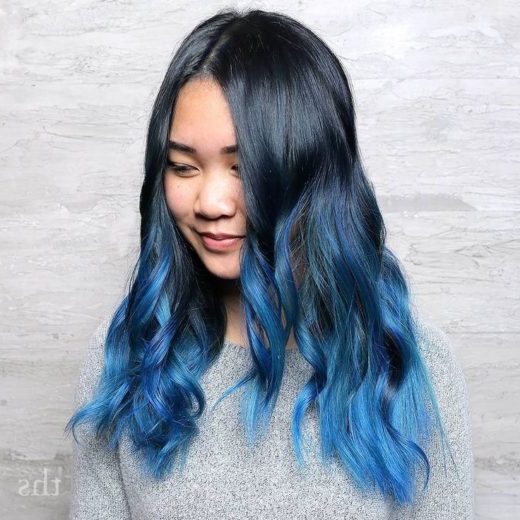 The ombre look continues to reinvent itself, and now it's taking on a beautiful blue hue. The bright pastel blue ombre is the ultimate "cool girl" look, guaranteed to turn heads.
Cookie Monster Loops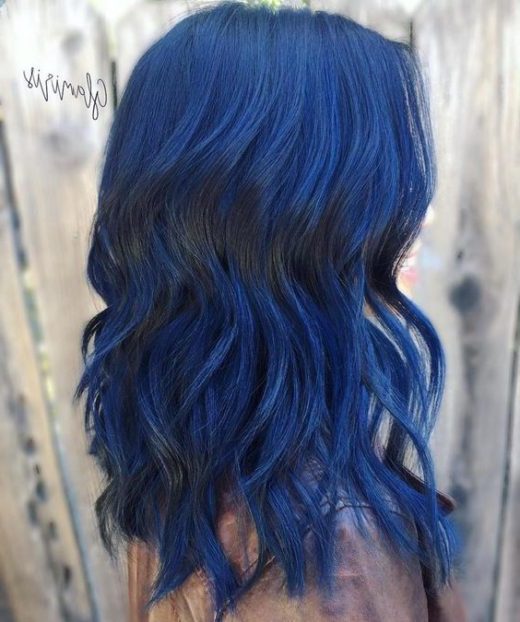 The classic, sugar-loving cartoon character is also the inspiration behind the latest hair trend for girls. But don't worry, these robin's egg blue tendrils are far from scary. They are awfully pretty!
Chic Fairy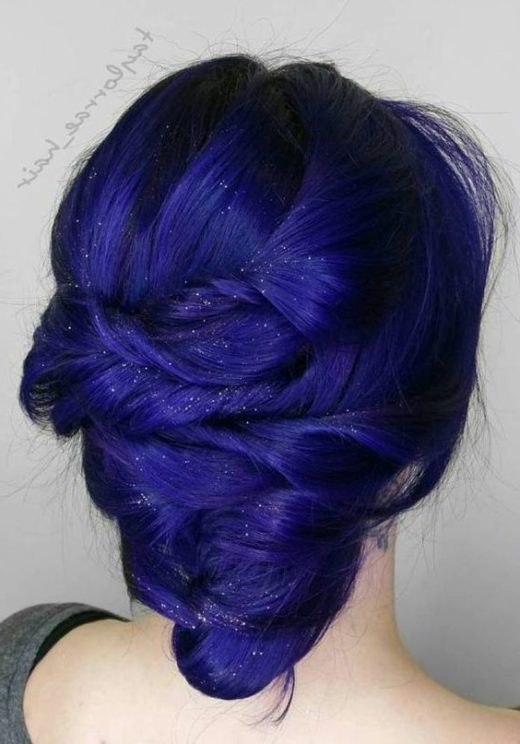 If you're looking for the perfect blue dye for dark hair, try indigo blue with purple undertones. The rich color will work well with brunette or raven hair and will make the dramatic color transition a bit easier.
Blue vixen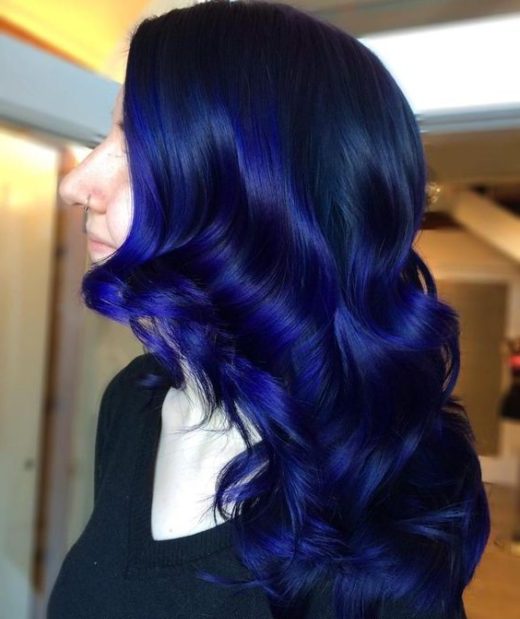 Your blue hair is meant to shine, so be sure to choose a color with a shiny finish. The illuminating effect makes deep blue hairstyles look upscale and extremely luxurious.
Elegant Blue Sea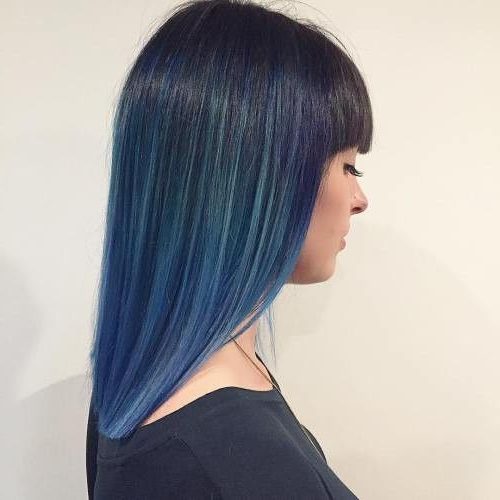 When your hair is worn straight and sleek, every color shows and stands out. And, when you're making the effort to make your hair a work of art, it must be visible.
Magie Multicolore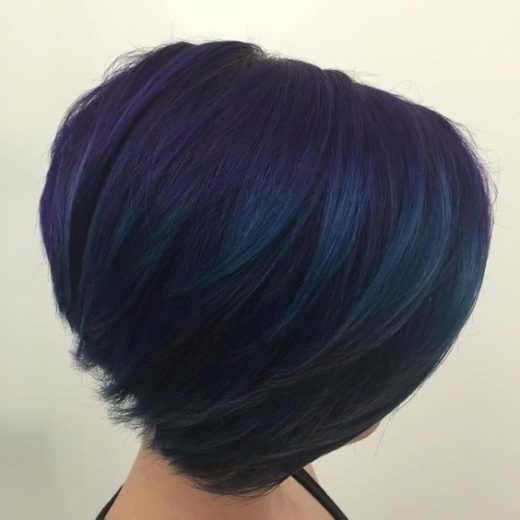 Pair your dark blue hair color with a dark purple hue to give a fresh and bold finish to your bob. Make sure the color transition is blended and natural so it looks like you were born with colored hair.
Dark Blue Balayage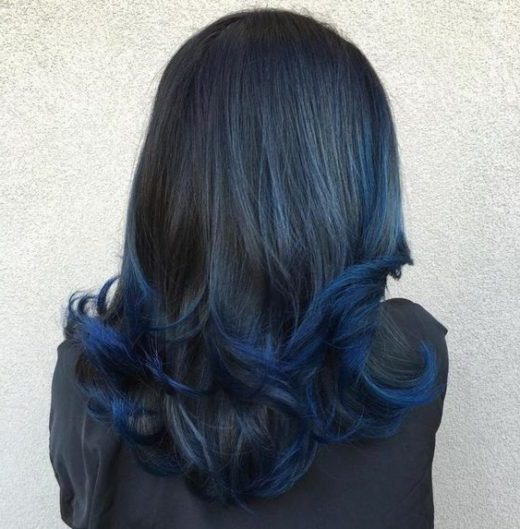 Dark brown hair doesn't have to be boring! Add midnight blue hues at the bottom to brighten up your locks and show people how daring you are.
Sophisticated sapphire
Jewel-toned blues are a great way to go when going for colored hair. Bright sapphire highlights bring sophistication to dark blue hairstyles and are as sleek and chic as jet black locks.
Luscious Blue Layers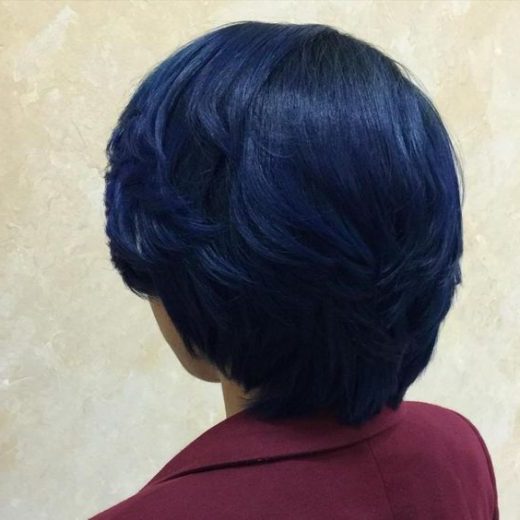 Think, a short layered "do" is fun? Try adding dark blue hair dye and watch those sparkles fly. A bright cerulean shade is just what you need to give your style a whimsical upgrade.
Pretty Blueberry Pixie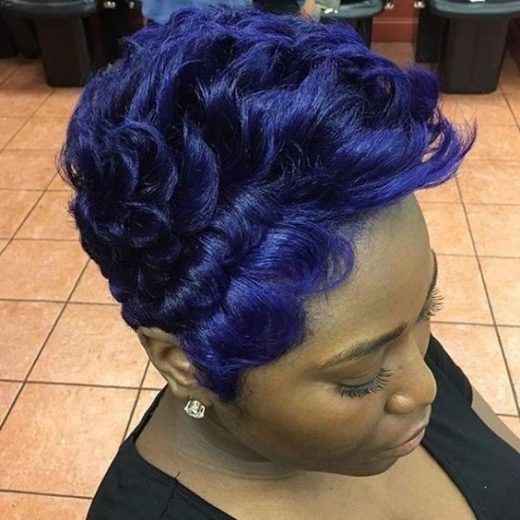 You might think your thick, textured hair is nothing like a pixie cut, let alone dressed in blue. Well, the bright hair color would add vibrancy to your style that you didn't even know you could have.
Midnight Blue Waves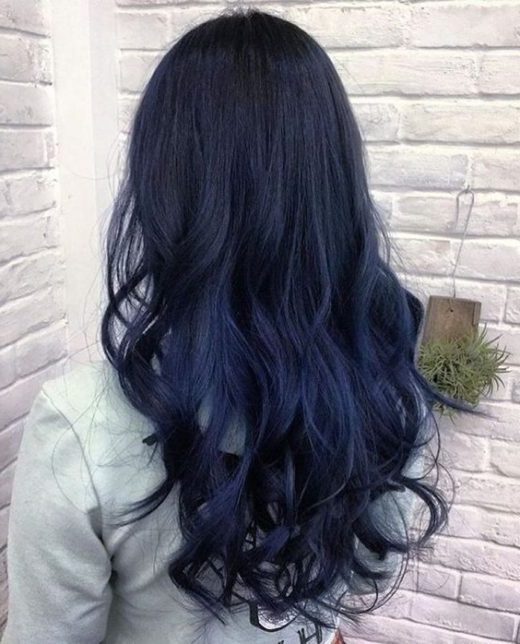 You don't have to go full throttle to turn blue. Experiment with dark blue hairstyles by testing out some highlights. The look is subtle and cheeky at the same time, and it's a perfect way to get your color done without going overboard.
Overseas shine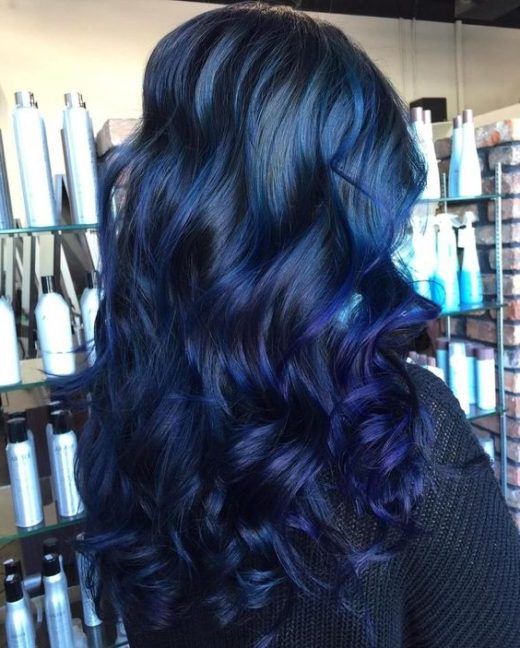 Dark blue hair color comes in a variety of shades, so don't limit yourself. Have a little fun and try an ombre style that combines a brighter blue with a darker, purple-tinged blue. When styled and curled to perfection, this look is mesmerizing.
Royal Indigo Braids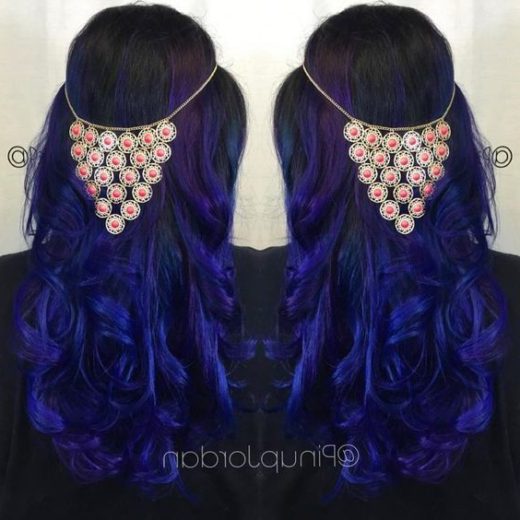 Nothing is more regal than blue and purple hair. Both shades are synonymous with royalty and elegance, and when combined, the results are downright regal. Try a colorful balayage using both shades and top it off with an intricate hair accessory. See if you don't always feel like the goddess you are.
Deep Blue Pixie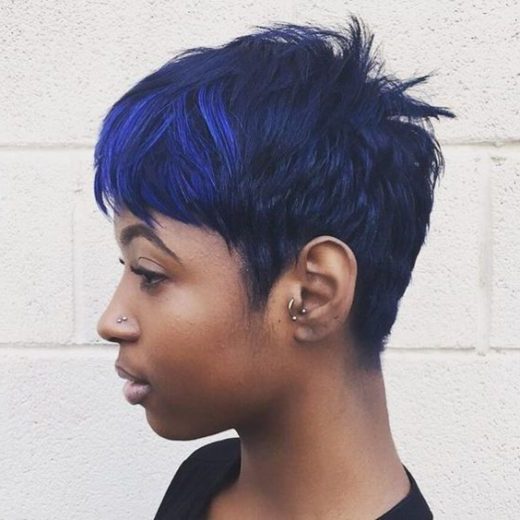 Blue is best worn bold, and nothing is bolder than a funky pixie cut. The super-short style is about as chic as it gets, but when enhanced with a bit of cobalt blue, it reaches new heights of coolness.
Gradient masterpiece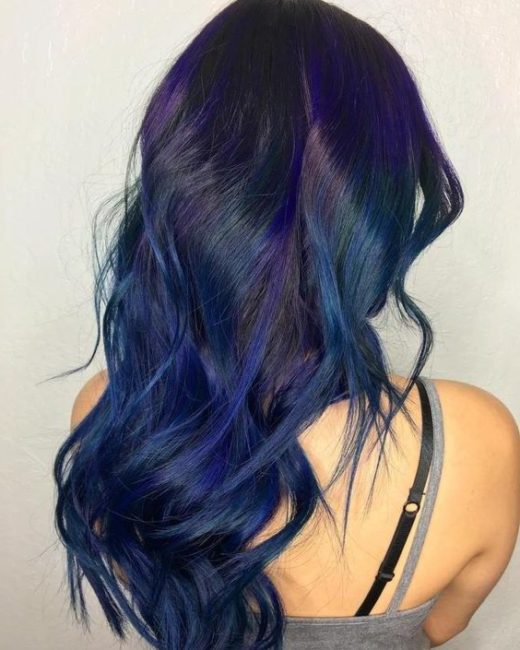 Keep your dark blue hair as cool as a cucumber by including a layer with cooler tones of purple and green. The variety of colors will add tons of vibrancy and dimension to the style and complement the base color.
Blue Dutch Braids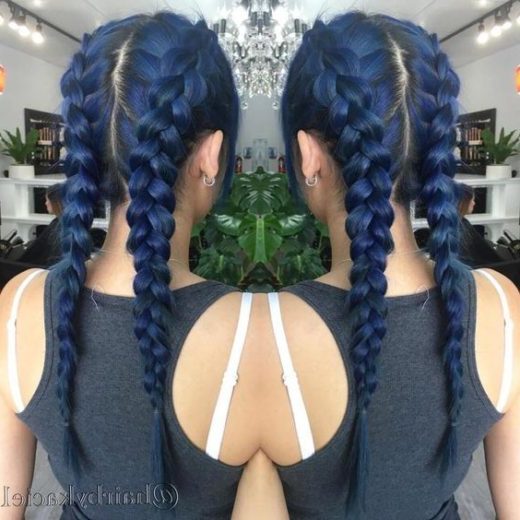 Boxer braids aren't just for intense workouts. When worn in bright hair color, this style will make you the envy of every trend seeker you come across.
Waterfall of color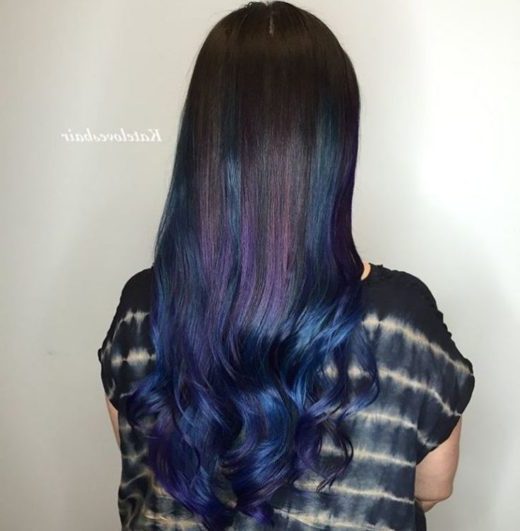 Want to give your hair a fun new twist? Try adding long, beautiful blue and purple streaks to your dark brown base. Mermaid hair, whatever!
Tresses Mohawk-ed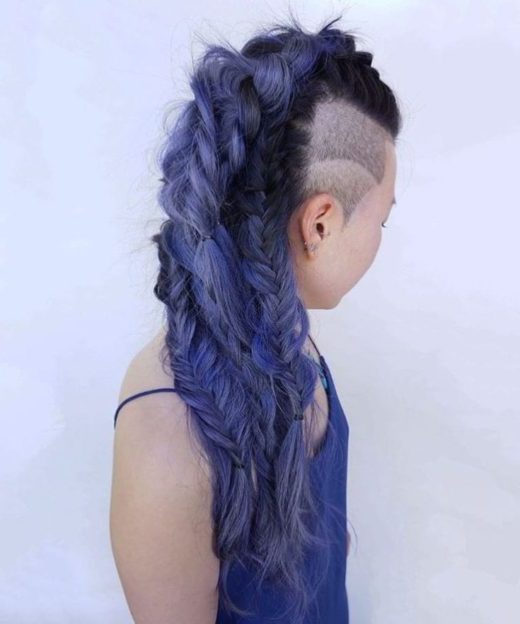 Dark blue hair looks its sharpest when worn as part of a shaved faux hawk hairstyle. Create the punk-inspired 'do by combining messy Dutch braids and fishtails. Pull the braids to make them fuller and messier.
Now, it's safe to say that you're an official convert to the dark blue hair movement. And who could blame you? The look is totally versatile and cool. So go ahead and start your summer off right by rocking the best shades of blue.