Just chop off everything! The benefits of short hair are numerous – manageability, trendiness, and versatility, to name a few. This article shows angled bob cuts and gives you an insight into why they are so hot and popular!
The Most Inspirational Angled Bob Haircuts
Angled bobs are the most versatile of all haircuts. You can wear it straight or wavy, style updos, or half-up hairstyles. Here are the best haircut ideas for you.
Blonde outlines
Short angled hairstyles boast beautiful shapes that can be enhanced by color. The layered locks of this asymmetrical brown bob are brushed with golden blonde strokes, emphasizing the curved front section.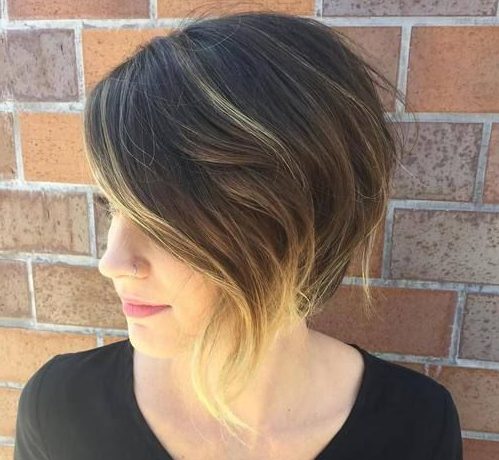 Medium golden bob
When it comes to angled bob hairstyles, side view images are the most inspiring. This set of medium curls is curved over the shoulder for a more extended look in the front.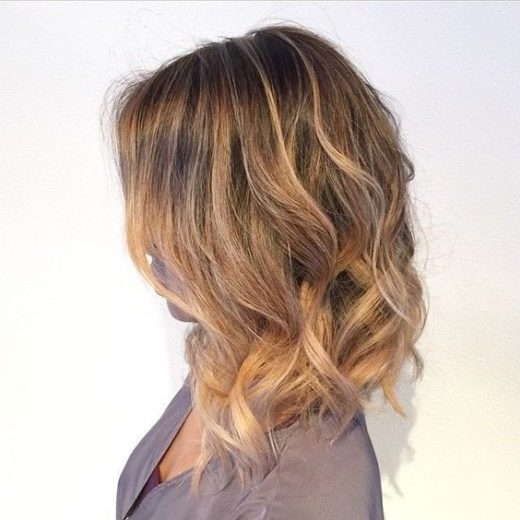 Wavy pastel pink bob
A baby pink shade combined with wavy curls brings the edge of the angled hairstyle into harmony with a feminine sensibility. Unicorn-worthy shades are the way to go when trying to show off your cute side.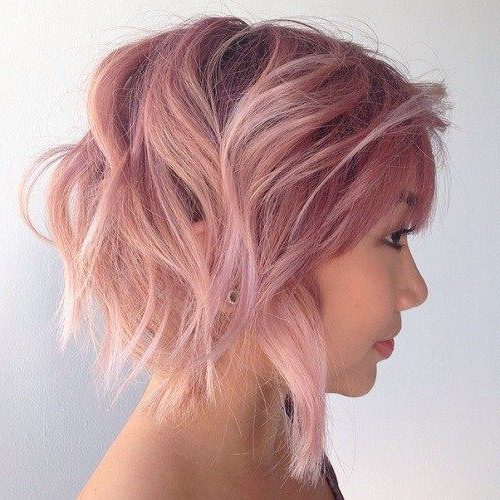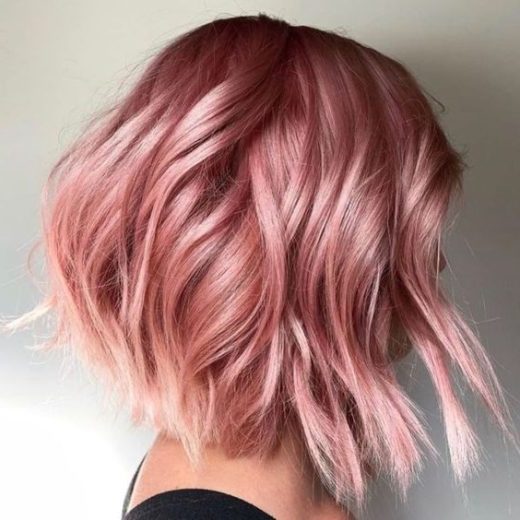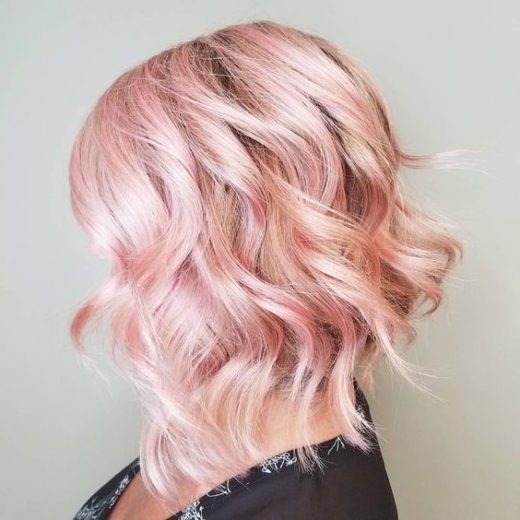 Purple-pink asymmetrical bob
Beautiful shades of magenta and purple liven up this sleek angled bob. The subtle, straightforward application of paint creates severe visual interest, with the darker, stacked back enhancing the depth and drama of the asymmetrical cut.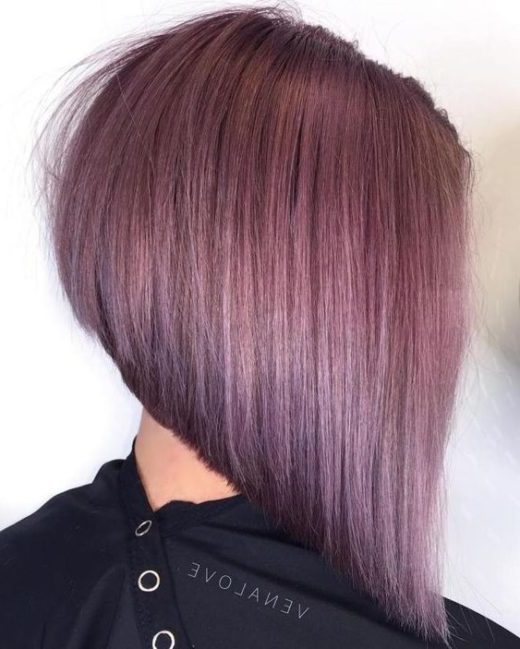 Choppy blonde hairstyle
Angled cuts give fine nature strands of volume. When your hairstyle is choppy and layered, it adds fullness even more. Another perk: you don't have to worry about the clean and well-groomed layers because the frizz compliments the relaxed style.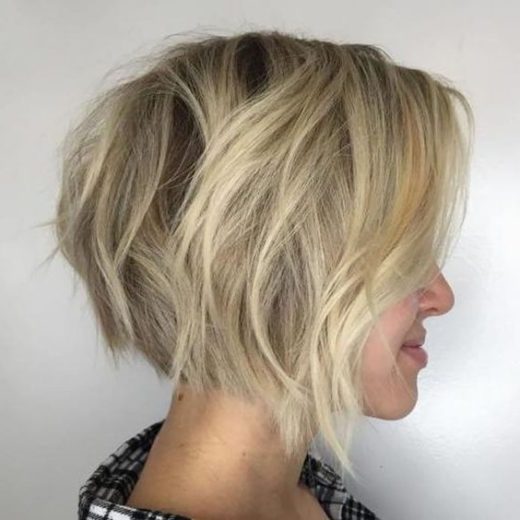 Brunette Medium Angled Bob
This medium-high bob is just a sophisticated choice that anyone can pull off easily. A deep side part gives it a little more drama but still retains its understated appeal.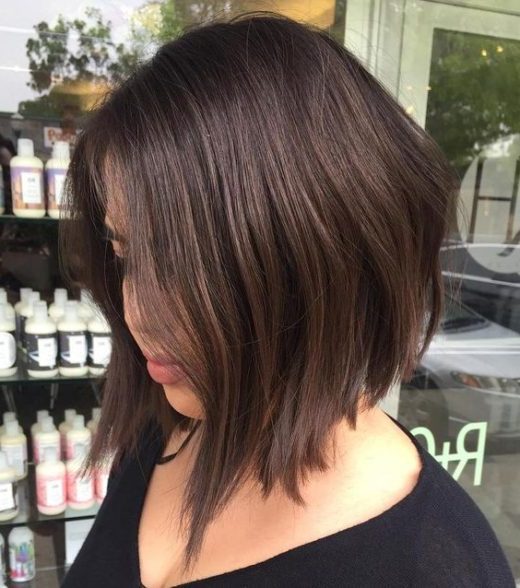 Jet black long bob
With the angled front that falls well below the collarbone, this Lobo is as sexy as it is sleek. The deep black color enhances the mystique. You can opt for some highlights or colors to lighten the hairstyle, but the noir hue is essential if you want something that exudes shine and confidence.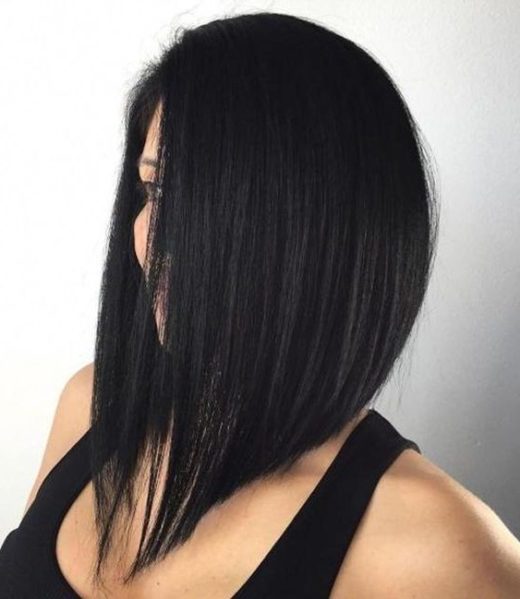 Sharp angled black and purple bob.
The deep black base of the bright purple reflections creates a punk-inspired "do" beyond trends. The sleek lines and fun colors are a timeless choice for someone trying to show their edgy side while keeping the coif a little playful.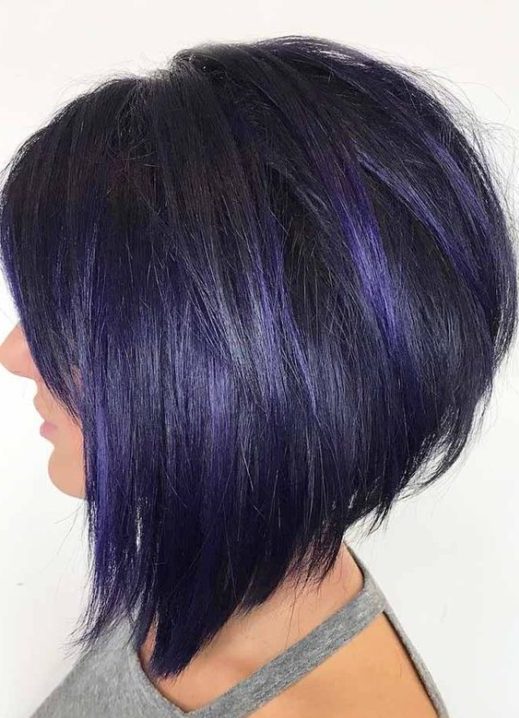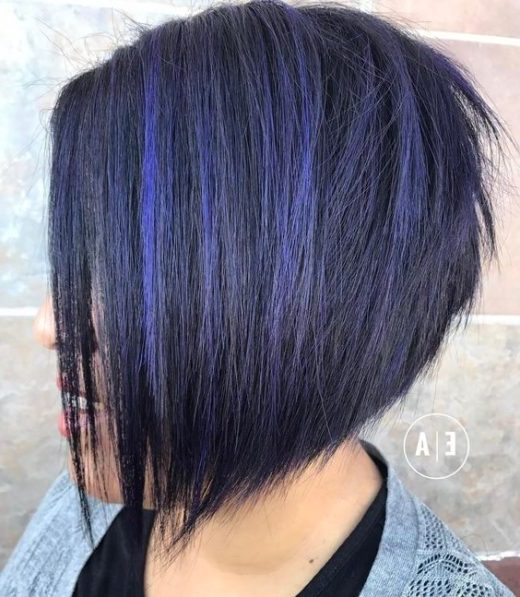 Angled haircut with subtle highlights
Sometimes a solid shade can feel a little flat, but high-contrast stripes may not be your style. If you want to liven up your look in a subtle way, achieve highlights that are a shade or two lighter than your base. This will give you that extra kick that you want.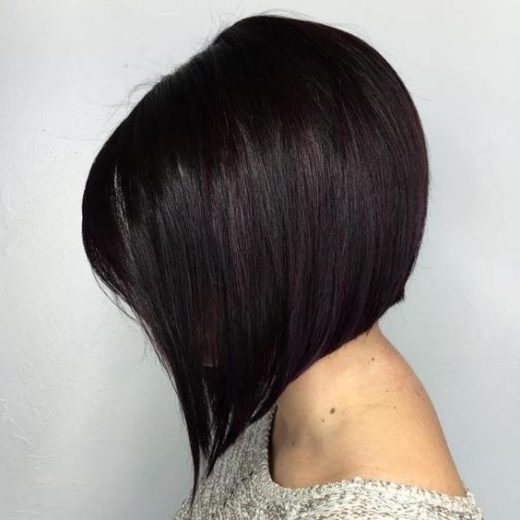 Gray and wavy strands
A washed-out gray adds a sexy touch to this angled haircut. The shade is incredibly ethereal against paler complexions, although it still appears lovely against those with more melanin. Enhance the mystique of the hairstyle with a deep side part and let your wave curls fall over your face.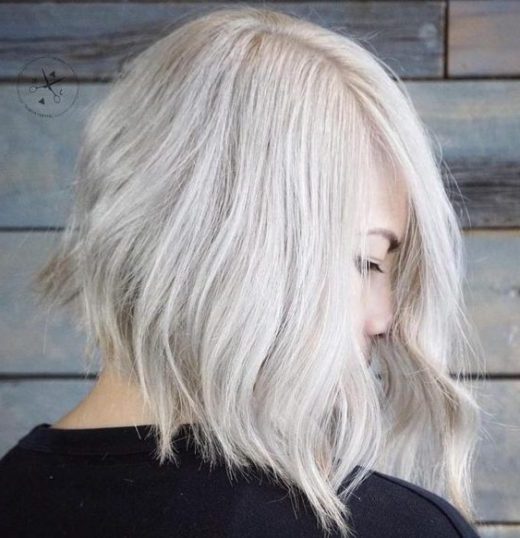 Sharp angled Fuschia bob.
With vibrant or bold color choices, it is best to go with a sleek cover. When the hair is short and straight, the electric shade is in the foreground. It's not to say that big and long locks aren't pretty with a fuchsia hue, but it's just slightly alluring about a cropped cut that exudes sophistication.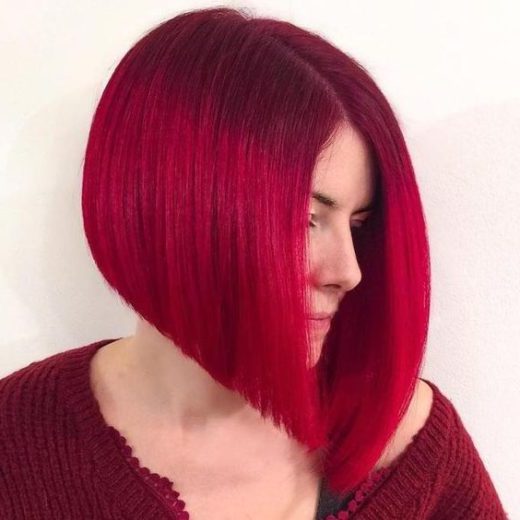 Classy and professional bob
Wavy hair has its pros and cons, and sometimes these waves need the silhouette of a bob to control. Try this medium-length style for something new. It still has an angle, but it's less defined, which gives you some wiggle room at the ends.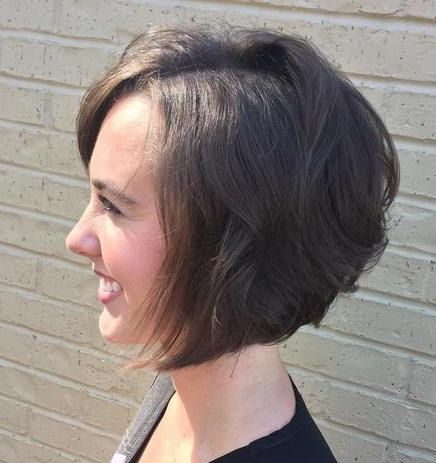 Sleek and stealthy stacked bob
This angled bob is stacked lightly on the back and is especially suitable for very straight hair. The main shape of the style rocks the back of the head and seems almost a flapper style, but the point under the ears says otherwise.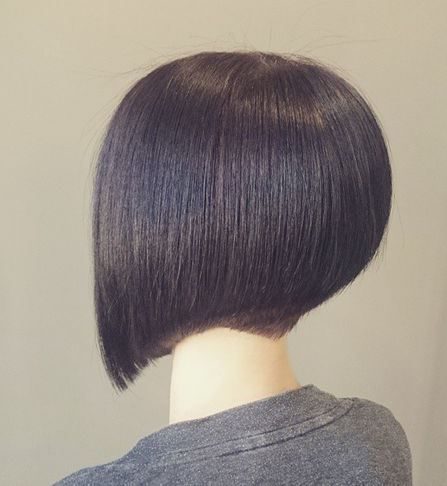 Angled bob with bangs
To lengthen a round face, you want to keep the front longer. Try light, side-swept bangs, which can be longer or shorter, and add a bit of texture to the ends. Pale burgundy on the tips lets the style shine from below.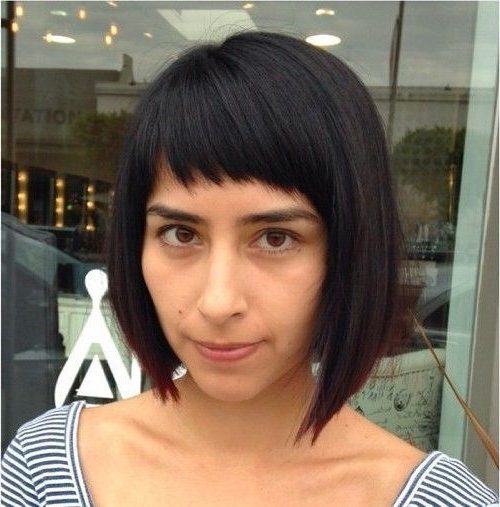 Choppy layered bob with bangs
The choppy, layered bob is an excellent haircut for women who want to look a little edgy but feminine. The roughness in the layers cuts a sharpness that is easy to style and wear daily. The relatively heavy forehead bang gives the face a sleek look, minimizing the forehead and emphasizing the eyes. This type of cut is suitable for those with oval and elongated face shapes.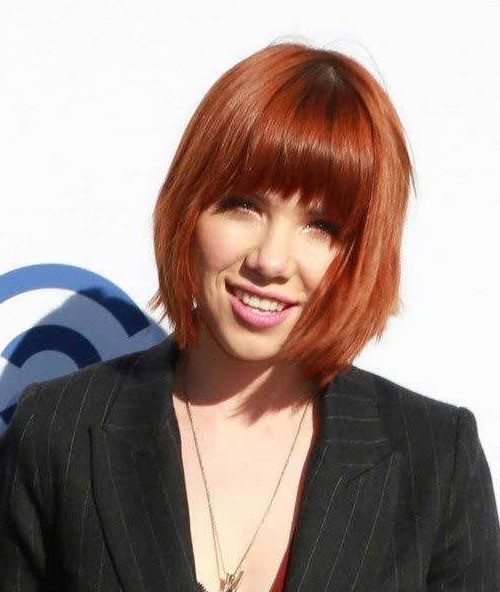 Blunt asymmetrical bob
This blunt, asymmetrical bob is very sassy and adds a chic look to any face. This look is beautiful on square face shapes because the length extends beyond the jawline and elongates the face. The deep side part also tricks the eye to see a narrower face shape. The asymmetrical cut is very edgy and chic!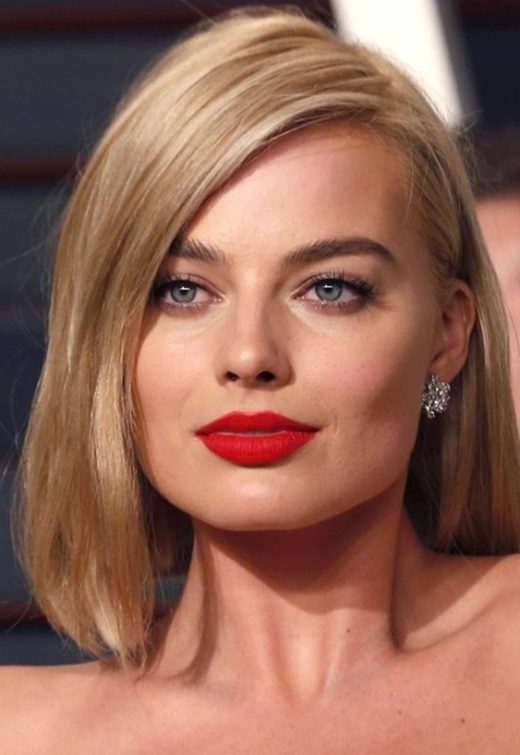 Angled Haircut with a Feathered Finish
This feathered bob is an adorable approach to professional hair! It says, "This is an ambitious businesswoman," while it also whispers, "She is young and fun!" With the length reduced to a minimum and maximum layering, the feathers are very prominent, and they fall beautifully. A cut like this accentuates the chin while bulging from the cheeks.