If you ask us, there's almost nothing like letting curly strands hang free. However, there are occasions and outfits where you need to pin your locks up in style and there is no denying that updos for curly hair look are gorgeous. Whether you're pressed for time in the morning or want to add an elegant touch to your hair, updos are the perfect way to dress up your look. And best of all, there are a variety of naturally curly hairstyles that are easy to recreate. All you need to create a curly hair masterpiece are some hair ties and bobby pins. Here we show you beautiful and easy hairstyles that show off your natural curls beautifully while keeping your hair out of your face.
Pineapple – The pineapple hairstyle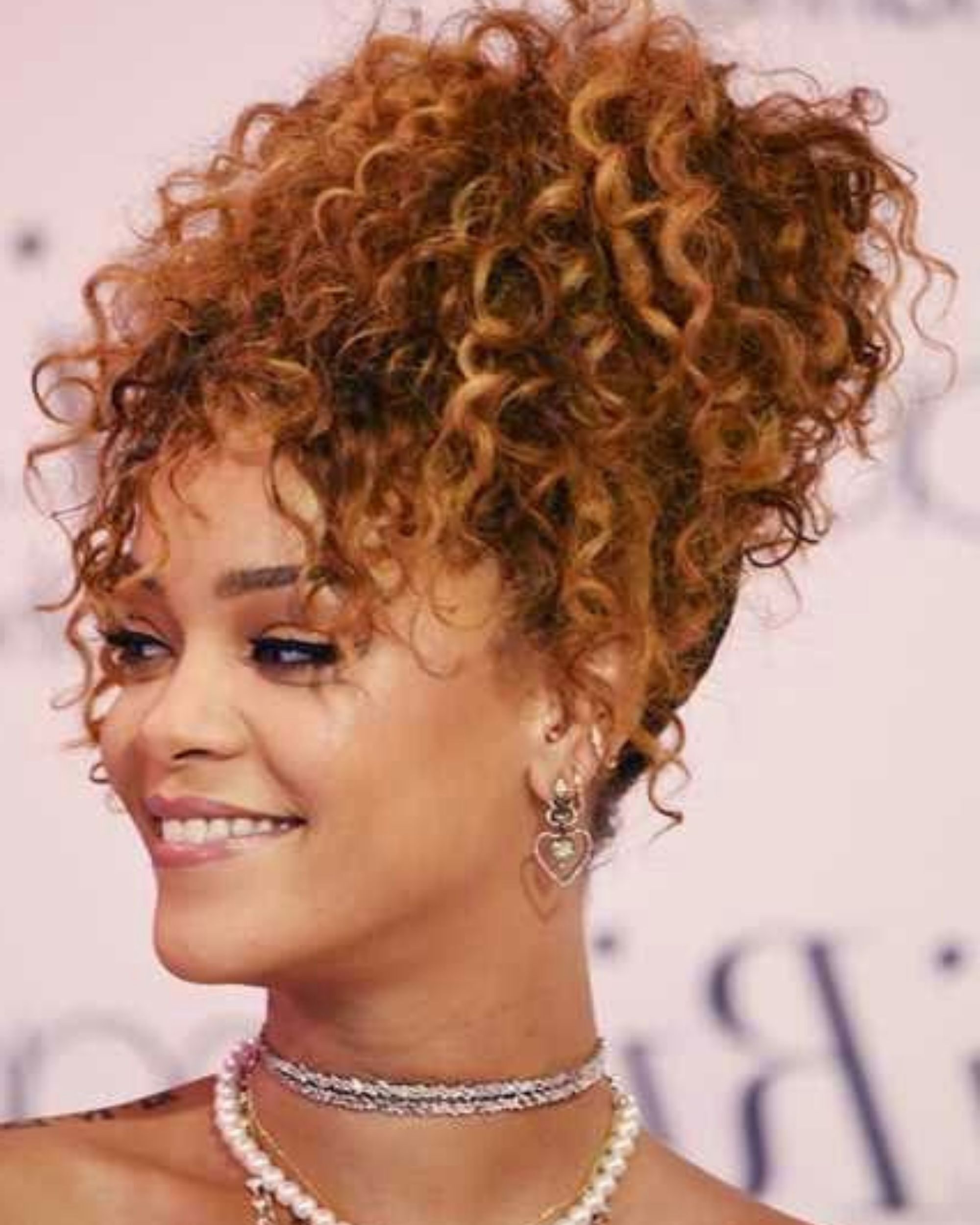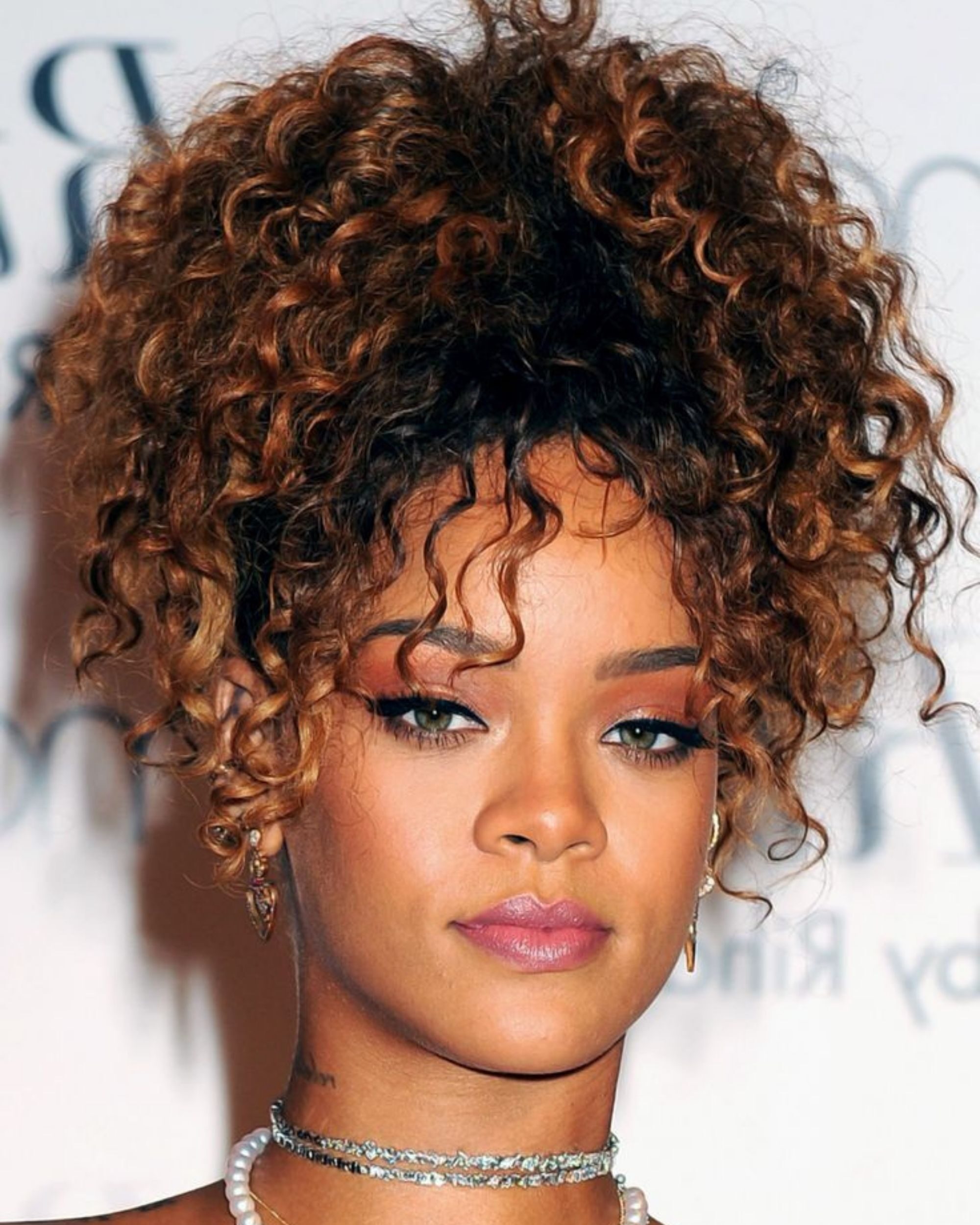 Curly heads watch out! You may already know that the pineapple hairstyle is one of the best ways to keep your tresses overnight. Well, this hairstyle is also fantastic to wear during the day. It's a great way to keep your strands out of your face and also accentuate your features. No wonder she tops our list of naturally curly hairstyles.
To do this hairstyle you should start with dry hair. When your hair is wet, the hair tie can leave marks. The look is perfect, for example, for the second day after washing your hair.
First, refresh your curls with some hair oil and apply some dry shampoo at the roots as needed. Then, pull all your hair up towards the front of your head and secure it with a hair tie or scrunchie. Fluff up your curls so they hang over your forehead and your styling is complete.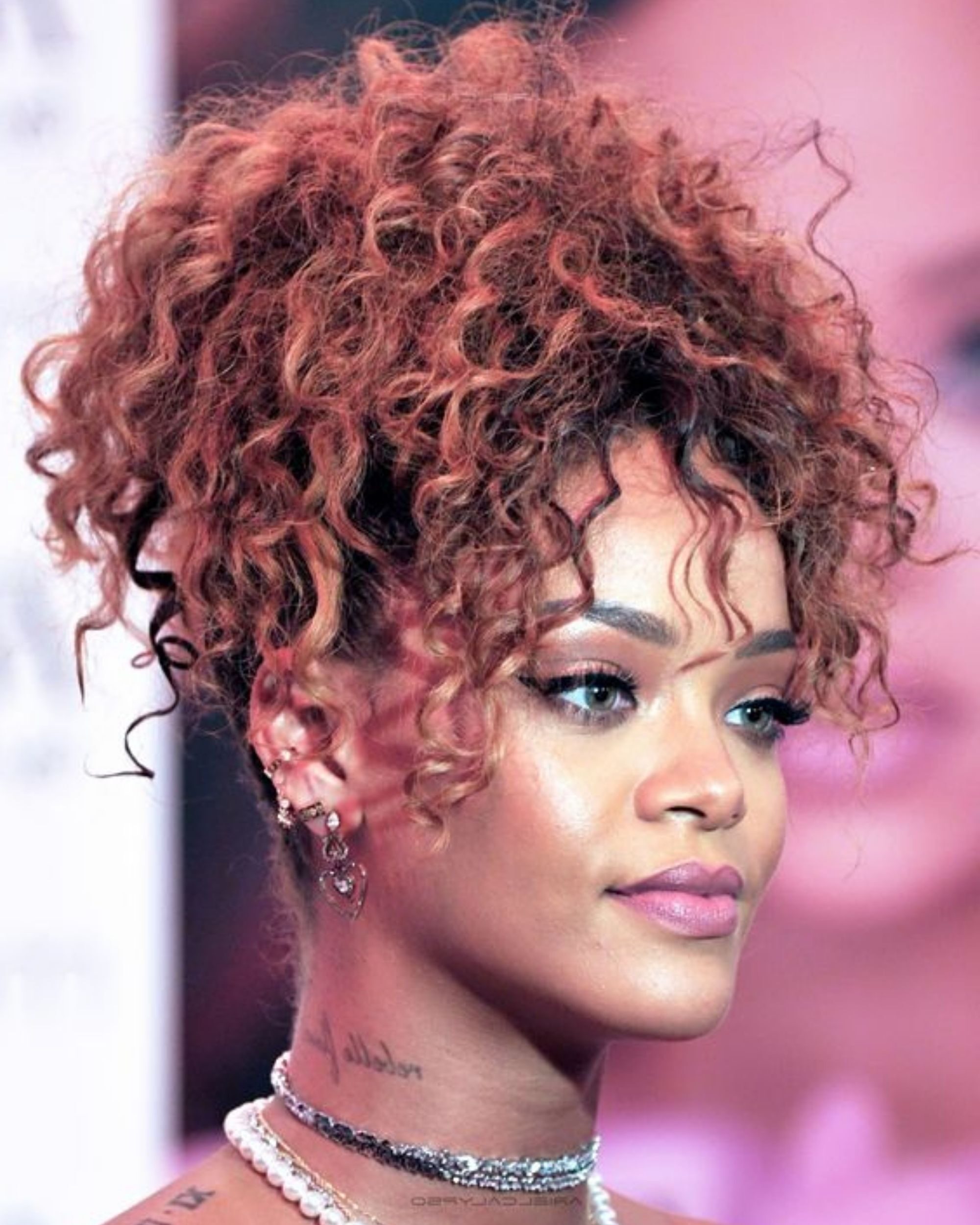 This updo is for you if you've always wondered what naturally curly hair would look like with bangs. With this method, you can conjure up a fake pony in no time at all.
Bantu Knots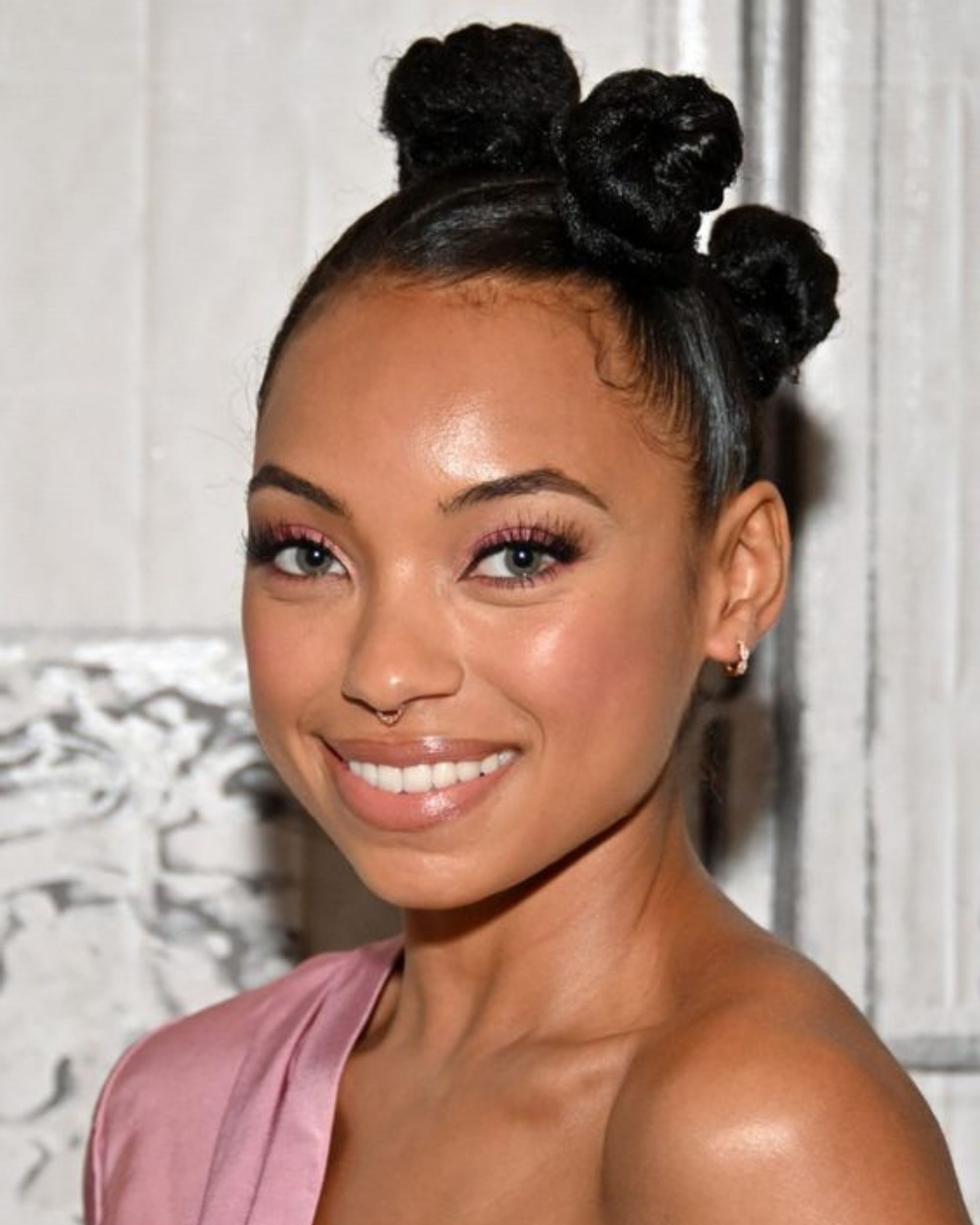 Bantu knots are not only a popular anti-friction hairstyle for overnight curls, they also make a great easy updo for curly hair!
Bantu knots are a traditional African hairstyle that has been around for over 100 years. "Bantu" is a broad term used to describe the 300 to 600 ethnic groups in southern Africa who spoke the Bantu language, according to the South Africa History Organization (SAHO). In this hairstyle, the hair is sectioned, twisted, and wrapped in such a way that it piles up in a spiral bun.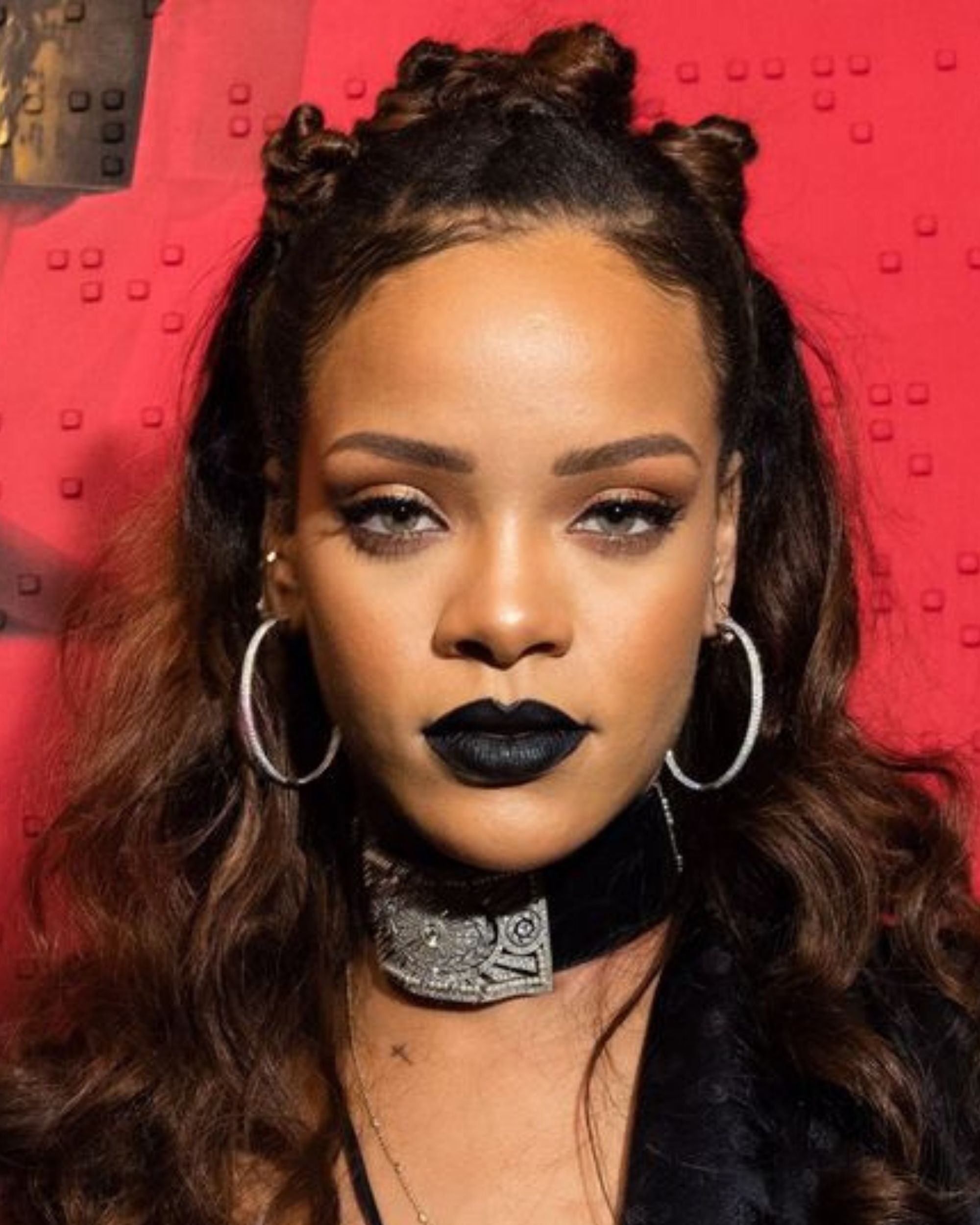 Today, the hairstyle has been reinvented in various ways. Bantu knots are proudly worn by African women of certain cultural groups and passed down from generation to generation. Of course, as happens too often in the fashion industry, the hairstyle has been sported on runways by almost exclusively white models and non-black celebrities, has been renamed "twisted mini-buns," and magazines have credited even these non-black people as the inventors of the style or listed it as a "new" trend (e.g. by the Kardashian and Jenner clan.) In fact, there are still many people today who see Swedish singer Bjork as the person who brought the style back in the '90s.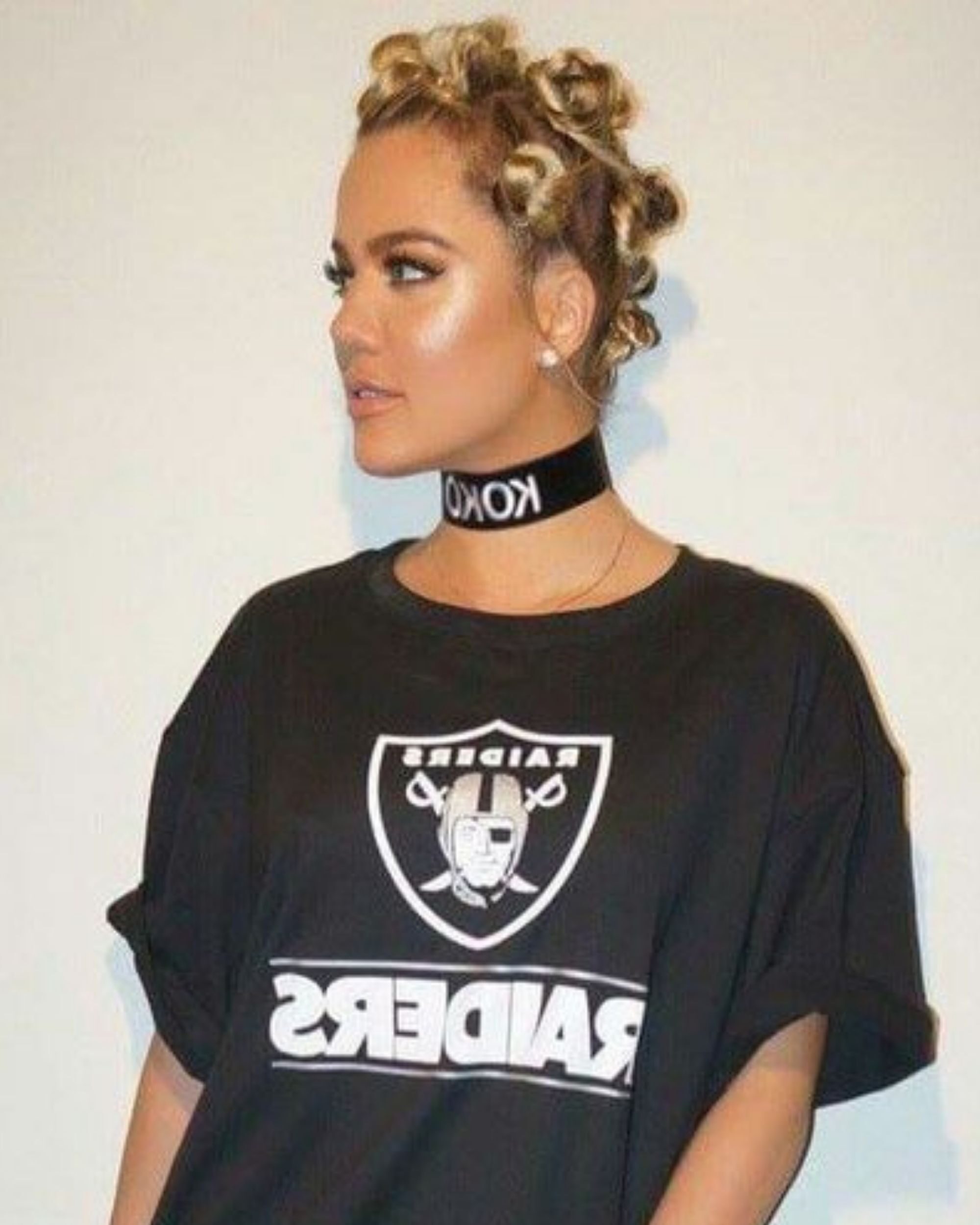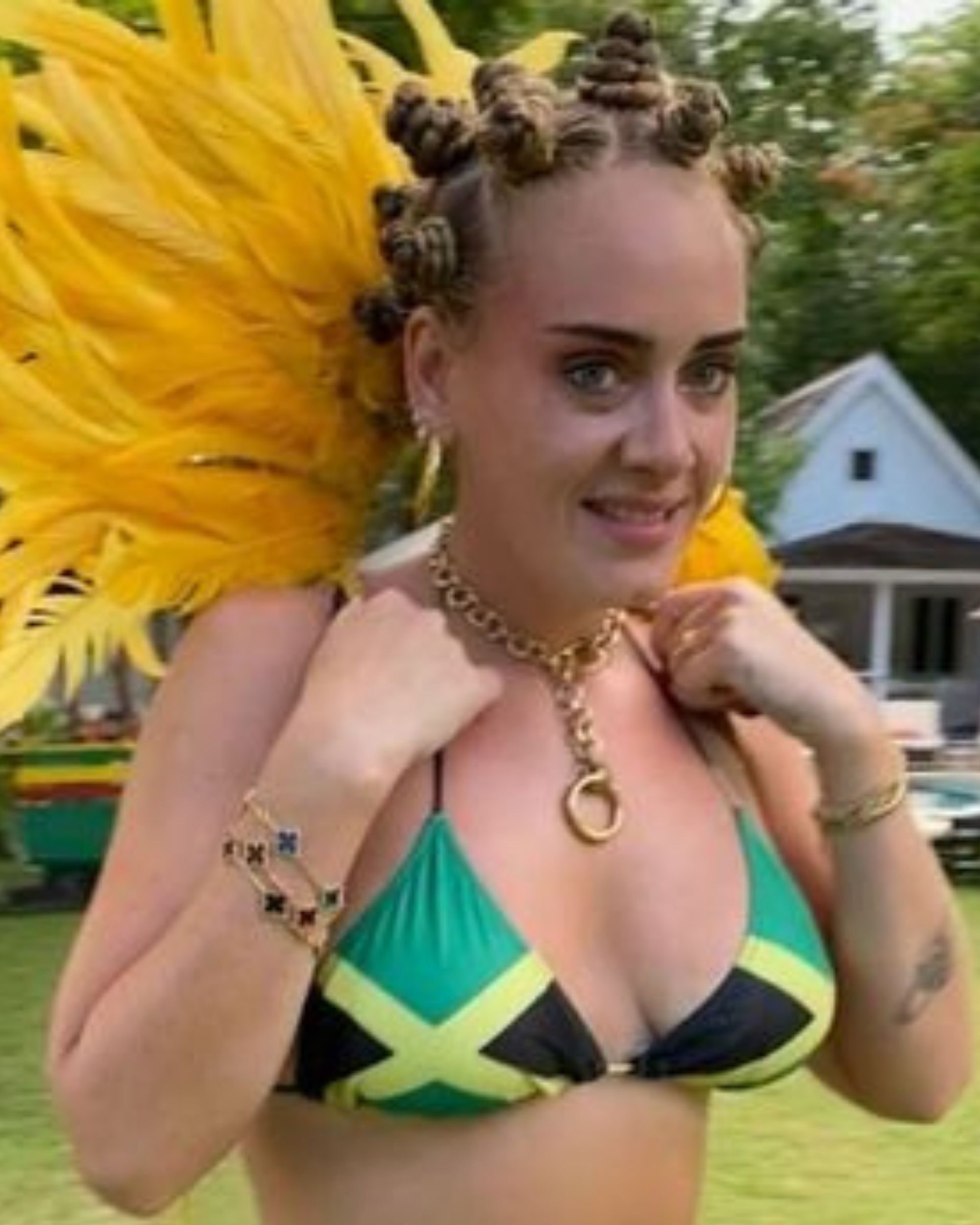 A variant of the Bantu knot for half-open hair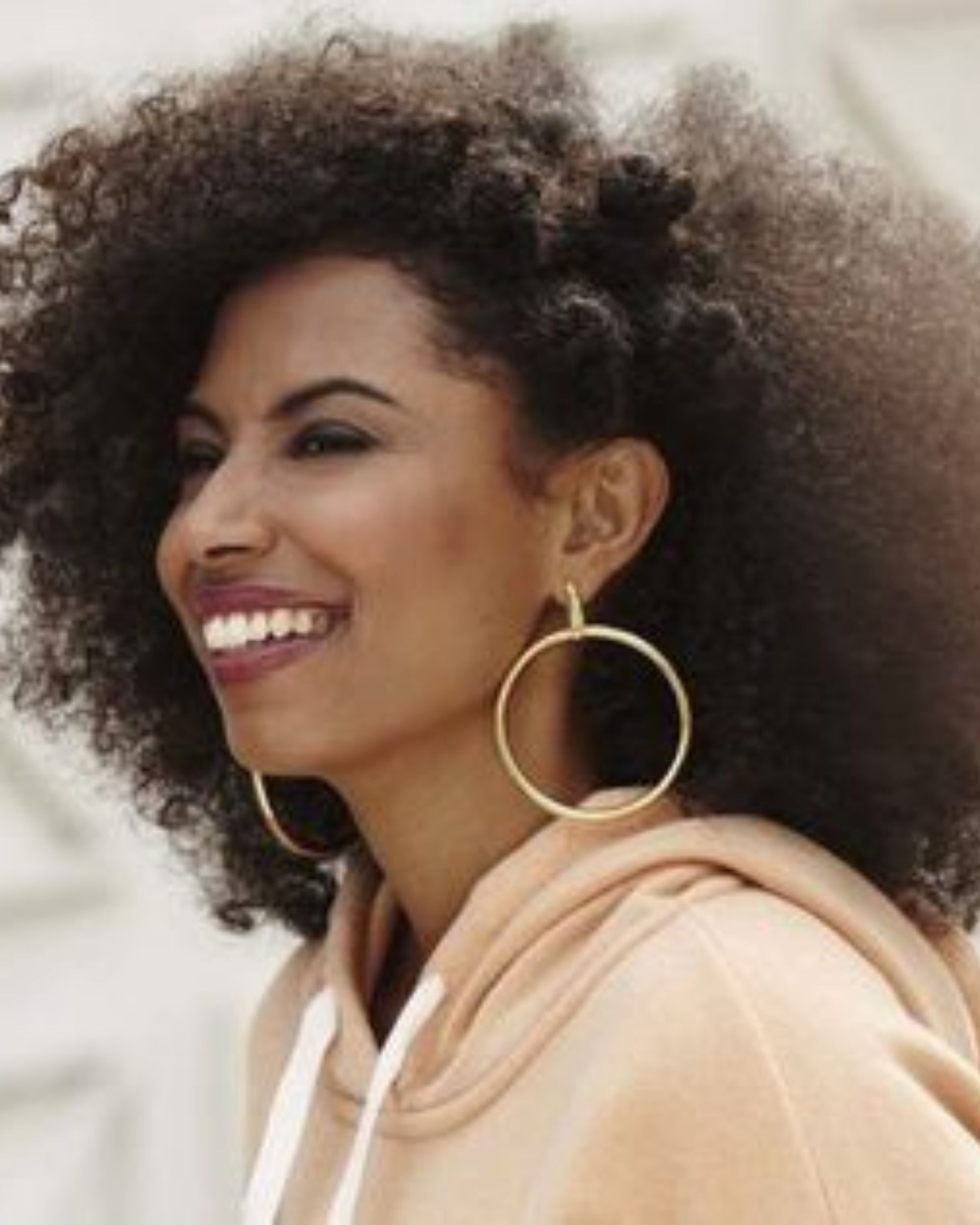 Messy Bun – Loose bun hairstyle with curls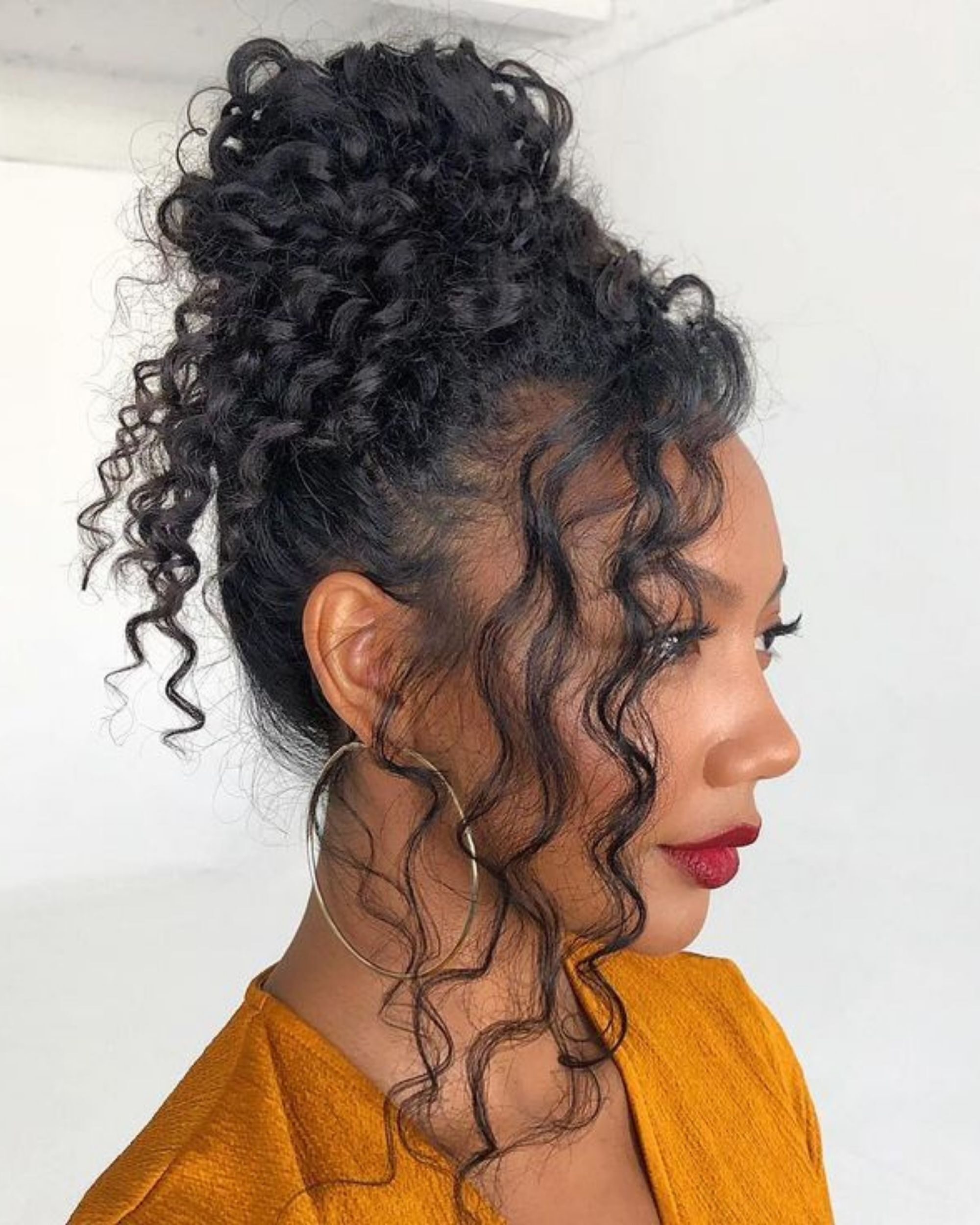 When it comes to easy updos for curly hair, the messy bun is the absolute favorite of many women. Equally casual and chic, this hairstyle makes it easy to keep hair out of your face while making a stylish statement. Not to mention that this updo suits almost any occasion and flatters all face shapes.
The updo can be spiced up wonderfully with a hair clip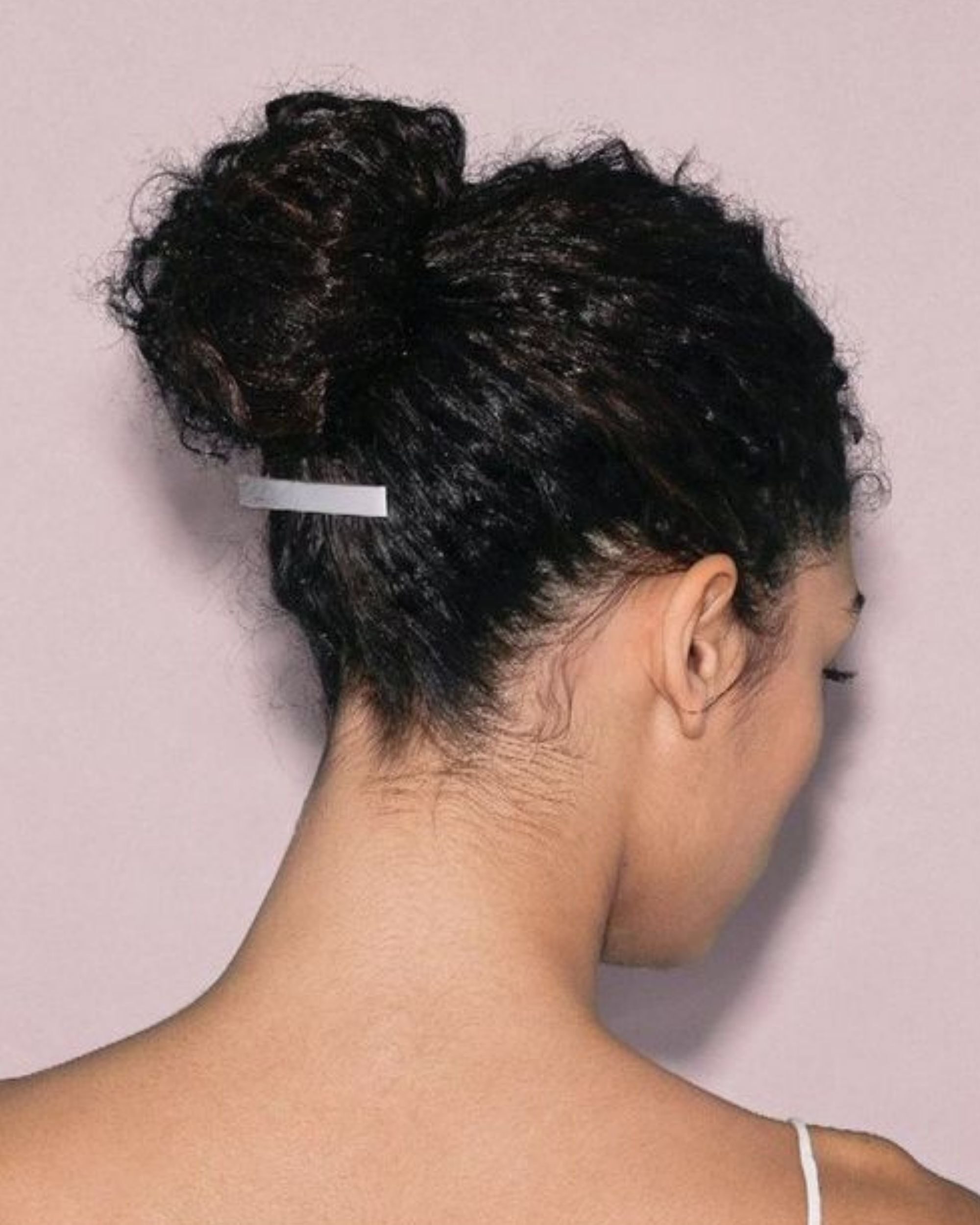 Do you love updos with a sparkly touch? A high bun with a jeweled barrette is what you need. As soon as you have conjured up your messy bun, place the hair accessory wherever you want – at the back of the head, on the side, or even at the top in front of the bun.
High bun with clasp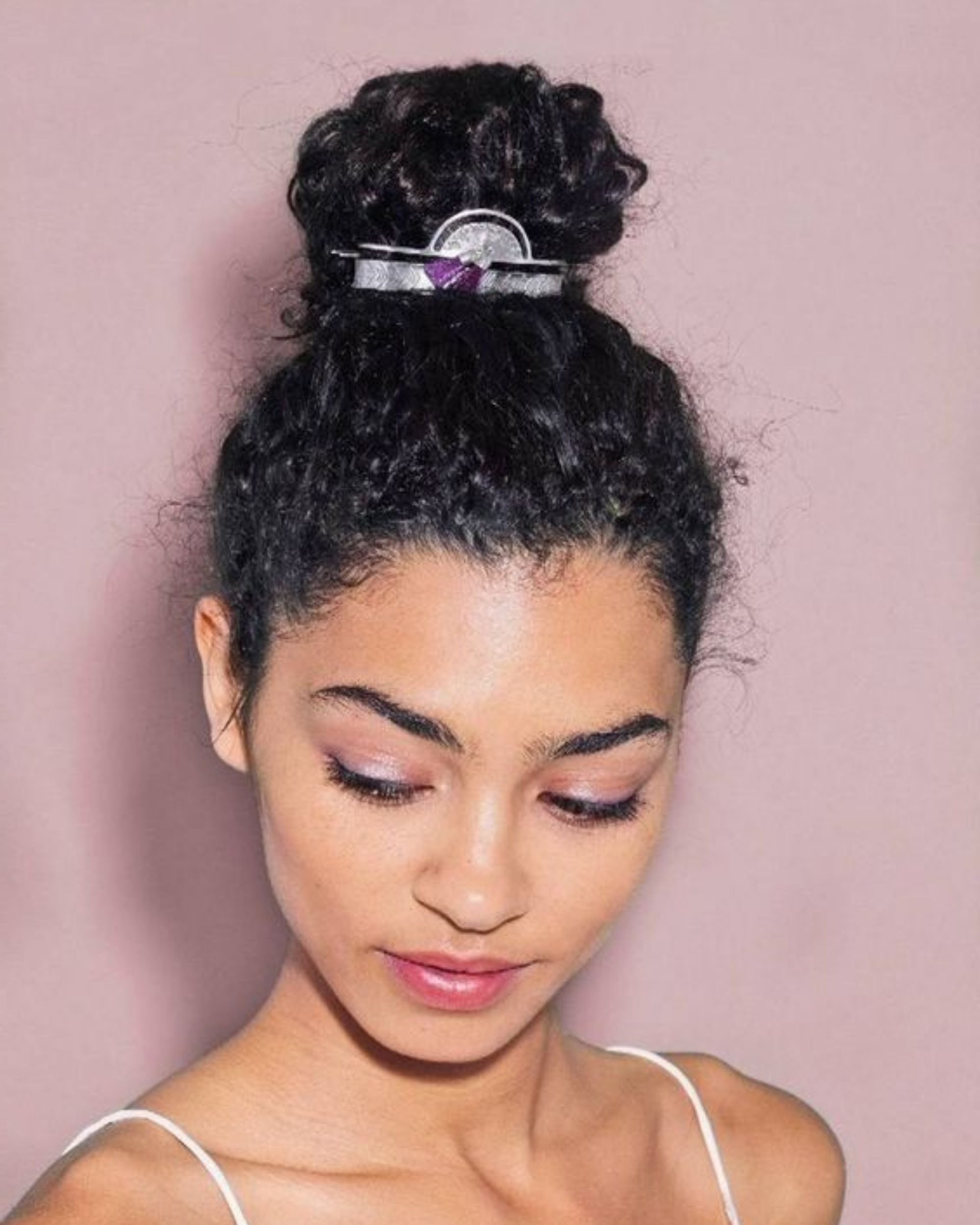 High Puff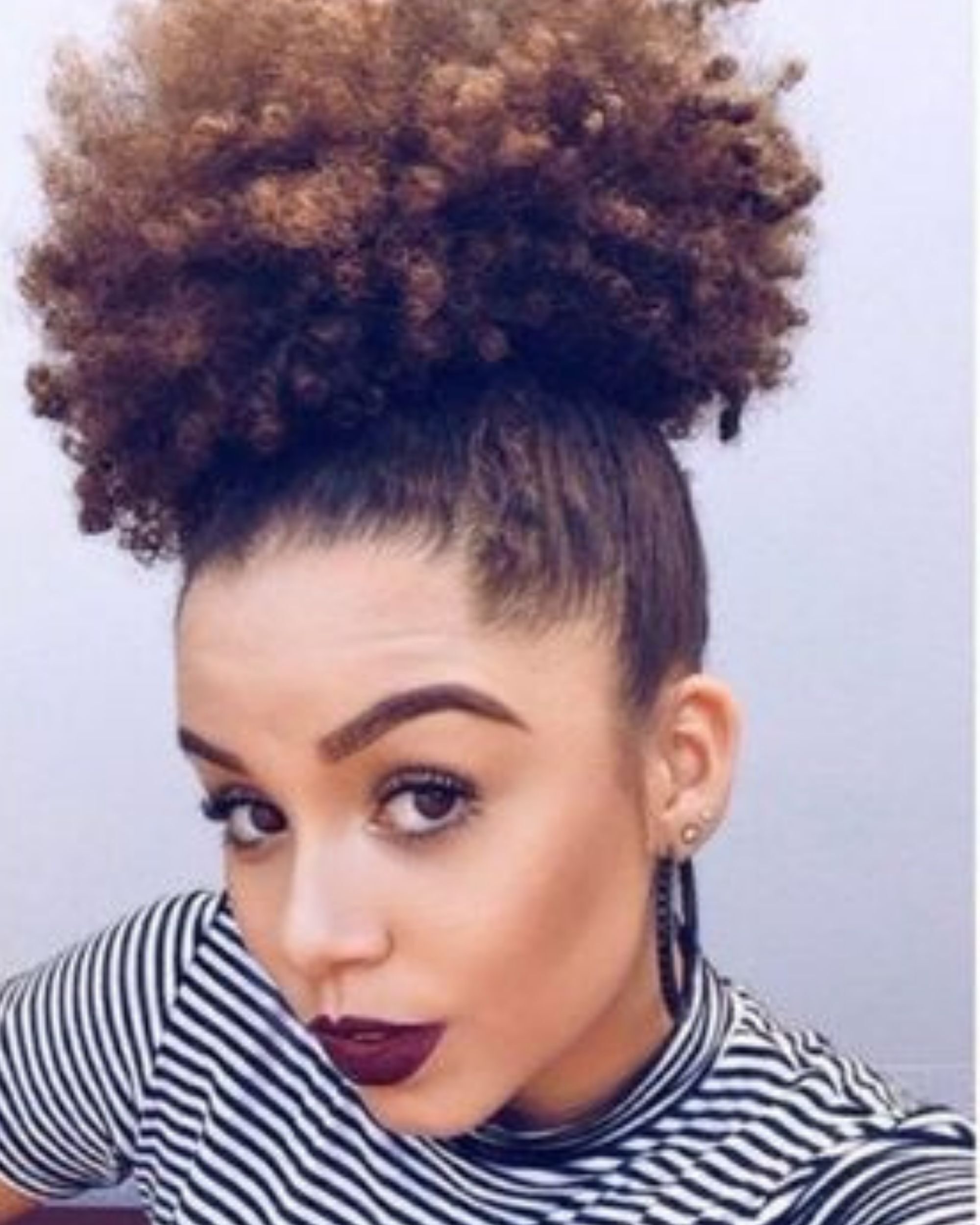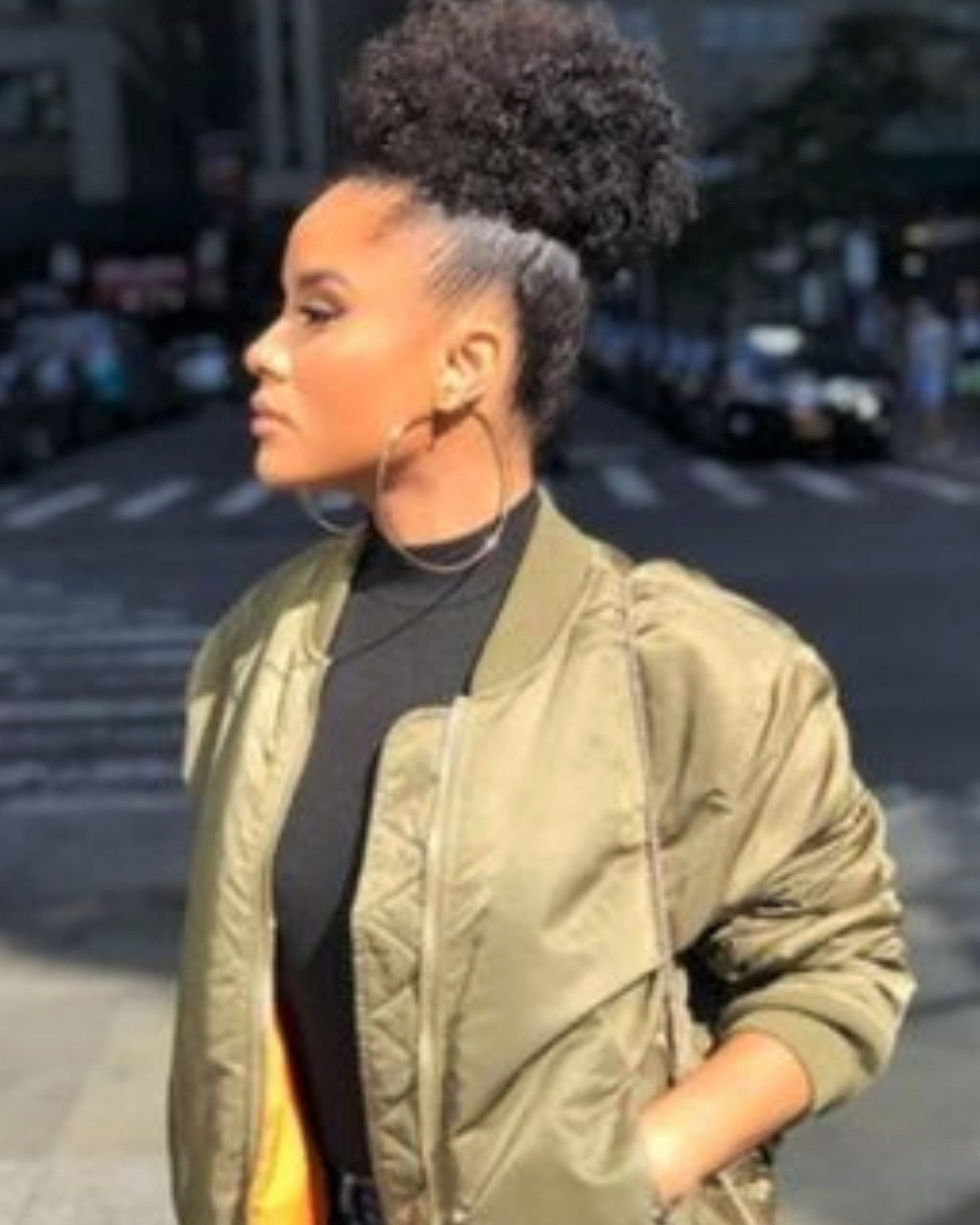 One of the best updos for thick, curly hair is the high puff. This hairstyle is particularly ideal for curl types 3C and 4A as it shows off frizzy hair beautifully. The curls are simply tied at the top of the head to create a pretty fluffy cloud. Use an afro pick to loosen up your puff.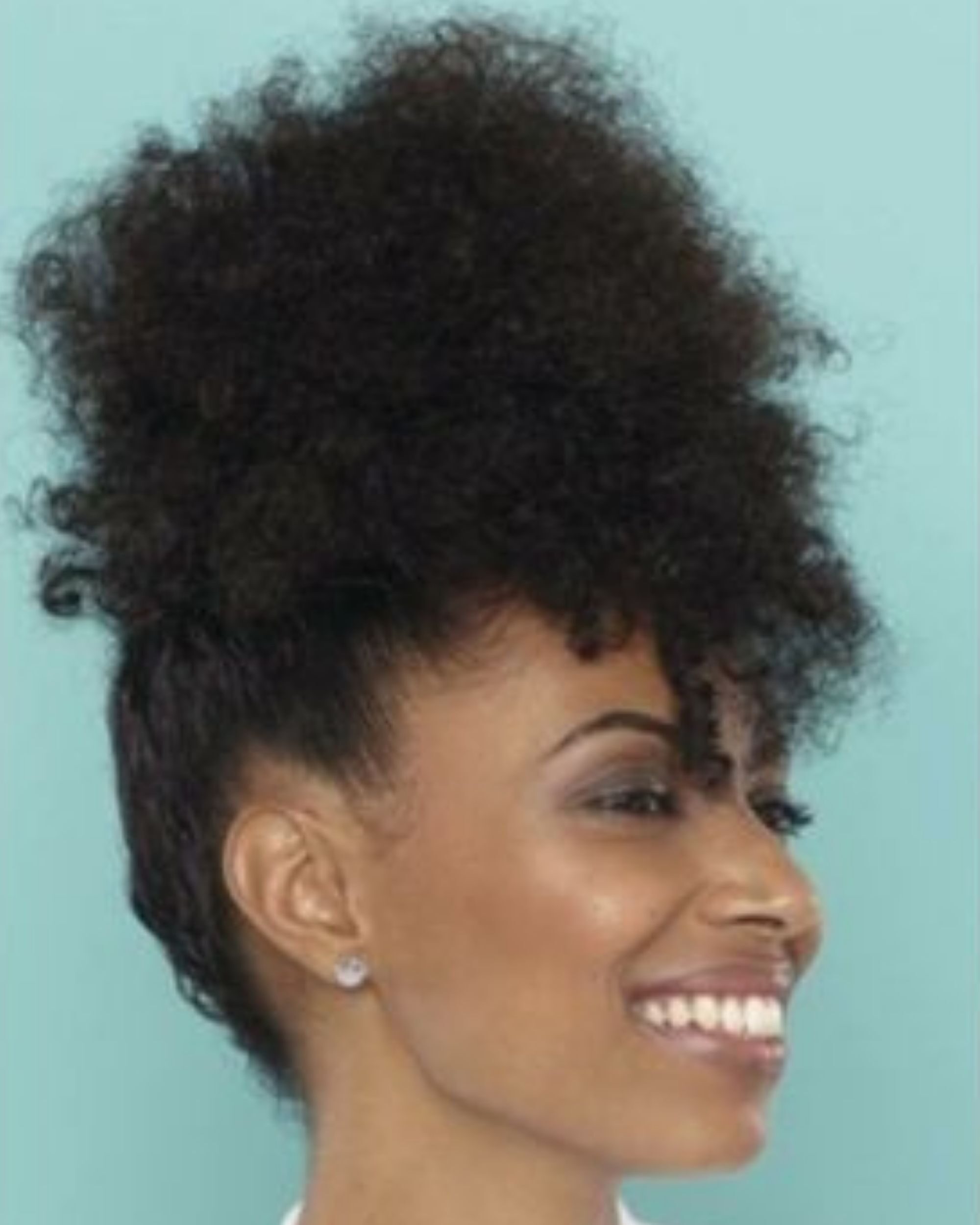 The high puff hairstyle is one of those quick and easy hairstyles that can save a bad hair day. It's a great option as a chic updo or can be used as a perfect solution for hot summer days to keep your curls out of your face and prevent them from rubbing against your skin.
Low bun with strands falling out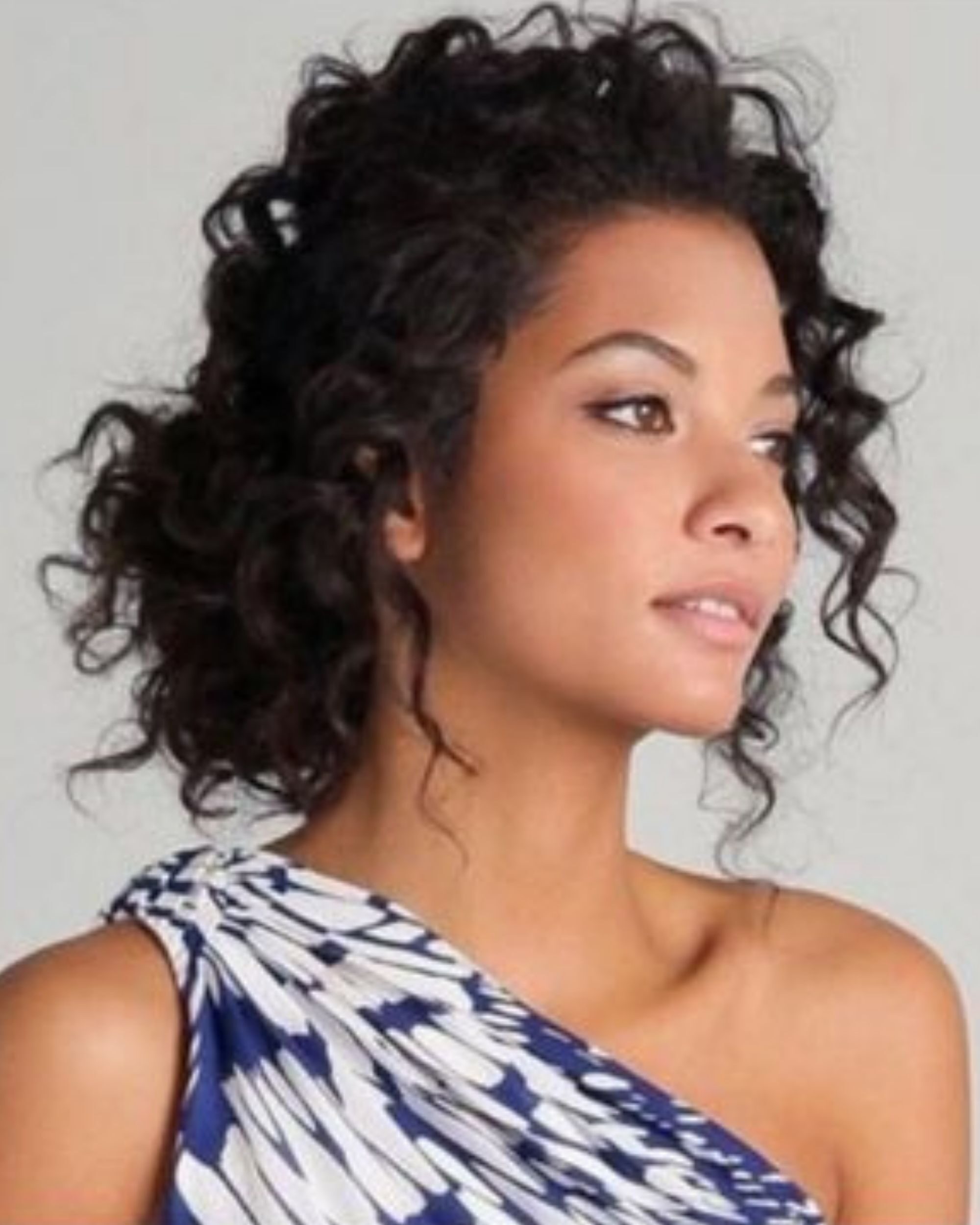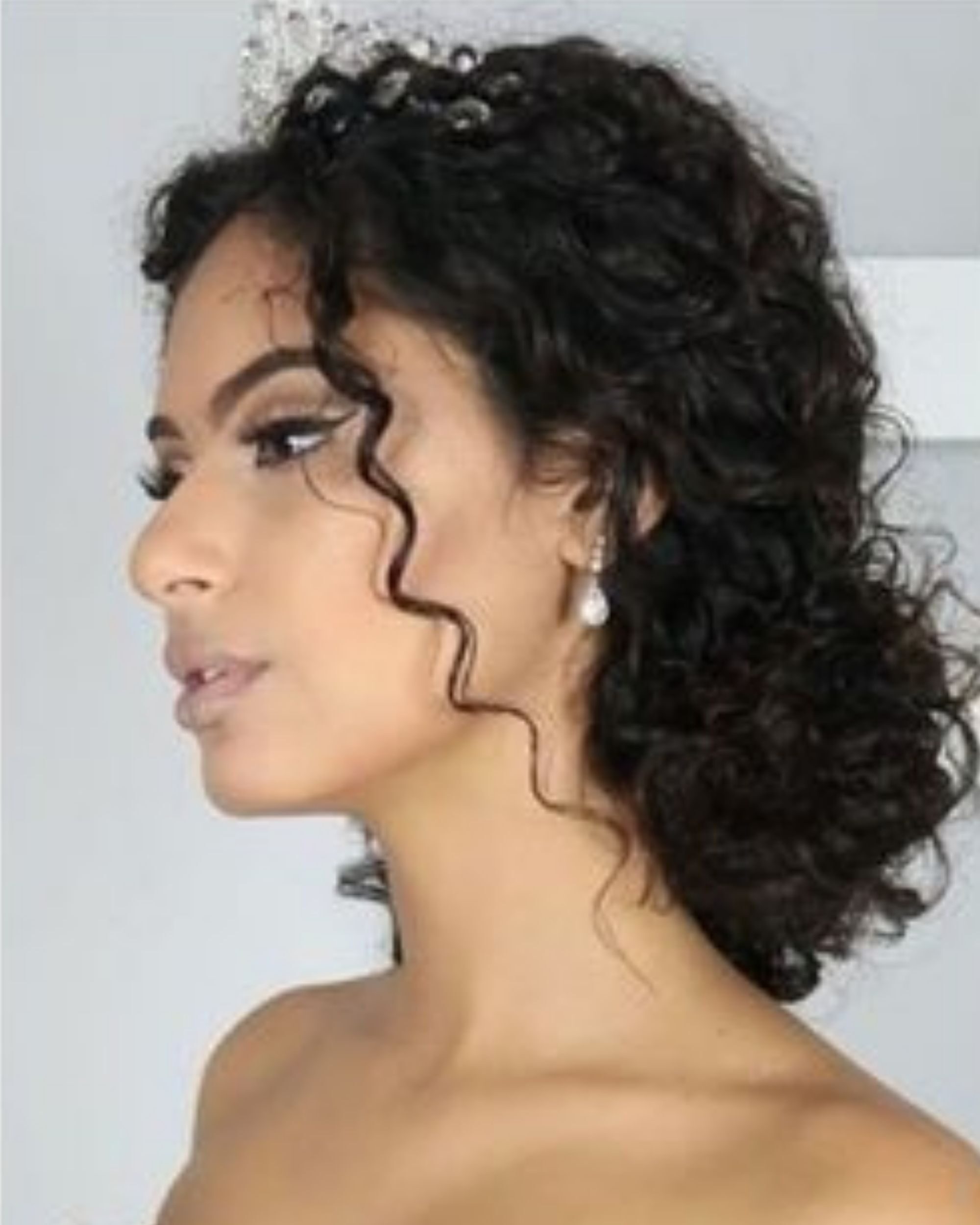 The low bun with loose strands in front simply cannot be missing from our list of easy hairstyles with natural curls. An excellent choice if you want a practical idea with a flirtatious appeal, this hairstyle will take your look to a whole new level.
Part your hair down the middle or to the side. Then use your fingers to section off a 2cm section along the hairline and pin it away with a hair clip. Gather the remaining strands at the nape of your neck and form a ponytail. Wrap the length of the ponytail around the roots to form a bun and secure it with a bobby pin. Loosen the front section of your hair and let the curly strands frame your face. Voila!
Messy Ponytail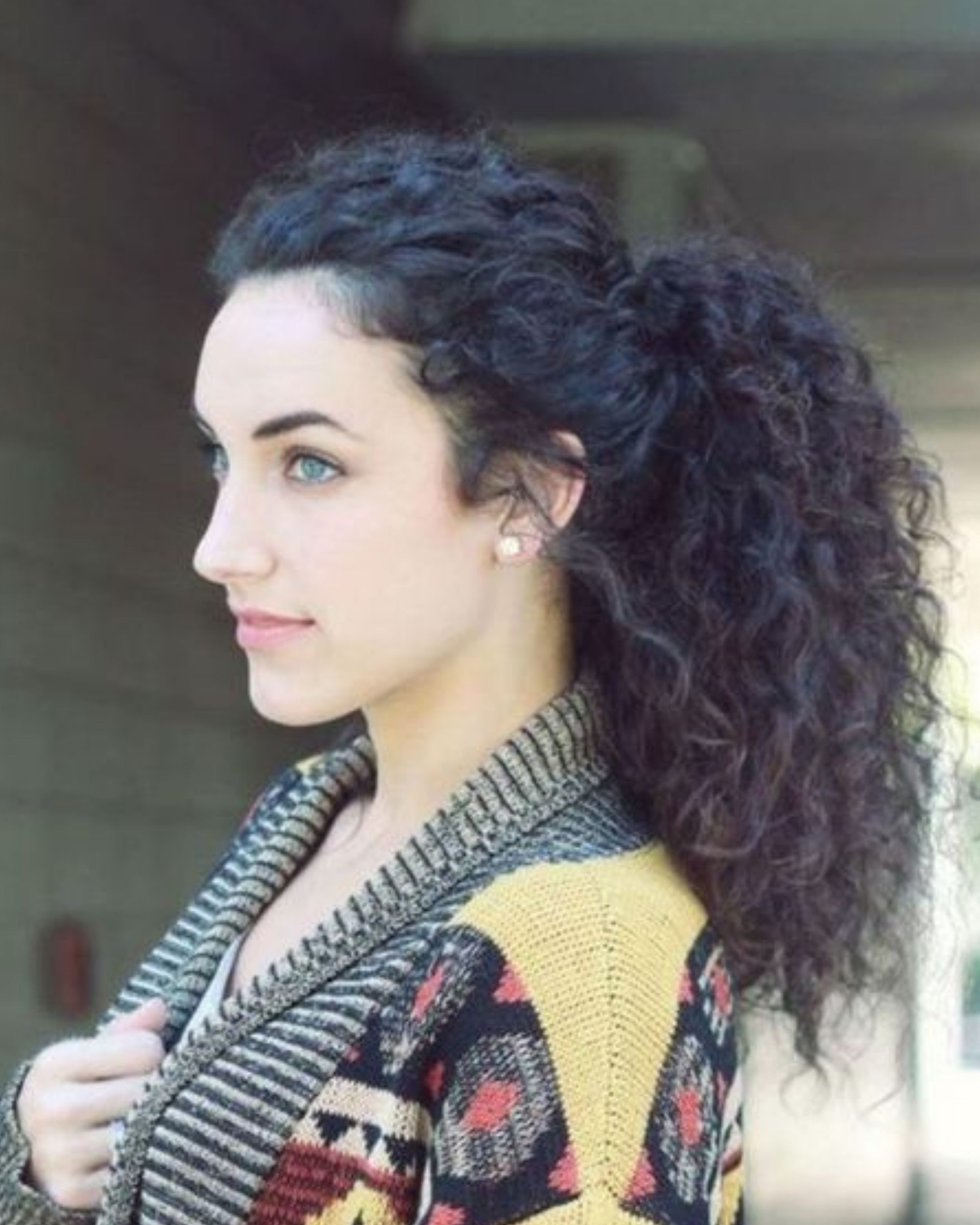 Believe it or not, casual, loose hairstyles are all the rage in the beauty world. In addition to updos, messy ponytails are the trendiest style for long curly hair. This voluminous cool girl hairstyle is also very versatile – you decide how high you want to tie the ponytail. It is also important that you create enough volume at the hairline.
Half-up Ponytail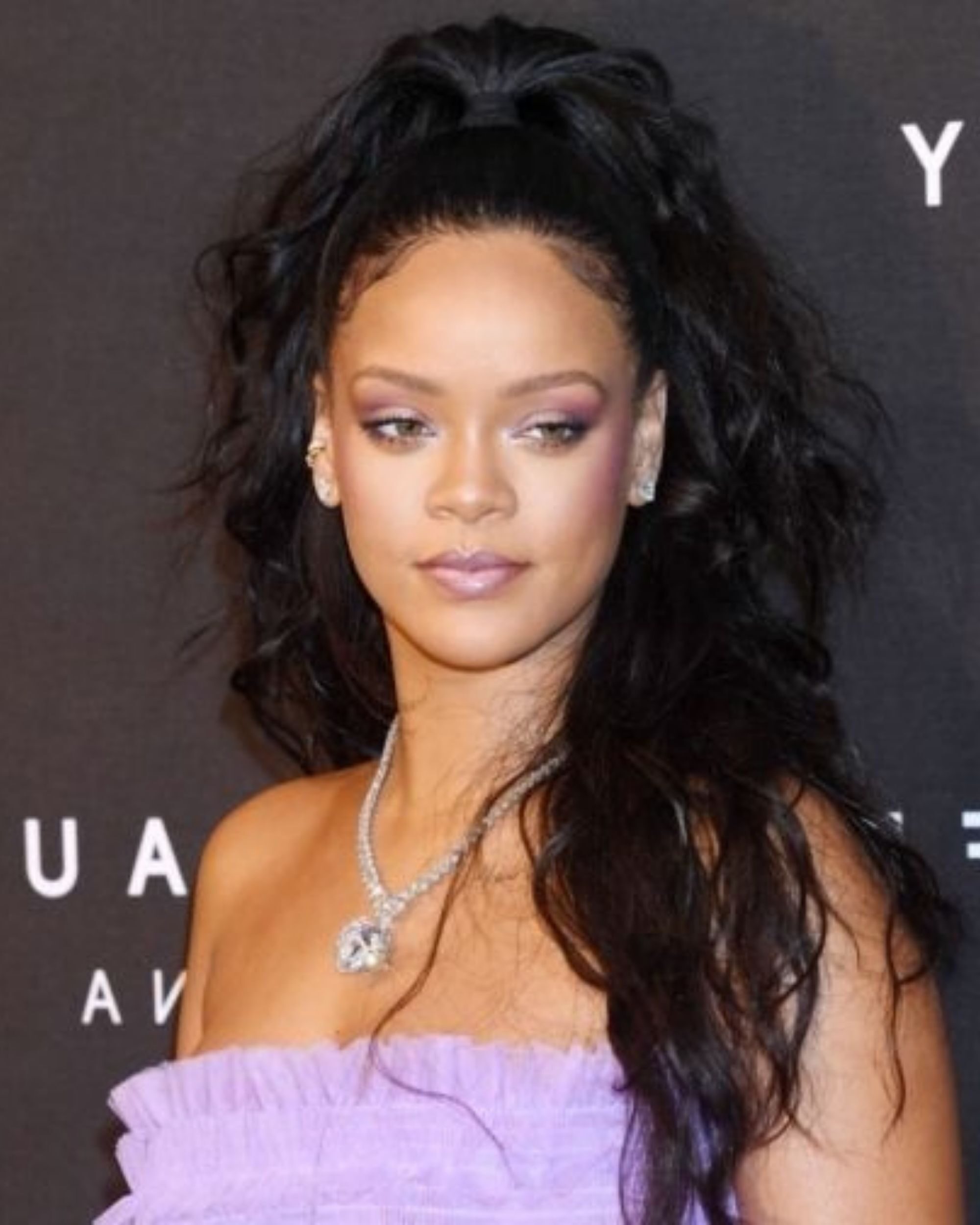 If you're in the mood for nostalgia, the half-up ponytail is a stylish trip down memory lane. While this '90s hairstyle was paired with colorful hair accessories during childhood, the grown-up version exudes a cool, minimalist vibe. Stars like Rihanna and J.Lo like to wear the half-up ponytail even on the red carpet.
J.Lo also sports the hairstyle in the video for the song "Love don't cost a thing," which was a hit in the '90s
Rihanna's ponytail hairstyle with curls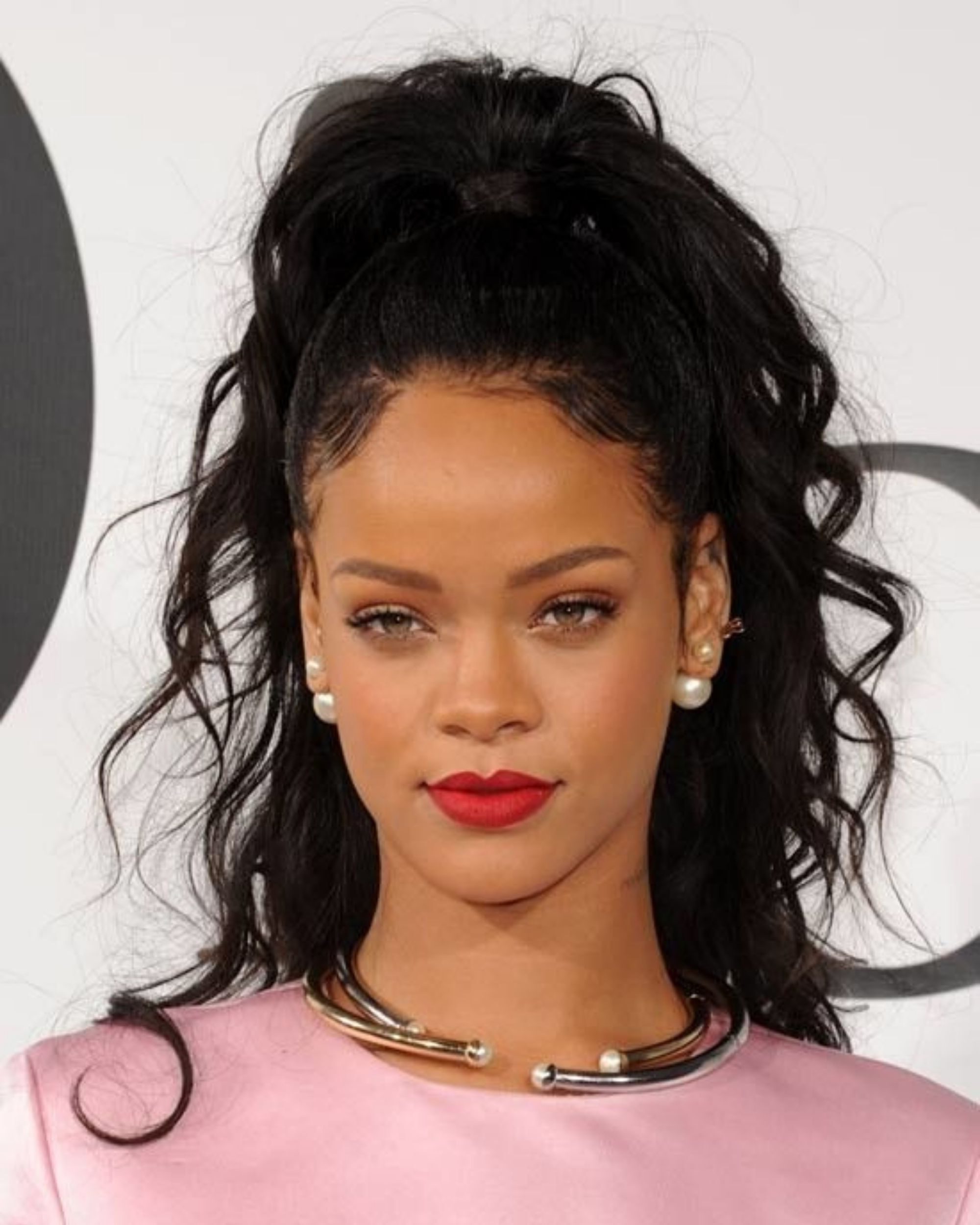 Bubble Ponytail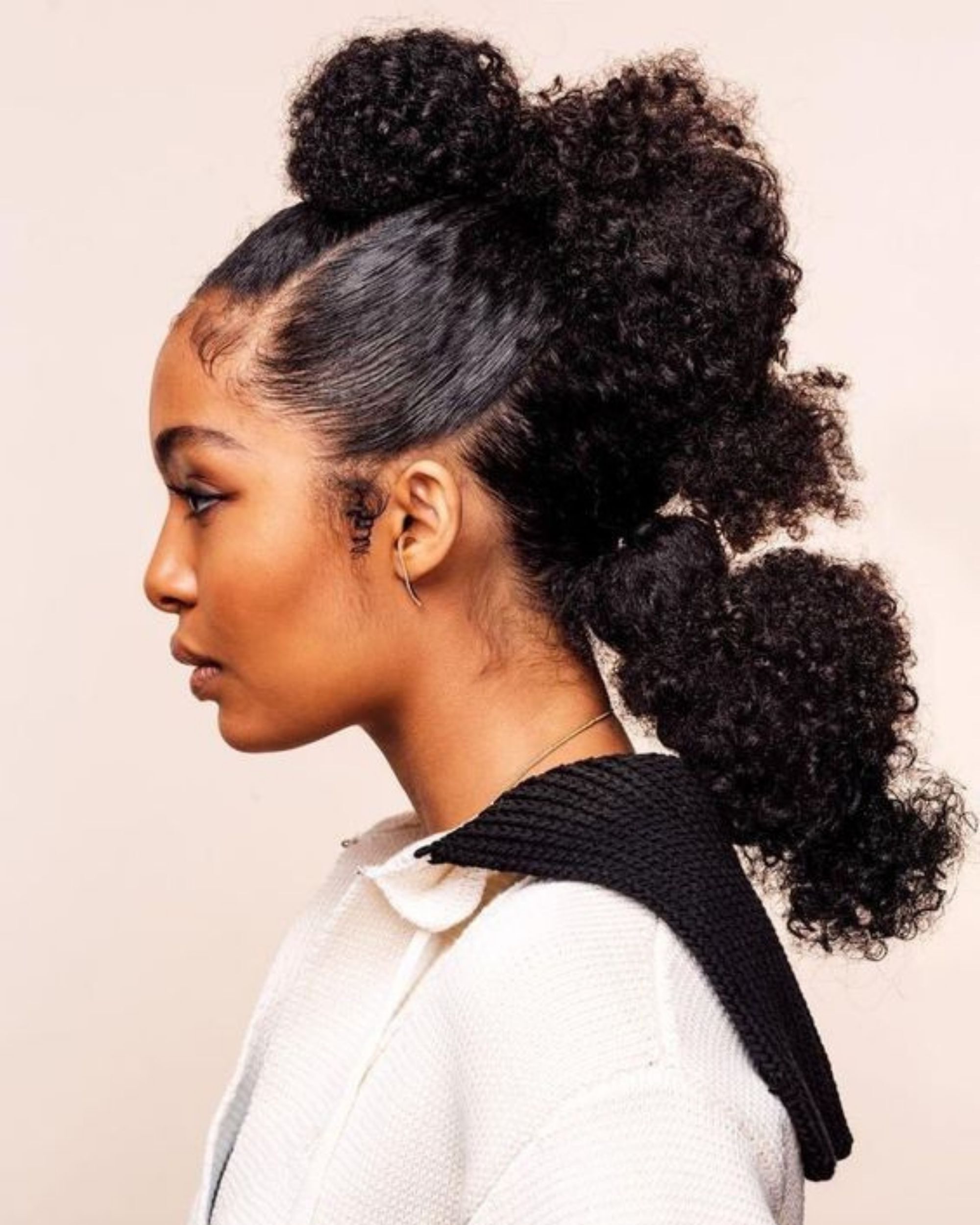 As much as we love ponytails that we can create on the fly, every now and then it's nice to spice up the simple hairstyle with something a little more complicated. For example, bubble braids are a great idea for curly girls with long hair as they accentuate your curly texture while adding a modern twist to your look. In other words, it's just what you need to stand out from the crowd.